When former Army Sgt. Joshua Echtinaw visits Washington, D.C., with the Purple Heart veterans flight on May 24, he will be going to visit a friend.
A native of Latvia, Sgt. 1st Class Mihail Golin spoke with a thick accent and had an offbeat sense of humor. He was killed Jan. 1, 2018, on a Special Forces mission in Afghanistan.
He's buried in Section 60 at Arlington National Cemetery, the first stop on the one-day tour of Washington memorials for the veterans of Iraq, Afghanistan and the Gulf War.
Golin was a friend and a mentor.
"He was just a solid, good leader … a hard-charger," said Echtinaw, 28, of Omaha. "Last year, I went to Washington, D.C., with my platoon to help bury him."
Echtinaw is one of about 50 veterans from Nebraska and southwest Iowa who have signed up for the flight. It is open to Iraq, Afghanistan and Gulf War veterans who have earned the Purple Heart — which signifies having been wounded in combat — or a Bronze Star with valor. The flight is organized by Patriotic Productions, Bill and Evonne Williams' Omaha-based nonprofit, which has ferried 16 planeloads of veterans to Washington since 2008.
The Williamses are holding a prime rib fundraising dinner starting at 6 p.m. Saturday at the South Creek Wedding & Events Center in Blair. The "Solid Gold Saturday Night" will feature entertainment from the 1960s group Gary Lewis & The Playboys.
Half of the proceeds from the $100-a-plate dinner will go toward the cost of the flight. Bill Williams said the total cost of the flight is $150,000, but the nonprofit is about $25,000 short of that goal.
There will be a banquet the night before the flight. The veterans will rise for a pre-dawn flight out of Eppley Airfield. They will be joined by children of Nebraska service members killed in the post-9/11 wars.
After landing at Washington's Reagan National Airport, the group will travel by bus to Arlington National Cemetery. They will spend an hour in Section 60, where those killed in combat in Iraq and Afghanistan are buried. They will also visit the Tomb of the Unknowns, the 9/11 memorial at the Pentagon, the Vietnam War Memorial and the Lincoln Memorial.
At the Lincoln Memorial, they will have a chance to visit Patriotic Productions' traveling Remembering Our Fallen memorial, a tribute to those who have died in wars in Iraq and Afghanistan.
The veterans will fly home to Eppley in the early evening. They will ride downtown in open trolleys for a parade through the Old Market and a homecoming at the Durham Museum, Omaha's former passenger railway terminal.
Williams said applications on the Patriotic Productions website have been slower than for past flights. He is hoping that 75 to 100 veterans will apply.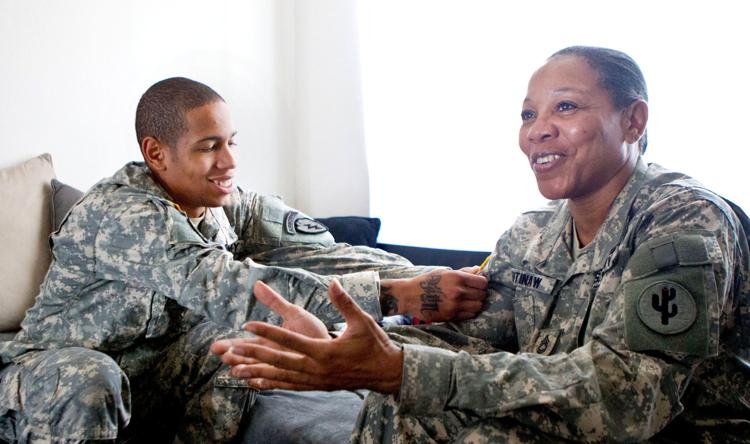 Echtinaw followed his two grandfathers and his mother, Master Sgt. Danye Echtinaw, into the Army. He was in Junior ROTC at Burke High School and enlisted soon after graduating in 2008. He chose the infantry.
He was assigned to the Alaska-based 509th Infantry Regiment of the 25th Infantry Division.
He was wounded June 18, 2012, during his second tour in Afghanistan, when Taliban irregulars rained mortars on the tiny forward operating base manned by the reconnaissance unit.
In the midst of a firefight, a hunk of shrapnel sliced into his left leg. Blood soaked his uniform. A fellow soldier screamed, "Get the medic!" and applied a tourniquet to stop the bleeding.
Two helicopter rides and a few surgeries later, Echtinaw's combat career was over. In 2014, he was medically retired from the Army.
"There are definitely days when I still wish I was in," said Echtinaw, who is now a Douglas County sheriff's deputy. "But I believe God has set me on this path."
Besides his leg wound, Echtinaw has dealt with the lingering effects of a traumatic brain injury. It's not easy to talk about his experiences.
"Time, it doesn't really heal all wounds," he said.
He's looking forward to making this trip with other Nebraska service members of his generation — what he called "shared pain, shared experiences."
"My hope is, this does help with healing," Echtinaw said. "We can all network, and know we're not alone."