One hundred years ago today, President Woodrow Wilson stood before Congress and made his case for war against Germany.
The United States declared war four days later: April 6, 1917.
Among the 4 million American men and women who enlisted or were drafted into the military before the war ended was Walter H. Hilgeman, a farmer in southern Illinois and grandson of German immigrants.
Seventeen months after Wilson's call to make the world safe for democracy, the 23-year-old Hilgeman would be a newly married draftee bound for Army training in Georgia before shipping out for France in the last days of fighting.
"A lot of his friends had to go to the service, but he was on the farm with his father and he hoped that he would not have to go — his mother had died,'' Ruth Schmidt of Omaha said of her father. "But when he found out he had to go, my mother and father married. The next day they were shocking wheat in the fields."
About a decade ago, Schmidt said, "during some cleaning, I came across a box that was not opened for a long time."
The box contained letters her parents wrote to each other before and during her father's military service. That day, she read the letters for the first time.
Schmidt discovered a collection that revealed the love and compassion her parents had for each other, the tedium of Army life in postwar Europe and a deep desire to return to the normalcy of life on a 160-acre Illinois farm.
Schmidt said her father, who died nearly five decades ago, rarely talked of his experiences in what at the time was known as the Great War. Her parents' letters and postcards, souvenir photographs and other memorabilia have been collected in scrapbooks and provide a glimpse into one man's transition from farmer to soldier and back to farmer.
The collection includes Hilgeman's draft notification, instructions for service members on what to do and not to do aboard their transport ship (among them: No spitting on any deck, and no visiting between enlisted men of the Army and Navy), a mess ticket with 12½ days of shipboard breakfasts and dinners punched, a preprinted postcard announcing his safe arrival overseas, a postwar magazine of the 318th Engineers and a copy of a general order from Gen. John J. Pershing congratulating soon-to-be discharged soldiers of the American Expeditionary Force for their service.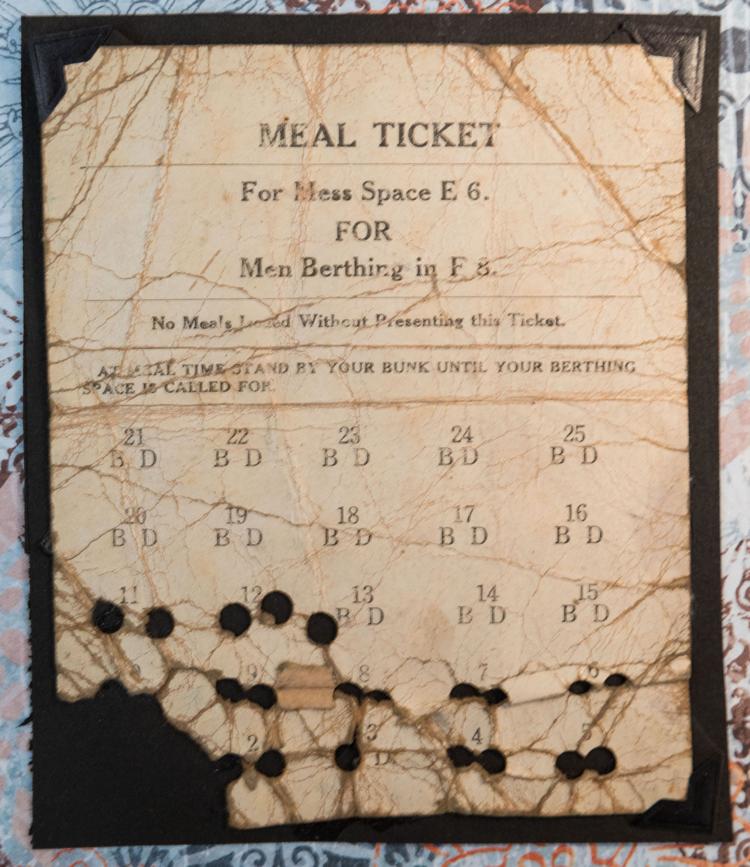 Before 1917 the United States generally avoided European politics, and it had never fought a major war outside North America. Many Americans believed their country had no reason to join a European conflict that started in 1914. Wilson had just won re-election with the slogan "He kept us out of war.''
In the early months of 1917, while militaristic Germany's policies — such as unrestricted submarine warfare — became more provocative, Americans remained deeply divided on the war. Western and southern states accused East Coast businesses of promoting America's involvement, according to historians at the National World War I Museum and Memorial in Kansas City, Missouri.
Irish-Americans opposed alliance with Britain, Ireland's oppressor. Many German-Americans saw the war simply as one to save the British Empire.
Still, sympathy for the Allies as democratic nations remained strong.
The United States was on the verge of war but almost totally unprepared. The Army had only 133,000 men, almost no heavy artillery pieces, only 600 field artillery pieces, fewer than 500 machine guns, a small air service, no tanks and only a few camps for training.
Congress gave Wilson a standing ovation after his address seeking a declaration of war. The German government, he said, was a "natural foe of liberty,'' and "the world must be made safe for democracy.''
Americans responded with an outpouring of enthusiastic support for the national mobilization effort. They rationed food, bought war bonds, worked longer hours and enlisted in the armed services.
Instituting the draft was a controversial decision; many Americans believed it was un-American or "Prussian.'' Congress passed the Selective Service Act in May 1917, and Wilson signed it.
The draft board in Massac County, Illinois, notified Hilgeman on Aug. 28, 1918, that he had passed his physical and was found to be qualified for military service. He and at least a dozen other local men departed for military training a week later.
In one of her first letters, Lillie Hilgeman wrote to her husband of three months: "Honey, just be happy as the day is long, for I know we shall some day be happy together again.''
Days after arriving at the camp, Hilgeman told his wife that two men fainted when inoculated in both arms. "That was all the excitement yesterday,'' he wrote.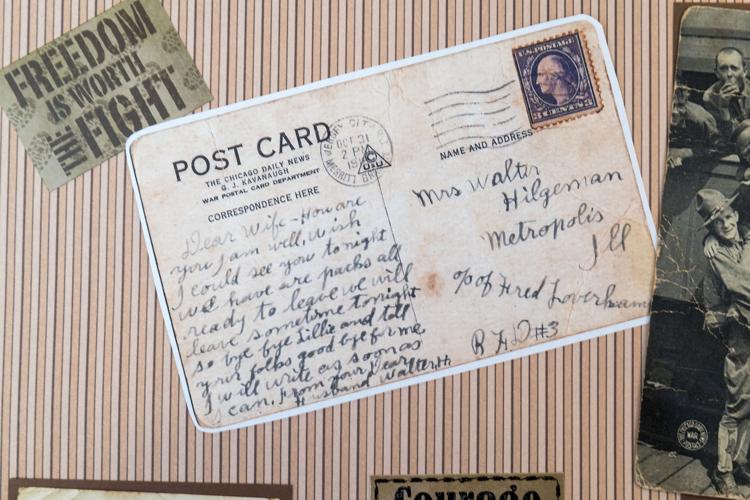 Hilgeman quickly came down with flu — a global pandemic that killed 50 million to 100 million people — while in training as an infantry engineer at Camp Forrest near Fort Oglethorpe, Georgia. The camp was in quarantine by the end of September. Five thousand troops were hospitalized within weeks.
In an Oct. 8, 1918, letter, Hilgeman wrote: "We are out in the woods in tents. ... I am so weak, I can't walk. ... I just can't walk ... they call it Spanish flu. ... I have no appetite.''
By early November, Hilgeman and 5,000 other replacement troops were at sea to Europe.
Church bells were ringing, cannons firing and ships whistling when Hilgeman and the 318th Engineers arrived in France aboard the USS George Washington.
It was Armistice Day — Nov. 11, 1918 — the end of the Great War. Hilgeman, a private who had been in the Army only two months, wanted nothing more than to turn around and go home, but he would serve in France and Germany with U.S. occupation forces for nearly seven months.
The troops landed at Brest, France. Hilgeman's first letter to his wife on arriving announced, "WAR is over,'' but it wasn't for Hilgeman and thousands of others. Excerpts from his letters:
» Dec. 28 — "Left Angers Saturday night. ... Traveled in a box car. ... Changed three times. ... Got in Saint-Dizier Christmas morning.''
» Jan. 17, 1919 — "I went on the rifle range yesterday. ... I shot my rifle 45 times. We shot 2, 3, 5 and 6 hundred yards and today I was room orderly. Had to clean up the house while the rest went out to drill ... so you see I was housewife.''
» Jan. 19 — "Churches are closed on account of flu. ... I wish you could bake me some pie and cake. I haven't saw one for a long time. I don't know what they look like anymore."
» Feb. 1 — "It is so cold and ice there that the horses can't stand up. ... I went over some mountains to bring back 63 head of mules. ... we have electric lights now. ... Haven't been paid for 2 months.''
» Feb. 28 — "Will be here for another 6 months. There are to keep 7 divisions here. ... we have 18 fellows in guard house for running off leaving the company. ... Two got away and not found.''
» April 9 — "The company went to pass a review for General Pershing today ... 50 miles from here. There are 2 of us left to feed the horses. They took most of the horses with them.''
» April 28 — "Saw an old woman out in the field plowing with an ox ... very few horses here ... no pay here. ... Officers get money from German Bank. ... Our government don't pay.''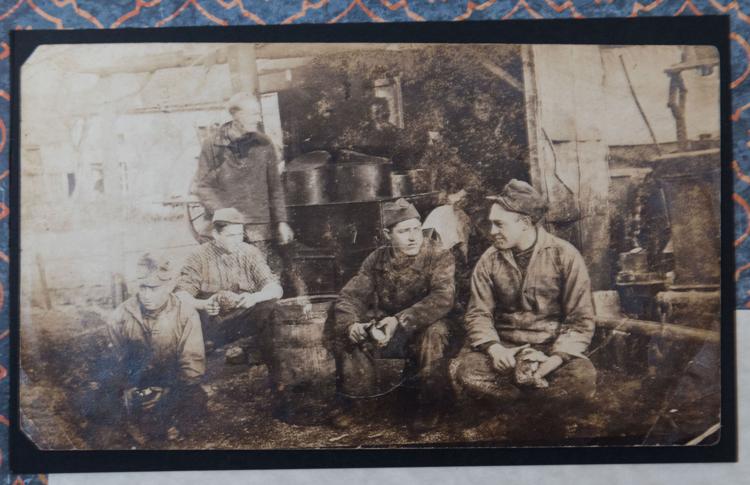 Hilgeman's company moved into Germany in April and he worked with Germans on repairing roads.
In a June 11 telegram Hilgeman announced that he was in an American Red Cross hospital at Newport News, Virginia, with tonsillitis. He became ill June 1 and was put on a ship home June 3.
» June 19 from Camp Hill, Virginia — "I don't know when I can leave. Many are gone. I can have ice cream every day. I am waiting my DISCHARGE!!!''
The letters typically end with, "Love, Walter'' or similar sentiment. The final letter ends: "Your own true husband forever, Walter Hilgeman.''
Schmidt said she believes her father finally arrived at his father's farm near Metropolis, Illinois, on July 3. Lillie prepared her husband's favorite food for his first meal home: apple dumplings.
Schmidt, born the next year and the first of five daughters, said her father never returned to Europe.
"I don't think he ever wanted to go back because he had seen so much suffering there,'' she said. "He just didn't want to talk about it. He was thankful to be in the States.''
The federal government eventually paid Hilgeman the wages he didn't receive for his European tour. He received $742 in 1925.