No Nebraska military projects were among the 127 whose funding the Pentagon said last week would be spent instead on fencing along the U.S.-Mexico border.
But airmen from Offutt Air Force Base could still feel the impact.
Of the $3.6 billion in military construction funds the Trump administration is shifting to the border, about $180 million is for work at three overseas bases where the Offutt-based 55th Wing deploys RC-135 reconnaissance jets on a nearly continuous basis or plans to in the future.
About $45 million is for improvements specifically for the RC-135 Rivet Joint operation in England, which the Air Force plans to move from RAF Mildenhall, northeast of London, to RAF Fairford, which is northwest of London, in 2023-24.
The defunded projects at RAF Fairford include a $38 million intelligence and operations building, a $5.5 million runway overrun, and $2.15 million in aircraft-related infrastructure. The Air Force planned to award contracts in November, as part of an effort to renovate RAF Fairford for the new U.S. presence. No U.S. forces have been permanently assigned there since 2010.
Two Rivet Joint support units, the 95th Reconnaissance Squadron and the 488th Intelligence Squadron, are also scheduled to make the move with 530 military personnel and 740 family members.
Currently, detachments of 55th Wing airmen deploy nearly continuously with their RC-135s — a military variant similar to the 1960s-vintage Boeing 707 airliner — to Kadena Air Base in Okinawa, Japan; Souda Bay, Greece; and Al Udeid Air Base in Qatar, in addition to RAF Mildenhall.
From those deployed bases, the Rivet Joint jets gather electronics and signal intelligence while flying missions near Russia, China and North Korea, as well as the war zones in Iraq, Syria and Afghanistan.
About $90 million was diverted from construction projects at Kadena and $48 million from Souda Bay. Those unfunded projects, however, don't appear to be directly related to RC-135 operations.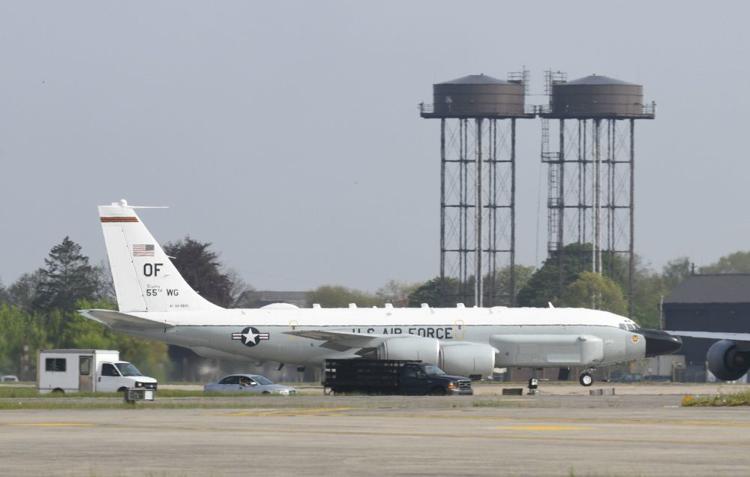 Of the $3.6 billion in military construction money the Pentagon is shifting to the Mexican border, half ($1.84 billion) is coming from overseas bases. An additional $700 million is from bases in three U.S. territories: Guam, Puerto Rico and the Virgin Islands. About $1.1 billion is from projects slated for domestic bases in 23 states.
At Offutt, a $9.5 million overflow parking lot outside the new StratCom headquarters was spared. A $176 million reconstruction to rebuild Offutt's sole runway is being delayed from December 2019 to October 2020, but for unrelated reasons. It is funded from a maintenance budget that isn't subject to raiding for the border wall.
Construction of the new fencing does begin to fulfill a central promise of Trump's 2016 presidential campaign of building a border wall to reduce illegal immigration, though he pledged that the Mexican government would foot the bill. Mexico refused.
Congress approved $1.375 billion for wall construction in this year's budget, the same as the previous year and far less than the $5.7 billion that the White House sought. Trump grudgingly accepted the money to end a 35-day government shutdown in February but simultaneously declared a national emergency to take money from other government accounts.
Sign up for World-Herald news alerts
Be the first to know when news happens. Get the latest breaking headlines sent straight to your inbox.
Elaine McCusker, the Pentagon comptroller, said the now-unfunded projects are being "deferred," not canceled. Defense officials also said they would focus on projects set to begin in 2020 and beyond, with the hope that the money could eventually be restored by Congress.
But Capitol Hill Democrats, outraged over Trump's use of an emergency order for the wall, promised that they won't approve money to revive them.
A senior defense official told reporters in Washington that the Pentagon is urging members of Congress to restore the funding but agreed that the department has "a lot of work ahead of us."
The Pentagon reviewed the list of military projects and said none that provided housing or critical infrastructure for troops would be affected, in the wake of recent scandals over poor living quarters for service members in several parts of the country.
The military base projects facing the chopping block tend to address less urgent needs like new parking at the U.S. Military Academy at West Point, New York, and a variety of small arms ranges at bases in Wisconsin and Oklahoma. But a "cyber ops facility" in Hampton, Virginia, and the expansion of a missile defense field at Fort Greeley, Alaska, face the ax, too.
Trump has so far succeeded in building replacement barriers within the 654 miles of fencing built during the Obama and Bush administrations. The funding shift will allow for about 115 miles of new pedestrian fencing in areas where there isn't any now.
The government will spend the military construction money on 11 wall projects in California, Arizona and Texas, the administration said in a court filing last week. The most expensive is for 52 miles in Laredo, Texas, at a cost of $1.27 billion.
In addition, new stretches of fencing proposed along the Rio Grande and through a wildlife refuge in Arizona promise to ignite legal battles that could delay the wall projects as well.
The Laredo project and one in El Centro, California, are on private property, which would require purchase or confiscation, according to the court filing. Two projects in Arizona are on land overseen by the Navy and will be the first to be built, no earlier than Oct. 3. Seven are at least partly on federal land overseen by the Interior Department, including a 31-mile stretch through Arizona's Cabeza Prieta National Wildlife Refuge.
This report includes material from the Associated Press.
Photos: Offutt Air Force Base through the years
A historical overview of Offutt Air Force Base, longtime headquarters of the Strategic Air Command during the Cold War and current headquarters of what's now known as the Strategic Command.