When a 55th Wing recon pilot encounters an in-flight emergency, the odds are good that he or she can say, "been there, done that."
At the Wing's Offutt Air Force Base headquarters, flight crews spend dozens of hours a year practicing emergencies of all sorts — hydraulic failures, rudder deflections, landing-gear problems, engine shutdowns — in one of two full-scale simulators on the base.
"We are very ingrained to train for the worst-case scenarios," said Col. David Berg, the Wing's vice commander. He noted the actions of USAirways pilot Chesley "Sully" Sullenberger, who landed his stricken jet on New York's Hudson River in 2009. "You can pull a Sully, if that's what you need to do."
In training, 55th Wing pilots pull a lot of Sullies. They sit in a replica of an RC-135 Rivet Joint cockpit, looking out the windows at a realistic rendering of the Offutt runway and buildings. They can fly in and out of other bases the 55th Wing uses in England, Japan, Greece and Qatar, too.
Right behind them, an instructor pilot stands at a computer and comes up with curve balls to lob at the pilots.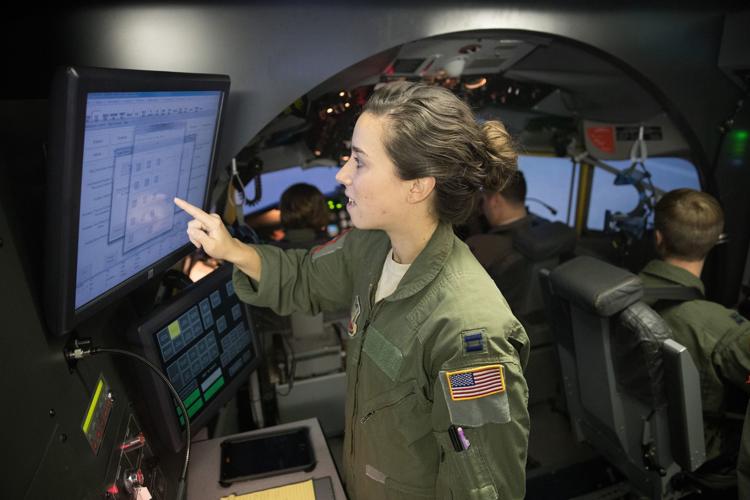 "We've got pages and pages of simulations we can create," said Maj. Steve, a 55th Wing navigator-turned-pilot, whose last name is withheld under Air Force rules governing reconnaissance crews. "There's seven pages of just engine malfunctions."
Many of the situations can't safely be tried in a real aircraft.
"We can actually shut down the engines in the simulator, shut down the rudder pressure — practice the emergency procedures," said Capt. Kristen, who demonstrated the simulator for a World-Herald reporting team.
She and her co-pilot, Capt. Nick, handled a tricky series of mechanical failures, starting with a flameout of the right outboard engine as the plane rolled down the virtual runway at Offutt, followed by the loss of the right inboard engine and right-side hydraulic system soon after takeoff.
Despite the loss of two engines, they climbed to a safe altitude and leveled out. Running through emergency checklists, they managed to bring the hydraulic system back up — but then they lost a third engine (out of four). After about 20 minutes, they returned the jet for a safe landing at the simulated Offutt.
"When these scenarios happen, you don't get nervous," said Steve, who was watching the "emergency" unfold from the back of the simulator.  "You just deal with them, and move on."
Declaring an emergency gives an aircraft priority over all others in the sky and summons fire and rescue crews to be available when the plane does land. The pilot sets the aircraft's radio transponder — called "squawking" — to the emergency code 7700, which lets all other aircraft and ground radar know.
There's no standard definition for when to declare an emergency. Pilots say it's entirely situational, and entirely up to the flight commander. Kristen said a 55th Wing pilot may be quicker to declare while flying a training mission in Nebraska than a real-world mission overseas.
"We don't have to accept that level of risk," she said.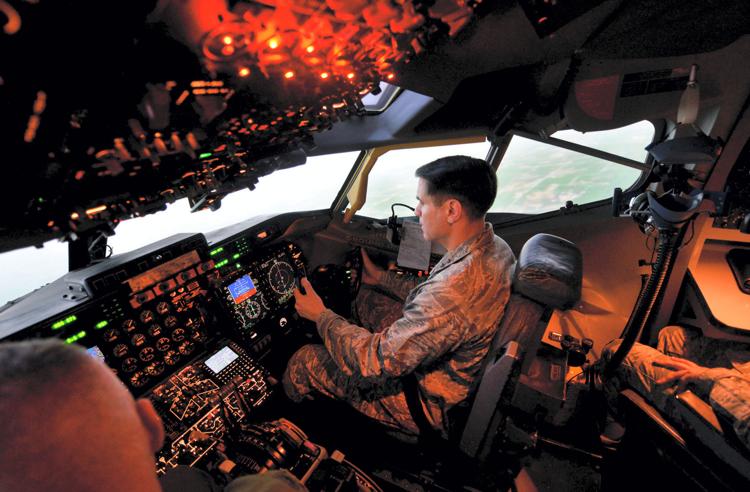 Not all in-flight emergencies are the same. There's a difference between between an on-board fire and a flickering warning light indicating low oil pressure in an engine.
"Some are truly urgent. Others are just a precaution," said Roger Craig of Glenwood, Iowa, a 55th Wing veteran and former deputy director of the Air Force Safety Center. "Certainly there's no IFE that's taken lightly."
The idea of repeated drills is that responding to emergencies becomes quick and automatic.
"When unexpected things happen, they happen quickly,"  said Capt. Ethan, a 55th Wing navigator. "It's like muscle memory."