"I am a Black man who happens to be the Chief Master Sergeant of the Air Force."
With those words on a Facebook post, Kaleth O. Wright, the Air Force's top enlisted airman, set off a conversation this week about race and military service that is echoing throughout the Air Force.
That included at Offutt Air Force Base, where the base's senior enlisted airman, Chief Master Sgt. Brian Thomas, wrote his own post taking note of the "violence, inequality and injustice against our black men and women" throughout the nation's history.
Wright, who is African American and stationed at the Pentagon, is a 31-year veteran who started out as a dental assistant and worked his way up to the Air Force's senior enlisted position. He is so popular with the troops, he has been called the "enlisted Jesus."
In the post, Wright describes the pain of knowing that men whose skin looks like his are dying at the hands of law enforcement.
"I am outraged watching another Black man die on television before our very eyes," he wrote.
Wright notes the Air Force's "own demons," including a military justice system that is more likely to punish black airmen and that has few people of color among senior officers.
"I can only look in the mirror for a solution," he said, and "do better in ensuring that every Airman in our ranks has a fair chance at becoming the best version of themselves."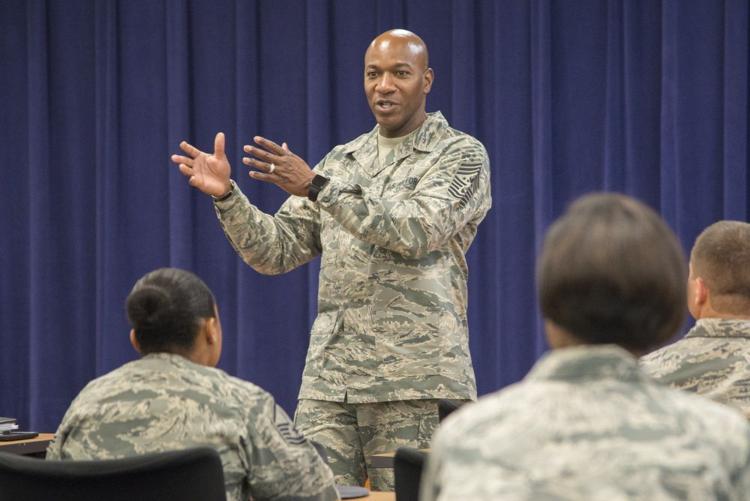 Wright also called on his audience to protest peacefully, and to vote. And he advised Air Force leaders to look out for black airmen in their ranks.
Wright's post prompted a supportive memo from Air Force Chief of Staff David Goldfein, who called George Floyd's death May 25 in Minneapolis after a police officer knelt on his neck for nearly nine minutes "a national tragedy." Charges against that officer, Derek Chauvin, were elevated Wednesday to second-degree murder. Three other officers have now been charged with aiding and abetting murder.
Goldfein called on Americans, and airmen, to "confront the awful reality of racism — and acknowledge that it exists in the Air Force."
At Offutt, Thomas, the 55th Wing's command chief, penned his own Facebook message Tuesday following what he described as Wright's "simply powerful" message.
Thomas, who is white, said he had talked with African American leaders across the Wing. Thomas said he had heard reactions ranging from "anger, to sobbing/profound sadness, indifference, fear, angst."
He acknowledged that, as a white man, it was not possible for him to understand the experience of an African American in the Air Force.
"However, clearly I can stand alongside all Airmen, especially our black and minority Airmen, in solidarity as your Command Chief, a Father, a Husband, a Son, and a human being," he wrote.
Thomas said he and Col. Gavin Marks, the 55th Wing commander, are discussing the possibility of holding a virtual town hall meeting at Offutt that would address race and discrimination, following up on a similar Air Force town hall by Goldfein and Wright late Wednesday afternoon.
Marks, who is black, has not publicly reacted to Wright's or Thomas' messages so far. A 55th Wing spokesman, Ryan Hansen, said Marks plans to post on Facebook later this week.
Wright's post has been shared 50,000 times and drawn 5,300 comments.
In one comment, Brian Holmes described Wright's essay as "by far the best message I've ever seen from a Senior leader in regards to race and race relations," and added, "Thank you Chief for articulating what many of us are feeling."
"I truly needed to see this. I've been struggling to cope with all of this anger and sadness I have pent up inside of me," wrote Quincy Brown, a Texan whose Facebook profile features a Black Lives Matter poster.
"We are human beings, and we shouldn't be treated anything less than that."