OFFUTT AIR FORCE BASE — In the U.S. Strategic Command's underground command post, the apocalypse could be heralded by a bell.
"There's an alarm that sounds. Literally, it's a 'ding,' " said Col. Reyes Colón, a battle-watch commander who works in StratCom's Global Operations Center. "That alerts me that there's an event that's going on."
Colón's job is to lead a team of about 25 military and civilians who closely watch computer screens and listen on headsets for the first signs of a possible threat, so senior military leaders — or, if necessary, the president of the United States — will know about it as soon as possible.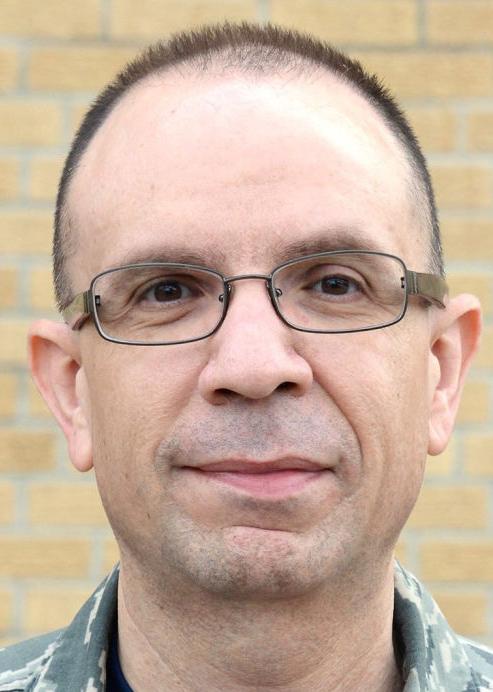 "My job, literally, is to sit there and watch — watch the world, if you will," Colón said.
In recent months, Colón and his fellow battle-watch commanders have heard that bell ding a lot. That's because of an unprecedented series of North Korean missile launches — more than 30 of them this year, according to Bruce Bennett, a senior defense analyst with the California-based Rand Corp.
That's far more launches than in any previous year in North Korea's history. The previous high, by Bennett's count, was 16 in 2014.
Besides that, the country's dictatorial leader, Kim Jong Un, has conducted five underground nuclear explosions, two of them this year. The last one occurred Sept. 9: a blast of about 10 kilotons, roughly the size of the 1945 nuclear bomb dropped by the United States on Hiroshima, Japan, Bennett said.
"Since Kim Jong Un took over we've seen a lot of changes. There's been an enormous investment in the missile and nuclear program," said Jeffrey Lewis, director of the East Asia Nonproliferation Program at the Center for Nonproliferation Studies in Monterey, California. "You see this kind of a huge uptick in activity."
The escalation could be one way for the nation's 32-year-old leader to project strength in the face of continued international sanctions and isolation, experts say.
"He's pretty clearly not the most capable person," Bennett said. "He figures if he has 100 or 200 nuclear weapons — including (some directed) against the U.S. — no one's going to mess with him."
For decades, battle-watch teams like the one Colón leads have staffed the underground command post at Offutt around the clock, every day of the year.
Until 1992 it was run by the Air Force's Strategic Air Command. Now it's the domain of StratCom, which took over SAC's nuclear responsibilities after the Cold War and has since added missions including cyberwarfare, space defense and weapons of mass destruction.
"StratCom's role just keeps getting bigger and bigger," said Brig. Gen. John Shaw, StratCom's deputy director of global operations.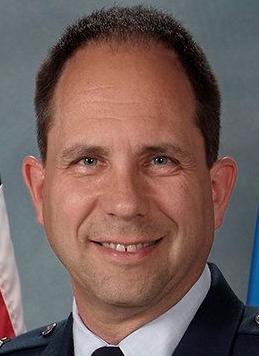 Kim's missile launches have kept StratCom's watch-standers busier than usual this year.
Under the terms of international treaties, countries are supposed to give notice of missile launches as a warning so that aircraft and ships can avoid the area. North Korea used to comply; but lately, Kim hasn't bothered.
Which means that alarm can ding quite unexpectedly — as it did at 3:29 p.m. on Aug. 23, during one of Colón's recent shifts.
Heat sensors on U.S. space satellites instantly detect a rocket launch anywhere on Earth, Shaw said, and the underground command post is alerted.
"Within seconds we got the indicators. Within minutes we're on a conference call," Colón said. "Because it's early afternoon, all the bosses already (were) here."
He quickly notifies Shaw; Maj. Gen. Heidi Brown, StratCom's director of global operations; and Adm. Cecil Haney, StratCom's four-star commander. All necessary personnel are brought together in a videoconference.
He also calls other military commands, including U.S. Pacific Command in Hawaii and the North American Air Defense Command in Colorado Springs, Colorado, as well as the Pentagon's National Military Command Center.
"There's a lot of people watching these global events," Colón said. "We're constantly in contact. I have data coming in from around the world."
During the Aug. 23 launch, the StratCom team determined North Korea had launched a KN-11 missile from a GORAE-class ballistic-missile submarine near the port of Sinpo, on the country's east coast.
Radar sites in Japan soon picked up the rocket and allowed Colón's battle-watch team to follow its path live.
"We have the ability to see what the ground-based radars are seeing," said Robert Fabrizzio, StratCom's senior space and missile defense analyst. "Immediately we know who it came from, where it's going and what type of missile it is."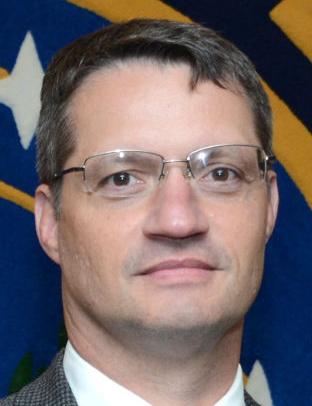 Sometimes the North Koreans launch more than one missile. On Sept. 4 they launched three Nodong-1 sub-based missiles simultaneously, and on July 18 they launched three missiles within an hour.
But on Aug. 23 the team followed just one: the KN-11 that flew 300 miles southeast — straight in the direction of Tokyo, until it fell harmlessly into the Sea of Japan.
"Once you realize this is probably just going to hit the water, you can end the conference call," Colón said.
Even with the crisis past, the battle-watch team's work isn't over. Tapes of the incident are replayed to glean intelligence for reports that are sent up the chain of command. Those reports help the StratCom commander offer military options to the president and his top defense advisers.
"Adm. Haney's job is to give the best possible advice," said Julie Ziegenhorn, a StratCom spokeswoman.
Colón also reviews his team's performance.
"We want to make sure we did everything correctly," he said. "We take whatever lessons we learned and apply them to training scenarios."
Though North Korea's missile launches have kept StratCom's watchers busy, other events picked up by the sensor network — such as a rocket re-entry or a collision of space objects orbiting the Earth — may prompt a report or trigger an event conference, Fabrizzio said.
The watch team also goes through its paces during planned rocket launches by NASA or in friendly countries.
"We treat all events the same way," Colón said.
Not all of Kim's tests have succeeded. But what concerns North Korea watchers is whether he soon will be able to — or already can — attach a bomb to one of those missiles and fire it in the direction of South Korea, Japan or the western United States.
"I don't think we want them doing a test like that," Bennett said. "I'm hoping they never do."
Harsh economic sanctions against North Korea so far have failed to stop Kim's regime from developing nuclear weapons. It's not clear that further sanctions would help.
"I don't think they're going to trade them away," Lewis said. "They've made it such a central part of their propaganda. They're going to rely on 'the Bomb' to give them legitimacy."
As long as threats such as North Korea remain, the battle team three stories beneath StratCom headquarters will keep up its around-the-clock vigil.
"When you and I are sleeping," Ziegenhorn said, "they are on watch."
Keeping track of Kim Jong Un's provocations
North Korea's missile launches and nuclear tests this year have dwarfed provocations in previous years.
JAN. 5, 2016: Nuclear Test
North Korea conducts its fourth nuclear test at the Punggye-ri nuclear test site. North Korean officials claim the country has successfully tested a hydrogen bomb, but international experts doubt the claim because the explosion was not powerful enough.
A Kwangmyongsong-4 ("Bright Star-4") Earth-observation satellite is launched into orbit atop a rocket at 6:29 p.m. CST. Other nations view the launch as a test of North Korea's intercontinental ballistic missile capabilities.
MARCH 3: Short-range Ballistic Missile Launch
Six missiles, believed to be short-range KN-01s, are fired into the Sea of Japan from the Wonsan area.
MARCH 10: Short-range Ballistic Missile Launch
Two missiles believed to be Scuds are launched from Hwangju and land in the Sea of Japan.
MARCH 17: Medium-range Ballistic Missile Launch
Two missiles are launched from Sukchon. One flies about 500 miles and lands in the Sea of Japan; the other apparently blows up in midair.
MARCH 21: Short-range Ballistic Missile Launch
Five short-range ballistic missiles are fired from near Hamhung into the Sea of Japan.
MARCH 29: Short-range Ballistic Missile Launch
A short-range missile is launched from near Wonsan at 5:40 p.m. local time. It flies about 124 miles and comes down on land.
APRIL 1: Long-range Surface-to-Air Missile Launch
Five surface-to-air missiles, presumed to be KN-06, are launched from South Hamgyong province into the Sea of Japan.
APRIL 14: Intermediate-range Ballistic Missile Launch
To celebrate Kim Il Sung's birthday, North Korea conducts a test launch of what is believed to be a Musudan medium-range missile at 3:33 p.m. CDT. It explodes in midair. It is the first attempt at launching a Musudan missile.
APRIL 23: Submarine-Launched Ballistic Missile
A KN-11 ballistic missile is launched at 4:29 a.m. CDT from a Sinpo-class submarine into the Sea of Japan. North Korean officials describe the launch as a success, although the missile explodes after flying about 19 miles, well short of its range.
APRIL 27/28: Intermediate-range Ballistic Missile Launch
North Korea conducts two failed attempts to launch what was believed to be a Musudan missile about 12 hours apart.
MAY 30: Intermediate-range Ballistic Missile Launch
North Korea conducts a failed missile launch, believed to be of a Musudan missile, from Wonsan at 3:30 p.m. CDT
JUNE 21: Intermediate-range Ballistic Missile Launch
Two intermediate-range ballistic missiles, apparently Musudans, are fired from Wonsan at 3:56 p.m. and 6:03 p.m. CDT. South Korean military sources say the first missile travels about 93 miles and is believed to have been a failure. The second missile is launched two hours later and travels about 250 miles.
JULY 18: Medium-range Ballistic Missile Launch
Three Nodong ballistic missiles are fired into the Sea of Japan from Hwangju between 3:44 p.m. and 4:35 p.m. CDT and fly 300 to 400 miles. Six days earlier South Korea had announced it would deploy the THAAD missile defense system. North Korea says test-firings are part of a simulated pre-emptive attack on ports and airfields in South Korea.
AUG. 2: Medium-range Ballistic Missile Launch
Two Nodong missiles are launched from South Hwanghae province on the western coast at 5:53 p.m. CDT. One explodes immediately after launch and the second travels about 621 miles and lands in the Sea of Japan. Japanese Prime Minister Shinzo Abe calls the launch a "grave threat."
AUG. 23: Submarine-Launched Ballistic Missile
A submarine near the Pacific port of Sinpo launches a KN-11 missile into the Sea of Japan at 3:29 p.m. CDT. The missile reportedly flies about 300 miles and enters Japan's air defense identification zone. South Korea's Joint Chiefs of Staff says the missile launch appears to be more successful than previous tests.
SEPT. 4: Medium-range Ballistic Missile Launch
Three Nodong or Scud ballistic missiles are fired from a launch site near Hwangju at 10:13 p.m. CDT and fly about 600 miles into the Sea of Japan. The launch is carried out just as world leaders gather in Hangzhou, China, for the G-20 summit.
North Korea's fifth nuclear test (and second this year) produces a blast of at least 10 kilotons that experts assess is the strongest and most successful explosion to date. North Korean state media says the test is of an actual nuclear warhead.
Dates are as recorded in United States Central Time zone. North Korea is 13½ hours ahead of Omaha.
Sources: Center for Strategic and International Studies; U.S. Strategic Command; Associated Press