KEARNEY, Neb. — A 10-building campus that is the new Central Nebraska Veterans Home was praised Saturday for its home-style layout and modern rehabilitation equipment.
Great. Wonderful. Beautiful.
Those were words spoken again and again during a Saturday ribbon-cutting and open house that drew more than 500 people to see the 225-bed, $89 million facility.
"I'm amazed," said World War II veteran Robert Larson, 93, of Kearney, who toured the new facility with his son Eric.
Gov. Pete Ricketts said the veterans home "represents a little piece of what we can do to give back to those who sacrificed so much for our freedoms."
"This new state-of-the-art facility for our veterans is a reality thanks to the teamwork of Nebraskans working together at all levels — local, state and federal," Ricketts said.
Sen. Deb Fischer, R-Neb., said, "In Nebraska, we honor our veterans not only with our words but with our actions."
Kearney Mayor Stan Clouse called the event a "historical time to be in central Nebraska."
The home has 330,000 square feet of space and a lake on 67 acres. The City of Kearney says it will employ about 400 people.
The main building houses administration offices, a chapel, library, ceramics area, woodshop, the Foxhole Lounge, guest rooms for traveling visitors, a pharmacy, medical clinic and dental services. Two connected hubs house physical, occupational and speech therapy areas and a restorative kitchen. Officials said the therapy area will be one of the few in the nation with an Anti-Gravity Treadmill.
The two hubs branch off to three neighborhoods, each with a communal dining room, living room, kitchen, den and the residents' 225-square-foot rooms with private bathrooms. The neighborhoods are tailored for different types of care, including memory support and skilled nursing.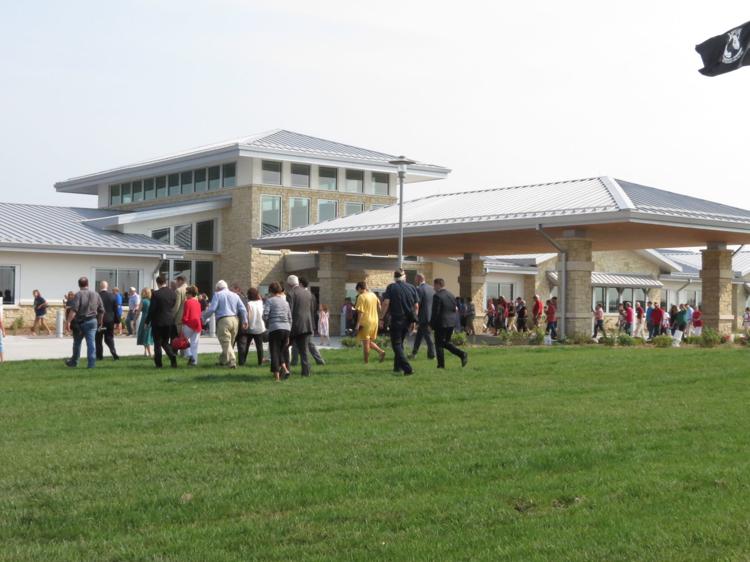 "Our agency's sole purpose is to serve the veterans who have so bravely served us, and this facility will allow us to better do that," said John Hilgert, director of the Nebraska Department of Veterans' Affairs. He said the home-style layout and state-of-the-art therapy and rehabilitation equipment will give "our teammates better tools to care for our veterans."
Alex Wilford, administrator of the homes in Grand Island and Kearney, told the Kearney Hub in an earlier interview that plans and progress have been shared with residents from the beginning and that they will see the familiar faces of some caregivers at the new facility. He predicted that veterans are "going to go, 'Wow!' "
Some residents of the Western Nebraska Veterans Home in Scottsbluff and the Grand Island Veterans Home made the trip to Kearney for Saturday's event. Also attending were past and present state senators, including Galen Hadley and John Lowe of Kearney, and Nebraska National Guard Brig. Gen. Richard Dahlman.
Residents are expected to move in later this fall with the help of "moving buddies," about 100 volunteers from service organizations in the Kearney area.
The project has had some controversy. In 2014, then-Gov. Dave Heineman announced plans to replace a home in Grand Island. The decision to build in Kearney followed a competitive process that pitted four Nebraska communities against one another.