After 62 years, the U.S. Strategic Command finally is moving out of the venerable Gen. Curtis E. LeMay Building, home of StratCom and its Cold War-era predecessor, the Strategic Air Command, for a sleek new headquarters right across the street at Offutt Air Force Base.
The name of the high-tech command-and-control complex where StratCom hopes to makes its home for the next half-century and beyond?
The Gen. Curtis E. LeMay Building.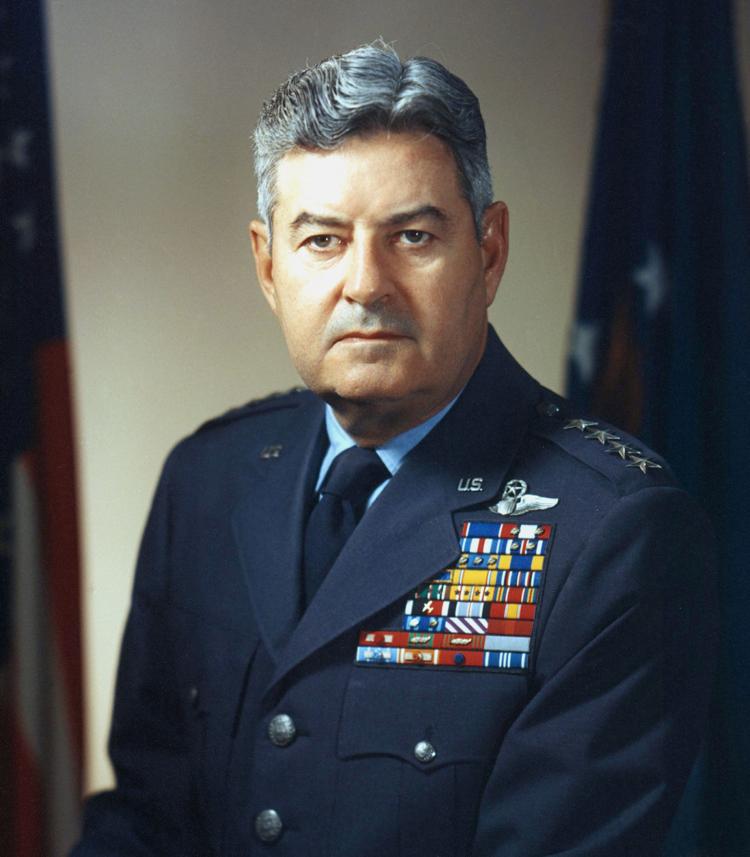 StratCom's leaders secured the Air Force's permission to carry the name of LeMay, SAC's larger-than-life leader who moved the command to Nebraska in 1948 and built it into the most important military command in the world, from one headquarters building to another.
The name is a tribute to SAC, which developed and managed the U.S. nuclear arsenal out of its Omaha headquarters from 1946 until 1992.
"We've continued on with that history. That mission set still falls within our mission," Liemburg-Archer said. "The legacy continues to stay with the mission."
The decision is popular with the many SAC veterans who remained in Nebraska after retiring from the Air Force.
"I think it's a great idea," said retired Lt. Gen. Donald Aldridge, 87, of Bellevue, who was SAC's next-to-last vice commander, from 1988 to' 91. "Primarily because he really was the guiding force in setting up the whole nuclear plan. His vision is what made it."
Sign up for World-Herald news alerts
Be the first to know when news happens. Get the latest breaking headlines sent straight to your inbox.
Retired Brig. Gen. Reg Urschler of Bellevue was only 20 when he served under LeMay in his first assignment as a commissioned officer. He went on to lead the 55th Strategic Reconnaissance Wing in the late 1970s.
"His name will evoke memories for those of us who served in SAC," Urschler said. "I am absolutely delighted."
Nearly 30 years after his death, LeMay remains one of the leading figures in the history of the U.S. Air Force — and his legacy remains controversial.
The cigar-chomping Ohio native made his name as the fearless and demanding commander of a B-17 Flying Fortress unit in England during World War II, personally leading such dangerous missions as the Aug. 17, 1943, raid on Regensburg, Germany.
Late in the war, LeMay was sent to the Pacific to take charge of the aerial bombing campaign against Japan. He shifted away from high-altitude daytime "precision" bombing by B-29s — which actually was highly inaccurate because of winds and clouds — and replaced it with daring low-altitude nighttime raids over cities using incendiary bombs.
The raids incinerated entire cities and killed hundreds of thousands of civilians.
"I'll tell you what war is about," he was later quoted as saying. "You've got to kill people, and when you've killed enough they stop fighting."
In October 1948, LeMay was assigned to take over the Strategic Air Command, a small, underfunded and demoralized unit tasked with control and delivery of nuclear weapons. He immediately moved SAC's headquarters to Offutt and began whipping SAC into shape.
A larger-than-life figure in the mold of Gen. George Patton, LeMay was given nicknames, including Bombs Away LeMay, Old Iron Pants and The Big Cigar. He demanded excellence from the airmen who served under him and treated them as an elite corps.
During the nine years he commanded SAC, the force grew by more than fivefold, to 224,000, and from 60 nuclear-capable bombers to nearly 2,000. At Offutt, he oversaw an expansion that nearly doubled the length of the runway and the construction of a new headquarters building that opened in 1957, and until this week has carried his name.
After leaving Omaha, LeMay served four years as vice chief of staff of the Air Force, and four more years as Air Force chief of staff. In that position, he clashed with Presidents John F. Kennedy (over the Cuban missile crisis) and Lyndon B. Johnson (over strategy in Vietnam).
His tough-talking, cigar-chewing persona was caricatured in the 1960s nuclear comedy "Dr. Strangelove." In some circles, LeMay became viewed as what his biographer called a "demonic clown." After retiring from the Air Force, he agreed to be the running mate of segregationist Alabama Gov. George Wallace in his 1968 third-party presidential campaign.
In Omaha, though, LeMay always remained a revered figure.
SAC was disbanded in 1992, two years after LeMay's death and a year after the fall of the Soviet Union marked the end of the Cold War. U.S. Strategic Command was created with a mission that overlapped its predecessor's, and moved into the building that carried LeMay's name.
Though just 250 yards away, the new LeMay Building won't look or act much like the old one. It is bright and open and airy, a sharp contrast to the mostly windowless, low-ceilinged warren of offices in the old building.
The new complex is built for the modern StratCom command-and-control mission, to accommodate the electronics and communications kit necessary for the day-to-day supervision of the nation's missile defense, electronic warfare and nuclear arsenal.
It bears a modern price tag, too, at nearly $1.3 billion.
"It marks the transition from the old to the new," said Vice Adm. David Kriete, StratCom's deputy commander, shortly after moving into the building earlier this year. "It's a national asset."