Editor's note: "This story, of the humanity of Nebraskan Norbert Gubbels and several American soldiers toward a mortally wounded German during the Battle of the Bulge, first ran in The World-Herald in January 2014. We are republishing it in commemoration of the 75th anniversary of that battle, the last major German offensive of World War II. The events described happened in the first days of the battle, between Dec. 16 and 21, 1944.
Norbert Gubbels died at his home in Osmond, Nebraska, in August 2014, at the age of 89. Morgan Welch, who landed at Utah Beach on D-Day and fought through to V-E Day, died in December 2016. At the time this account was written, the two were believed to be the last two living eyewitnesses to this tender battlefield moment.
In the frigid yard of a movie star's mansion, one of the snow-covered German corpses suddenly waved his hand.
The American soldiers, besieged and shivering inside, watched from the blown-out windows of the chateau in war-ravaged Luxembourg.
It was 1944, a few days before Christmas, in the midst of a brutal German offensive that would come to be called the Battle of the Bulge.
They were terrified, recalled Norbert Gubbels of Osmond, Neb., who was then a 19-year-old Army private. And yes, they had seen these very German soldiers inflict destruction upon their comrades.
Maybe it was the holiday spirit. Maybe Gubbels and his comrades saw themselves in that dying soldier with the fluttering hand. Something stirred sympathy in the souls of Gubbels and the other GIs.
"I've seen more than I care to see," Gubbels, now 88, said during an interview last month in his Osmond home. "But I couldn't shoot him. He was defenseless."
He would never forget the Roman Catholic prayer beads the German soldier carried — just like the rosary Gubbels himself relied on each day in the war zone.
"It made quite an impression," Gubbels said. "He adores the same God I do, and here I am trying to kill him."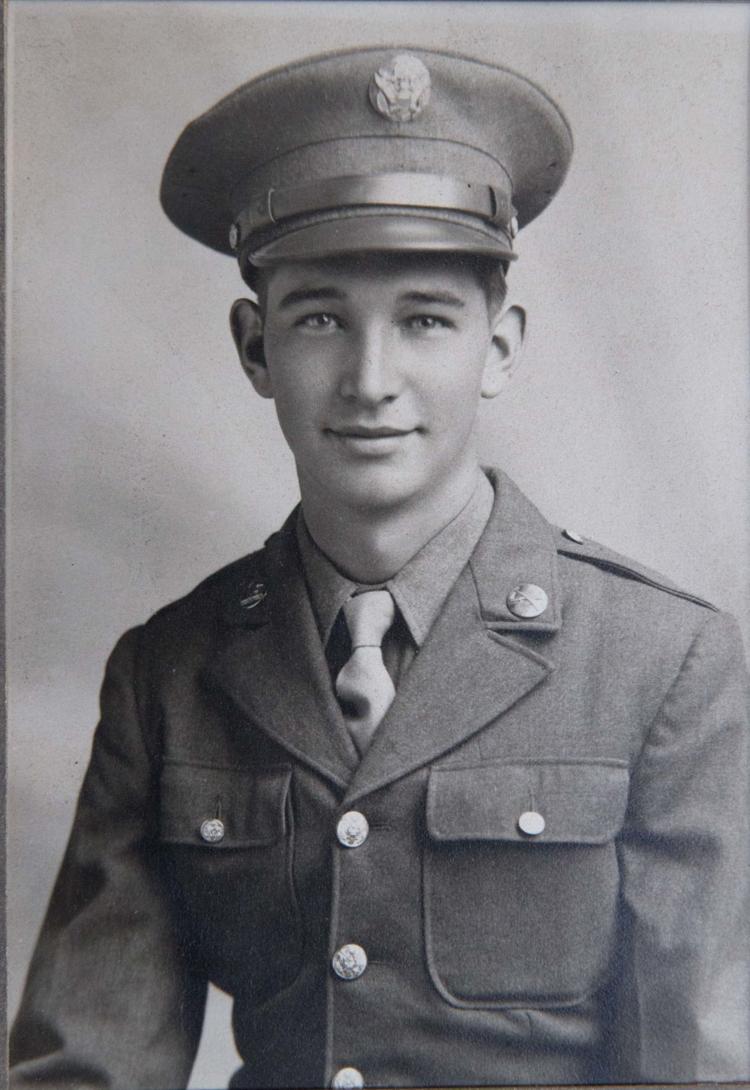 The memory of that dying German soldier imprinted itself so deeply on the Americans who were there that they would still remember details decades later. Two of them would publish their memories in local newspapers during the 2000s, prompting a search for more details by historians at the National Military History Museum in Diekirch, Luxembourg.
"It's a fact that when you assist somebody dying or you rescue someone (from) death, that scenery you will never forget," Mike Boehler, a volunteer historian at the museum, wrote in an email. "Imagine, this poor German soldier was lying ahead of them a short distance only, waving and crying (in) pain. What would you do in a similar case?"
Norbert Gubbels entered the Army in late December 1943. The oldest of six children, Norbert was forced to quit school after eighth grade because his family needed his labor at home to farm.
The attack on Pearl Harbor, when he was 16, barely touched his life, governed as it was by the daily duties of crops and livestock.
Norbert joined the Greatest Generation reluctantly. His draft notice arrived in the mail soon after his 18th birthday. He was terrified of traveling far from home, and dying.
"I went in the closet and cried all by myself," Gubbels said. "I didn't want anyone to see me."
Gubbels was among the youngest draftees into an Army desperate for men to ship to the European and Pacific fronts. After months of infantry training, he sailed in September 1944 from New York aboard a cramped troopship, en route to England and then to assembly camps in France and Belgium. These camps warehoused new soldiers in poorly heated tents until they could be sent to chewed-up units fighting bloody battles near the German border.
The Army tossed Gubbels in as a replacement soldier with Company A of the 1st Battalion, 12th Infantry Regiment — a part of the 4th Infantry Division, which he joined in the soon-to-be famous town of Bastogne, Belgium. They had been thrust into the Battle of Hurtgen Forest, a five-month slog that captured a 50-square-mile chunk of woodlands on the German border at a cost to the United States of 33,000 service members killed and wounded, and 28,000 German casualties.
Gubbels found himself in a unit battered and depleted. His first day, he was assigned to stack frozen bodies in the back of a truck.
"What could you think? That could be you," Gubbels said. "You didn't like the job much, but you didn't complain."
Sign up for The World-Herald's afternoon updates
Receive a summary of the day's popular and trending stories from Omaha.com.
In his first two weeks of fighting, the young Nebraskan helped storm a wooded hilltop and drive out the German defenders, at fearsome cost to Company A. Then he and his surviving comrades shivered for 10 days in muddy foxholes as German artillery, dialed in perfectly on their positions, rained destruction on them.
"At first I didn't think I could sleep. But after a while, you just give out," Gubbels said. "You can only get so scared."
On Dec. 7, he and the rest of the 12th Regiment's battered remnants — about half its men had been killed or wounded since the beginning of November — were sent a few miles back into Luxembourg to rest.
Barely a week later, on Dec. 16, their rest period ended abruptly with a German attack that stunned the Allies. He and the other 1st Battalion soldiers jumped on top of five tanks and headed for the front.
One of the tanks dropped off Gubbels and three other soldiers along a road with orders to scale the banks on both sides and look for enemy soldiers. He viewed it as a suicide mission.
"There must have been thousands of Germans there," Gubbels said. "You didn't know which way to go. There was gunfire everywhere."
Over the next few hours, the other three soldiers all died. Gubbels vividly recalls seeing one of them, a sergeant, shot in the head as he peeked over a berm.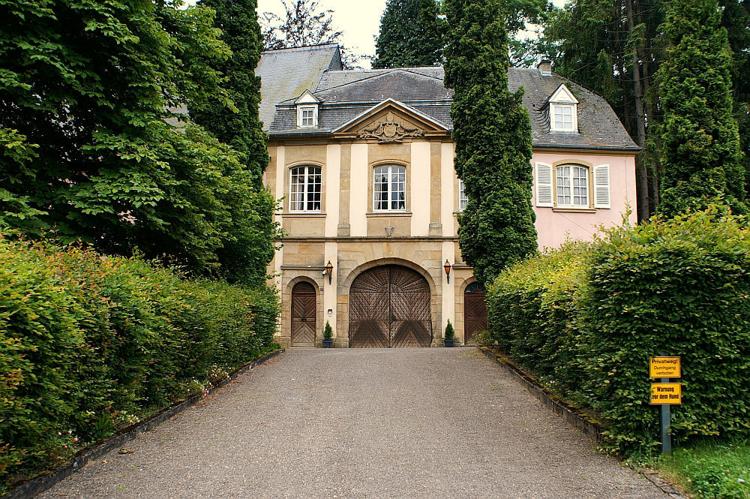 In constant fear, Gubbels remembers creeping alone through the woods to a crossroads village. Two American soldiers confronted him outside a huge mansion. After convincing them that he was truly an American GI, he was allowed into the relative safety of the chateau. A platoon of about 17 anti-tank soldiers from a sister unit, the 2nd Battalion, 12th Infantry Regiment, had been spending their own rest time there when the Germans had attacked. A few American stragglers, like Gubbels, showed up, too.
The chateau had the finest furniture and linens, and a well-stocked wine cellar. The soldiers even put up a Christmas tree.
"It was like going from hell into heaven," Morgan Welch, then a 25-year-old Army lieutenant and the platoon's leader, recalled in a telephone interview from his home in New Smyrna Beach, Fla. "We couldn't believe it. Hot water, huge bathrooms, central heat, plenty of food."
Pictures of a dashing man in his 30s adorned the walls. Gubbels felt sure the owner was a movie star. More than 60 years later, he would learn he was right. The Chateau de Lauterborn belonged to Rene Deltgen, Luxembourg's most famous actor. Later he would serve time in prison for collaborating with the Nazi regime and making propaganda films.
The Germans lobbed mortars at the fortresslike villa from the nearby hills. Gubbels said one hit near a window he'd been guarding, knocking him unconscious for a time.
Dead German soldiers lay in the yard from the first day's fighting. The snow drifted on top of them, but over the next two days, several Americans noticed that one of the Germans was moving.
Welch, who became a newspaper editor after the war, would write in an essay two months after the incident that the soldier's survival had dominated conversation among the men inside.
"I didn't think he'd last that long," Welch said.
According to later accounts, Sgt. Charles Sweet, of Huntingdon, Pennsylvania, argued they should get the soldier and bring him indoors.
"The German soldier was dying in front of the house," said Billy Sweet, son of Charles Sweet, who died in 2012. "Dad said, 'He shouldn't be left out in that condition.' "
Gubbels said he, too, told the other men it was their Christian duty to bring the soldier indoors.
"Some of them wanted to shoot him," he recalled. "I said: 'Let's go on and help him.' He might have been my enemy — but that was before."
Welch said he thought the plan was too risky.
"Their lives were my responsibility. I didn't see much point in exposing them to fire," he recalled. "We could see the German soldiers out there on the high ground. I said, 'They'll pick you off, too.' "
But Welch finally relented. Gubbels, Sweet and two other men fashioned a white flag out of bedsheets and attached it to a rifle. Cautiously they ventured to where the soldier lay, about 150 yards away.
As they approached, the soldier made a futile effort to grab his rifle, Welch reported later. The four GIs lifted him onto the blanket.
"He was a-moanin' and a-hollerin', " Gubbels recalled. "I don't know if he was shouting 'Mercy!' "
They carried him back to the villa. The Germans on the high ground held their fire.
Inside, Welch examined the soldier.
He wore the rank of corporal. His battered clothes and Russian coins in his pocket led the men to believe he'd been moved from the Eastern Front.
Photos in his pocket showed a husky, well-dressed soldier standing with a pretty German woman. He looked nothing like the thin, battered form now before them.
Both legs were broken, his feet shot off. He suffered from shrapnel wounds and frostbite. They knew he wouldn't live much longer.
The GIs gave him a shot of brandy. They bandaged his wounds as best they could. They gave him some morphine. Gubbels prayed, and the German corporal died that night. The soldiers placed his body in a shed, next to an American who also had died. They presumed a burial detail would find both after the battle.
No one remembers the corporal's name.
The next day, Dec. 20, Welch got word that the men in the surrounded house were to make a run for it. He loaded two halftrack vehicles with his soldiers and headed toward Luxembourg City, praying that the Germans wouldn't ambush them.
They encountered a burning halftrack that had hit a mine, and rescued a wounded soldier. They got through to friendly troops about two miles down the road.
Gubbels and Welch spent Christmas among friendly forces.
Welch, who had landed at Utah Beach on D-Day, would fight on until the German surrender. Gubbels collapsed from battle fatigue a few days after returning from the Battle of the Bulge, which turned out to be the German army's last gasp — but not before the Germans killed, wounded or captured nearly 90,000 Allied troops. He was hospitalized and never returned to battle.
He retrained, though, to be an ambulance driver and served until mid-1946 in southern France. Then Gubbels returned to the family farm in Osmond and married his wife, Rita, in 1951. They raised 10 children and retired from farming in 1996. She died in June. He has been an active member of Osmond's American Legion post.
Gubbels' son-in-law Randy Kaster, an engineer from Omaha, became interested in his war stories. About 15 years ago, Kaster began researching the battles, compiling the stories into a narrative and filling in gaps in Norbert's memories. He has completed a 170-page draft of a book called "When Hell Froze: The Story of Norbert Gubbels During World War II." (The book was eventually published in June 2015.)
Gubbels never had further contact with any of the other men in the chateau — until Kaster tracked down Welch through the Military Museum in Luxembourg a few years ago.
His work has rekindled Gubbels' memories, which, though vivid, sting a bit less after 69 years.
"I'm pretty lucky," he said. "I got to come home, and a lot of 'em didn't."
---
Photos: Scenes from the Battle of the Bulge, which started 75 years ago