High in the sky and far from their Nebraska home, the airmen aboard Tora 82 knew they were in trouble.
Following a loud boom from the right wing, the 20 crew members of the Offutt-based reconnaissance jet could see smoke and sparks in the outboard engine as they cruised at 31,000 feet over the Indian Ocean on March 24, 2017. Their instruments told them the engine was on fire. The pilots shut down the engine and declared an emergency.
With more than five hours flying time left to their destination of Okinawa, Japan, they decided to put down at a civilian airport.
As Tora 82 descended, the aircraft shook violently. One of its two hydraulic systems failed. The pilots dumped fuel before landing safely in Banda Aceh, Indonesia, with flames still trailing from the dead engine.

The WC-135 jet, with its specialized radiation-sniffing equipment, had been on its way to Okinawa for a critical job: fly near North Korea to gather data from a nuclear test. Instead, the plane was delayed for two weeks while a 55th Wing team, flown in from Offutt, replaced the engine.
55th Wing leaders nominated the crew for a safety award, citing their "quick thinking, expert decision-making, and superior aircraft systems knowledge," which they said "prevented a deteriorating situation from becoming catastrophic."
For decades, the 55th Wing has prevented catastrophe in its aged C-135 aircraft through selective upgrades to certain aircraft systems and a highly structured maintenance program, backstopped by pilots well-trained to handle emergencies.
But a deep dive into Air Force documents involving 55th Wing mishaps and maintenance over the past six years shows a long string of close calls. In the past six years, at least 505 flights have been interrupted because of mechanical failure. In at least 216 of those cases, pilots have declared emergencies, summoning firetrucks and ambulances to meet them when they landed.
"They have a tremendous number of diversions and in-flight interruptions," said Frank Strickler, a former Air Force pilot who also flew 34 years for American Airlines and investigated crashes for the Federal Aviation Administration. "These statistics are appalling and unsatisfactory, especially for a strategic asset."
Reg Urschler of Bellevue, a retired brigadier general and reconnaissance pilot who once commanded the 55th Wing, was furious when he reviewed a list of in-flight incidents and emergencies.
"I'm trying to impress upon you my deep concern about what's been going on," Urschler said, "and how bloody lucky this organization has been that it hasn't had a tragedy."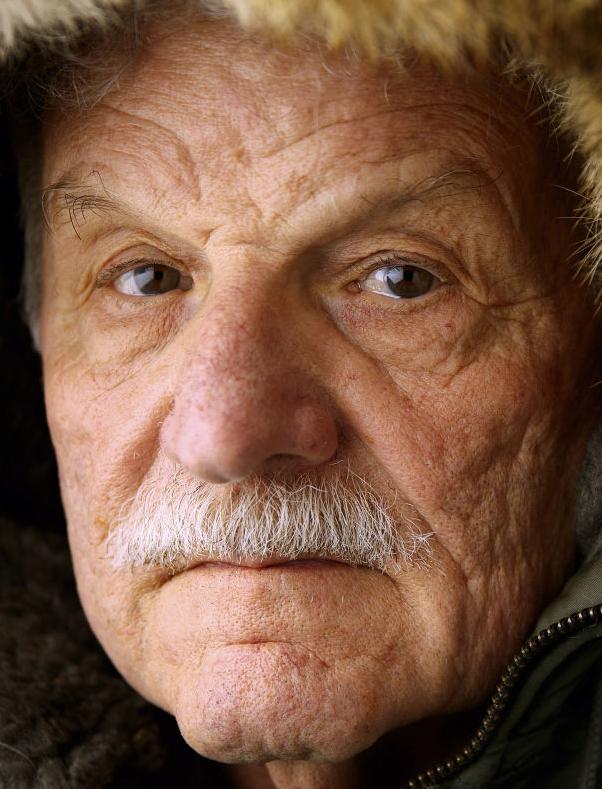 The problems are occurring from the nose wheel to the tail. Out of 94 interrupted flights that occurred in 2016 (the last year for which The World-Herald could obtain complete data), in-flight electrical failures, fumes, or popped circuit breakers caused at least 20. Landing gear problems stopped at least 15 more. Engine or oil pressure problems interrupted at least 13 others.
"These are old airframes, and they're being flown hard," said John Cox, a former safety chief for the Air Line Pilots Association who is now an independent air safety consultant. "Clearly, there are significant challenges in maintaining this fleet."
Older jets like Offutt's half-century-old RC-135s are notorious for leaks in the hydraulic systems. The hydraulic systems allow the movement o…
Leaders in the 55th Wing's chain of command say their airplanes have been modernized and are well-maintained, with highly qualified pilots and maintenance crews.
"Every bit of effort goes into maintaining the aircraft," said Col. Michael Lawrence, chief of the Air Force's maintenance division. "While we're not perfect, our processes are managed with great rigor."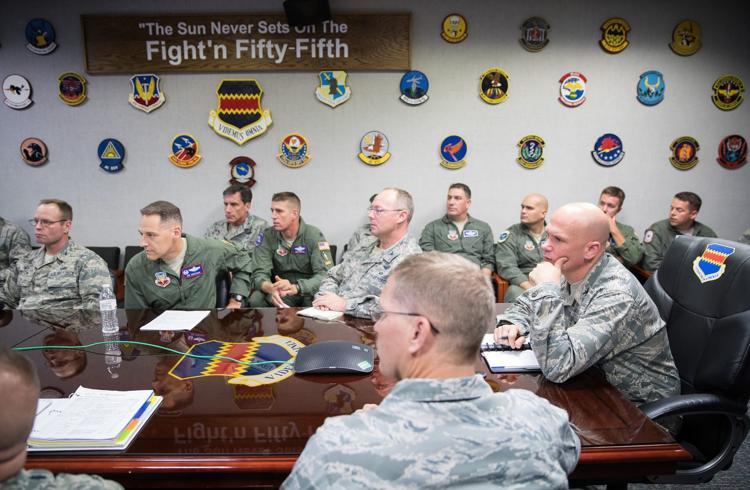 Yet mechanical problems persist across the fleet — sometimes even on the same plane.
Pilots fear almost nothing more than an in-flight electrical fire. But the smell of smoke isn't unusual for 55th Wing crews. An October 2015 flight out of Souda Bay, Crete, is just one example.
Two and a half hours into the RC-135W Rivet Joint flight, lights inside the aircraft began blinking on and off. The crew tracked the malfunction to an electrical unit that regulates and protects the generator.
The navigator noticed that the unit was smoking. An airman removed the part and put it in a container, where it continued to smoke for 10 minutes. The pilot declared an emergency, dumped 23,000 pounds of fuel and landed 30 minutes later at Souda Bay. It was the second electrical fire on that plane in three weeks.
Another Rivet Joint jet has experienced at least 15 serious in-flight breakdowns since 2012. Eight times, the pilot declared in-flight emergencies. Six breakdowns involved electrical fumes and smoke inside the aircraft. Two of them occurred on consecutive days, Jan. 20 and 21, 2016, at the same work station, while the jet was flying missions from the Caribbean island of Curaçao.
These are the kinds of stories that worry retired Air Force Col. Roger Craig of Glenwood, Iowa, a former RC-135 pilot who later served as deputy director of the Air Force Safety Center.
"As an aircraft commander, I'm concerned because we're smelling weird things," Craig said. "It means something electrical is arcing, and that scares me."
In-flight electrical problems can be especially hard to pin down after the plane has landed. If mechanics can't repeat a problem reported by the flight crew, they will write "CND" (for "cannot duplicate") on their work tickets.
For aviators, it's like the frustration you feel when your car makes an odd noise on the road but sounds fine when you take it to your mechanic.
"CND is not an uncommon occurrence," said Lt. Col. Shane Wehunt, deputy commander of Offutt's 55th Maintenance Group.
Mechanics may replace a circuit breaker. Or they may reset it and let the plane fly again, hoping the problem doesn't recur.
Although crews have smelled electrical fumes or seen smoke aboard 55th Wing jets numerous times in the past few years, fire has never broken out inside the airplane.
On April 30, 2015, an RC-135V Rivet Joint was slated to support an Air Force special operations forces exercise off the coast of Florida. There were 27 airmen on board.
The pilot, Capt. Chad, was flying his first mission as an aircraft commander.
Just as he pushed the throttles forward to begin the takeoff, Capt. Chad — whose last name is not being revealed under 55th Wing rules — heard excited shouts in his headphones.
An intense blaze, fueled by a leaking liquid-oxygen line, had broken out in a kitchen area at the rear of the plane.
"The flames started shooting over the top of the galley area," a chief master sergeant who was part of the crew later told investigators. "Smoke is filling up very, very, very quickly, and the fire and the flames appear to be getting worse — white-hot flames coming out of there. It was quite a sight to see."
Capt. Chad, reacting to the excited voices in his radio headset, instantly pulled back on the throttles and brought the plane to a stop. The entire crew evacuated onto the runway.
Offutt firefighters arrived quickly and smothered the flames with foam — though they kept flaring up because of the leaking oxygen. The fire seared a 4-foot hole in the skin of the jet, causing more than $13 million worth of damage to the $178 million aircraft. It was the worst mishap to befall a 55th Wing aircraft since 1997. The plane was repaired and returned to the fleet in August 2017, more than two years later.
The fire spread so quickly that, had the RC-135V left the ground, it almost certainly would have crashed before it could land, said Urschler, a member of the 55th Wing Hall of Fame.
"He pulled those throttles to a stop, and thank God he did," Urschler said.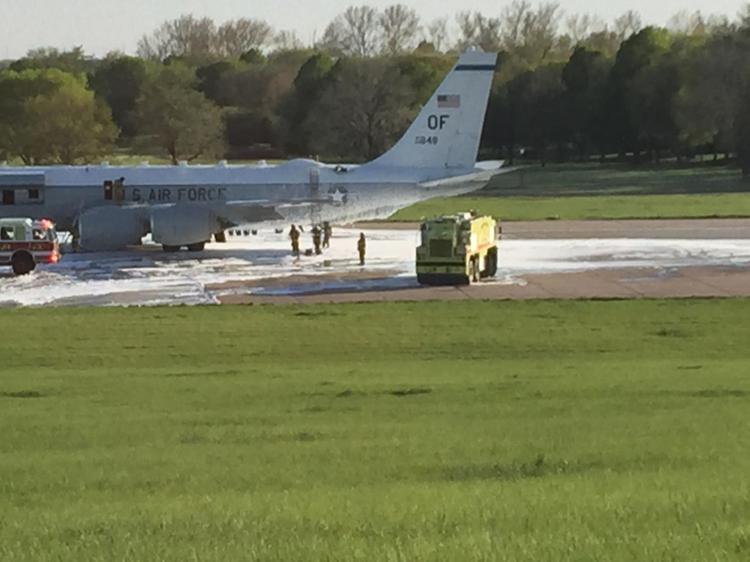 An investigative board pinned the blame on a single aircraft mechanic at L3 Technologies, the Texas contractor that for decades has converted the C-135 fleet for reconnaissance use and conducted major overhauls on the jets. More than a year before the fire, the mechanic had improperly tightened nuts that held the liquid oxygen system together, resulting in some that were too tight and others that were too loose.
The Air Force ordered inspections of other RC-135s and said it found no loose nuts in other aircraft.
The idea for this World-Herald series on the safety of the 55th Wing C-135 reconnaissance fleet was sparked three years ago, when 27 crew memb…
Still, some 55th Wing veterans note that the investigative board failed to determine what ignited the fire — which it said it couldn't do because the intense flames had destroyed the area near the ignition point.
Craig and Urschler both said they believe the failure to determine what started the fire means the problem remains unsolved. It could happen again.
"A fire needs a spark. Oxygen doesn't start fires," Urschler said.

The board also did not address a series of electrical failures aboard the same aircraft in the months before the fire, including two that prompted in-flight emergencies.
One occurred just 10 days before the fire — on April 20, 2015 — when white smoke began pouring from a rack that holds power-monitoring equipment during a mission over the Gulf of Mexico. The plane had been late leaving Offutt because of multiple system failures, and during the flight its weather radar and collision-avoidance systems both stopped working while the aircraft was flying near thunderstorms. The crew declared an emergency and flew home to Offutt.
But the emergency wasn't yet over. After the plane landed, the piece of equipment that had been smoking exploded as the maintenance team worked on it, throwing pieces of metal across the cabin and making a sound like a gunshot.
Even after that serious mishap, mechanics had the jet back in the air the following day. The workhorse Rivet Joint flew at least eight more times in the 10 days before the oxygen fire that knocked it out of action for 28 months. 
Robert Hopkins III, a former 55th Wing RC-135 pilot and Gulf War veteran, thinks the Air Force didn't learn the lessons it should have from the fire. He worries that it will take a disaster.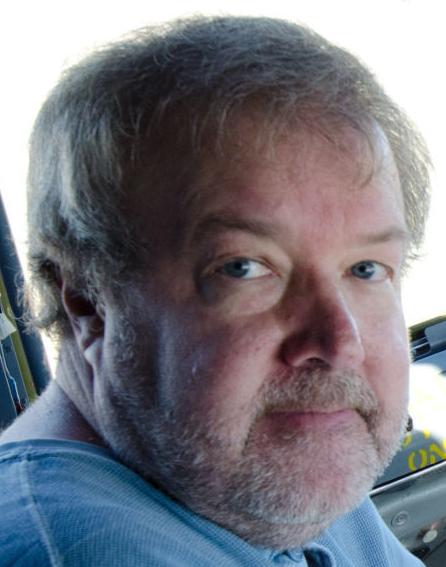 "That was a tocsin, a warning, a wake-up call," said Hopkins, author of "The KC-135 Stratotanker: More Than a Tanker," a recent history of the C-135 airframe. "We can choose to act wisely and fix the RC fleet, or we can choose to ignore it — and bury crew members for our hubris."
The incident shows what can happen when a spark mixes with leaking oxygen.
On RC-135 jets, oxygen is stored as a liquid in tanks. It passes through converters that turn it into a gas, which can be breathed through masks that are stored next to each seat in case of an emergency. Crew members may don them to keep from passing out if the pressurization fails, or in case of smoke or fumes.
The April 2015 runway fire way was one of nine incidents in which oxygen leaks prompted 55th Wing crews to abort missions or declare emergencies since 2014.
In one case, on Feb. 3, 2015, an RC-135S developed a leak that was "spewing" out just above one of the translator's work stations as the plane flew at 23,000 feet just north of Omaha.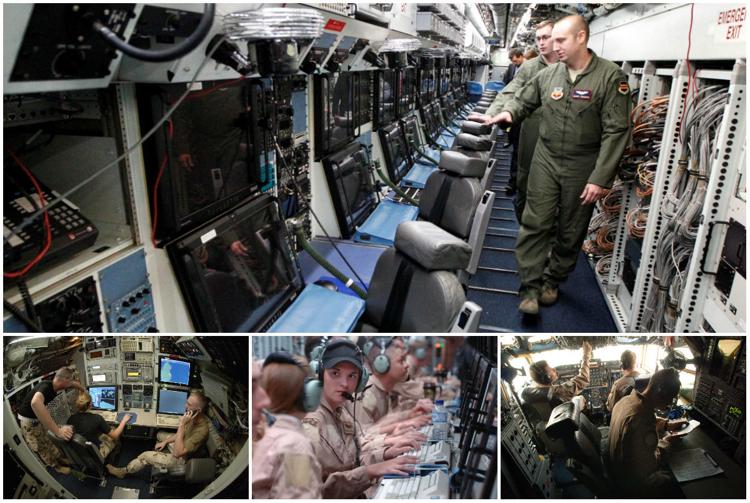 Because the RC-135 jets have no shut-off valve on the liquid-oxygen system, the crew couldn't stop the leak. They also could hear popping sounds behind panels on the aircraft and suspected it might be electrical arcing. Power was shut off to the area near the work station. The pilot dumped fuel and declared an emergency. By the time the Cobra Ball landed, 70 liters of oxygen had leaked into the cabin of the RC-135 — nearly everything in its three tanks.
Beyond the nine incidents that caused pilots to end missions, a list of "pilot-reported complaints" to flight maintenance personnel shows at least 60 additional instances of oxygen leaks that apparently didn't prompt emergencies and aren't recorded elsewhere as aborted flights.
One plane experienced oxygen leaks five times in nine days between May 16 and May 25, 2016. At least four of them occurred in flight.
"When you say you fix it, how come it breaks again?" Hopkins said. "The problem is, you have accepted this high failure rate as normal. Well, it's not."
Oxygen isn't the only substance on an aircraft that mixes poorly with electricity. Jet fuel vapors can be explosive in a confined area and can bring down a plane if they ignite, through a spark or overheating. In 1996, a commercial TWA 747 exploded near Long Island after a spark ignited vapors in a nearly empty fuel tank, killing all 230 people on board. Several KC-135 tankers, a sister aircraft to the Offutt jets, have been destroyed in similar explosions.
Records show at least 17 incidents in which 55th Wing crews have detected fuel fumes or fuel inside an aircraft in flight since 2012, almost always during aerial refueling — a difficult skill that is essential for U.S. military pilots.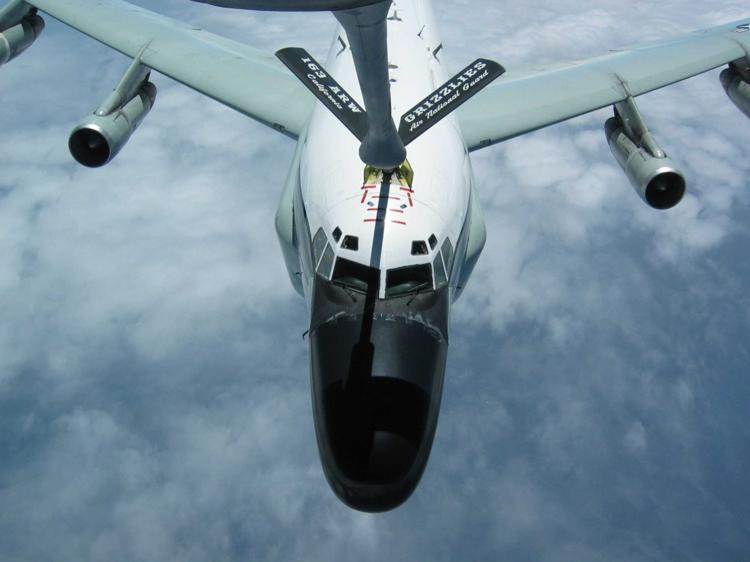 The Wing's vice commander said there's nothing strange about fuel fumes in the jet.
"The smell of fuel is standard, because of the nature of aerial refueling," said Col. David Berg.
Others, though, see a reason to worry.
"I'm concerned if we're smelling fuel fumes," said Craig, the Air Force's former deputy safety director, "because the airplane is full of electronics."
The actions of flight crews show they are concerned, too. An odor of fuel fumes invariably prompts pilots to back away from the fuel tanker, run through checklists to ventilate the aircraft and declare an emergency.
That's what happened Aug. 27, 2017, on a reconnaissance flight out of Okinawa. Five gallons of fuel came gushing out from under the navigator's work station after a gasket blew out during a aerial refueling. The flight deck crew put on oxygen masks and ran through checklists to clear fumes. The plane landed safely.
The 55th Wing operates its aircraft every day, in every major world trouble spot. It has been continually operating in the Middle East since 1990. The North Korean nuclear threat remains. Tensions are rising with Russia, and China becomes more assertive every day. The pressure only increases to keep planes flying.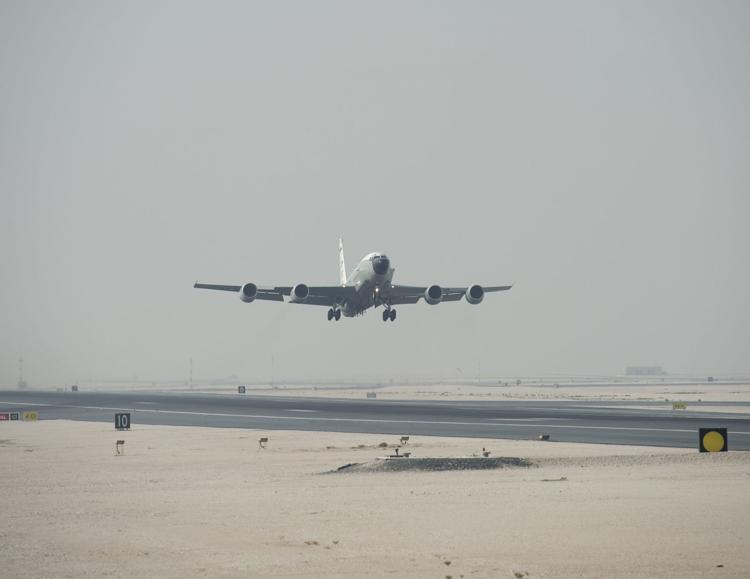 Retired Brig. Gen. Don Bacon, the former 55th Wing commander turned Nebraska congressman, knows that as well as anyone.
"It's a hard business. We've got old aircraft," Bacon said. "We've got to get the job done."
But Hopkins said that get-it-done-no-matter-what mentality, in which the military takes enormous pride, is also preventing some leaders from raising alarms about the problem.
"Crews are being expected to fly airplanes that have not been properly repaired," he said. "If you don't have enough airplanes and you're flying the hell out of them, you don't have the luxury."
Tomorrow: The 55th Wing's plane problems aren't new. Why have they been tolerated? And is there any hope of new jets?
In-flight emergency: An investigation into flight safety at Offutt's 55th Wing
Despite periodic overhauls and "a lot of maintenance love," the 55th Wing's 29 planes average more than 80 emergencies and aborted flights per year. Some Air Force veterans fear for crews that take to the sky in the aged, overworked jets. Yet the Air Force plans to keep flying them for 30 more years. Click on links in captions to read individual stories. Or start here.