The blaring sirens of firetrucks rolling full tilt down the Offutt Field runway left Myrt Jones alarmed and confused.
In the midst of World War II, the 19-year-old from Dunlap, Iowa, ran a blueprint machine for the Glenn L. Martin Company, an aircraft manufacturer operating at the Bellevue Army base then called Fort Crook, in a building where planes were modified with guns and other add-ons.
Myrt usually had lunch with her boyfriend, Miles, a civilian test pilot of the B-26 bombers manufactured at the base. But that day — Sept. 22, 1943 — he had stopped by to say he couldn't make it.
"I've got to fly," he told her.
Not long after, she recalled, "bells and whistles started going off."
"Somebody said the plane that just took off went into the building," said Myrt, referring to the cavernous Martin assembly plant at the north end of the runway. "The only plane I knew that took off had my boyfriend on it."
Sign up for World-Herald news alerts
Be the first to know when news happens. Get the latest breaking headlines sent straight to your inbox.
Myrt worked in the aircraft modification building on the opposite side of the airfield, so she couldn't see the full extent of what happened.
One of the aircraft's twin engines had caught fire after taking off toward the north. The pilot circled around to the west, and the plane wobbled back toward the runway. It fell short, crashing through the roof above an assembly area.
Three crew members died. A fourth survived, badly injured. Several planes on an assembly line suffered damage from wreckage and fire, and one was destroyed.
Amazingly, none of the Martin workers in the plant were hurt. The assembly lines had been idled because the employees were on their lunch break.
Myrt resisted the temptation to leave her post and go see what had happened.
"I didn't know for a while whether my fella went down or not," said Myrt, who is now 95 and lives in Nokomis, Illinois.
Growing up, Myrt had ambitions far beyond the limits of her small farm town. She graduated from high school in 1941, shortly before her 17th birthday.
"I had a good time. I was a cheerleader, and all that silly stuff," she said.
After high school, she got a job in a drugstore to earn money for nursing school.
Then the Martin plant opened in early 1942, just a few weeks after the Pearl Harbor attack. Myrt's older sister got a job there. They paid a starting wage of 60 cents an hour, far more than the $1 a day she earned at the drugstore.
Martin had a minimum age of 18. So when her birthday rolled around in July, she applied and was quickly hired. She rented a room from a family at 31st and Dodge Streets, and caught a bus or streetcar to work when she couldn't find a ride.
At first she worked in the main assembly building, which is now called Building D. Later she was transferred to a similar job in the modification building. Both were in high-security areas.
"I was in a place where the door was locked. You had to be buzzed in and out," Myrt said. "We had a lot of the original blueprints there, and they had to be protected."
She enjoyed the life of a young single woman in the big city. With the war on, almost all of the eligible young men had gone into the service. But Martin's test pilots mostly were civilians in their early 20s with flying skills. Sometimes she and her friends would run into them around town at nightspots.
That's how she met Miles Hubbard. He had grown up in Illinois, not far from St. Louis, gone to aviation school and gotten a job with TWA. When the war started, he went to work for Martin and moved to Omaha when the Fort Crook plant opened up.
She never worried about him when he was flying. Except on that clear September day, when Miles skipped lunch and the sirens blared.
"I guess I had no sense," Myrt said.
Fortunately, she didn't have to wait long to hear a familiar voice in her office hallway.
It was Miles. He was safe. He had been flying a different plane, and he landed without incident.
"I really didn't have time to get too upset," she said.
The news wasn't all good, though. Myrt knew two of the men on the ill-fated bomber that hit the main plant and caught fire. The B-25, which had been built at another base, had been outfitted at Martin with new guns. The crew was taking the plane to a firing range to test them.
One of the men was 1st Lt. E.D. Wellborn, the 21-year-old pilot, who was killed. The other was Tommy Zinkevich, 21, of Omaha, a tail gunner on the plane. He survived. (Also killed were Elmer Lynch, an Army Air Forces inspector, and James Leach, 41, an armorer who had previously worked as a pressman at The World-Herald.)
The plane had hung up in the rafters, spewing gasoline and fire on the assembly line. Firefighters managed to confine the fire to an area immediately below, even as ammunition exploded. It took about 45 minutes to put it out.
Zinkevich was thrown to the floor of the building. According to The World-Herald, "When rescue workers hauled him out of the path of the spreading flames, the right side of his face was a bloody, battered pulp, his skull was fractured, his right eye was injured, his leg was smashed badly."
He was unconscious for 60 hours, and priests administered the last rites of the Catholic Church. When he woke up, he had no memory of the crash. He returned to his old job 11 months later.
"He was all banged up, on crutches," she said. "We felt sorry for him, because he was just a shadow of what he was."
Four months after the crash, in January 1944, Myrt and Miles were married in Omaha. She kept working through the following summer, and Miles remained through the end of the war.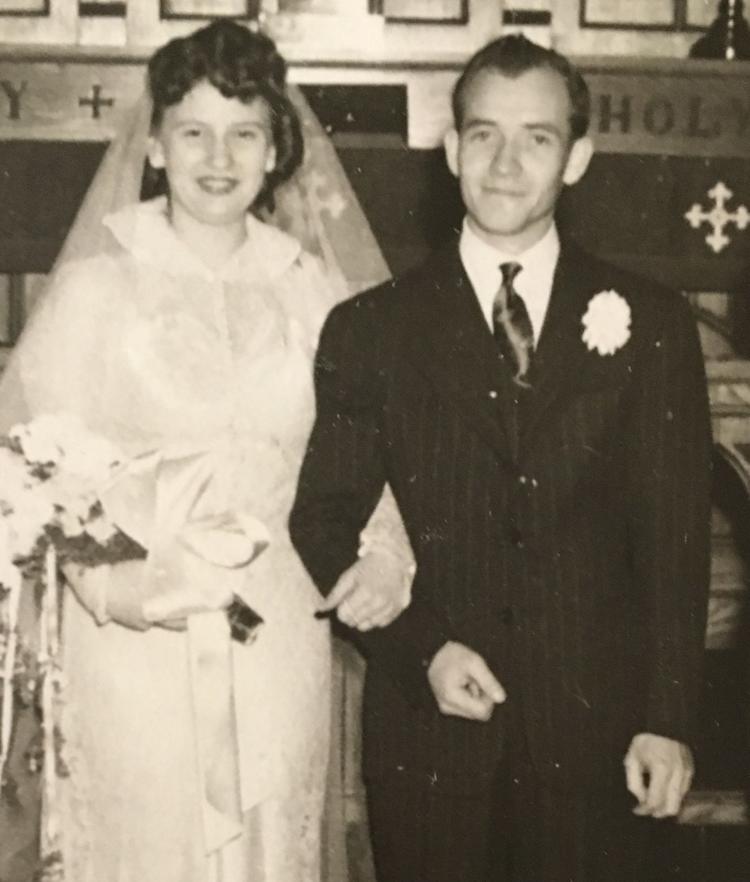 In 1944, the plant retooled to produce the big B-29 bombers that rained incendiary bombs on Japanese cities, killing hundreds of thousands of civilians in the final months of the war.
Workers there also built the planes that would become known as Enola Gay and Bockscar, which dropped city-destroying atomic bombs on Hiroshima and Nagasaki in August 1945. Miles flew the planes, part of a team preparing them for what was called the Silver Plate Project.
Though neither served in uniform, both served their country.
After the war, Miles went back to work for TWA, though as a mechanic, not a pilot. They raised two daughters, Sue and Connie, and lived at different times in Omaha, Chicago, Kansas City and San Diego.
Not that Miles' flying days were over. He was a lifelong member of the Experimental Aircraft Association. Miles and Myrt were regulars at the group's annual fly-in at Oshkosh, Wisconsin.
"He had half a dozen airplanes of his own," Myrt said, adding with a laugh, "I've gone up with his ding-y friends and done aerobatics and stuff."
In retirement, they split time between her hometown in Iowa and his in Illinois. He continued to fly until his death in 2007 at 88.
Myrt still identifies as a "Martineer" and has sought out people who worked there. But she's never joined the association of wartime "Rosie the Riveters" because she worked with blueprints, not a welding torch.
"I wasn't a 'Rosie the Riveter' then, and I'm not now," she said.
Neither she nor her husband wore the uniform — but both stepped up and served their country.
"It was a hard, nasty, fun time," Myrt said. "I loved it."
Honoring our heroes: A gallery of Nebraska veterans
Honoring our heroes: Nebraska veterans and their service.