Robert Ekdahl sees his "flag cards" as more than cut-out stars on plastic-wrapped index cards.
To him, the cards are reminders to remember the American flag. He makes the cards using stars cut from worn-out flags.
The 80-year-old Army veteran estimates he's given out about 67,500 handmade cards over the past eight years with the help of his friend, 71-year-old Air Force veteran Jon Rogers.
"What we do is rewarding," Ekdahl said. "We're happy to share with anybody and everybody that the flag is to be respected and to be honored. It's not just a piece of cloth up there. It has meaning."
Both men usually leave their houses with about five cards and go back home empty-handed, said Rogers. From bank tellers to shoppers at the grocery store, anyone is free to take a card. But Rogers focuses on giving them to veterans as a thank you.
"Early on I had a veteran say 'That's the first time anybody has said thank you,' " Rogers said. "So there's somebody out there that has not been thanked for their service yet, and I'm going to find that person, no matter how many people I have to go through."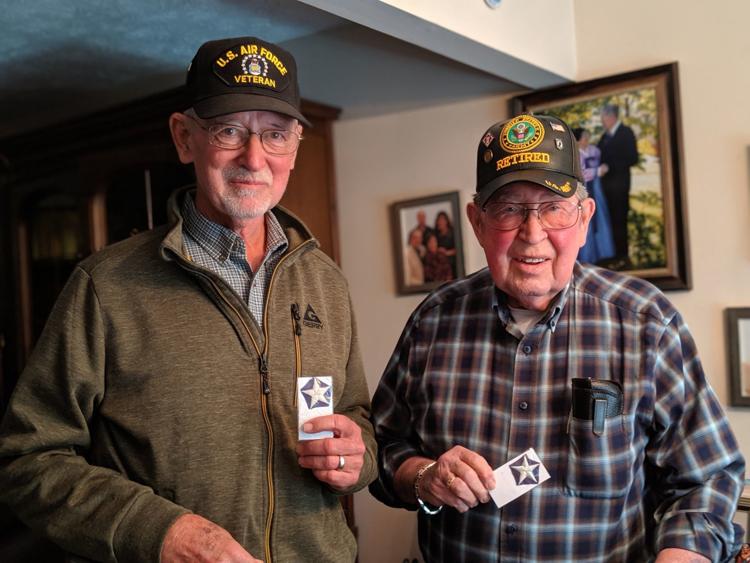 The cards bring a range of reactions, from a handshake to tears and hugs from some veterans.
Rogers estimated half a dozen people have declined the star cards, a couple of them doing so for political reasons.
Ekdahl said a few people have expressed concern about complying with the U.S. Flag Code, the official national rules regarding the American flag. Those rules require that a worn flag be destroyed by burning it in a dignified manner.
Rogers said that both he and Ekdahl follow the flag code's disposal rules. After the stars are cut from the flags, they take care to properly burn the cut-up flag scraps at local crematories.
Ekdahl was inspired to begin making the cards by a star card he received while hosting a reunion for his Vietnam battalion in May 2011. Ekdahl came up with his own version of the card and began handing the cards out that June.
His initial batch of 2,000 ran out as he received requests for more cards from members of his local Veterans of Foreign Wars chapter.
Tens of thousands of cards later, Ekdahl is still finding more discarded flags to use and more people to receive the cards.
Ekdahl said he faces health problems that he believes are because of Agent Orange exposure in Vietnam and smoking.
"I can't go outside in the cold in the winter so I stay home and make these," he said. "My wife says this is one of my part-time jobs. One part-time job is keeping medical practitioners busy."
The Army veteran said he's looking forward to reaching his next milestone of 70,000 cards. After that, Ekdahl said he'll probably order the next pack of 5,000 cards and sleeves and keep making more.
Honoring our heroes: A gallery of Nebraska veterans
Honoring our heroes: Nebraska veterans and their service.