You might think the Nebraska National Guard would be ready to give up on its Camp Ashland training site after repeated floods, including two devastating ones in four years.
But the Guard is doubling down with pricey plans to again rebuild the 1,184-acre facility on the Platte River, fortifying it with bigger walls and stronger defenses to keep out future floods, and raising buildings with stilts.
The price tag: $62.3 million.
Most of that money — $48.4 million — will be spent on two major construction projects that Col. Shane Martin, the Guard's construction and facilities management officer, believes will protect it from future deluges:
$35 million to replace existing administrative offices, classrooms and barracks with seven new buildings, all built on stilt pilings at least 7 feet off the ground.
$8.5 million to extend to the north a 7-foot concrete bulkhead that currently runs inside the Platte River levee on the southern part of the camp.
$4.9 million for the design of those two projects.
$8.1 million to repair existing buildings and infrastructure, including $1 million for road repair, $2 million for grading and repairing trails and $3 million for land clearance and grading.
$3.6 million for a new maintenance building and a new gym.
$2.2 million to replace furniture and equipment.
The total bill is about 17 times as much as the $3.7 million spent to rebuild and fortify low-lying buildings with floodgates after the 2015 flood, which filled them with 3 feet of water. This time, the water was 2 to 4 feet higher.
By Steve Liewer World-Herald staff writer
Camp Ashland is a regional training center for up to 100,000 regular Army and Army Reserve, as well as National Guard soldiers, and serves units in nearby states as well as in Nebraska. Martin called it the "primary schoolhouse for the National Guard."
Besides being a venue for weekend and summer National Guard drills, it is the headquarters for a mandatory three-week leadership course for newly promoted sergeants as well as a training program for Army truck drivers.
Martin said those courses have continued uninterrupted, in spite of the flood, at the Nebraska Guard's training facilities in Hastings and Mead.
But those camps won't work over the long term, he said, because they are either too small or not configured properly. Much of the Hastings site is used as a firing range, which limits the other activities that can be carried out there.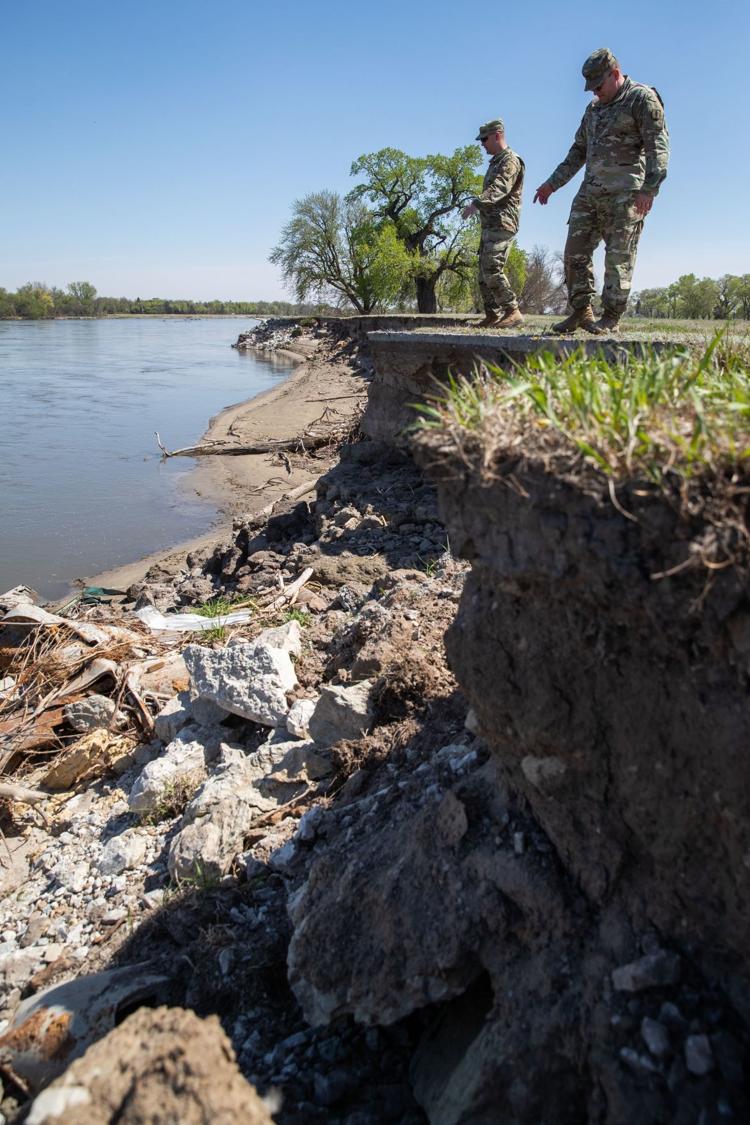 The Guard has deep roots at Camp Ashland, too. It's been in use for at least 100 years. In the 1920s, soldiers donated part of their pay to build Memorial Hall, an auditorium and multipurpose building. It was dedicated in 1929, and is not known to have flooded until this spring. Two feet of water seeped inside, ruining wood floors and walls and causing $400,000 in damage.
The presence of the Platte River makes it possible to practice water crossings, Martin said. And it's easy to get to, just a few miles from Interstate 80.
"We have extreme history here," he said. "And we're strategically located between Omaha and Lincoln."
He believes building on stilts — a common practice in areas prone to high water like southern Louisiana and the Florida Keys — will elevate offices above future floodwaters.
Martin noted that more than a dozen buildings constructed on stilts in 1996 have stayed dry during a series of floods since then, including major events in 1997 and 2011, as well as the 2015 and 2019 deluges.
"We want to raise this above the flood, so nothing like this ever happens again," he said.
Martin has submitted a funding request to the National Guard Bureau in Arlington, Virginia, but it's not yet clear when Nebraska will receive a response. If it's granted, the money would come from federal tax dollars, not from the state.
Contacted Thursday, a National Guard Bureau spokeswoman said no one there was available for an interview regarding the Nebraska National Guard request.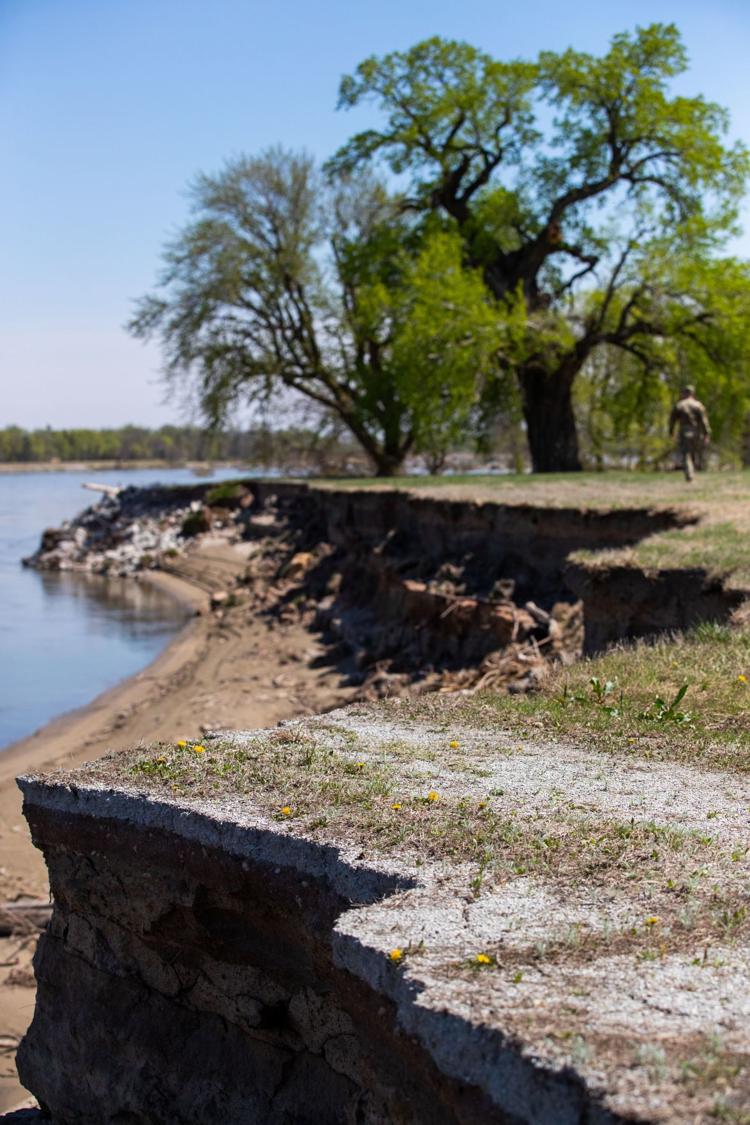 According to a National Guard flood assessment, the flood at Camp Ashland began March 13 when Salt Creek, a Platte River tributary that runs along the south end of the site, began overflowing into the camp. Five feet of water sloshed into the southern part of the camp and up to 3 feet along the northern and western sides.
Three days later, water from the Platte began surging over a levee near the north end of the property, eventually tearing a gap in it and causing a torrent of water, debris and sand to cover the whole camp. Where the levee was breached, the water also cut a trench 20 feet deep, uprooting wellheads and power poles.
"We had historic damage, a breach of a levee that's never broken before," Martin said. "It was shocking, truly devastating when you got on the ground."
The cleanup is now well underway, using $4 million in emergency funds already sent by the National Guard Bureau.
Large side-dumping trucks have been pouring up to 40 loads of dirt and sand a day into the yawning levee breach.
"They just keep bringing it and bringing it," Martin said. "She's starting to look like something."
Workers also are cleaning out 21 low buildings used as barracks and classrooms, a storage shed and an old (and historic) barn that contained administrative offices. All filled with water 5 feet deep, topping floodgates that had been installed after the 2015 flood.
The workers have pulled down the sodden drywall and ripped out the insulation, hoping to remove it before mold grows and turns the stuff into a toxic mess. The exposed studs reveal the electrical wiring that had been installed 4 feet high in the 2015 reconstruction.
That wasn't high enough. All of it is ruined.
"We put it higher than any flood we've ever had here," Martin said. "In theory, we were brilliant."
Now, they have learned new lessons.
"That's why we're going to stilts," he said. "We have to plan for the worst of the worst.