Climbing inside the cramped quarters of a B-17 Flying Fortress or B-24 Liberator gives many people a new respect for the air crews that fought World War II. That's exactly the purpose of the Wings of Freedom history tour that landed in Omaha over the weekend.
"It gives everybody a whole new appreciation for what our veterans went through and the sacrifices they made," said Demi Bam, a tour coordinator. "With the younger generation, it makes them more curious about history and makes them care a little more. They are learning about history in a very genuine way."
The Wings of Freedom tour flew into Eppley Airfield on Friday and concluded its stay Sunday. The B-17 and B-24 bombers were accompanied by two fighter planes, a P-51 Mustang and P-40 Warhawk. A B-25 Mitchell bomber will rejoin the tour after some repairs.
"I heard the B-17 flying over (overhead) on Friday," Doug Davis of Omaha said. "I was looking up and then suddenly I saw this B-17 flying east toward (Eppley Airfield). That's my favorite plane of all the bombers, even today's aircraft."
Davis, who paid $15 for a ground tour of the planes, said a ride in a B-17 is on his bucket list. That's possible with this tour, but the ticket for a ride on the B-17 or B-24 costs $450 per person. The tour charges $400 for the B-25.
For the ultimate experience, customers don't need any flying experience to take the controls of the P-51 Mustang or P-40 Warhawk. Dual controls in the fighters mean you take a flight — with an instructor — starting at $2,200 for 30 minutes in the P-40.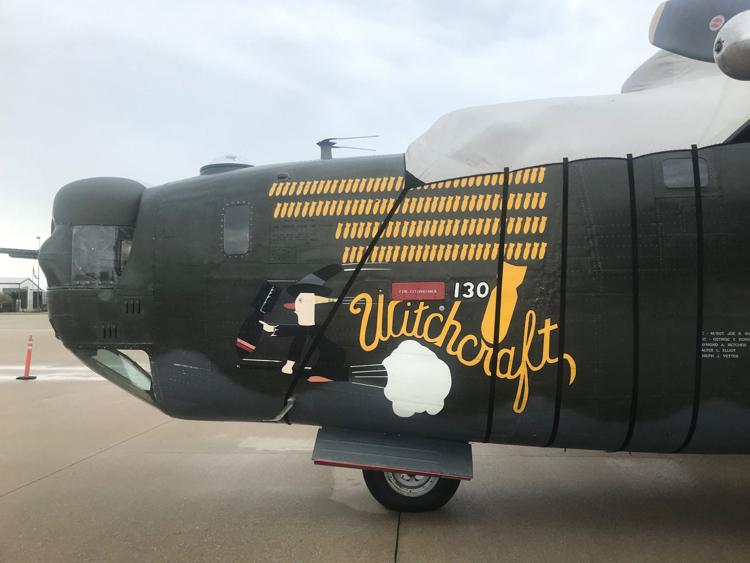 Dennis DeBord of Omaha brought his 11-year-old grandson, Isaiah DeBord, down for a ground tour of the World War II planes. Isaiah got to man a machine gun in the B-24 named "Witchcraft."
"I had been around a lot of this kind of stuff growing up," the elder DeBord said. "You can watch movies and you can read books, but you don't really feel (the history) until you see it and touch it."
Jerry Merwald, 74, toured the bombers with his son, Matt; daughter-in-law, Christin; and grandsons, Frank, 4, and James, 2, all of Omaha. Merwald noted that he was born in the same month of 1944 that the B-24 was built.
"I've always been a fan of the World War II aircraft, but this is the first time I've seen them up close," the elder Merwald said. "I was hoping to see that B-25. I've wanted to see one of those ever since I was a kid and saw (the movie) 'Thirty Seconds Over Tokyo.' "
The film depicted the top-secret attack by 16 B-25 medium bombers from the aircraft carrier USS Hornet during the early days of World War II, with targets in Tokyo, Kobe, Yokohama, Osaka and Nagoya.
Joe Pridie and his 8-year-old son, Jaxson, climbed into both of the bombers. The fighters were kept inside a hangar until Sunday's rain stopped.
"Anytime these planes are around, we come down," Joe Pridie said. "We like to tour the planes because you're seeing history. You're seeing the planes that flew the skies of Germany. The planes that won the war."
Honoring our heroes: A gallery of Nebraska veterans
Honoring our heroes: Nebraska veterans and their service.