Editor's note: This story was originally published in The World-Herald on April 30, 2015. Some of the dates, ages and time references have been updated.
At darkest midnight, Dau Nguyen stood quietly terrified in a line of refugees on the deck of the South Vietnamese navy ship, his wife and two small children by his side.
The ship had offered them their only chance of escape from the advancing North Vietnamese armies, which would overrun Saigon within hours. But the boat was desperately overcrowded and had grounded itself rounding a sharp bend in the river that led to the South China Sea.
Now Nguyen, a lieutenant in the South Vietnamese navy, had to walk across a 10-foot rope connecting his vessel with a rescue ship. Dangerous, choppy waters lay below.
"I carried my family on my back," said Nguyen (pronounced "Win"), who now lives in Lincoln. "I was so scared. ... Some people fell. They were history."
He stepped onto the rope, placing his feet carefully, trying to ignore the breeze and the weight on his shoulders. Hands reached out to help him on the other side. He collapsed in a heap on the crowded deck, exhausted and overwhelmed.
Nguyen is one of 125,000 to 150,000 South Vietnamese refugees who fled from the country 45 years ago this week as its army collapsed under an onslaught from communist forces.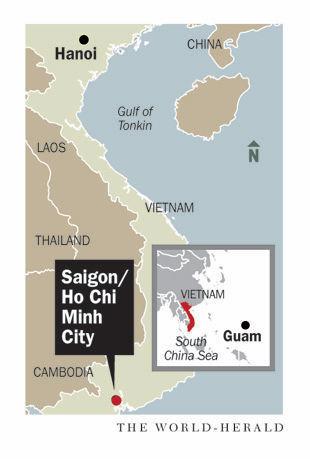 In a mass evacuation as heroic as it was chaotic, American and Vietnamese officials — frequently acting without, or even against, orders — packed boats and helicopters with desperate refugees and ferried them to an offshore flotilla of U.S. Navy and merchant ships.
Those first refugees planted the seeds of what would become a highly successful Vietnamese immigrant community in every U.S. state. Several thousand, including Nguyen and his family, settled in Nebraska, thanks to welcoming Catholic and Lutheran sponsor groups. Data from the 2010 Census show nearly 8,700 Vietnamese-Americans live in Nebraska, more than half of them in Lincoln. About 9,500 live in Iowa.
Nguyen had never heard of Nebraska when he chose it for his family's new home.
"I looked at a map. (It was) in the middle — not too cool, not too warm, I thought," Nguyen said.
Nguyen got a job as a bank teller in Lincoln and later earned two degrees in finance at the University of Nebraska-Lincoln while working at a bank in the capital. He retired in 2005.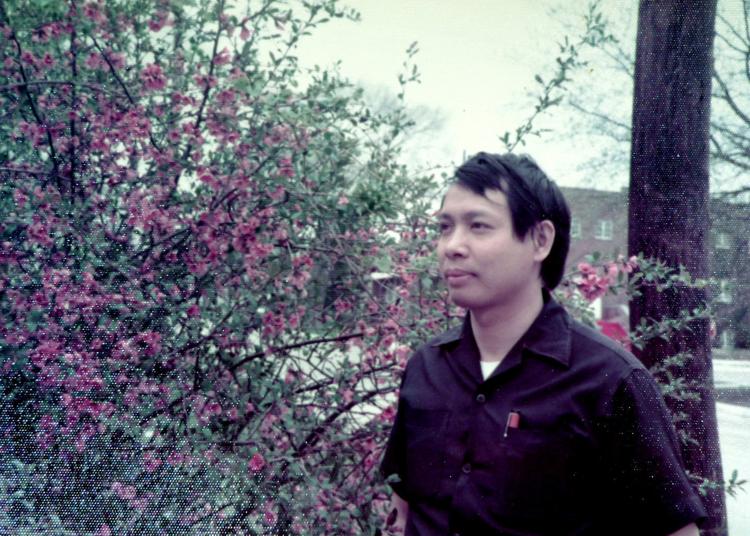 Since then, Nguyen has been active in the Vietnamese Community of Lincoln, a group that helps both newcomers and longtime residents of the city with resettlement. He has taught English to refugees for decades.
"I was helped by many American people," he said. "I want to pay back."
In 2015, Nguyen worked with Nate Blum, an aide to U.S. Rep. Jeff Fortenberry, R-Neb., to organize a series of events to commemorate the 40th anniversary of the end of the Vietnam War. The events included a dinner, a business expo, a showing of the award-winning documentary "Last Days in Vietnam," and a panel discussion that included Nguyen and other participants in the drama of Saigon's fall.
"It just kind of felt like the right thing to do," Blum said. "How do we thank our veterans now, since we didn't do it properly at the end of the war?"
For Nguyen, the end of the war in 1975 seems like a bad dream. There had been occasional fighting since U.S. forces left the country two years earlier. But that March, North Vietnamese troops had broken through in the Central Highlands. Over the next six weeks, South Vietnam's military leaders pulled all forces back to protect Saigon.
"When they withdrew, they had no plan at all," Nguyen said.
The Americans had cut off military aid when they exited the country, which left the South Vietnamese desperately short of supplies.
"We had weapons, but we didn't have any ammunition to fight. We had no fuel," Nguyen said.
In the face of the rout, the South Vietnamese government had ordered military personnel to remain in place. But Nguyen's boss, Capt. Kiem Do, plotted with an American defense attaché named Richard Armitage — who would later serve in senior diplomatic and intelligence positions — to escape with South Vietnam's 32-ship navy.
On April 29, Armitage pulled Nguyen aside and whispered that he should flee with his family to the shipyard.
At home, Nguyen found his wife had dropped a pot on her foot and could barely walk. He helped her and their two children, ages 6 and 3, onto his motorbike.
"It seemed like I was in a dream," Nguyen said. "I didn't have any time to think."
They snaked through traffic-choked streets and pushed through crowds of fleeing citizens at the port. They climbed aboard the ship, which was jammed with refugees. Late that night, after it beached in the river, he and his family would walk that harrowing tightrope to safety.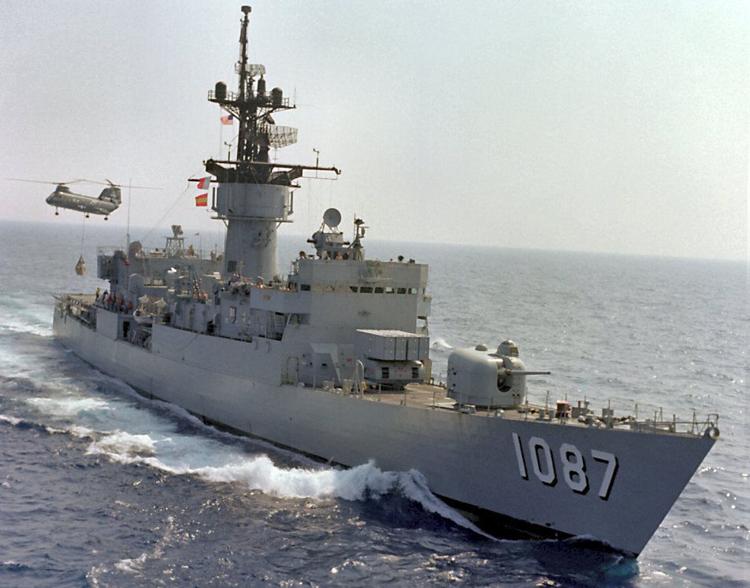 Under cover of darkness, the South Vietnamese fleet moved offshore to Con Son Island and waited a day to meet up with several ships from the U.S. Navy's 7th Fleet, including the frigate USS Kirk. The 32 Vietnamese navy ships, plus some barely seaworthy cargo vessels, carried an estimated 32,000 people.
Lt. j.g. Hugh Doyle was the chief engineer on the Kirk. The crew had already been through a bewildering day they would never forget.
The Kirk was escorting a U.S. aircraft carrier and expected to be primarily a spectator to the orderly evacuation of about 7,000 Americans and a few Vietnamese.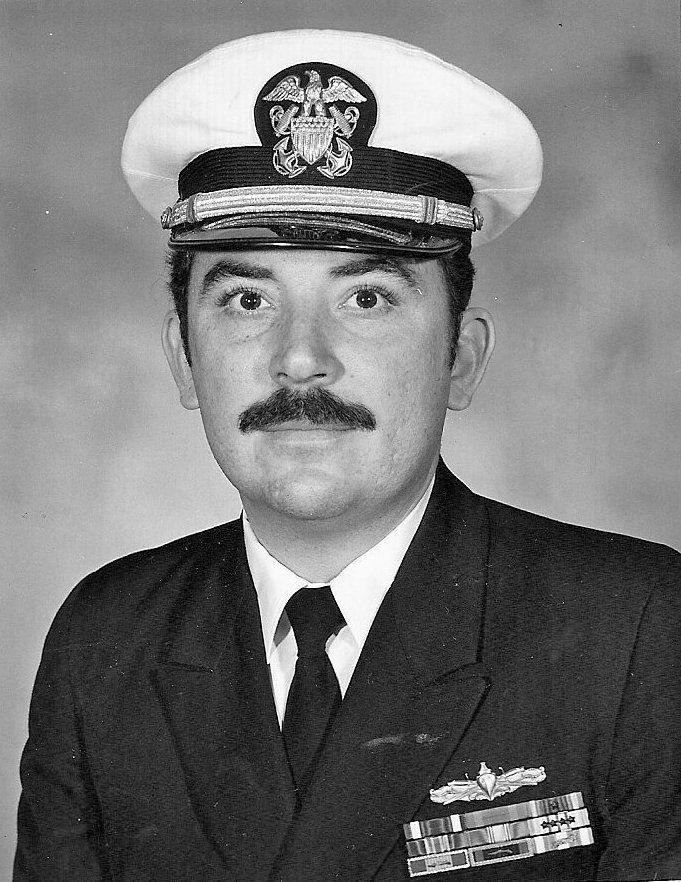 "Instead of 7,000, we had about 147,000 come out," Doyle said. "The vast stampede was what we weren't expecting."
During April 29 and 30, one South Vietnamese UH-1 Huey helicopter after another approached the Kirk, which was steaming about 20 miles offshore. Each was loaded with civilians. The copters circled the frigate, landing and disgorging their passengers.
The Kirk's crew hustled each group of civilians off the flight deck as quickly as possible, taking down names, placing cash and gold in the ship's safe, throwing weapons overboard. By the end of the second day, the crew had registered 157 names.
"It was all impromptu," Doyle said. "We didn't have any rules. We just winged it."
They had no place to put the South Vietnamese helicopters. Eventually, 17 would land.
"We started pushing them over the side to make room for the next one," Doyle said.
Doyle, now 75, is the historian for the USS Kirk alumni association. He has traveled the country with the producers of "Last Days of Vietnam" to tell the ship's story, and was in Lincoln in 2015 to show the film and hold a panel discussion. He was joined by Kiem Do, who now lives in New Orleans. Do and Nguyen had an emotional reunion; they hadn't seen each other since parting decades ago in Saigon.
Doyle said he was impressed with the 2015 Lincoln commemoration, especially because it brought together Vietnam veterans — who have long felt their service was unappreciated — with the Vietnamese-Americans who appreciate their sacrifice the most.
"I've said, look around and be proud. There are 2 million patriotic (Vietnamese) Americans," Doyle said. "You might not have known them when you were over there. But believe me: They're real people, and they love their freedom."
Learn more about the fall of Saigon:
» Stories and sailors' photos of the USS Kirk's role in the evacuation of Saigon: www.kirk1087.org
» Nebraska Educational Television interviews Dau Nguyen of Lincoln and Kiem Do of New Orleans, two South Vietnamese naval officers involved in the 1975 secret escape of the South Vietnamese naval fleet from Saigon on April 29 and 30. Nguyen served on Do's staff in Saigon before the country fell. They hadn't seen each other since then, until they were reunited for a public screening and panel discussion of Rory Kennedy's "Last Days in Vietnam." 
» A trailer for the Oscar-winning documentary, "Last Days in Vietnam," is online. The film is not online, but go here for a link to the trailer.