Air Force Lt. Col. Dan Wallick grew up in flat, muggy Houston and served the past four years at Offutt with U.S Strategic Command. But he found inspiration in the cool, crisp mountains of Colorado.
That's where two of his friends from Omaha, Dave Reddel and Pete Nachtigall, planned to meet him July 25 as part of Peak Challenge, a Nebraska-based Christian ministry designed to bring men together with God through wilderness activities in the Rocky Mountains. About 200 were gathered at Camp Hale, an old Army training base about 60 miles west of Denver.
Wallick, an Iraq and Afghanistan War veteran, was to join Nachtigall as co-leader of a 10-man group during a four-day bonding session that included a hike up a nearby mountain.
But Wallick never made it. He disappeared while hiking on Challenger Point and Kit Carson Peak, two adjacent mountains more than 14,000 feet high. Four days later, his body was recovered from a treacherous cliff where he had fallen.
"The Peak Challenge community is hurting," said Reddel, who co-founded the group 14 years ago.
Hundreds turned out Monday for a memorial service in Colorado Springs, where Wallick had been assigned since June. He was buried with military honors at Pikes Peak National Cemetery.
Friends and family remembered him as a fun-loving man devoted to God, his family and his country.
"He was an exceptional man," Nachtigall said. "He was very adventurous. He loved to push himself, in every aspect of his life."
Wallick's upbringing was pure Texas, but he traveled to Los Angeles for college, where he attended the University of Southern California on an ROTC scholarship. He was commissioned as an Air Force officer in 2000 and worked much of his career in logistics and acquisitions.
His 19-year career took him to posts in Massachusetts, Japan, Colorado and Florida, in addition to Nebraska. He deployed to Iraq in 2006 and Afghanistan in 2013. During his Offutt tour, Wallick and his family lived in Papillion and attended Good News Church in Omaha.
Dean Corpman of Bellevue worked side by side with Wallick at the Air Force Life Cycle Management Center during his tour at Offutt.
"The first time I met him it struck me: This is a good person," Corpman said.
They were branch managers whose job was to choose and purchase computer hardware and software for StratCom. Corpman said it is a high-stress job that often requires midlevel officers to answer probing questions from some of StratCom's top leaders.
"He was always calm. Nothing seemed to shake him," Corpman said. "But as demanding as the workplace could be, he always kept his family first, and his faith life."
Wallick was devoted to his wife, Danita, who is also from Texas, and his daughters, Celia, 9, and Evelyn, 5. Photos posted on social media show them clowning and wearing funny hats and masks — always smiling.
It was family and faith, along with hiking, that brought Wallick together with Reddel — who is a senior lawyer for Omaha-based Oriental Trading Company — not long after Wallick moved to Nebraska in 2015.
"We immediately hit it off over an early morning coffee as we shared our love for hiking 14,000-foot peaks, raising girls and our faith in Jesus," Reddel said.
He persuaded Wallick to join the annual Peak Challenge event the past two years to provide leadership both spiritually, and on the mountain.
Reddel said Wallick acted as a "sweeper," checking trails at the end of the climb to make sure no one was left behind.
Last year, Wallick hauled a case of water bottles up the slope so that the descending hikers would have something to drink on the way down.
"That was his heart. He loved to help others," Reddel said.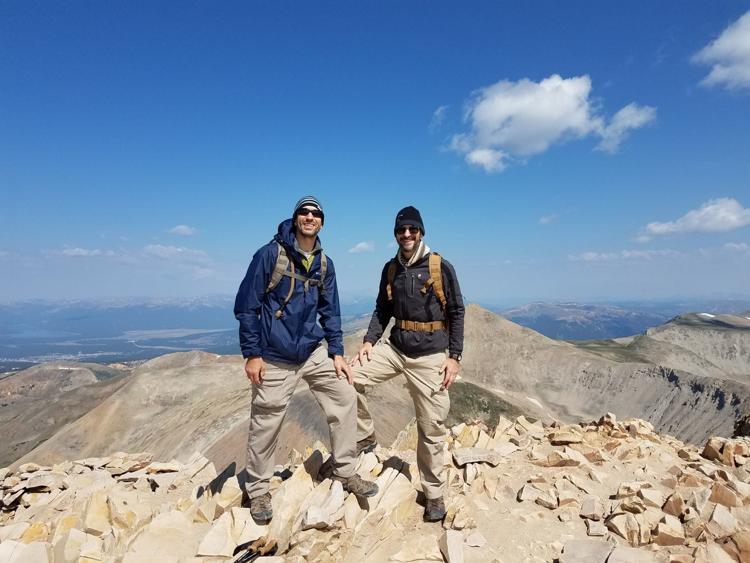 Wallick was an experienced hiker who Nachtigall said had set a goal of summiting all of Colorado's "14ers" — mountains measuring at least 14,000 feet high. There are 58 of them.
"He was well past halfway," Nachtigall said. "He definitely had a love of the mountains."
Wallick bagged two more 14ers on July 24, the last day of his life. He texted family members that he had topped Challenger at 11 a.m., and sent a photo of himself at the adjacent summit of Kit Carson at 12:12 p.m.
Another hiker saw him shortly before 1 p.m. But he never made it back to the trailhead where he had parked his car, on the north side of Challenger. His family reported him missing late that afternoon. Custer County Search and Rescue organized numerous volunteers to look for him early in the morning of July 25, aided by helicopters from the Colorado Air National Guard and Colorado Division of Fire Prevention and Control.
Tracking signals from Wallick's cellphone, rescuers spotted his body two days later in a ravine on the south side of Challenger at about the 13,000-foot level, said Pat Fiore, co-captain of Custer County Search and Rescue, who participated in the search.
Rescuers aren't sure what happened. The trail down was on the opposite side of the mountain.
"The south side is really steep. He was definitely not on a route," Fiore said. "We don't know if he got lost or how far he may have fallen."
Sheriff Dan Warwick of Saguache County, which includes the two peaks, said the hike doesn't require special gear but is treacherous if a hiker strays even a short distance off the trail.
"It has happened often, and they are accidental deaths," he said in an email. "People of all ages and experience levels have had falls on these peaks."
Wallick's body was brought down the mountain to the search-and-rescue facility in a military helicopter on July 28. Fiore said some military friends found a flag to drape over the body bag. Danita Wallick was there to meet them.
"A pastor said a prayer. The family did a little bit of singing," Fiore said. "That's one of the few times I've cried."
Besides his wife and daughters, Wallick is survived by his parents, Paul and Anita Wallick; his in-laws, Greg and Julia Stewart; and his brothers, Andy and Aaron Wallick.
Notable Nebraska, Iowa deaths of 2019