As a boy, David Eisenhower roamed the halls of the White House during the administration of his grandfather, Dwight D. Eisenhower.
And as a young man, he discussed domestic and international affairs while sitting at the dinner table of another president, Richard Nixon — his father-in-law.
He had an up-close view of two highly consequential presidential administrations.
"It handed me an opportunity, and maybe even an obligation, to examine the recent decades of American political history," said Eisenhower, 71, who is director of the Institute for Public Service at the University of Pennsylvania's Annenberg Public Policy Center.
He has spent much of his adult life doing just that. In 1986, he published a 1,000-page book on his grandfather's military leadership titled "Eisenhower at War 1943-1945." And in 2010, he and his wife, Julie Nixon Eisenhower, co-published a memoir of his grandfather's life after the presidency called "Coming Home to Glory."
Two other books, one on Eisenhower's presidency and the other on the pivotal year 1968, are completed but not yet published.
Sign up for The World-Herald's afternoon updates
Receive a summary of the day's popular and trending stories from Omaha.com.
David Eisenhower will offer his insights into his grandfather's management of Operation Overlord — the epic invasion of Normandy — in Omaha in a presentation at 7:30 p.m. today at the Holland Center.
His talk, titled "D-Day +75: In the Eyes of America's Postwar Generations," is the 2019 installment of the Governor's Lecture. The lecture is part of an annual series dating to 1996 on history and current events sponsored by Humanities Nebraska, said SheriLynne Hansen, a spokeswoman for the group.
It coincides with the signing of a Sister Cities agreement between Omaha and the French cities near Omaha Beach. As president, Dwight D. Eisenhower established the Sister Cities program in 1956.
Hansen said David Eisenhower was invited at the suggestion of Cynthia Hardin Milligan, a lawyer, business consultant and longtime friend of Eisenhower's who serves on Humanities Nebraska's board of directors. Her father, Clifford Hardin, served for two years as President Nixon's Secretary of Agriculture.
The talk is free and open to the public. Before the lecture, Humanities Nebraska will present its 2019 Sower Award to University of Nebraska-Lincoln journalism professor Joe Starita.
Dwight David Eisenhower II was the oldest grandchild of Dwight and Mamie Eisenhower, and a frequent visitor to the White House as a boy.
Camp David, the presidential retreat in Maryland, is named for him. When the president retired to a farm in Gettysburg, Pennsylvania, David's family — parents John and Barbara Eisenhower, and his three younger sisters — lived nearby.
"I saw him often — almost as often as my parents," Eisenhower said.
He attended prep school and college in Massachusetts, and at age 20 married Julie Nixon. Her father was Eisenhower's vice president and had just been elected president when they were wed.
Eisenhower's ties to the Midlands date back to his youth. His prep school roommate was Fred Grandy, the actor and former Iowa congressman. Grandy was the best man at Eisenhower's wedding. Eisenhower campaigned for him when he entered politics.
In 1969, he served an internship on the staff of Nebraska Republican Sen. Roman Hruska.
And his friendship with Cynthia Milligan and her husband, Robert, is deep and long. They are the godparents to one another's children, and their friendship led to work with the Omaha-based Gallup Organization.
"(Julie and I) became regulars to Nebraska," he said.
Eisenhower said he probably would have pursued a career in business or law had he not married into the Nixon family, and watched a momentous and controversial presidency unfold firsthand.
Instead, Eisenhower made his way to the Ivy League as an educator. Besides teaching, he has immersed himself in his grandfather's voluminous writings — a pleasant task that reminds him of the genial man who died in 1969.
"I felt like I could read him and hear his voice," Eisenhower said.
Dwight Eisenhower was an ambitious officer, as adept at politics as at military tactics. During World War II, he climbed from lieutenant colonel to five-star general as the Supreme Allied Commander in barely 3½ years.
David Eisenhower said the successful D-Day invasion was a stunning achievement, the magnitude of which has only grown with time.
"D-Day was a miracle," he said. "It stands to me as a monument to what the U.S. can do. I don't think any other country could have pulled something like that off."
Although young David met many of the leading figures from World War II at his grandfather's dinner table, he rarely was able to talk with them about the conflict. It brought back many painful memories.
"It wasn't a particularly safe topic in our household, which I think was typical in the homes of World War II veterans," he said.
For his still-unpublished book on 1968, Eisenhower turned his focus on Richard Nixon — before the difficult exit from the Vietnam War, and the Watergate scandal that led to his resignation.
He said Nixon understood early that a retreat in Vietnam could lead to an opening with China. His outreach led to a dramatic reshaping of relations between the two powers that has changed the world.
"Nixon saw something in 1968 that almost no one else saw," Eisenhower said. "This is what we pay presidents to do."
1932: Lingbergh baby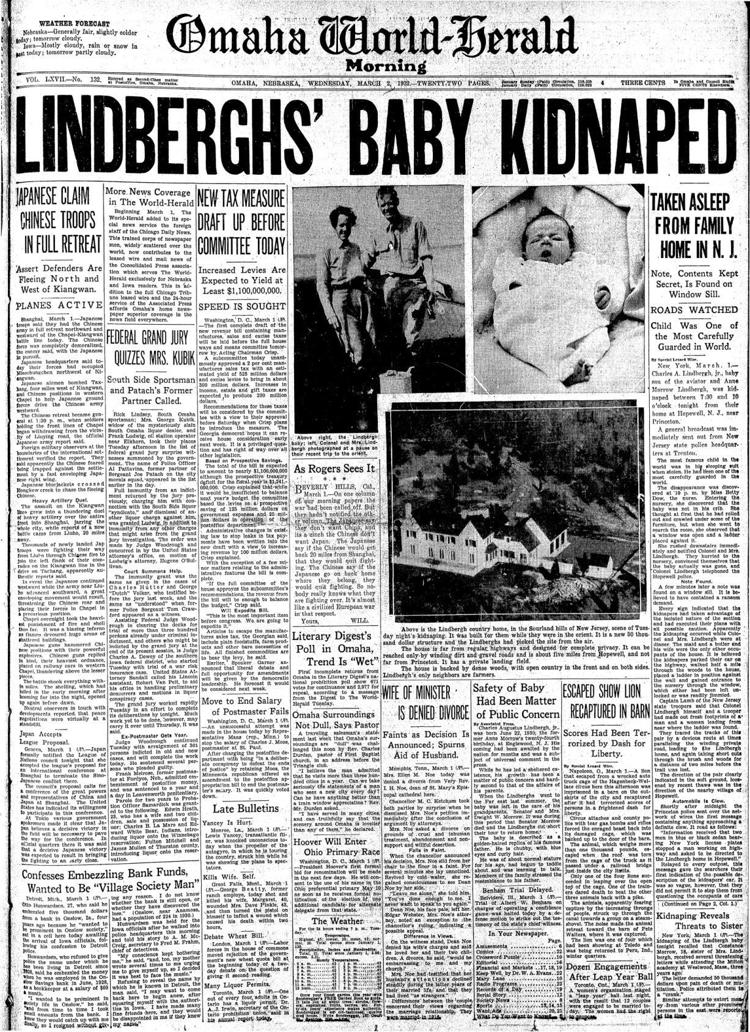 1932: Roosevelt elected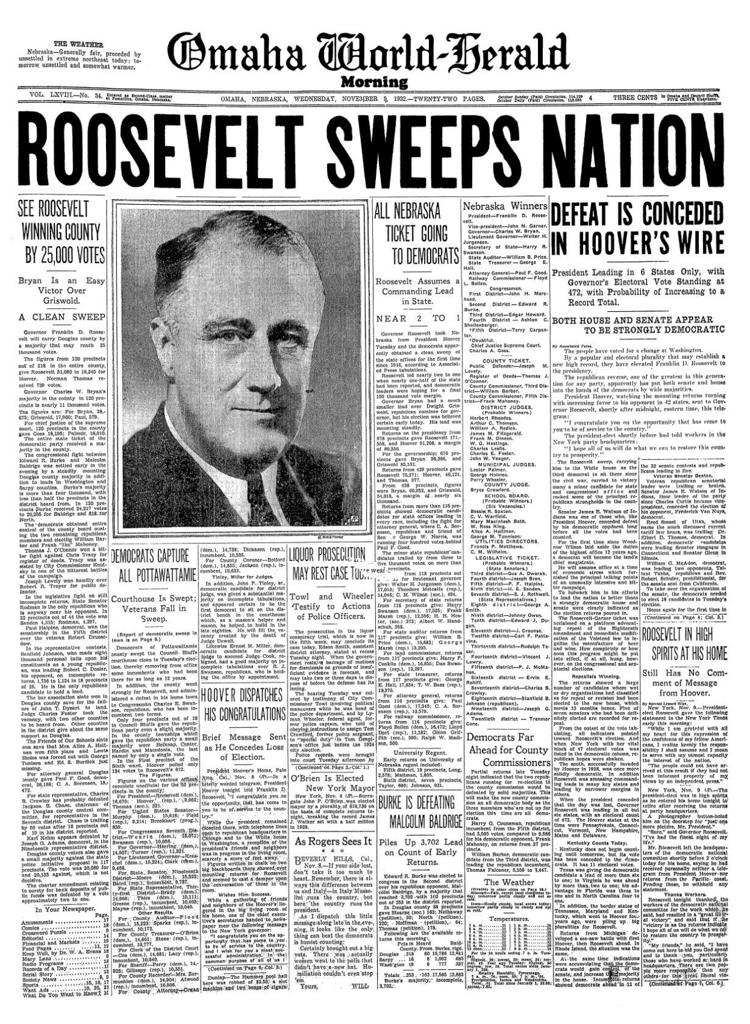 1937: Hindenburg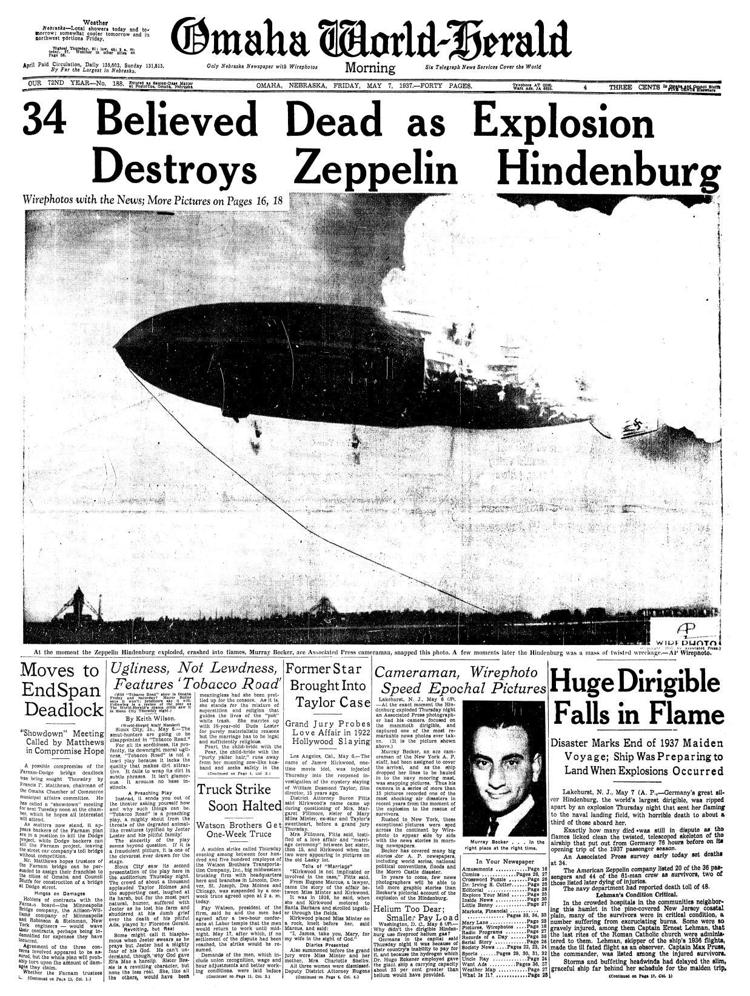 1941, evening edition: Pearl Harbor
1941: Pearl Harbor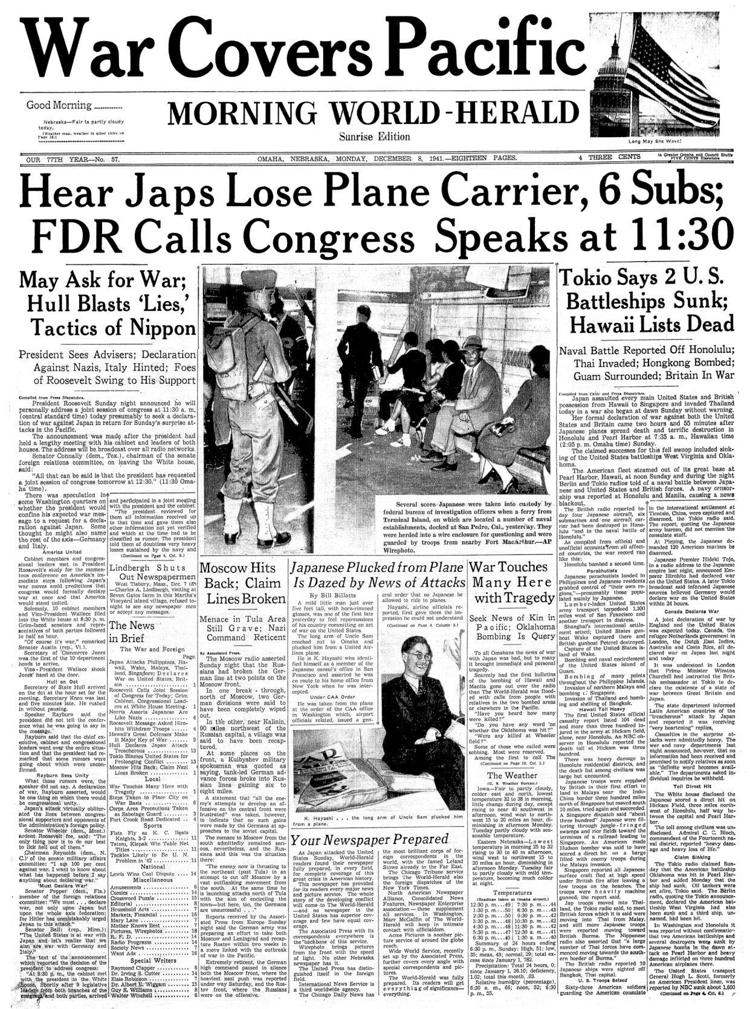 1945: End of WWII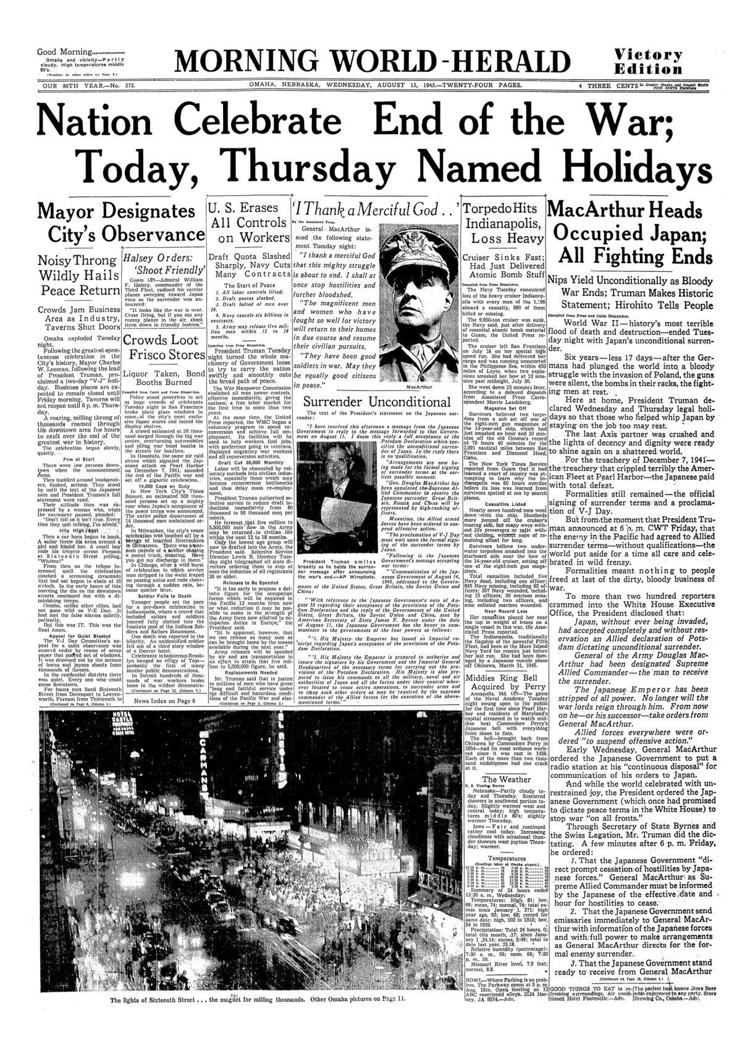 1952: Flooding
1963: Kennedy Assassination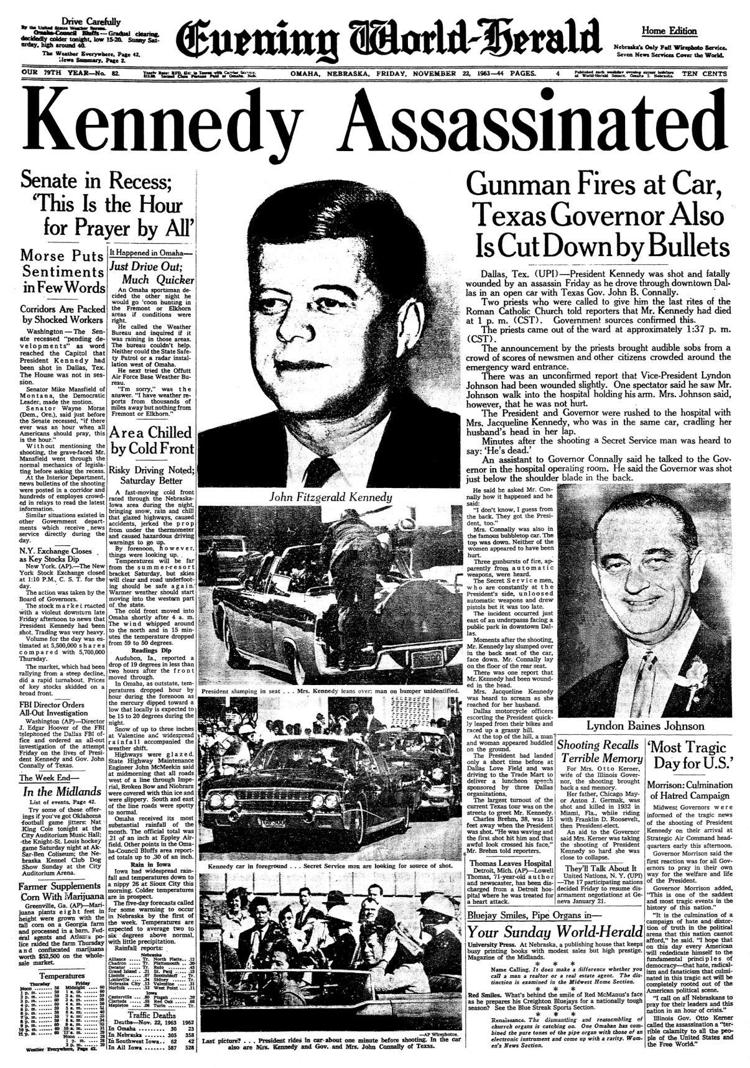 1968: MLK Funeral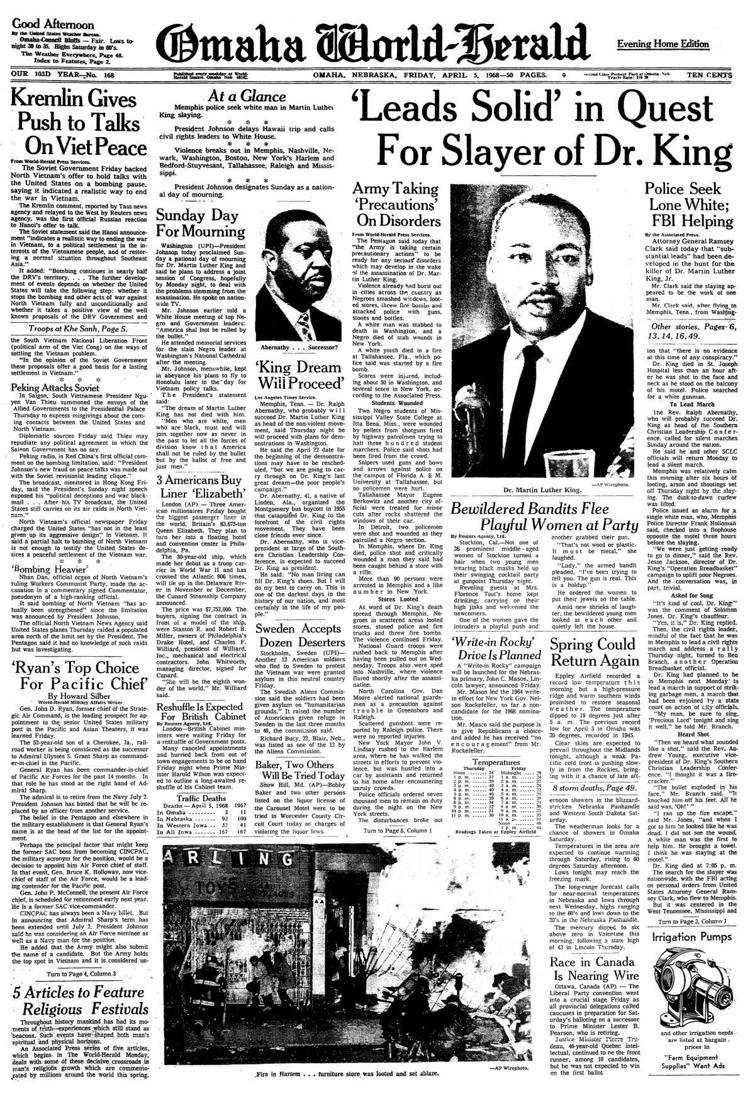 1969: Moon Landing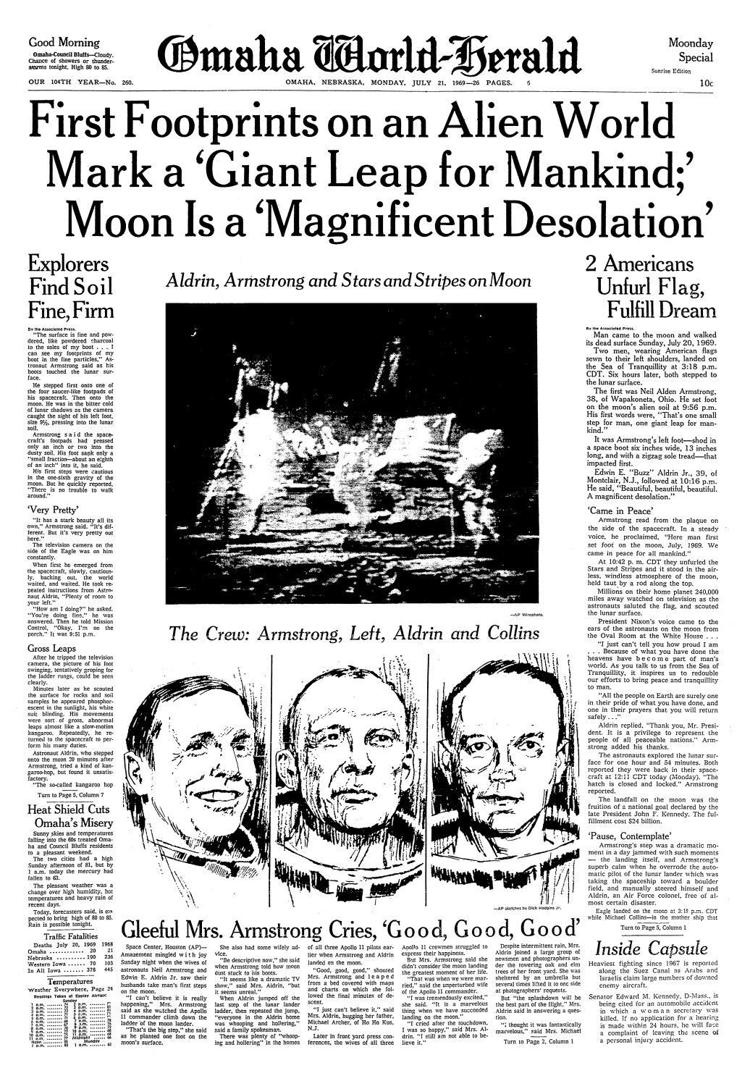 1971: Husker national championship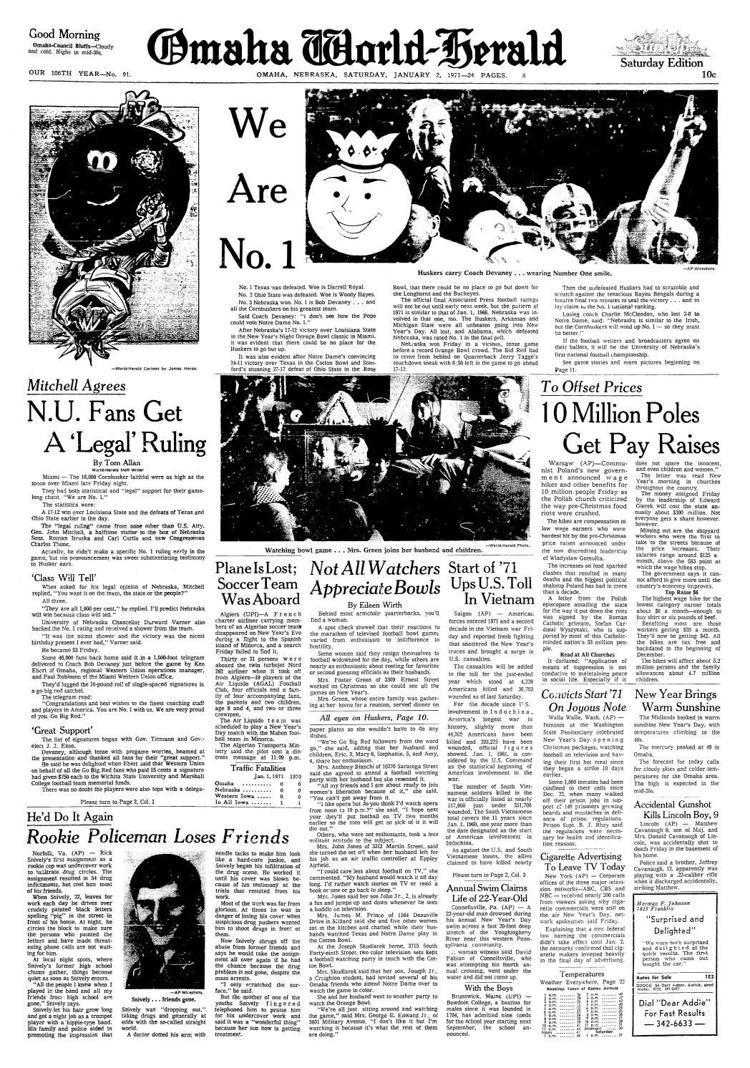 1972: Husker national championship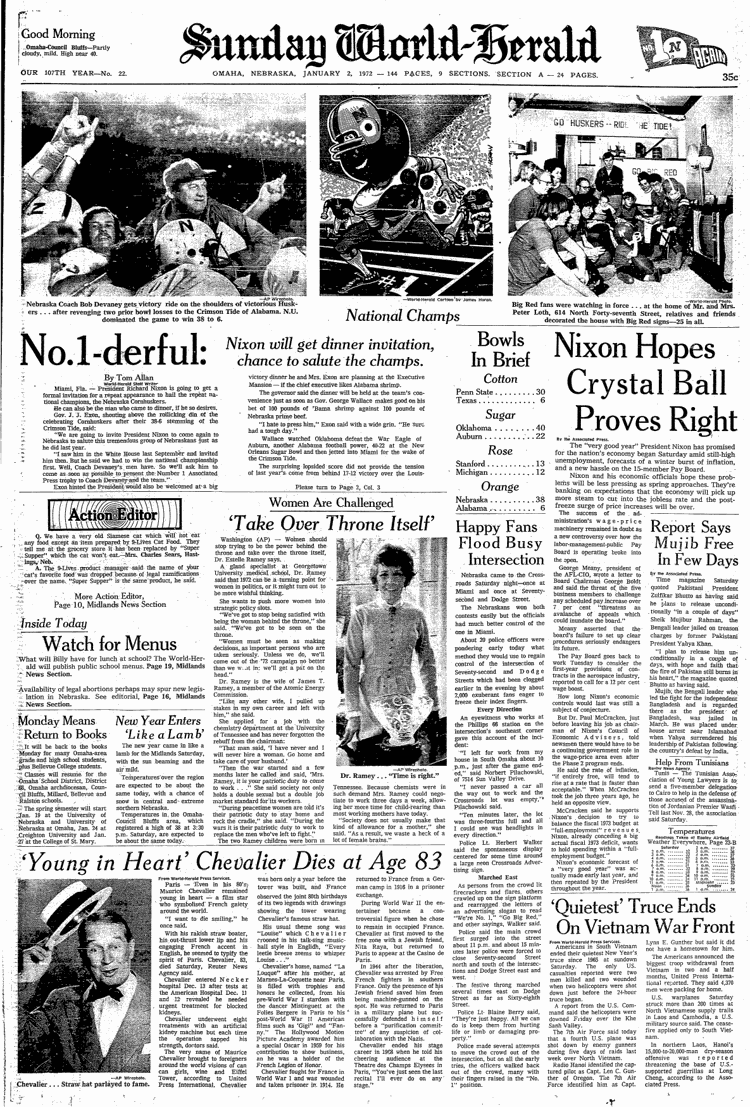 1974: Nixon resignation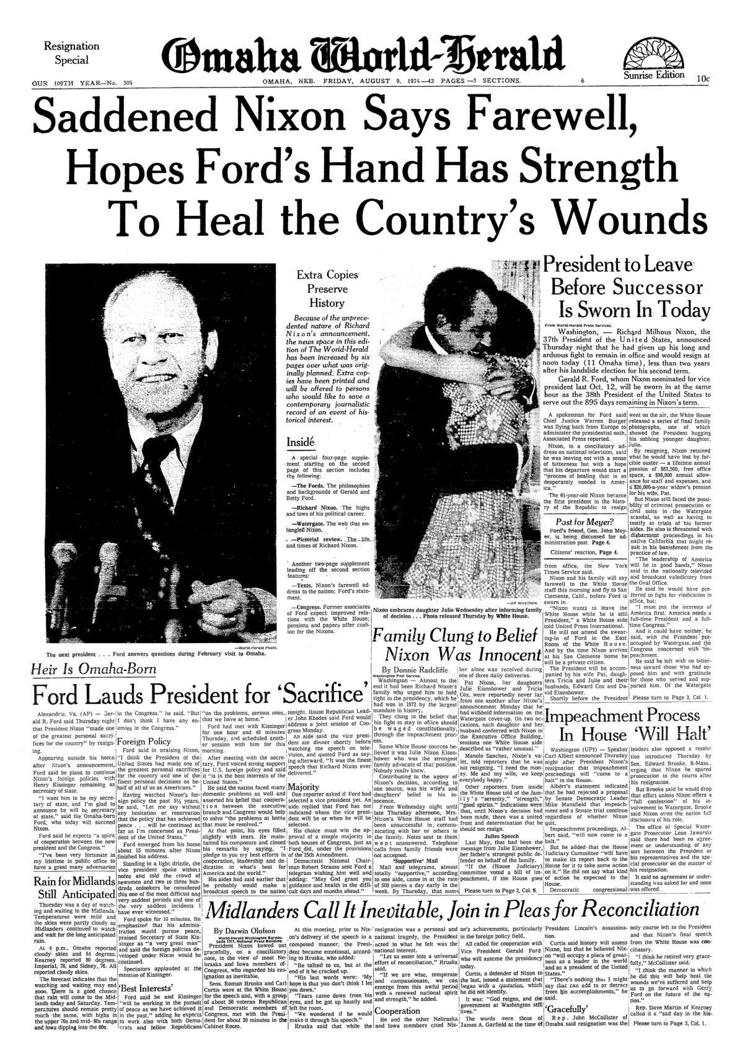 1975: Blizzard
1975: Tornado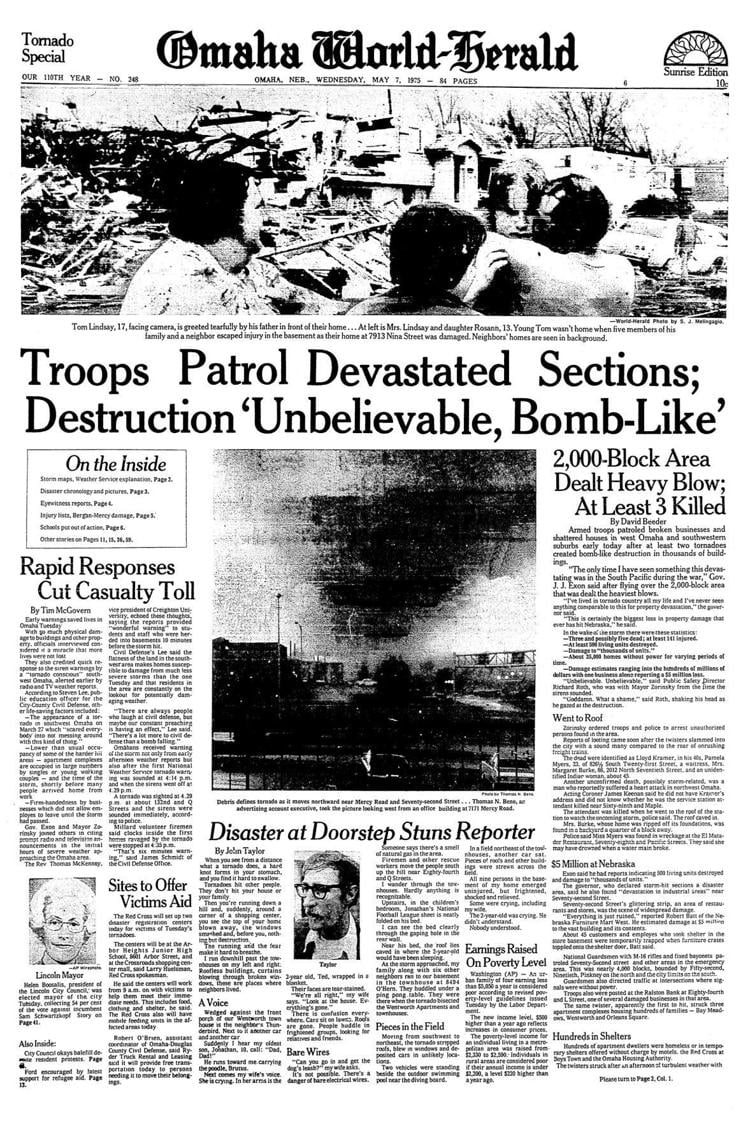 1981: Iran hostage release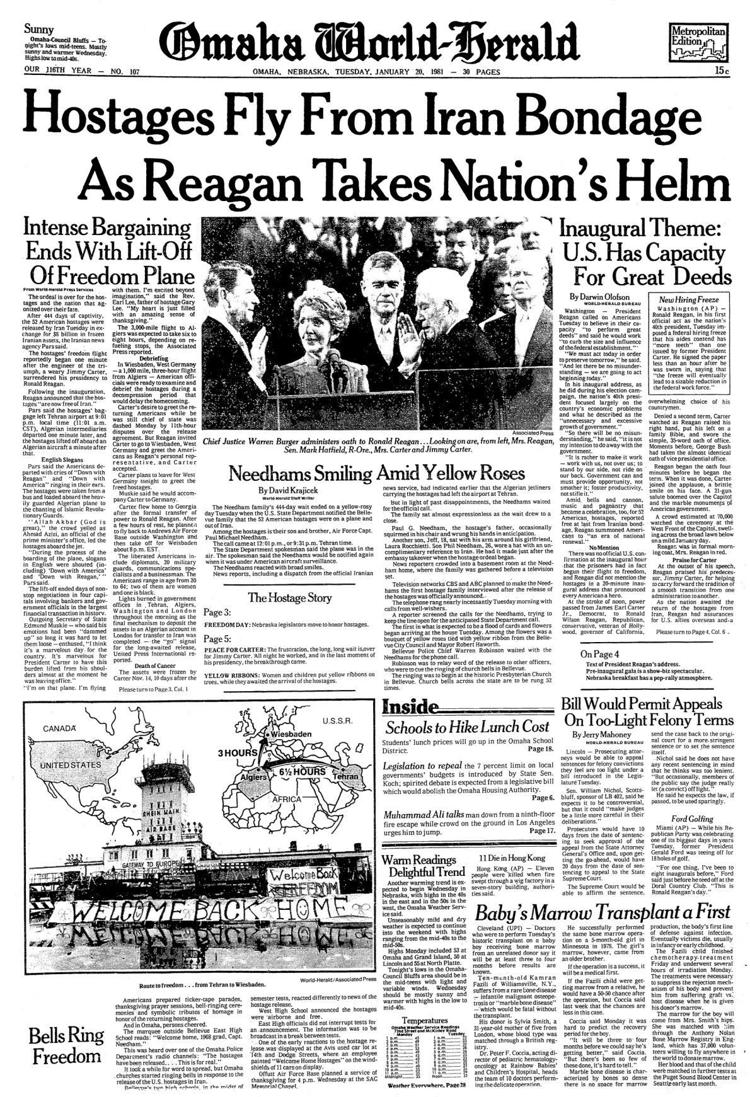 1981: Reagan assassination attempt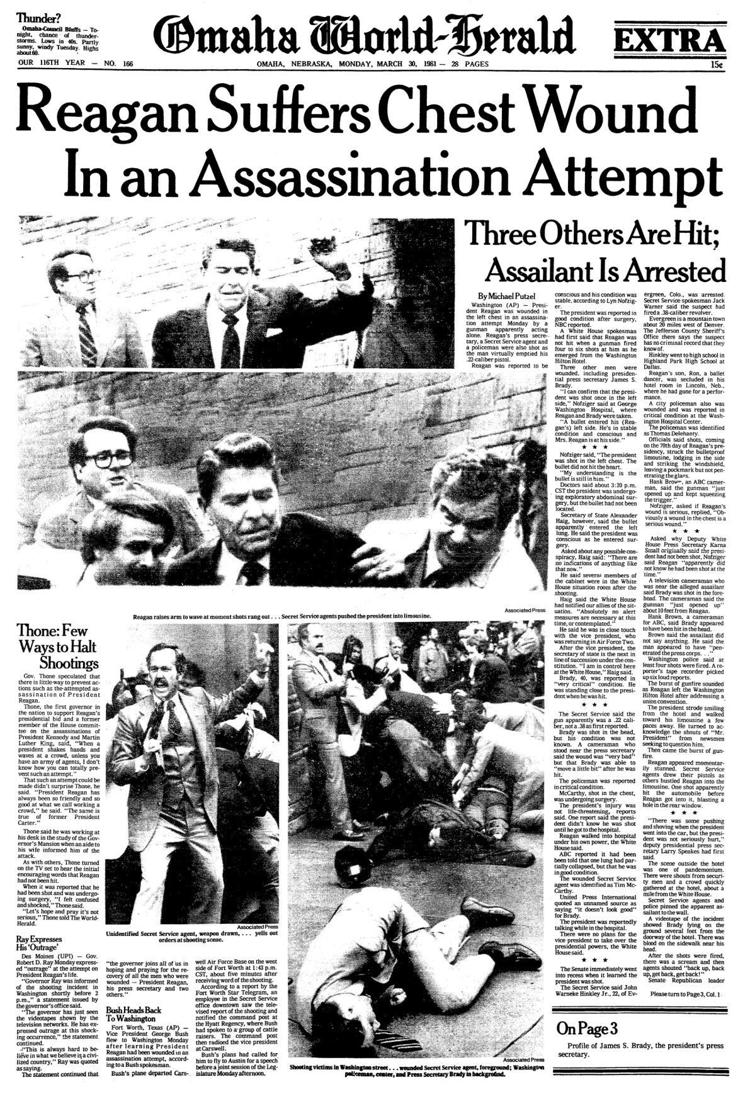 1986: Challenger explosion
1989: Berlin Wall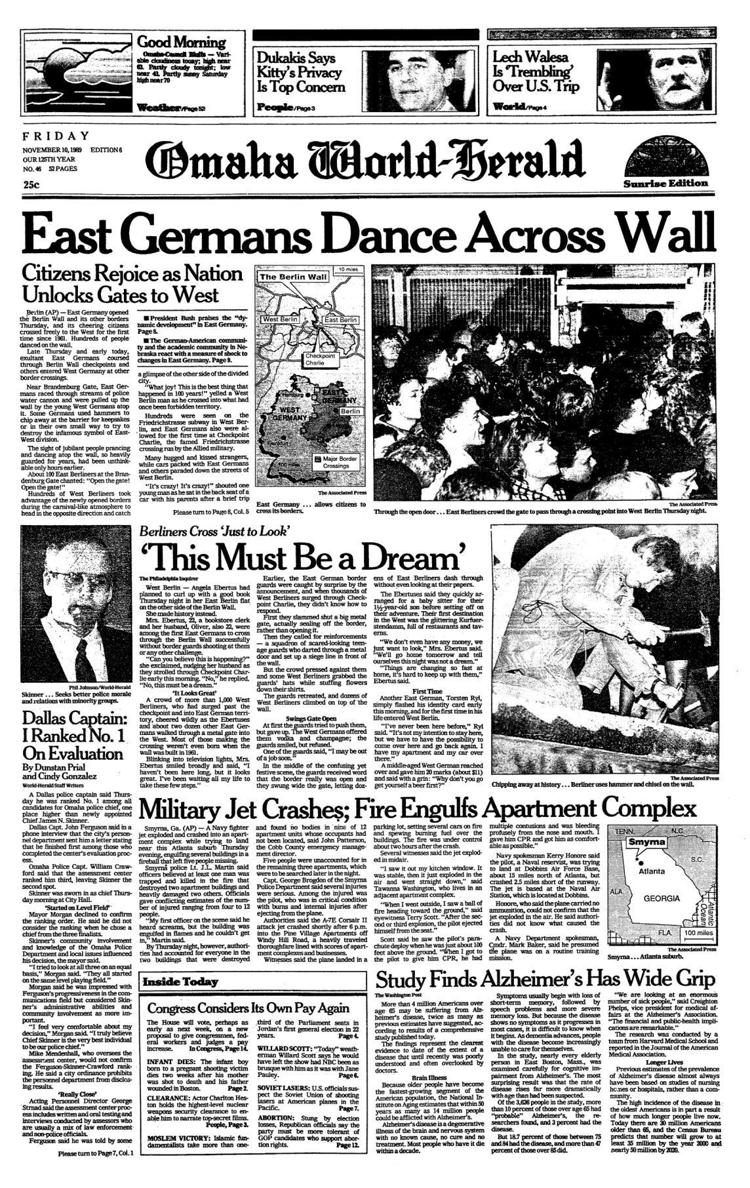 1995: Husker national championship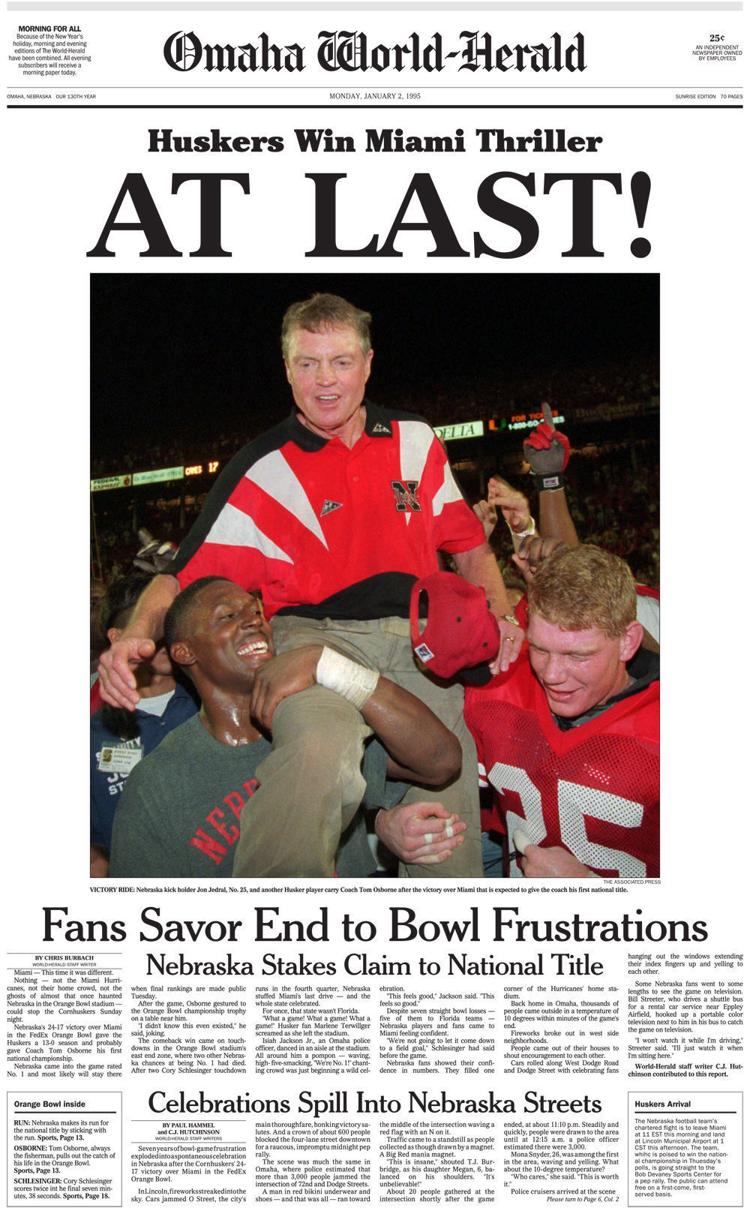 1996: Husker national championship
1998: Husker national championship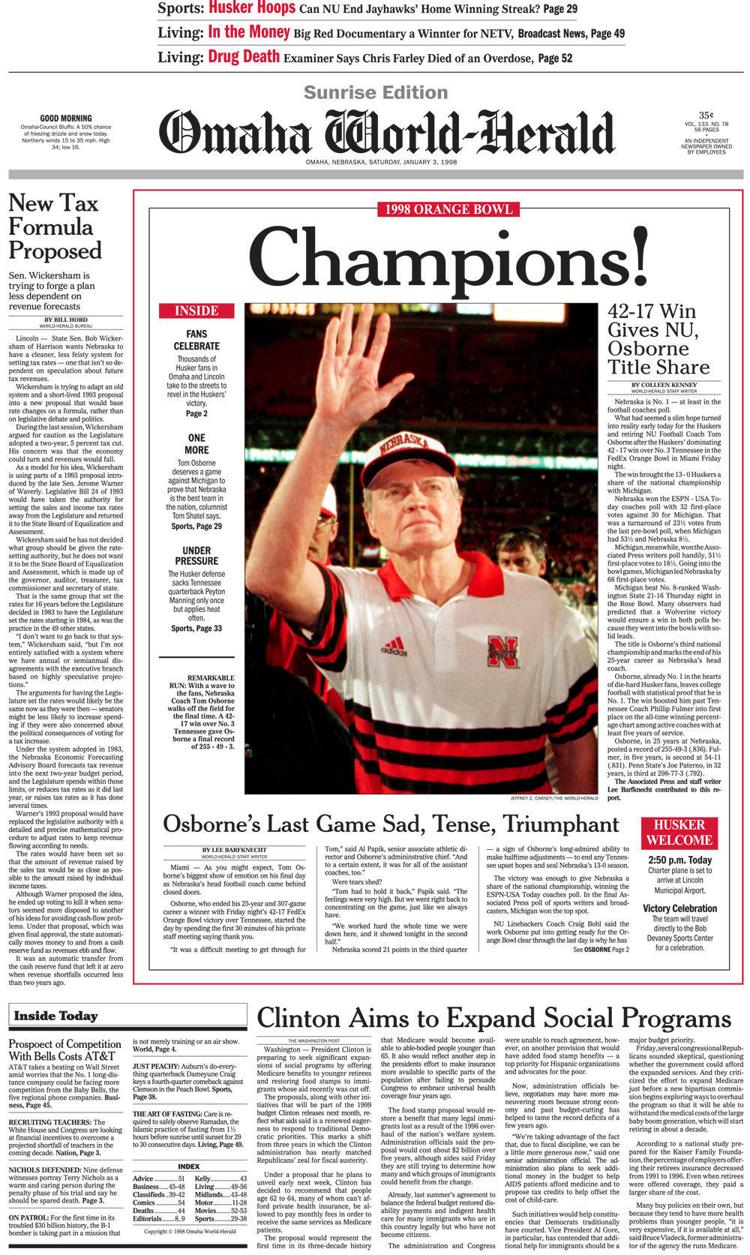 2001: 9/11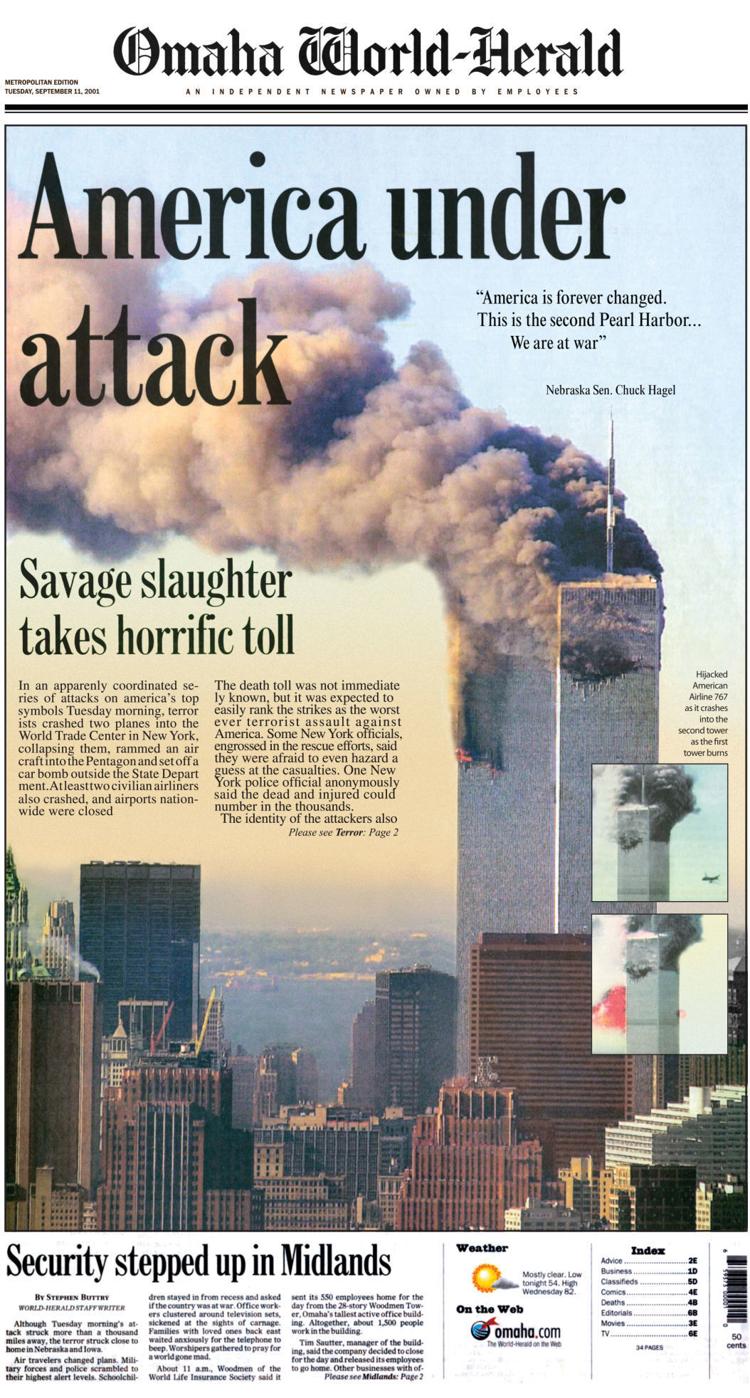 2008: Tornado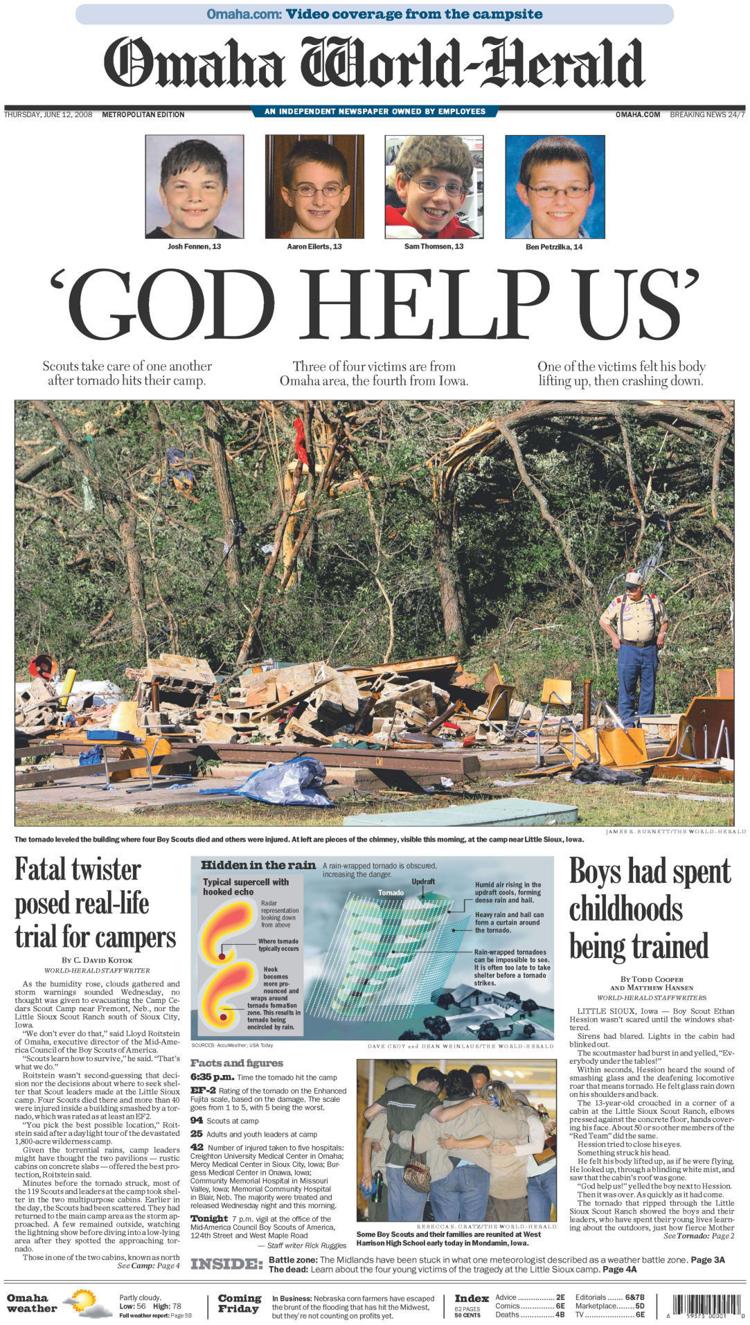 2008: Obama elected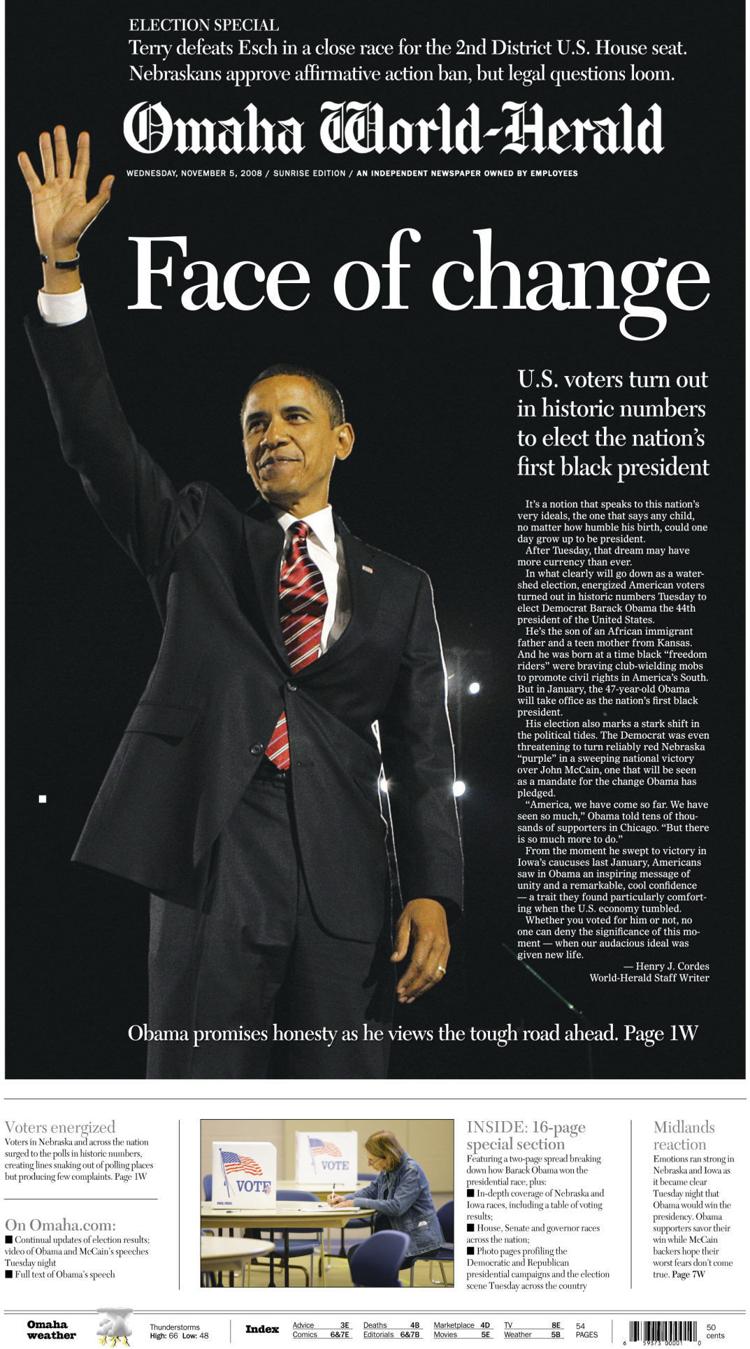 2016: Trump elected