Charles Bock caught the flying bug early, and it never let go.
As a boy, he and a friend would pedal their bikes out to the Council Bluffs Airport to see if someone would give them a ride.
One year his father, a druggist, bought him an introductory flight in a Piper Cub for his 10th birthday.
"I wanted to be a pilot," Bock told The World-Herald in a 2016 interview. "All my life, that's all I ever wanted."
He got his wish. Over the next 80 years, he piled up more than 10,000 flight hours, in 105 aircraft types — including the sleek, sexy SR-71 Blackbird. He flew more than 100 Air Force combat missions in Korea and Vietnam. He was a Right Stuff-era test pilot at Edwards Air Force Base. He launched the first X-15 rocket plane. He flew the B-1 bomber on its maiden flight.
Into his 90s, he flew a two-seat Europa he built from a kit.
"He has had a supersonic, stellar career," aviation historian David Wendell said when Bock was inducted into the Iowa Aviation Hall of Fame in 2016.
The aviation legend has taken his last flight. Bock, 93, died Aug. 22, near his retirement home in Incline Village, Nevada.
From the day of that first flight, his career was set. He graduated from Abraham Lincoln High School in 1943 and signed up for the Army Air Corps' aviation cadet program. He took a job at the Martin Bomber Plant near Bellevue, building B-26s on the graveyard shift until his training slot opened the following year.
He completed training to become a B-29 navigator, but the end of the war made his job unnecessary.
In 1946, Bock married Geraldine Chandler, his high school sweetheart, with whom he would raise a son and two daughters. He used his GI Bill benefits to earn a degree in aeronautical engineering at Purdue University. He went to work for Boeing in Seattle.
The Air Force called him up for service during the Korean War and sent him to pilot training. He flew 51 combat missions, and after the war earned a coveted slot as a test pilot at Edwards Air Force Base, in the California desert, flying the newest jet aircraft. He was friends with future astronauts Deke Slayton and Gordon Cooper and also knew Chuck Yeager and Neil Armstrong.
Bock was the first pilot to fly the Convair B-58 Hustler — the first supersonic bomber — and in 1959 flew a B-52 that launched the first X-15 rocket plane.
He also flew bombers for the Strategic Air Command, including the B-29, B-50, B-45 and, at Lincoln Air Base, the B-47.
In 1962, he was one of eight pilots selected by the Air Force for its new astronaut program, separate from NASA's. But that program was later canceled.
Bock served a combat tour in Vietnam — highlighted by 52 more combat missions — and a Pentagon tour as chief of safety for the Air National Guard.
Bock followed that with a second assignment at Edwards, as operations officer for the YF-12/SR-71 test program. He loved it.
"They threw me back in the briar patch, and I was quite happy," he would later joke.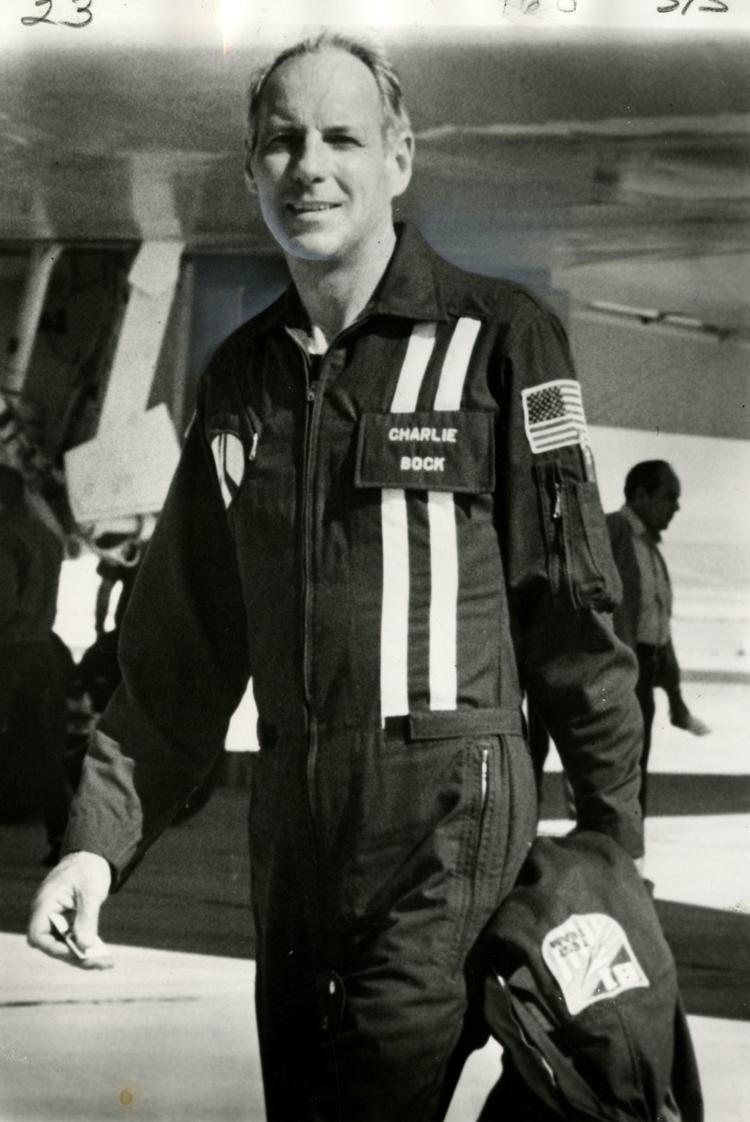 Bock retired from the Air Force in 1973 to accept a position with Rockwell International as chief test pilot on the B-1 program. He and his crew made the first flight of the B-1 on Dec. 23, 1974. He retired from Rockwell in 1981.
During his Air Force career, Bock earned two Distinguished Flying Crosses and six Air Medals. He earned awards from the Society of Experimental Test Pilots, Purdue University and the Iowa Aviation Museum.
"It's a great thing for a pilot to be recognized by his peers," Bock said.
Geraldine died in 1986, after a two-year battle with cancer. He married Joyce Anderson in 1997.
Bock is survived by his wife; his son, Charles; daughters Susan and Beverly; six grandchildren; and five great-grandchildren. A memorial service is scheduled for Sept. 21 in Incline Village.