The 55th Wing's aging C-135 reconnaissance fleet remains a "safe and effective weapon system," Air Force Secretary Heather Wilson said in a letter Wednesday to Sen. Deb Fischer, R-Nebraska. 
The World-Herald has a long history of covering our nation's conflicts. From the battlefronts to the home front, the newspaper is committed to capturing the commitment and sacrifice of servicemen and servicewomen and their families.
Lance Wach's experience managing heavy farm equipment gave him an advantage over those who did not come from the farm.
The VA Nebraska-Western Iowa Health Care System will pay tribute to the veterans it serves with a picnic Wednesday at the Omaha VA Medical Center.
Until now, the VA hasn't had teletype machines of its own to answer if a veteran called for help. That left some veterans unable to contact the VA for even basic services like scheduling appointments and ordering medicine.
Lesbian, gay, bisexual and transgender people who served in the military are invited to a social event at 4 p.m. Saturday to learn about Department of Veterans Affairs medical programs that may benefit them.
Col. John Watters flew more than 25 death-defying missions over Europe as a B-17 bombardier and navigator during World War II. Through luck and pluck, he lived to tell about it.
The car was among hundreds in the classic car show at Bellevue's Riverfest on Saturday at American Heroes Park.
The services will honor Staff Sgt. John Canty, 22, who served with Staff Sgt. Tom McCaslin and died with him in the crash.
It's a "process that unfolds over time. You think, 'It hasn't happened to us. Maybe it's not ever going to happen to us.' The level of acceptable risk slowly ratchets up, and you eventually get to a place where it becomes the new normal." 
Tony Noyes, a member of the Nebraska Army National Guard, said the shrapnel is a powerful reminder of the soldiers who have given their lives serving their country so that he and other Americans can live freely.
Rep. Don Bacon is defending the abrupt discharges of some immigrant U.S. Army reservists and recruits who enlisted with a promised path to citizenship.
Transportation Secretary Elaine Chao visited Omaha on Tuesday to announce a new pilot program to help qualified young veterans get jobs in the trucking industry without additional training.
Both U.S. senators and all three House members signed a letter sent Friday to Air Force Secretary Heather Wilson asking her to investigate problems revealed in the series.
Latif, 41, died in Omaha last month of colon cancer.
Omaha-based trucking company Werner Enterprises will receive the Defense Department's top award for support of National Guard and Reserve troops at a ceremony later this summer.
The program gives military veterans charged with crimes a chance to avoid prison and turn their lives around by adhering to a strict regimen of keeping a job, staying clean of drug or alcohol abuse, passing rehabilitation classes, paying restitution if there were financial damages from their crimes and frequently meeting with a judge.
Persistent mechanical problems may plague the 55th Wing's half-century-old fleet of reconnaissance jets, but the Air Force is in no hurry to buy new ones. It plans to squeeze 30 more years out of the Offutt-based C-135s.
The microbubbles, with a diameter about 1 percent the width of a human hair, are designed to mimic the function of the tiny sacs in the lungs, which release oxygen and pick up carbon dioxide.
A deep dive into Air Force documents shows a long string of close calls at the 55th Wing due to mechanical failures.
Older jets like Offutt's half-century-old RC-135s are notorious for leaks in the hydraulic systems. The hydraulic systems allow the movement of an aircraft's moving parts such as flaps, landing gear, ailerons and rudder. The RC-135s have two separate hydraulic systems, known as "left" and "r…
Maintenance records of the 55th Wing are filled with examples of electrical failures and circuit breakers being tripped.
Offutt flight crews spend dozens of hours a year practicing emergencies of all sorts — hydraulic failures, rudder deflections, landing-gear problems, engine shutdowns. 
Despite periodic overhauls and "a lot of maintenance love," the 55th Wing's 29 planes average more than 80 emergencies and aborted flights per year. Some 55th Wing veterans fear for crews that take to the sky in the aged, overworked jets. Yet the Air Force plans to keep flying them for 30 more years.
Some recent examples of 55th Wing RC-135 aircraft that experienced repeated mechanical failures in a short period of time.
The idea for this World-Herald series on the safety of the 55th Wing C-135 reconnaissance fleet was sparked three years ago, when 27 crew members narrowly escaped a raging fire aboard an RC-135V Rivet Joint on the Offutt runway. The aircraft was salvaged, but the fire burned a hole near the …
A crowd of more than 100 heeded the Omaha National Cemetery's call to attend a burial service on Friday for two Vietnam-era veterans — Eugene Thienemann, 63, of Omaha and Thomas Hill, 70, of Fremont — who had no known local family.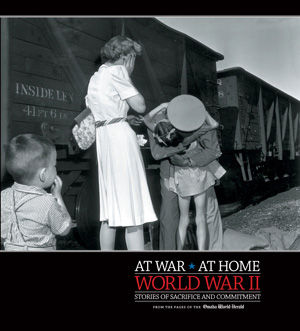 The World-Herald marked the 70th anniversary of the attack on Pearl Harbor with a special book honoring the Nebraskans and Iowans who helped the nation win a war. The newspaper's stunning words and photographs capture the sacrifice and commitment of a special generation of Americans. To preview the book and order, visit the OWH Store.
---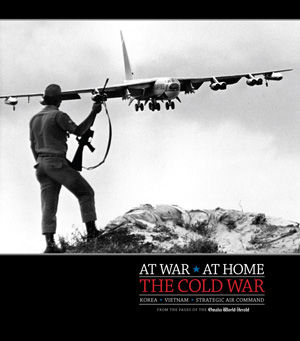 The World-Herald takes a special look back at the Nebraskans and Iowans whose courage and commitment helped prevent nuclear war and lift the Iron Curtain. The book relates the history of the decades-long struggle with gripping archived stories and photographs. Newly collected memories of those who served in Korea, Vietnam and the Strategic Air Command provide vivid detail of the period. Coverage of the 2012 Cold War Victory Salute parade also is included. To preview the book and order, visit the OWH Store.