A group of Omaha leaders answered questions Thursday from national Young Republicans about how the city's latest public-private partnership fits into a limited government perspective.
A panel at the Young Republicans national convention, hosted in Omaha this week, focused on the $290 million riverfront project.
From the Holland Center, the attendees could see the ongoing work at Gene Leahy Mall.
The details: The city is putting up $50 million for the project, which encompasses Gene Leahy Mall, the Heartland of America Park and Lewis and Clark Landing. Then it will spend another $3 million per year for maintenance for at least 10 years.
Sign up for The World-Herald's afternoon updates
Receive a summary of the day's popular and trending stories from Omaha.com.
"I think it is going to change our whole downtown," said Parks Director Brook Bench, a panelist.
The rest of the funds — including $30 million for ongoing costs — will come from philanthropists, led in part by former Kiewit Corp. executive Ken Stinson, who also was on the panel.
The attendees, Republicans ages 18-40 from around the country, asked several questions about how this sort of project fit in with their ideals.
"How do public-private partnerships fit into a philosophical framework along with limited government and lower taxes and earn the branding of a Republican idea?" one woman asked.
Stinson said that using philanthropic money lessens the tax burden on a project like this.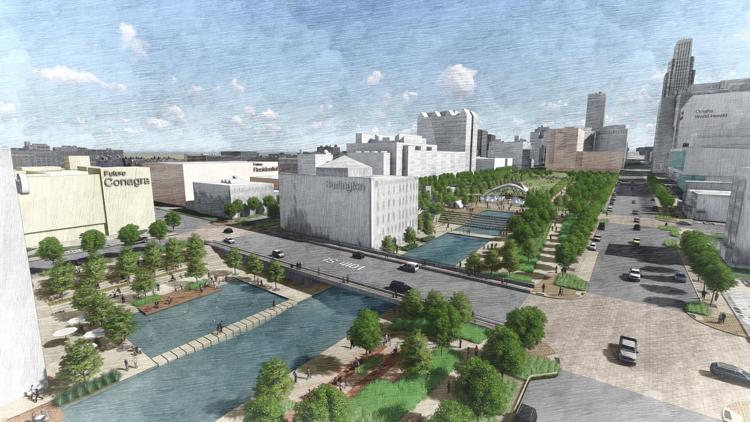 He said there is a conservative economic case for projects like this — that it spurs development and economic growth around the area.
"This doesn't happen very often in the United States," D'Arcy said. "I cannot think of a single project in my 22 years with Hines of a magnitude like this with the amount of money that's been raised by the private sector."
Omaha City Councilwoman Aimee Melton, the moderator, also noted that the city has not raised taxes to implement the major downtown overhaul — which drew cheers from the crowd.
In short, that would be a "no" from donors, Stinson said.
"There are no free roads," he said. "It's all a matter of how you pay for it."
Changing Omaha: More than 50 stories of local development projects in the works
An ongoing list of some our development stories from 2018, with the most-recent stories at the top.