It's going to be a while until commuters, farmers and truck drivers can travel around rural Douglas County like they did before the March flooding, and before anglers and campers can drive into Two Rivers State Recreation Area.
That's because Douglas County and the State of Nebraska have to repair or even rebuild stretches of road and a bridge that were taken out by the flood, and make sure that remaining bridges won't tumble down under the weight of traffic.
"There isn't anybody who can't get from point A to point B; it's just not a straight line," said Dan Kutilek, engineering manager at the Douglas County Engineer's Office. "You can find your way around, but it's just very indirect."
The only officially approved through routes that cross the Elkhorn River are Highway 36 and West Maple Road.
"Anyone who wants to go east and west there, it's a big inconvenience because there's no alternate route nearby," Kutilek said. "You have to drive miles around."
You can get across the Elkhorn River on West Dodge Road, but that's supposed to be for local traffic only.
Drivers, especially truckers hauling gravel and rock from sandpits farther west, have been taking an unapproved route through Waterloo to connect with West Dodge. They're using Blondo Street and River Road Drive.
Douglas County recently conducted a traffic count on that route in Waterloo, and traffic was about 10 times heavier than normal. Waterloo officials are worried about that traffic. The streets are not built to take it. Blondo Street is on a levee.
Sign up for World-Herald news alerts
Be the first to know when news happens. Get the latest breaking headlines sent straight to your inbox.
"That piece of Blondo is supposed to have no trucks over 10 tons on it," said Tom McDonald, manager of construction and maintenance at the Douglas County Engineer's Office. "But about 20 percent of the traffic on it right now is trucks. ... We've talked to the fire chief and chief of police in Waterloo. They're worried with all this heavy traffic that the levee's going to get damaged."
McDonald didn't know if drivers had been ticketed yet but said that the Douglas County Sheriff's Office was aware of the situation and that deputies had gone there a couple times.
The state's most populous county fared better than much of Nebraska, but the flood did take a toll on county roads that connect the rural, western part of Douglas County with urban metropolitan Omaha.
Flooding over frozen soil, then the release of frost from the soil, also wreaked havoc on gravel roads that run between farm fields.
The flooding knocked out portions of West Dodge Road.
The flood also wrecked a West Center Road bridge. Contractors with the state are working to repair it.
The flood destroyed a section of Douglas County's West Q Street from the Elkhorn River to about a mile to the west. The rampaging Elkhorn wiped out a section of its east bank at 245th Street and West Q Road, causing 245th Street to collapse and raising concerns about the West Q bridge over the Elkhorn.
Contractors with the county are rebuilding the bank so they can rebuild 245th Street. The West Q bridge remains closed until the county can line up a scuba team to make sure that the flood didn't undermine the bridge supports, McDonald said. A lot of trucks heavy with sand and gravel cross the bridge.
"From what we can see, the bridge looks fine, but we can't open it until we're sure," he said. "Not that anybody can really go anywhere anyway, because about three-quarters of a mile of Q Street west of the Elkhorn River bridge is washed out, totally destroyed."
Contractors could begin work soon on the stretch of road, which includes West Q Road, West Q Street and 264th Street.
It is closed from east of the Elkhorn River to F Street. From there, the flood-damaged F Street is closed to the west, shutting off access to the popular Two Rivers State Recreation Area.
Jim Swenson, parks administrator at the Nebraska Game and Parks Commission, said the county is working on F Street, and he hopes that it will open by mid-May. That sounds optimistic, but Swenson said, "I'm an optimistic guy."
McDonald estimated that the county sustained about $6 million in damage, but that figure could rise if bridges turn out to be damaged worse than they appear.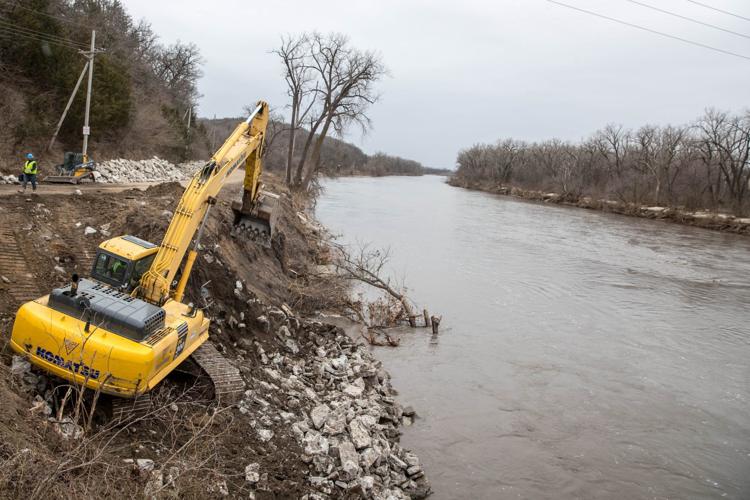 "I don't think most people realize how bad the county road system was damaged," McDonald said.
The county has a map showing road closures and work because of the flooding.
Numerous unpaved roads in rural parts of Douglas County were washed out or mucked up to the point of being impassable. McDonald said county crews have been hustling to repair them, sometimes having to return to add multiple layers of rock because the initial layers sunk into the muck.
He has heard that in some places, farmers eager to be sure that they can get to their fields in time to plant have been patching roads themselves.
"If they can't drive their pickups down the roads, they sure can't get their heavy equipment through," McDonald said.
Contractors with the county rebuilt a section of 228th Street near the entrance to Riverside Lakes that had been washed out.
The intersection of 264th Street and West Dodge Road has also been repaired and reopened, McDonald said. County officials hope to be able to reopen West Dodge from 240th to 264th Streets in a couple weeks.
Portions of 264th from Blondo to Pacific Streets were washed away. One lane of 264th was open all the way in that stretch, but the road was still officially closed "because there are just too many places where it's just one lane," McDonald said.
"In a flood, you might expect to have one major road closed," he said. "But this is just extraordinary, to have so many roads damaged."
Photos: Douglas County roads battered by flooding