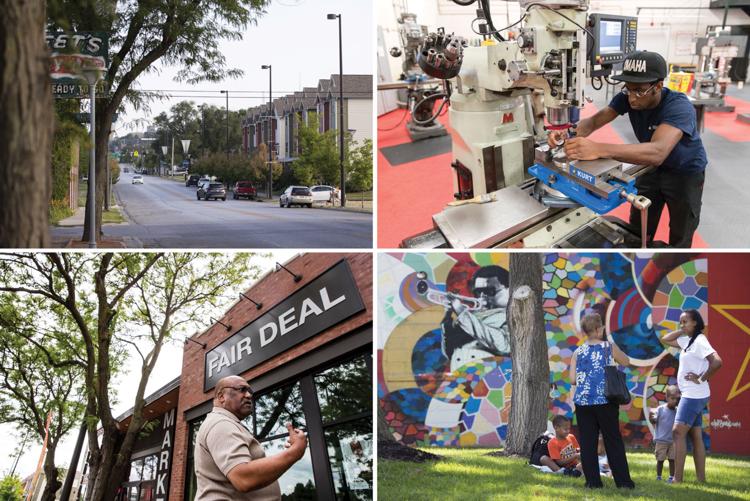 Ten years ago, a group of north Omaha activists met in a cafe amid the hollowed-out North 24th Street business district and set out on a seemingly herculean task: to transform one of the nation's most economically and socially distressed black communities.
The grass-roots plan that emerged called for the people of north Omaha to rise up and "rebuild the village."
A decade later, the 24th and Lake Streets neighborhood that hosted the 2007 gathering now boasts the new Fair Deal Village MarketPlace, a redevelopment that includes a restaurant, a grocery store and eight small startup businesses.
And amid north Omaha's still-prevalent vacant lots and worn-out storefronts, other pockets of renewal have emerged. They include a major housing development going up with the support of Warren Buffett; significant expansion of Metropolitan Community College's campus, a critical north-side job-training ground; and a Walmart store, the nation's largest retailer buying into north Omaha's economic future. But perhaps even more impressive than such bricks-and-mortar progress have been some of the less-visible recent developments on Omaha's north side:
» Declining black poverty.
» Dramatically reduced joblessness.
» Sharply rising education levels.
» Big reductions in gun violence.
"We know there are still significant gaps," said Willie Barney of the Empowerment Network, the organization formally launched in that 2007 gathering on 24th Street. "But what we can now see is we can move the dial."
In 2007 Omaha woke up to a new economic reality: The metro area that was home to one of the world's richest men and to more Fortune 500 companies for its size than any other was also home to one of the nation's most economically challenged black communities.
A World-Herald special report revealed that among the nation's 100 largest metro areas, Omaha ranked among the highest in black poverty, with a higher rate than New Orleans, Detroit, Chicago or New York. And only four metros in the nation had a bigger disparity between black and white poverty rates.
But today there are growing signs that the metro's 70,000-strong black population and northeast Omaha — the black community's cultural center — may be turning a corner.
In the past five years the Omaha metro's black poverty rate has ticked down slightly, from 32 percent to 29.8 percent, even as black poverty nationwide has trended up in the wake of the Great Recession. The city's ranking in black poverty in that time has dropped from 14th-highest to 32nd, with New Orleans, Detroit, Des Moines and Cleveland all among the metro areas now posting higher rates of black poverty than Omaha.
"We're approaching the middle of the pack when it comes to black poverty," said University of Nebraska at Omaha demographer David Drozd, who compiled and helped analyze the census data.
Unemployment has taken a dramatic turn for the better. Among the 100 metros in the country with the largest black populations, Omaha in the past five years has gone from ranking among the 20 worst in black unemployment to having the sixth-best rate, at just under 11 percent. No large metro area in the country has seen more impressive improvement.
The percentage of black adults with four-year college degrees has leaped sharply, from 16.5 percent to 21.5 percent in five years. Only one large metro in the country has seen bigger growth. High school graduation rates are trending up, too.
Shootings in northeast Omaha have dropped to half the levels seen a decade ago, and are down even more dramatically during the summer months, when violence typically heats up the most.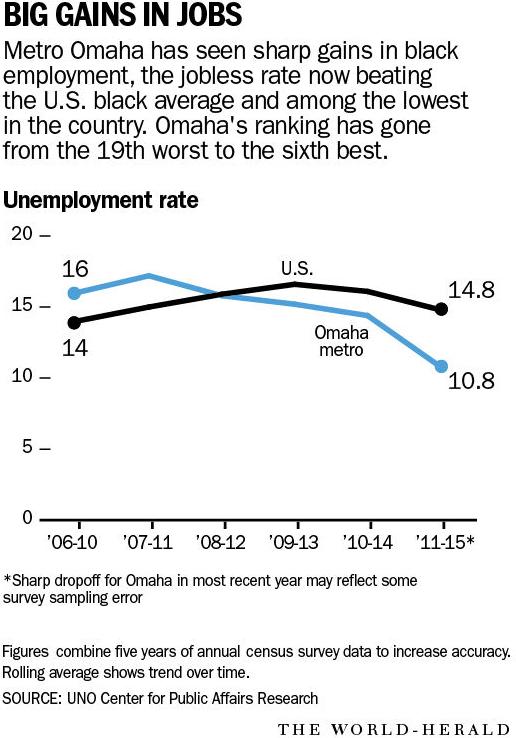 There's more. New entrepreneurial businesses are springing up, the number of Omaha black-owned small businesses almost doubling since 2007. Slightly more black families are earning middle and high incomes. There also has been a small uptick in the percentage of black families with two parents — important, Drozd said, when one considers the poverty rate in Omaha for black children growing up with a single mom is 4½ times that of black children with two parents.
De'Andre Gaines knows the challenges and potential pitfalls that come with growing up in poverty. In high school he had no thoughts of college, which seemed beyond reach. His older brother went to prison at age 16. He's attended the funerals of friends who became entangled in gangs and were shot dead.
"I've experienced a lot," he said. "A lot of people on the outside looking in don't know what it's like growing up in those situations."
But today he sees a future for himself that's beyond poverty's grip. He was assisted through Avenue Scholars, a school mentoring and scholarship program for at-risk youths that "saw potential in me I did not see in myself."
Now he's a North High graduate, has a job in customer service at an Omaha auto dealership and is working toward a business management degree.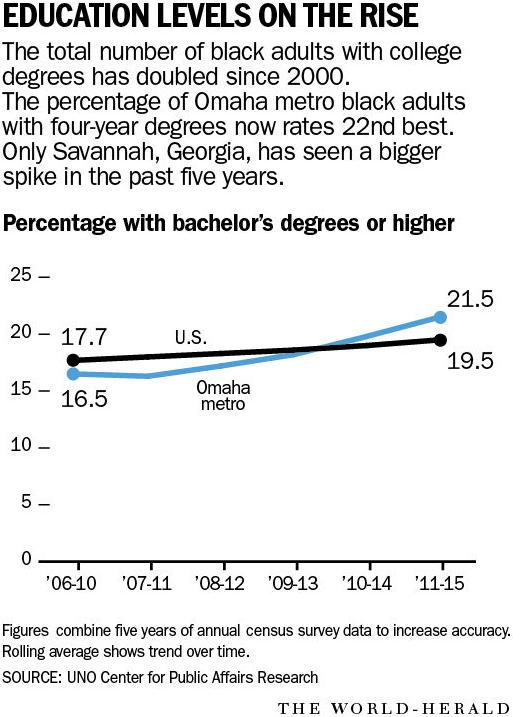 To be sure, despite the recent improvements, the black-white economic disparities in Omaha remain strong. The metro's black poverty rate remains 3½ times the white rate, and the city still has the 13th-highest such disparity nationally.
Barney and other north Omaha activists don't paper over the many problems that remain. Poverty, unemployment and violence are still too high. Too many kids still fall through the cracks. Black home ownership has taken a big hit since the recession. Getting major employers to set up in north Omaha continues to be a challenge.
"People are still having trouble getting medical care, purchasing vehicles, providing for themselves — all the things that attend poverty," said State Sen. Ernie Chambers, whose representation of north Omaha in the Nebraska Legislature dates to the early 1970s. "We still have a large number left behind."
Chambers said that although he hasn't noticed any major changes in the economic plight of his constituents, the census figures could give hope that the problems "may not be as intractable as they seemed."
Ben Gray, the councilman who represents the heart of north Omaha, said the trends give him hope that north Omaha is now on the move. "This is a long, arduous process, man," Gray said. "But we firmly believe, based on the numbers, that things are moving in the right direction."
The recent statistics were also welcomed by others who have taken a stake in revitalizing north Omaha.
"These are really important numbers," said David Brown, president of the Greater Omaha Chamber of Commerce, which in 2007 initiated a north Omaha redevelopment plan. "Now we need to see those trends continue."
"I think we're on the right track,'' said Ken Bird of Avenue Scholars, which was launched by Omaha philanthropists a year after The World-Herald's series. "When you have people positively engaged in school and in the workforce, we are going to have less crime and a better community. I think we're seeing that."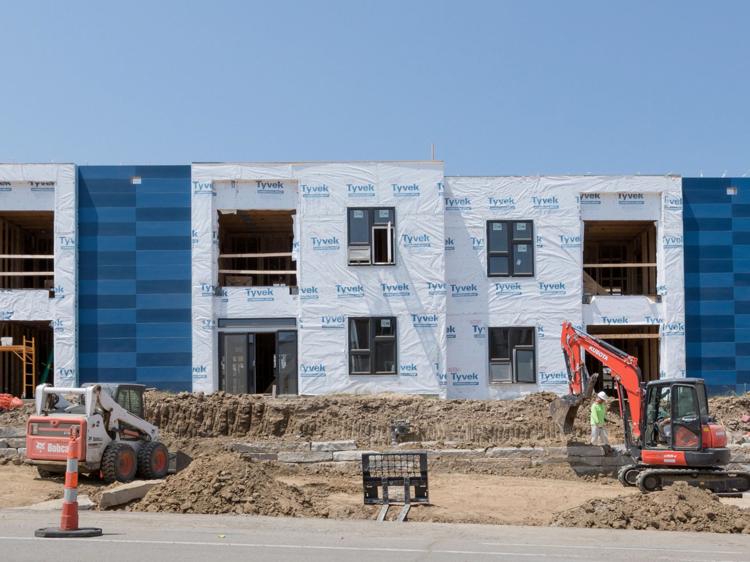 Omaha had long known that its black community was not faring well, particularly in comparison with its white population.
But in its series of 2007 stories, The World-Herald looked at conditions within the city's black community in a new way: Comparing black to black. Working with demographers from UNO's Center for Public Affairs Research and using data from a new U.S. Census Bureau annual survey, the paper compared economic conditions within Omaha's black community with those in the rest of the nation's 100 largest metro areas.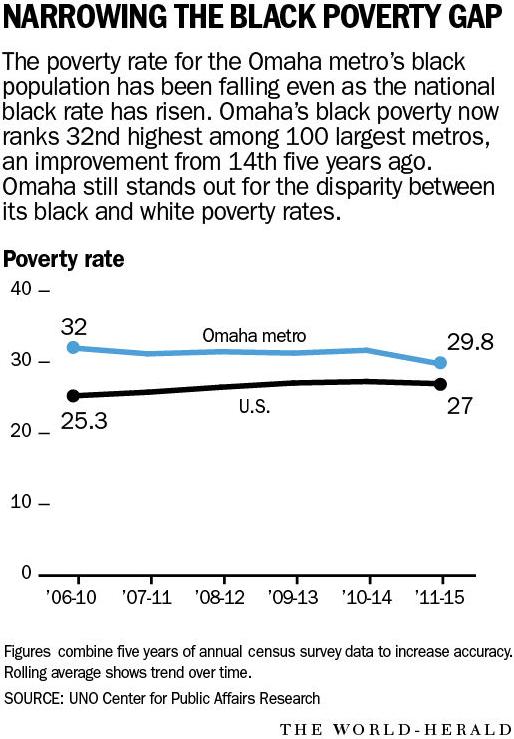 The study found that Omaha actually had a higher black poverty rate than New Orleans, the city whose widespread and concentrated black poverty had recently been exposed by Hurricane Katrina.
Black unemployment in Omaha also ranked among the nation's highest even as the city boasted one of the nation's lowest overall unemployment rates. Few cities could match Omaha for the economic disparity between its white and black populations.
The city had a small black middle class because many educated blacks were leaving for Southern cities with larger black populations. Omaha and Nebraska also fared poorly on other measures of social distress, including ranking in the top quarter for black households headed by a single parent.
The findings were both jaw-dropping and sobering.
"It was profound," recalled Thomas Warren, who at the time was the city's police chief and now heads the city's Urban League affiliate.
But the series also helped usher in a new commitment for change.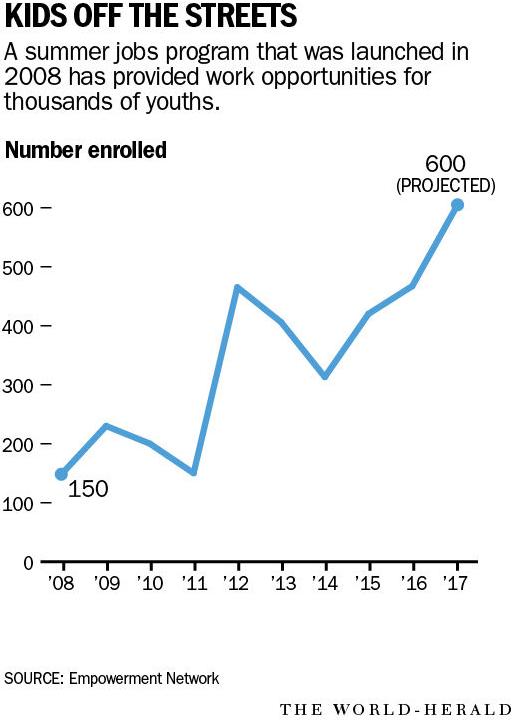 The black poverty problem was widely seen as one for all of Omaha. Studies have consistently traced a link between the economic well-being of children and their outcomes in life, with kids growing up in poverty often falling into a familiar spiral of school failure, kids having kids, crime and unemployment. Such problems cost us all in the form of social welfare programs, crime and lost economic growth.
"It got everyone's attention," Bird said of the series. "It was the call to action we needed."
Much of the push for change in north Omaha since has come from within.
The grass-roots Empowerment Network had been organized seven months earlier by Barney and others and coincidentally formally launched the same month as The World-Herald series. Within a year, the group initiated a new summer jobs program intended to take north Omaha youths off the streets, let them experience the value of a job and help them see new possibilities.
The organization would eventually also dive into north Omaha redevelopment, partner with Omaha police to tamp down violence, and work with the Omaha Public Schools and other groups on a "cradle to career" education initiative. A host of service providers, nonprofits, charities, government agencies and others got involved, with several philanthropic educational initiatives pouring tens of millions of dollars into scholarships and programs for youths.
The United Way of the Midlands also changed the way it allocates funds, with a new focus on tackling poverty by preparing all children for success in school and the workforce.
The task was daunting. It was accepted at the time that it probably would take decades to reverse economic conditions that were deep-seated and trending in the wrong direction.
"The things we're talking about are generational," said Kali Baker of the Omaha Community Foundation, which helps connect Omaha donors with worthy charitable causes. "We want quick fixes. But it takes time."
That's also what makes the latest economic numbers so encouraging.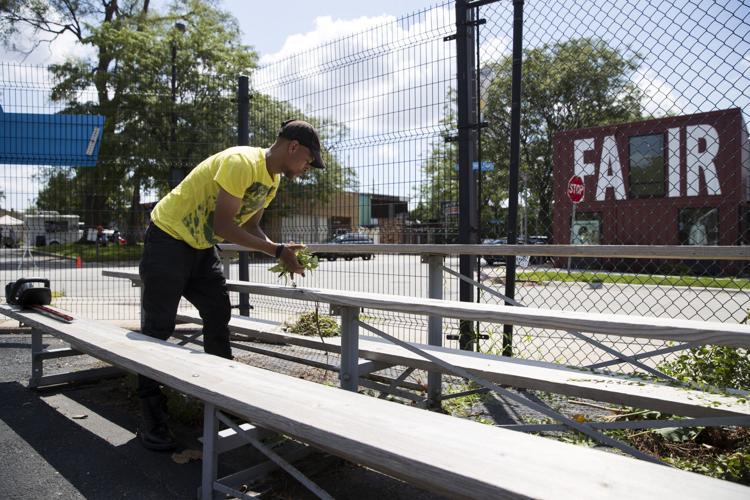 While some of the improvements are more modest than others, it's plain to see how the numbers are trending. What's more difficult is putting a finger on why.
There seems little doubt Omaha's strong economy has played a significant role in the rising economic tide. One study found that Omaha rode out the recession better than any large metro area in the country. With Omaha job growth outpacing its population growth, the chamber's Brown said, the city has needed to lean more heavily on its existing workforce.
But the economy doesn't appear to tell the whole story. The reduction in black poverty has come even as white poverty in the metro has climbed. Talk to people who have dealt with the challenges in north Omaha and you can find anecdotal evidence that the initiatives of the past decade are having a direct impact on the ground.
The Empowerment Network started its Step-Up Omaha summer jobs program for youths in 2008, intending to replicate federal youth employment programs that no longer were funded. Step-Up was seen at first as a violence-prevention program. The first 15 youths recruited into it were "active shooters on the street," said coordinator Jami Anders-Kemp.
But over time, the program has evolved and grown. It focuses on showing low-income youths ages 14 to 21 what it means to hold a job, giving them an income, exposing them to a variety of career fields, and teaching entrepreneurship. Dozens of Omaha employers and organizations provide paid summer work opportunities, which range from groundskeeping and construction to office work at businesses, nonprofits and government agencies.
"Some of these kids had not seen work modeled in their lives and did not know what it looks like," Anders-Kemp said. "They didn't realize they could own their own business or could work fixing computers."
American National Bank became one of the first businesses to commit to providing employment through Step-Up. Bank executive Wende Kotouc had met Barney through an interfaith organization and been impressed by his passion.
"He called me and said 'Wende, it's a big challenge to get businesses on board, we have no template for it, and I just really need you to do this,' " she recalled. "I said 'OK, we're in.' It was the right thing to do."
Since that first year, Kotouc has become one of the program's biggest advocates. It's not a huge commitment to give a kid a chance for a two-month internship, she said, but it's an important one.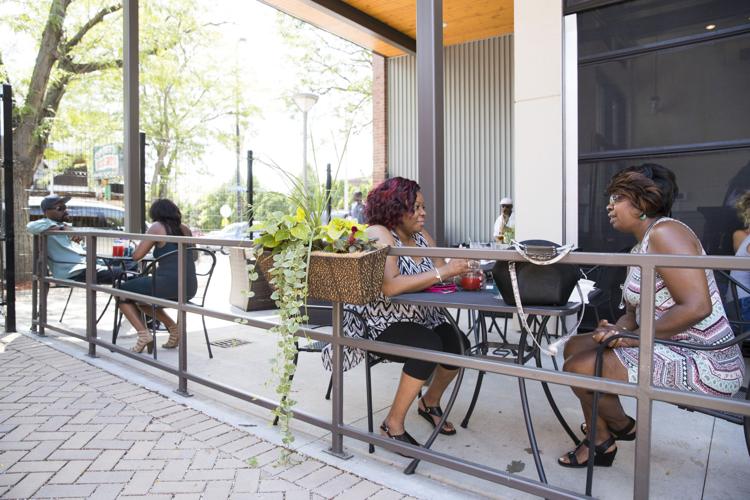 The Step-Up program has shown the power to effect change one person at a time.
Shai Holbert worked at American National through the program the summer before her senior year of high school, performing tasks such as scanning and sorting documents. What was supposed to be just summer work ultimately turned into a full-time job, as she became a teller and then moved up into other administrative roles.
"It gave me the opportunity to see a real work environment," she said. "It made the first step for me."
Serving 150 youths the first year, Step-Up stepped up considerably in 2012 when the city began kicking into the program a portion of its federal block grant funding . This summer, more than 500 youths are enrolled.
Mayor Jean Stothert has committed to further growing the program next year, pledging to double the city's funding from the current $500,000 to $1 million. With hundreds on waiting lists in recent years, Barney would like to see the program ultimately reach 2,000 teens and young adults.
Over the past decade, other education and youth initiatives geared toward poor and at-risk kids in Omaha are almost too many to enumerate. They range from the new early childhood programs started by Susie Buffett's Sherwood Foundation, to mentoring and after-school programs like the NorthStar Foundation's Outward Bound program, to college scholarships offered by the Susan Thompson Buffett Foundation and the Aksarben Foundation.
Jamar Dorsey, who works with high school students through Avenue Scholars, said there are now far more opportunities for kids in north Omaha than he saw growing up there during the 1990s.
"It's a lot of little things going right," he said. "The city, the schools and the nonprofits are doing a good job of chipping away at the barriers that caused kids to perpetuate the cycle of poverty."
Other factors cited in the recent progress include OPS school improvement programs, improved re-entry programs for offenders coming out of prison, and the city's decision to spin its federally funded job-training programs into Heartland Workforce Solutions, a new nonprofit that can also accept private donations.
There could be more good news to come. Barney, Brown and others hinted at an upcoming announcement that will bring a notable number of jobs to north Omaha.
But they also emphasized that the most important thing is ensuring that north Omaha residents have access to all jobs in Omaha, wherever they are, and can obtain the skills necessary to secure them.
North Omaha native Lenzel Hayes-Brown feels he's on track to do just that. Avenue Scholars helped him through high school and now has the 20-year-old close to completing his two-year degree in welding — a high-demand, good-paying occupation. He feels he's set to become another north Omaha success story.
"Growing up in north Omaha, I saw the challenges," he said. "I can really see the light at the end of the tunnel."