Haji Mohamed was born in the United States after his family fled violence in their home country.
The 8-year-old loved soccer and watching the PBS kids wildlife show "Wild Kratts."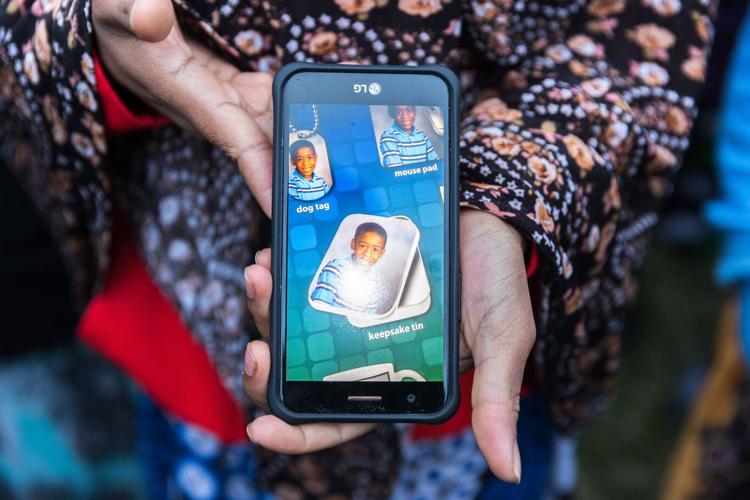 On Monday afternoon, he darted in front of a school bus that had dropped him off moments earlier about a block from his home. The bus struck him, and Haji died after an ambulance rushed him to a hospital.
Hours later, his mother stood on her front lawn with dozens of family members and friends as Omaha traffic investigators worked at the scene near 22nd and Sprague Streets, about 100 feet away.
She said her Muslim faith was guiding her view of what happened.
"It was written before he was born," said Amina Khamis, 30. "It was his time to go."
Haji, she said, liked to help his eight siblings do chores and was playful.
"He always smiles," his mother said. "He never, ever stops smiling."
He was also well liked by the staff at Springville Elementary, near 60th and Girard Streets, where he was a second-grader.
Teachers from his school went to the hospital Monday night, she said.
Haji was struck by the bus on Sprague Street between 22nd and 23rd Streets, just north of the King Science and Technology Magnet Center.
Omaha police said their investigation showed that the school bus, driven by Ashleigh Avant, 33, had come to a stop along Sprague Street just east of 22nd Street at a designated drop-off location. Avant is a driver for Student Transportation of America, an OPS bus contractor.
After several students got off the bus, Avant continued on her route westbound on Sprague Street between 22nd and 23rd Streets.
Haji, who had just gotten off the bus, then tried to cross Sprague Street from north to south. As soon as the child entered the roadway, the bus struck him, police said.
Surveillance video from a nearby home shows that several of the children who were dropped off immediately crossed to the south side of the street. Others, including apparently Haji, stayed on the north side.
A few seconds later, the bus moved out of the intersection, and the boy darted into the street in front of the bus and was hit.
Haji was taken by ambulance to the Nebraska Medical Center in extremely critical condition. Shortly after arriving at the hospital, the child was pronounced dead.
"At this time, Omaha Public Schools administrators, Student Transportation of America and OPS Student Transportation are cooperating with the Omaha Police Department as they investigate the incident," Omaha Public Schools spokeswoman Monique Farmer said in a statement.
"Administrators are also supporting and working with the family of the student," the statement said.
The crash was reported at 4:52 p.m. Monday. It remains under investigation.
Khamis Khamis, 35, the child's uncle, described his nephew as funny and playful and said he liked to play with his siblings. He said the family lived in a Kenyan refugee camp for 20 years after fleeing Somalia. 
"Nobody is happy today," he said. "Nobody is feeling good."
Amina Khamis, the boy's mother, said she holds no anger toward the driver of the bus, a perspective driven by her faith.
"In order to let him go free, you have to forgive," she said. "It was an accident."
World-Herald staff writer Erin Duffy contributed to this report.