The pledge cards are printed. The launch party is planned. There's even a hashtag: "that kind of town." Once again, the United Way of the Midlands is on its annual quest to raise millions for local charities that serve the poor.
But the nearly 95-year-old United Way might be facing an uphill climb in its latest campaign — and the charities that depend on it are worried.
For three straight years, contributions have ticked down, causing the United Way to dip into reserves and find other funding to avoid hurting agencies and programs. It has had to pare staff from 54 full-time positions last year to 43. It also eliminated seasonal positions, reduced benefits and agreed to voluntary hours-reductions from some employees.
The nonprofit giant is struggling against some strong tides: evolving trends in how people want to give, changes at the corporations United Way works through and competition from other fundraisers. United Way also has made a major shift in the past three years in what and how many agencies it funds.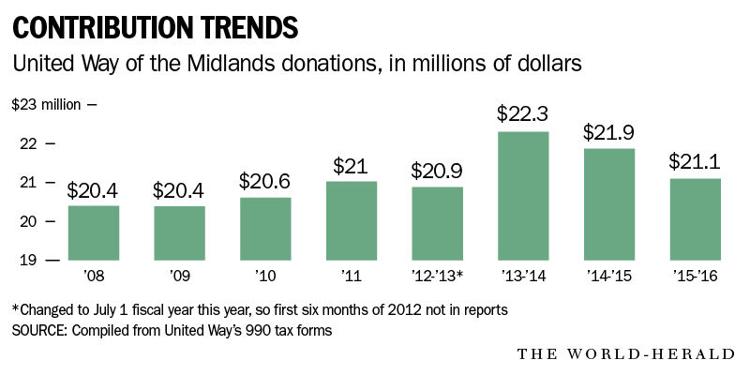 United Way Board President Dan O'Neill, former president and chairman of First National Bank, said fundraising is more difficult today than it was five years ago, yet the United Way is needed now more than ever, with charities facing cuts in government funding.
"We don't want to be obsolete," he said.
CEO Shawna Forsberg said the agency has had to adjust to meet its bottom line but is now on firm footing. She said she's got "a strong team" in place and is confident, with some early workplace campaigns showing promise, that this year's fund drive — with a $19 million goal they have adjusted down from past goals of more than $20 million — will be successful.
"I think we're largely on the rebound here," Forsberg said, calling the past year difficult and "a learning opportunity."
She also defended the organization's reboot in 2014 from a standard annual funding of 32 agencies to one that requires more accountability from local charities and narrows its focus to programs helping people out of poverty.
Mary Hawkins, a United Way board member and Bellevue University's president, said the United Way's change to targeted, more informed funding may not have been completely smooth but was necessary. She said the approach more robustly answers local poverty needs and makes better use of donor dollars.
She said the organization has to scale back when donations decline.
United Way of the Midlands is still finalizing its most recent collection, but officials say they've collected between $19 million and $19.5 million, down from $22.3 million four years earlier.
Other United Ways — in Fort Worth, Texas; the Twin Cities of Minneapolis-St. Paul; and Chicago — are also feeling the pinch. Contributions are down, resulting in layoffs and warnings to charities that they won't get as much.
The United Way Worldwide, the Virginia-based organization that supports a total 1,900 affiliates in the U.S. and abroad, slipped to second-place in the Chronicle of Philanthropy's most recent ranking of top charities.
Experts in philanthropy and nonprofit leaders say local giving is strong but how and where people give has changed. Donors appear to want to be more directly involved and many gravitate to smaller groups where it might seem like their dollar goes further.
The United Way, which serves as a middleman, tapping worker paychecks to fill a variety of charity cups, represents the opposite of that. The United Way's relatively low overhead — about 13 cents on the dollar — may not be low enough for donors who can more easily and directly give to most charities from their phones.
"I never gave (to the United Way) because I didn't like blindly giving my money away to an organization I knew little about," said Sydney Zach, a 31-year-old Omahan who works in purchasing for an employer that conducts United Way campaigns. Her entry into philanthropy was through Omaha Gives, a one-day, annual online fundraising blitz that allows donors to give as little as $10 to whatever local nonprofit they'd like.
Zach since has given to Planned Parenthood of the Heartland, Omaha Home for Boys and the Nebraska Innocence Project, which aims to overturn wrongful convictions.
Hannah Poe, a 29-year-old who works at Easter Seals, a nonprofit, said she's given to causes since childhood, when her parents had her split her money into jars for spending, savings and charity. But her charity jar does not include the United Way. She gives to Planned Parenthood, Nebraska Appleseed and veterans and animals groups.
"I don't have a specific problem with the United Way," she said, adding that she didn't see "any need to do anything other than directly donate to the specific causes that are most important to me."
Zach and Poe represent an important demographic for the United Way: Younger workers don't give as much right away but if cultivated will stick with charities and give more as their careers grow. The United Way has started a young professionals group that meets for beers to raise money for books for poor children. Eventually the United Way hopes they will become Tocqueville Society donors, the United Way giving class whose members' annual donations exceed $10,000 each.
Anne Herman, an industrial organizational psychologist who consults for United Way and helped set up the data system it uses with nonprofits, said the trend of donors targeting specific programs can benefit some groups while hurting the overall system.
"There's tons of different things our community needs," she said. "If individuals go out and fund only one program, we may be totally neglecting some serious needs in the community."
She said the United Way's approach aims to address the community's needs holistically.
The United Way has enjoyed strong corporate support and its board draws from big companies, including Union Pacific, Valmont, Tenaska, Omaha Public Power District, Nebraska Medicine and Berkshire Hathaway Media Group, which owns The World-Herald.
But workplaces are changing, too, from a more strident you-will-give approach more prevalent in your grandfather's day to a buffet of giving options that include in-house charities at longtime United Way stalwarts like Cox Communications and Mutual of Omaha. In some cases, there are fewer workers to give.
Mutual's foundation last year gave $3.5 million to local charities; its United Way contribution, by comparison, was $603,000 — a 22 percent drop from 2015 when Mutual gave $769,000. Mutual spokesman Jim Nolan cited "significant overlap" between the foundation and United Way in anti-poverty missions.
A TD Ameritrade spokeswoman said its workers had grown weary of charity solicitations and the company is planning a new charitable giving approach that involves more volunteer work.
And as goes business at major Omaha corporations, so goes their United Way contributions, and Conagra Brands, formerly ConAgra Foods, is a powerful example. While contributions dipped in general after the recession in 2009, the food giant's decision to move its headquarters to Chicago cost the city 1,000 lost jobs and 300 more jobs that moved, with those employees taking their United Way donations to the Windy City.
The total loss, said a former chief fundraiser, could be between $500,000 and $1 million, of a $1.3 million total contribution.
"You can't overcome that kind of loss in a year," said Jeff Beckman, who in 2015 was the United Way's chief fundraiser. He now is executive director of development at the Salvation Army.
Conagra Brands spokeswoman Kristine Mulford said the company continues to "provide very significant support," to Omaha's United Way, but she declined to provide a dollar amount. Tax records of Conagra's foundation show a 38  percent drop from 2014 to 2016 in its annual gift to the United Way.
The Association of Corporate Contributions Professionals says research indicates that the amount of cash available for charitable giving has declined in many companies, and three out of four workers who donate want to direct that donation to the charity of their choice.
At the same time, the competition for dollars is way more crowded, with more than 3,000 nonprofits in Omaha alone plus an unknown number of online campaigns such as GoFundMe.
Plus, investors increasingly are turning to "donor-advised funds," which allow for immediate tax benefits. The charity that topped the United Way in the most recent Chronicle of Philanthropy ranking was the charitable arm of investment firm Fidelity. Its customers put $4.6 billion toward charity, almost $1 billion more than the United Way.
Omaha Gives is another example of a new form of fundraising. Now in its fifth year, it raised a record $7.8 million in May. Donors can give to practically any local nonprofit, often just by responding through social media or emails.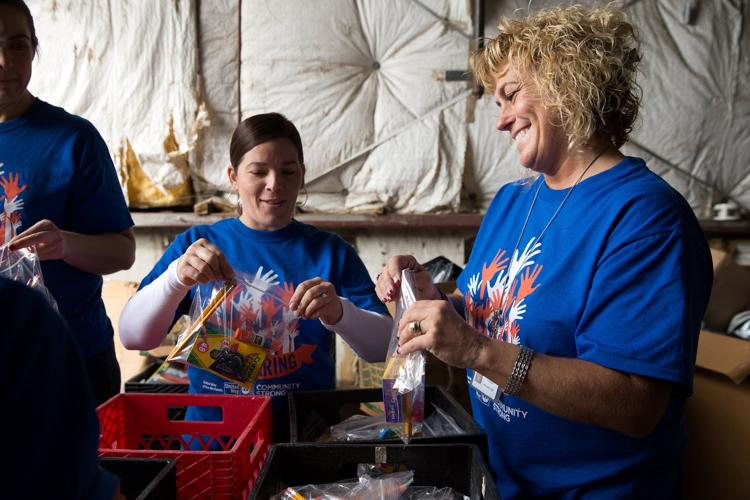 The United Way has evolved to meet some of the changed landscape for fundraising. It provides a direct service, a continuous 211 help-referral line that covers Nebraska and part of Iowa. It promotes the annual Day of Caring to volunteer. It allows donors to choose their local charity and United Way steers the money there. It convenes groups to tackle large problems like truancy.
It publishes stats on how dollars are used and who gets helped. It has beefed up its own measuring tools and is helping local nonprofits measure their own performance.
Forsberg said the United Way is trying to build hype for its traditional campaign (a kickoff party is Aug. 22 at Turner Park; the Omaha Federation of Labor will host another United Way party Oct. 10) while also building new revenue streams with young professionals, retirees and small businesses.
A new website and blog will launch soon along with text-to-give technology.
A reform-minded board tried to blunt the coming trends by shrinking its 50-member board, sharpening the organization's focus and transforming it from a pass-through to a think-tank-like organization that would have both a close-up view of how local charities were tackling poverty and a broader overview of what the Omaha area needed.
The board in 2011 hired a new CEO from Florida, Karen Bricklemyer, who was supposed to implement that plan and bring in even more money — $30 million, leaders hoped — way up from campaigns that had brought in $20 million to $22 million. The United Way then engaged in a yearlong, public process in which leaders sought public input on Omaha's pressing needs and its capacity to meet those needs. It added a technology component — a computer system to better measure how charities were meeting their goals.
The United Way leaders' message to staff, to charities that were longtime beneficiaries and to the Omaha community at large was this: Change is coming. The United Way had to tighten its scrutiny. Charities had to apply for funding instead of being guaranteed it. And regular Omahans could get involved by participating in surveys and helping United Way evaluate needs.
The end result wasn't a popular idea with everyone. The Mid-America Council of the Boy Scouts in Omaha saw its United Way funding cut by nearly $70,000 and decided not to apply for future funds because its leaders couldn't see "how we fit," said Chris Mehaffey, executive director. The council, which serves 58 counties in Nebraska, Iowa and South Dakota, does continue to receive funds from other United Ways and from designated donations that local United Way donors continue to give.
In hindsight, Beckman — who had been hired by Bricklemyer — said the United Way's refocusing may have rankled local charities who saw the organization "coming down the mountain to tell you the bad news." And he said it might have confused longtime donors who knew the drill. Some wondered why the United Way was spreading its dollars to include educational and workplace readiness activities.
"We may have run a few red lights, and not communicated as well," Beckman said. "We may not have listened as well."
Bricklemyer, 47, died suddenly of an aortic dissection one month before the August 2014 campaign kickoff. Her death rocked the agency, and that year the campaign raised a little over $22 million, short of its $23.7 million goal. The 2015 campaign fared worse, with contributions falling by $1 million.
Exacerbating the situation was a loss of United Way employees up and down the chain, some because of layoffs. Fifty-six people left over four years.
Forsberg said the agency took a lengthy, deliberate and public approach to its change, even implementing a two-year "step-off" process for programs that would no longer get funding. She said United Way met with top leaders of all previously funded agencies to explain the new rules and offered training and other support for future applications of United Way aid.
She said forecasting can be difficult and that the final revenue picture does not become clear until the end of the year. Even though Mutual was down, there were 25 other companies that gave more in 2016 than they had the year before.
She said that staff departures in part were due to a high rate of attrition typical of nonprofits.
A 2016 satisfaction survey of United Way employees showed some improvement in areas like communication, though the same share of employees had concerns about work processes. Forsberg said she will administer another workplace survey this fall and has taken steps to keep staff, such as establishing an employee engagement committee.
Despite the trends, nearly everyone interviewed for this story — from former employee to philanthropic expert — said there remains a need for the United Way and its unique perspective on the charity landscape in this community.
"They know all the providers. They know all the various players," said Jeff Kutash, executive director of the Peter Kiewit Foundation, which backs the United Way with annual gifts of $400,000. "They (can) put those players in a room together and have better outcomes from their work."
The bottom line, Hawkins and Forsberg say, is that United Way donors get the satisfaction of knowing their dollars stay in the Omaha area and that United Way has a better idea of where those dollars should go.
Still, the road ahead for nonprofits is steep.
Ruth Henrichs, who is retiring from Lutheran Family Services after 41 years, 33 of them as president and CEO, said charities understand that these are changing times and "change comes really fast these days."
"We're all trying to find new ways," she said, "to do old business."