A stiff breeze failed to cool off the enthusiasm Sunday when supporters of the Tri-Faith Initiative gathered outside Countryside Community Church for another big step in inter-religious cooperation.
The reason for celebration at the 35-acre Tri-Faith campus was dedications of an orchard, community garden and Abraham's Bridge. Countryside Community Church, which joins Temple Israel and the American Muslim Institute near 132nd and Pacific Streets, also held its open house.
"Today is epic because it's the fruition of our dream and the reality of the support we've received from our Omaha community," said Wendy Goldberg, interim director of the Tri-Faith Initiative. "This allows us to be peace builders and bridge builders as an example to the world."
The Tri-Faith Initiative literally places houses of worship for Islam, Judaism and Christianity in a circle of common ground where members of all three faiths can meet. The goal is to foster empathy, invite understanding and advance common actions between people of diverse faiths on one campus.
The circular Abraham's Bridge crosses a small stream — ironically named Hell Creek — at two points and connects all three religious centers. The quarter-mile long bridge allows members of all faiths to walk between buildings.
"There's nothing like seeing each other on a daily basis," said the Rev. Eric Elnes, senior minister at Countryside Community Church. "Seeing each other in the parking lots or getting coffee really brings that relationship to a new and deeper level of understanding."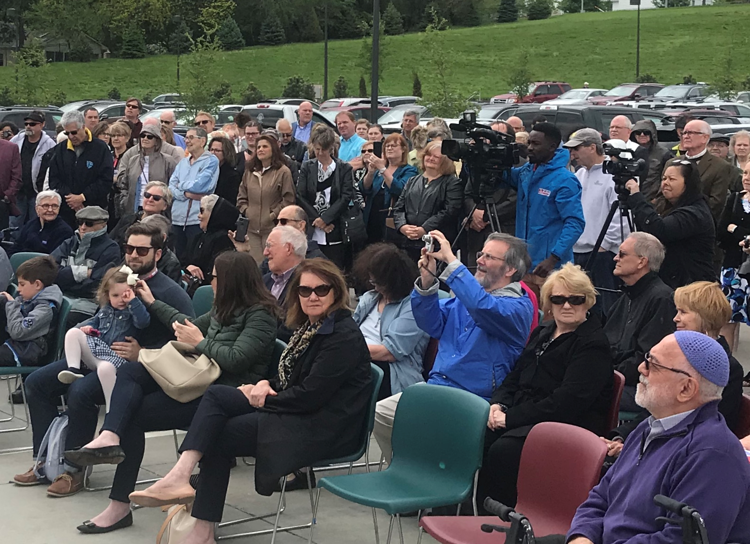 After the dedication ceremony, which included remarks from Mayor Jean Stothert, a groundbreaking took place for the shared Tri-Faith Center. The center will serve as a hub of collaboration for social events, educational activities and conference facilities.
"We have been looking forward to this grand opening since the groundbreaking in June of 2017," Elnes said. "In a time when there is so much bad news concerning the interactions of people who are different from one another, we are a community that places great value on welcoming all to celebrate and rest in a God who loves us beyond our wildest imaginations."
Dr. Sayed Mohiuddin, a cardiologist and one of the founders of the Tri-Faith Initiative, beamed with joy as supporters began to gather for the dedication ceremony. Temple Israel completed its new synagogue in 2013, and the American Muslim Institute opened its mosque in 2017.
With the opening of Countryside Community Church and the groundbreaking for the Tri-Faith Center, Mohiuddin said, a dream has become reality.
"This makes me immensely happy," he said. "I am so pleased to see this day. My hope is to be able to see the continued growth of the Tri-Faith Initiative."
Goldberg said the three houses of worship want to welcome skeptics as well as believers. The Tri-Faith campus is open to everyone, she said.
"There's room for those who are questioning, too," Goldberg said. "We have different names, different rituals and yet we all feel a calling to come together and honor our unique paths to God."