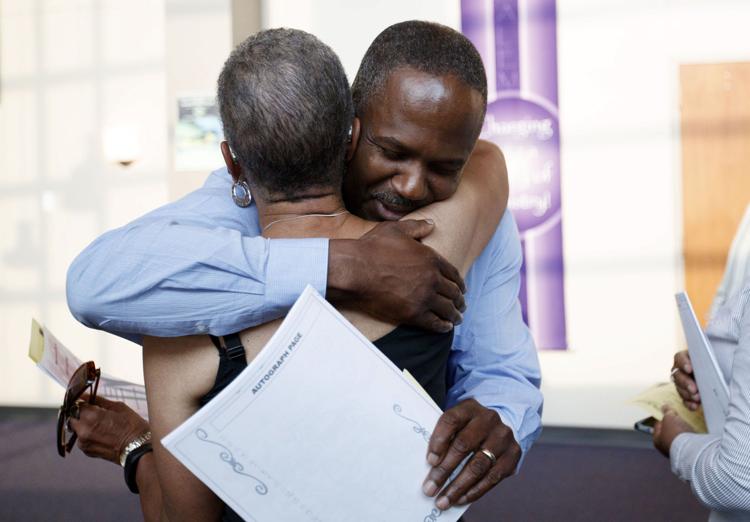 Wearing his standard uniform of suit coat and slacks, Willie Barney held open a college lecture hall door, greeting the teenagers streaming out.
"Looking good, man. Good morning. Good morning. Looking good, looking good," Willie said to the 14- and 15-year-olds who had, as instructed, come dressed for the occasion: a career fair.
Willie had incorporated this career fair into a summer jobs program he helped launch almost a decade ago. And the day's event at the University of Nebraska at Omaha offered an important firsthand look at the possibilities that awaited these youths, mostly low-income African-American teenagers. Plus it was the youths' first real test at trying out the firm handshake, the confident 'Hi-my-name-is' introduction and a dressier look.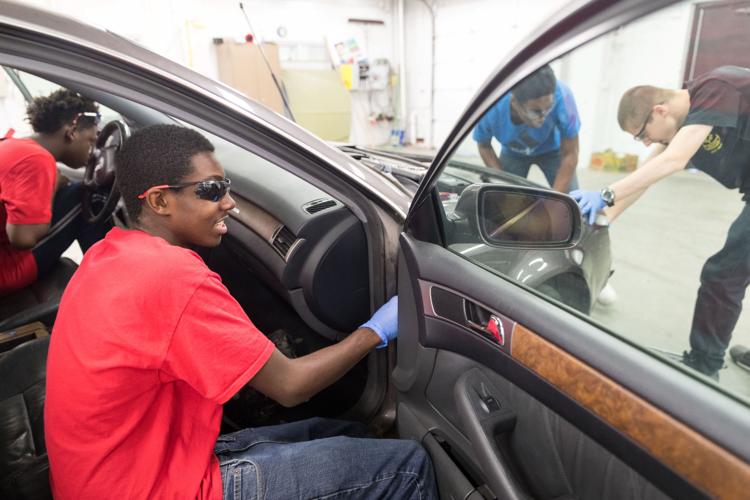 Quietly, Willie pointed out the kid with gang ties, who everyone thought would be out by day two but is still coming on day nine. Then that tall kid he hardly recognized after teaching him in a grade-school program he'd taught called Boys to Men.
Then a third youth, who'd shown up late. Willie told me how he was about to lay into him about punctuality when the youth explained that he'd walked from his home near 42nd Street and Ames Avenue to 67th and Pine Streets. That's over 5 miles.
"It almost dropped me to think he woke up and walked himself here so he wouldn't miss this," Willie said.
Willie's community-betterment organization — the Empowerment Network, publicly launched in 2007 — has been in the trenches tackling poverty, crime, educational gaps and other social ills since the fall of 2006, just before this newspaper reported on dismally high rates of black poverty, black child poverty and the income gap between black and white Omahans. The special report prompted a response from white philanthropists and civic leaders and, largely through the Empowerment Network, the black community.
The most recent figures show that Omaha's black poverty rate has inched down. The black-white gap has narrowed slightly. And measures — in graduation rates, unemployment and shootings — are, respectively, up, down and way down, all hopeful signs that the quality of life for black Omahans is getting better.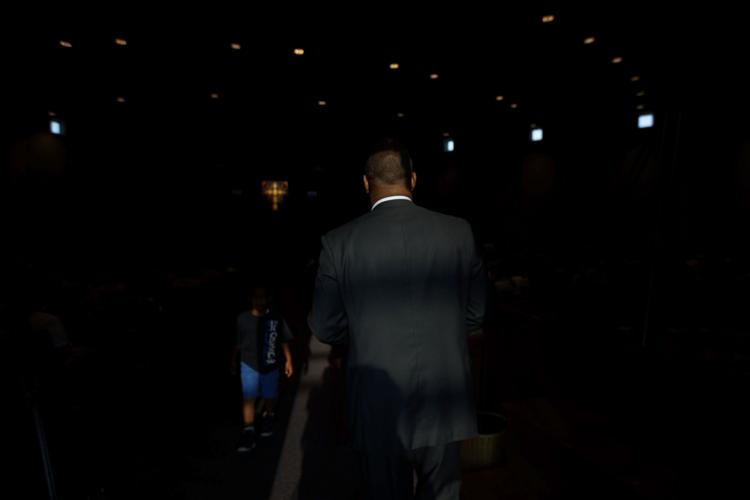 Many Omahans say Willie and his group should get some credit. Drawing from Tavis Smiley's 2006 book, "The Covenant With Black America," Willie tried to create solutions from the ground up, with black Omahans leading the way. He's also brought national networking expert George C. Fraser, author of "Success Runs in Our Race," to Omaha multiple times.
He stuck with it despite some pushback within the black community from those who see the network as too friendly with existing power structures and too slow in creating visible, lasting change.
"We haven't always agreed on everything that was happening within the community," said Jannette Taylor, who previously ran a gang intervention program, Impact One, and worked with Willie. "Throughout all of that, I never had to guess what his purpose was, where he saw the community growing or what his vision was for the city. ... He always invited everyone to the table — even when some people wanted to flip the table over."
Count Precious McKesson among early skeptics. She had watched programs start and stop in north Omaha. She was especially guarded because she lives in north Omaha and has a family member who was nearly killed in a shooting. She wondered about motives.
"Who are these people?" she'd ask about the network.
But she kept going to network meetings, and "now I understand and I see the vision of what they're trying to do."
The Empowerment Network has grown from an ad hoc volunteer group to a nearly $1.5 million entity with a storefront office, four staff members, and a youth summer jobs program called Step-Up Omaha. Willie, who had done this work for free from 2006 to 2010, now earns about $90,000 a year to head the group.
But Willie stresses he's merely a facilitator. He listed a dozen other people who have worked hard to make the network grow, and singled out his staff and Omaha City Councilman Ben Gray and Michael Maroney, director of the Omaha Economic Development Corp., who were architects and supporters of Step-Up. He says the Empowerment Network is first a network of thousands of people and hundreds of organizations and nothing would be possible without collaboration.
Omaha Police Chief Todd Schmaderer speculated that Willie's discomfort with taking credit or talking about himself made him that much more attractive to others.
"Maybe that's why everyone follows him," said Schmaderer, who often attends the weekly anti-crime meetings Willie holds.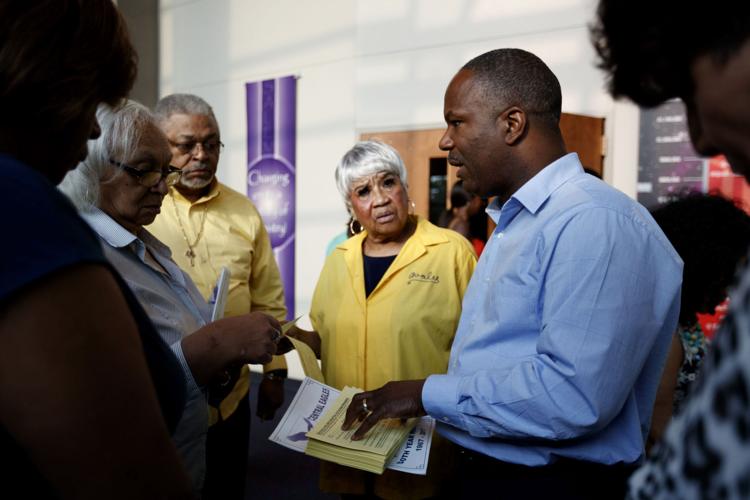 Willie is constantly on the move, driving his nearly 20-year-old Honda Civic around Omaha for meetings, classes, prayer walks and more meetings.
His personal network runs from Omaha Mayor Jean Stothert to teenagers trying to exit street life.
Schmaderer credits Barney and the Empowerment Network for improving police-community relations, which the chief says has contributed to reductions in shootings and a boost in the homicide clearance rate.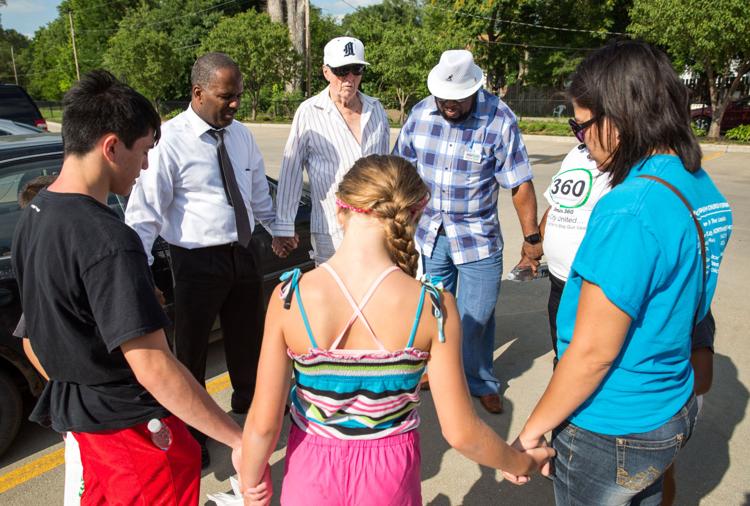 "There's nothing better than addressing the root causes of crime: poverty, educational gaps, the breakdown of the family," Schmaderer said. "I do believe other cities can look at the Empowerment Network."
Schmaderer described Willie as "a very strong bridge." Willie is constantly bridging Omaha's dividing lines of geography, race and social class. He owns a house in west Omaha but works, shops, eats, worships and otherwise lives in north Omaha. That suit he's wearing?
"Styles of Evolution," he said, promoting a North 24th Street clothier, which he says represents one of his personal commitments to buy locally.
Douglas County Treasurer John Ewing, who serves on the network's board, sees the group as vital and Barney as the change-maker who made it happen.
"Willie is one of the most significant leaders in Omaha, period," Ewing said. "He had a vision (for north Omaha) that was different than anything I had seen before."
Omaha Public Schools Superintendent Mark Evans said he talks with Willie at least once a month. Evans attends the monthly Saturday Network meetings at Omaha North High. He seeks Willie's input on OPS decisions.
"We see Willie as a critical partner in helping us move the needle," said Evans of OPS, where nearly three out of four students come from families with incomes low enough to qualify for free or reduced-price lunches.
OPS board member Yolanda Williams said Willie "works tirelessly to connect the community to organizations and resources."
Willie does have an agenda: "one great Omaha," a mantra of the Empowerment Network. This involves a mission of improving life for everyone, though with a specific focus on the north Omaha ZIP codes 68111, 68110 and 68104. Within that mission are numerous specific steps and plans that involve personal responsibility, neighborhood revitalization, job training and jobs, youth development, justice system reform and health and education improvements.
Barney uses words like "rise up" and "rebuild the village."
By that he means that people look out for each other, and he quickly adds: "It's not something I read about. It's personal experience. Personal."
Willie was born to teen parents in rural Mississippi, and spent his early years in his grandmother's care while his mother went to college in Iowa. After she earned a social work degree, Willie's mother brought him to Mount Pleasant, a small town in the southeastern corner of the state.
"I went from a 99.9 percent African-American community to a 99 percent-something white community," he said.
That transition was, at times, "tough," he said. But coaches and teachers reached out and "became my village." He said his mother and stepfather were examples of how to help others. He graduated from St. Ambrose, a Catholic liberal arts university in Davenport, Iowa. An internship at the Davenport-based Lee Enterprises gave him exposure to how business executives work and led to jobs at Lee and later at The World-Herald, where Willie worked from 1999 to 2004 as circulation marketing manager.
Being a transplant shaped Willie's view of the city. At first he and his wife, Yolanda Barney, saw Omaha as "a gold mine," with low unemployment, strong public schools and a vibrant downtown. But where were all the black people? Not leading corporations. Not very prevalent in civic leadership. Not even present in his neighborhood, near 120th and Cuming Streets.
As he looked more closely at the city, he began to see what had been hidden. Omaha might have a low jobless rate overall, but black unemployment was in the double digits. The public housing projects didn't look as bad as in other cities, but the poverty was deep. Plus the geographic separation was stark — and Willie was now a father. (His children are ages 15 and 10.)

Willie wanted to do something about this. He went to work at his church, Salem Baptist at 31st and Lake Streets, then quit that to do consulting work and began meeting with as many African-Americans as he could to discuss what to do.
In 2007 I watched him tell an audience that the Empowerment Network's goal was to "transform the city of Omaha."
Not yet, said Willie, who is 49. There is still work to do. Like get the youths from job fairs to jobs to careers. He seems to be getting buy-in from many, including Jasyn Howard, a 14-year-old who took two buses to Step-Up and called it an experience that transported him out of his "everyday life." He sees Willie as a caring adult who "has done a lot."
At the job fair, as Willie held the classroom door open, he nodded approvingly.
"All right, gentlemen," he said. "Represent us."
One young man turned around and grinned.
"We got you, Mr. Barney."