It's been 83 years between visits to Omaha for the American Philatelic Society Stamp Show, and its exhibitors were pleased with their welcome back.
"We did gangbusters here this weekend," Jim Dempsey, owner of A&D Stamps and Coins of Walnut Creek, California, said Sunday. "It went very well, really super. We have 17 chairs (for customers) and they were filled 90% of the time."
The last and only other time the stamp show was in Omaha for its national convention was in September 1936. This year, the American Philatelic Society and the American Topical Association collaborated on the four-day show that began Thursday at the CHI Health Center in Omaha.
It opened with a bang as the U.S. Postal Service unveiled four stamps that honor military working dogs. The stamps come in a 20-stamp book, with each block of four stamps depicting a German shepherd, a Labrador retriever, a Dutch shepherd and a Belgian Malinois.
Dempsey, 88, and his wife, Sue, brought 5,300 pounds of collectibles to Omaha. He was honored Saturday by being named the APS Dealer of the Year.
"The APS is proud to award James Dempsey with the third annual Dealer of the Year Award for his exceptional contributions to the American Philatelic Society and to the stamp collecting hobby," according to a statement issued by the organization. He and Sue have operated A&D Stamps and Coins for 60 years. Dempsey served the APS for several years as the dealer representative to the APS board and currently serves on the APS dealer advisory committee.
A case of tonsillitis at age 6 was instrumental in Dempsey's lifelong love of stamps, he said.
"I had my tonsils out and my sister felt sorry for me," he said. "She went down to the Woolworth's in Berkeley (California) and bought a little paper stamp album and the Golden Galleon Mixture of stamps. Golden Galleon, that name alone was adventurous."
He continued his interest in stamps while obtaining his journalism degree from the University of California, Berkeley. He later worked at the Sacramento Bee before becoming managing editor of the now-defunct Berkeley Gazette.
"All the time I was building up my (collection) stock," Dempsey said. "In 1979, I decided to spend the rest of my life in the stamp business."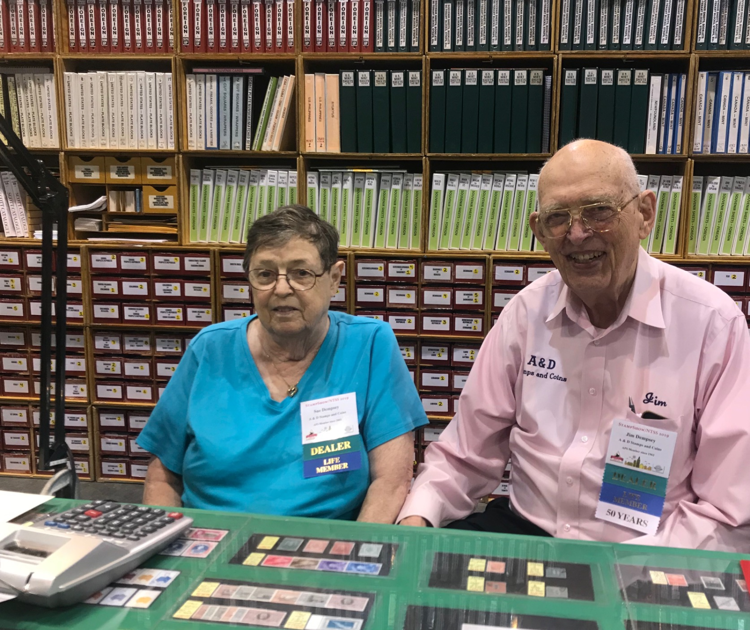 The Dempseys now travel to about 15 shows a year, with most of those being on the West Coast. Omaha is the farthest east they will travel in 2019.
"It went real well (in Omaha)," Sue Dempsey said. "The first couple of days were hectic, but that's good."
Also busy was Don Tocher, 81, of Boulder, Colorado, who displayed a table of U.S. classic stamps and envelopes. Collectors have to be good detectives, he said, so finding flaws or anomalies that make items valuable was a good match for his engineer's mind.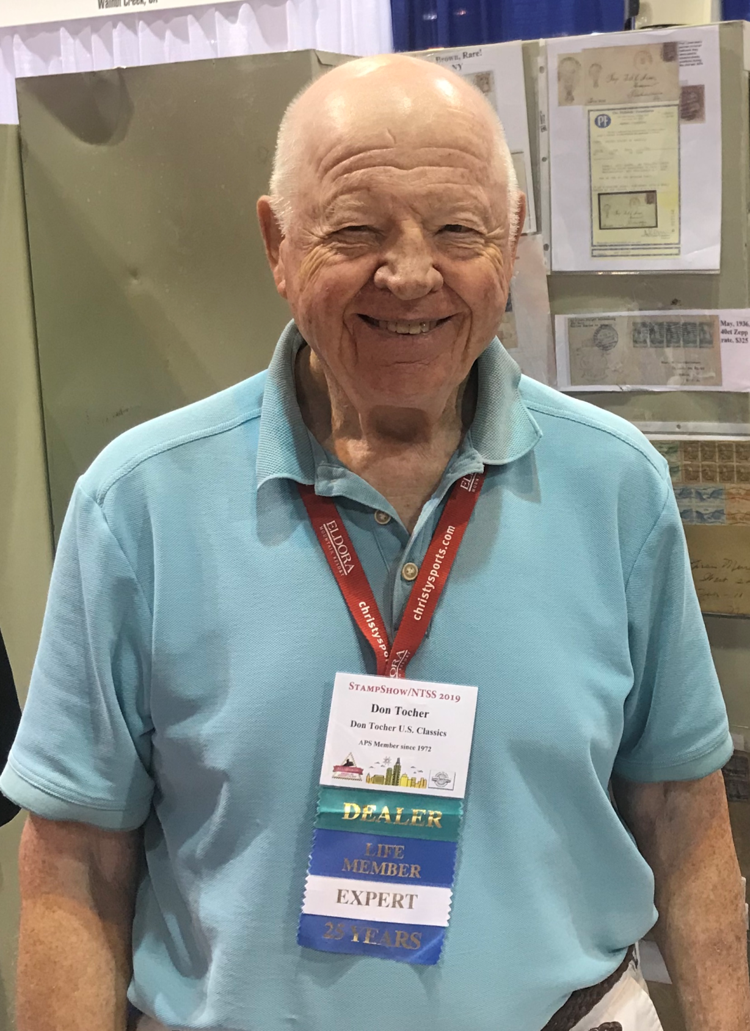 One letter in Tocher's display had the distinction of combining a rare stamp and a rare cancellation marking. The 1869 stamp depicted Columbus landing at San Salvador, but it was unpopular with the public and discontinued after one year. Making the find more unusual was the fact that the stamp was affixed to an envelope that had a handwritten cancellation mark from Augur, Nebraska, in 1869. Augur, later Fort Omaha and now part of north Omaha, had a post office for only nine months, Tocher said. That makes the envelope and stamp worth several hundred dollars.
Tocher collected stamps as a child, he sidelined the hobby as he grew older. His interest reignited, however, because his father-in-law proved to be an avid stamp collector, a bit of a drinker and a bad poker player.
"He paid (poker debts) in duplicates from his collection," Tocher said. "I noticed that you could sell them and I peddled a few to get started."
Sign up for The World-Herald's afternoon updates
Receive a summary of the day's popular and trending stories from Omaha.com.
Our best photos from June 2019