It's been 25 years since Columbus Park Community Center opened on the site of a former city auto tow lot.
Subby Anzaldo was interim mayor then, and his name is emblazoned on the plaque that still hangs inside the neighborhood gathering spot that, at the time, was the first city-designed community center to be built since the 1970s.
On Thursday, Anzaldo paid another visit to 1515 S. 24th St. This time, the community center was dedicated in honor of the longtime councilman who pushed for its construction and whose public service spans decades.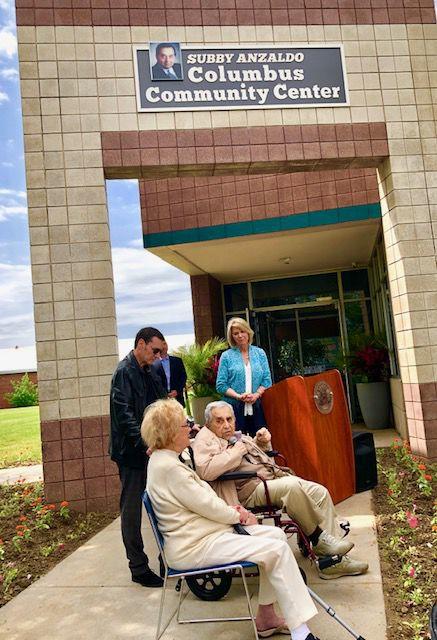 "He was a huge factor in getting this done for South Omaha," said City Parks and Recreation Director Brook Bench. "We just felt this was fitting."
Mayor Jean Stothert, former Mayor Hal Daub, Councilmen Vinny Palermo and Ben Gray — and a few hundred more of Anzaldo's friends and family members — were on hand for the unveiling of the sign on the community center that also bears an image of Anzaldo when he was interim mayor.
Anzaldo, diagnosed last June with glioblastoma, an aggressive cancer that begins in the brain, sat outside next to his wife, Jan, and thanked the mayor and other supporters who gathered, as children played just yards away at the park's playground.
He said in an interview that the Columbus center, blocks from the house where he and Jan raised their five kids, is a source of pride for him, his former constituents and his family.
"And it will continue to be that in the future when they drive along 24th Street," Anzaldo said, glancing at traffic cruising by.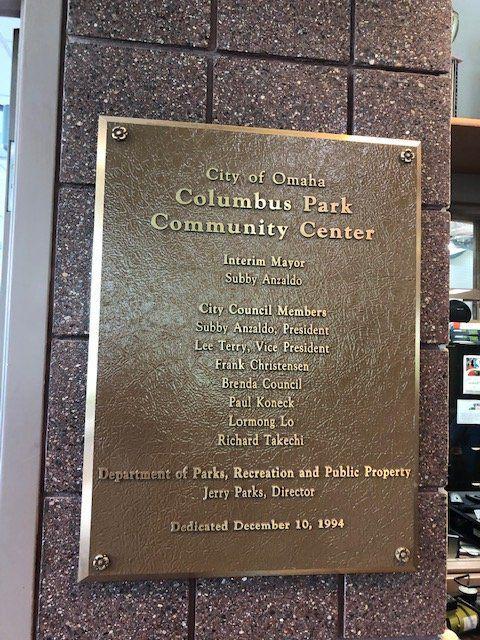 Now 85, Anzaldo was recognized not only for his role with the community center, but also for his lengthy record in public office that ranged from being on the Parks and Recreation board to advising the Daub administration. He represented District 3 on the City Council from 1988 to 2000, stepping up for a part of that time as interim mayor when another mayor resigned.
Anzaldo's roots as a theatrical booking agent also were highlighted as musicians attended and sax player Jorge Nila and drummer Joe Voda entertained before the formalities.
A grandfather of 20 and great-grandfather of 16, Anzaldo on Thursday recognized his family's enduring support, cracked jokes and said his Sicilian parents who came to this country would be proud to know their name will live on in South Omaha. Family members said Anzaldo is receiving treatment for the glioblastoma, the same condition that last year took the life of Arizona Sen. John McCain.
Last month, the City Council paid tribute to Anzaldo during a meeting, when it approved the commemorative naming of the community center. Officials from different eras and political parties praised Anzaldo and his service. Anzaldo said then that if not for his health, he'd still be serving on the Zoning Board of Appeals.
"Mr. Anzaldo has spent his lifetime as an advocate for South Omaha," said the mayoral resolution that requested the center's new name.
Sign up for The World-Herald's afternoon updates
Receive a summary of the day's popular and trending stories from Omaha.com.
Our best photos of April 2019