It was a dog day afternoon Sunday at the Omaha Community Playhouse, and that was just fine with the audience members waiting to see a matinee performance of "Annie."
Five four-legged therapists and their owners from Midlands Pet Therapy drew smiles and praise in the lobby before the 2 p.m. curtain. The dog owners are all CHI Health volunteers who take their pets to hospitals, schools, libraries and retirement homes to provide stress relief, Cindy Perkins said.
Perkins said her wire-haired dachshund, Max, is popular at hospitals. The 3½-year-old pooch will even curl up on a patient's bed to take a nap.
"The other day we were at the Gretna Children's Library so the kids could read to Max and he is just so patient," Perkins said. "Max is really popular at Creighton University when we go there during finals week. The students get big-time stress relief."
A study in 1980 found that heart attack patients who owned pets lived longer than those who didn't, said Kathy Niver, a spokeswoman for CHI Health. Other researchers found that petting your own dog could reduce your blood pressure, she said.
Since then, it's been shown that therapy animals can lessen depression and anxiety, decrease feelings of loneliness and help dementia patients recover memories of their own pets. Studies now show that interacting with animals increases a hormone that makes us feel happier and makes us heal faster, Niver said.
A fast recovery would be great news for Norah Herrera, 10, of Wahoo, who had surgery Thursday to repair a tendon in her right foot. Norah dropped her crutches and immediately cozied up to Riley, an English Labrador.
"We didn't know the dogs were going to be here today," said Vicki Herrera, Norah's mom. "She just loves all animals. She helps with a rescue group when she can, but we don't get there as often as she'd like."
Joining Max and Riley were Bear, a boxer; Roxy, a boxer mix; and Panko, a corgi. The dogs may not have been onstage like Sandy, Annie's dog in the show, but they drew plenty of accolades for their laid-back performances.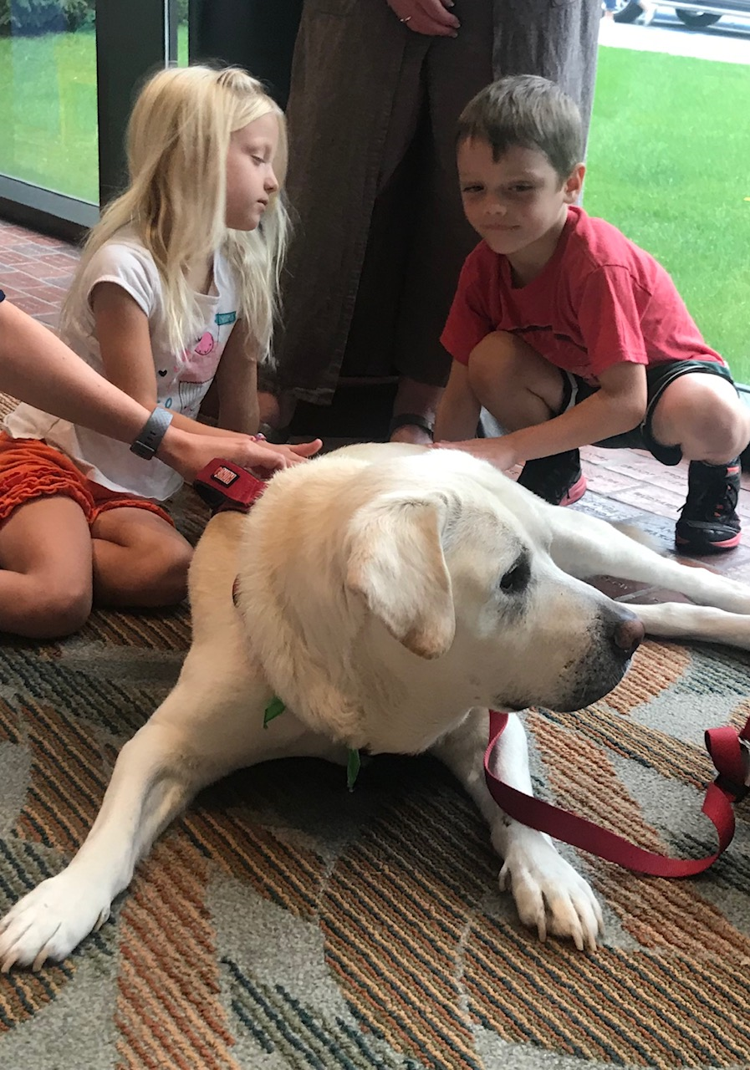 Cathy Hirsch plays a villain, Lily St. Regis, in the show. She and her husband, Dan, brought their 6-year-old twins, Mickey and Holly, for some pet therapy because their own beloved dog crossed the Rainbow Bridge last week.
"It was tough on the kids, especially Holly," Cathy Hirsch said. "(The children) have already seen the show, but we made a point to bring them today so they could see the dogs."
A good portion of the musical highlights the bond between Annie and her dog, Sandy. Hirsch said Toby, the dog playing Sandy, is a "sweet, little angel" that has won the hearts of the cast.
"There are times when we're backstage and you can always hear when Toby's done something (unscripted)," Hirsch said. "You can hear the audience snickering and you know Toby has maybe wandered around a little bit."
Holly and Mickey seemed especially taken with Panko. The 2-year-old corgi rolled over on his back to give the twins plenty of room for scratching, much to the delight of his owner, Meg Maudhoo of Omaha.
"Kids love him because he'll let them pet him for as long as they like," Maudhoo said. "He loves people, and petting him is a great stress reliever."