At Sycamore Family Farms, people are used to seeing open green fields, century-old sycamore trees and — three times a year — junk.
The 135-acre farm is known as the site of Junkstock, a three-day festival of antiques, handmade goods and yummy food.
Last month, the farm's fields, trees and buildings were submerged in water and mud after Nebraska's historic floods. But Junkstock organizers only hesitated for a minute before deciding that "the show must go on," organizer Danelle Schlegelmilch said.
Junkstock found a temporary home for its 150 vendors this weekend in Springfield — the Sarpy County Fairgrounds at 100 Main St. The festival continues Sunday from 10 a.m. to 5 p.m.
"We really depend on the event to help us get money to fix the farm," Schlegelmilch said. "And then all these businesses count on us, too."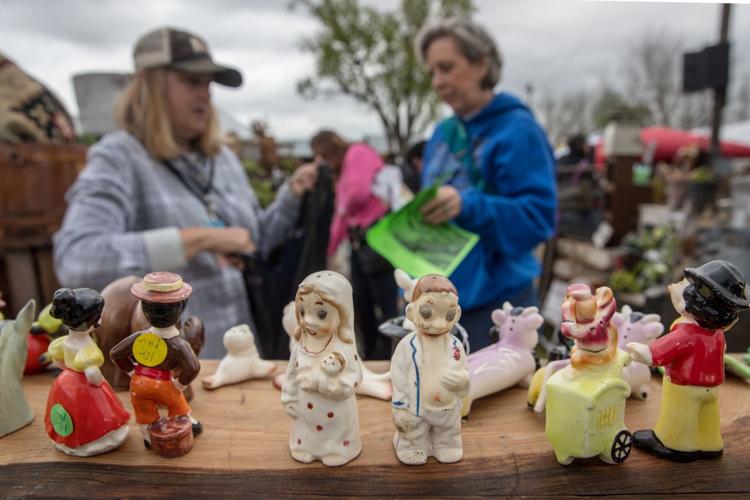 Vendors Kyley Rief and Abby Kreikemeier, owners of Davi Jo Vintage, have been selling their handcrafted home goods and furniture at Junkstock since 2014.
The best friends, who grew up in West Point, Nebraska, said that they missed the quaintness and charm of Sycamore Family Farms but that they were thankful that the festival could be relocated.
They work out of their garages in Omaha to prepare for Junkstock every year.
They said they're encouraged that people are willing to spend their money on the creations they've worked hard on.
"Seeing past customers coming through, always supporting us and buying something here and there, it makes it worth it for us to keep doing it," Rief said.
They got the name for the business from their fathers, who enjoyed craftsmanship and woodworking. Kreikemeier named her daughter, Lily Davi, after her father, David. Rief's middle name, Jo, came from her own father.
Schlegelmilch said vendors come from all over the country, including Los Angeles, Pennsylvania, Illinois and Texas.
Maggie Naffziger of Fort Collins, Colorado, has been selling her upcycled clothing at Junkstock for two years. She started making women's skirts from secondhand men's shirts because she liked the way the longer hemline fit her taller figure. Plus, she wanted clothes that were sustainable.
Then she started using the shirts to make wine sleeves, dog collars and even hair accessories. She said she missed Sycamore Family Farms this year but liked the openness of the fairgrounds that allowed vendors to interact with one another a little more.
"That's why you do small business — you get to meet people and customers," she said. "It's a lot of fun."
It's impossible not to notice the variety of dogs roaming the booths with their owners. Megan Curtis, a teacher at Papillion-La Vista South High School, loves that she can bring her entire family, including Bernard, her English bulldog. Plus, the change in location this year made it easier for her mother, who lives across the street from the fairgrounds, to make it to the festival.
Schlegelmilch said it was hard to tell how many people showed up this weekend. But she was pleased with the turnout.
She said the summer edition of Junkstock, June 21-23, is set to be back at Sycamore Family Farms.