The air over Springfield's city parks may stay a little bit cleaner these days. The city recently became the first in Sarpy County to pass a resolution against smoking in its public parks.
Omaha's parks director, meanwhile, said there are no plans to implement a similar policy in Omaha.
Springfield, a town of about 1,600, has two parks and a walking trail. With funding from Tobacco Education & Advocacy of the Midlands, 10 anti-smoking signs have been posted in the public spaces.
"We want a healthier lifestyle," Springfield Mayor Bob Roseland said, "and this is a natural step to do that."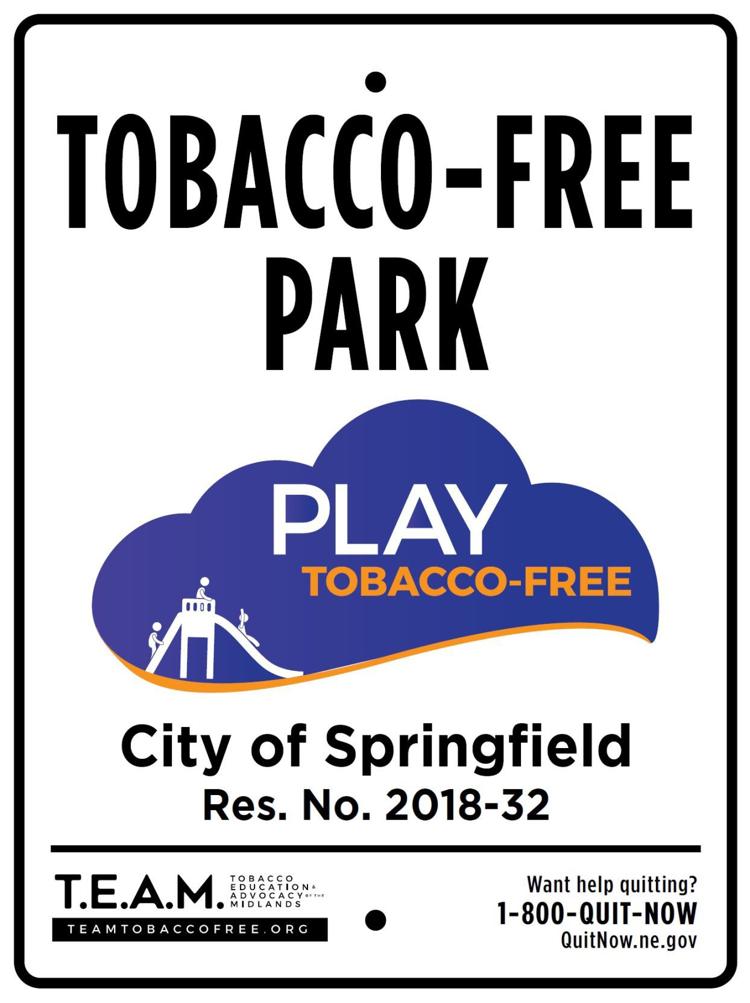 The town's resolution does not outlaw smoking, and people using tobacco will not be fined. But the hope is that the signs will discourage smokers from lighting up.
Autumn Sky Burns, Sarpy County coordinator for TEAM, said she thinks the signs will be effective .
"It's like the sign in the bathroom to ask people to wash their hands," she said. Nobody fines people who don't wash their hands, but it makes that healthy activity the normal thing to do.
Mark Welsch, president of the Group to Alleviate Smoking Pollution, agreed. He compared the anti-smoking signs to stop signs.
"Most people don't think about the penalty associated with running a stop sign; they just know that they (shouldn't) do it," Welsch said. When most people see signs like those in Springfield, he said, "they'll just comply."
Welsch and his group attempted in 2016 to persuade Omaha to put up no-smoking signs in its parks and at events such as Jazz on the Green. City Council members and Parks Director Brook Bench said at the time that they discussed the idea but determined that such a policy would not be enforceable.
Bellevue discussed a similar ban in 2015 and rejected the idea as untenable.
For Burns, Springfield's resolution is about solving not only an air pollution problem, but also a litter problem. Dogs and small children who ingest cigarette butts can become very sick and even die, Burns said.
"Most people don't know what happens to cigarette butts when (they) throw them on the ground," Burns said.
In Omaha, Bench said smoking in Omaha's public parks is still legal.
Bench said last week that he hadn't yet heard of Springfield's resolution, but he said complaints about smoking in parks have never been an issue. The only calls he's received about the issue are from members of advocate groups who would like to see smoking eradicated from Omaha's parks, he said.
"For us to try to enforce something of that magnitude in 260 parks would be a pretty challenging task," Bench said. "I don't think the Police Department has the staff to enforce that policy when we feel we don't have a problem with it."
Burns is convinced that Springfield won't be the last community to take this step.
"There are almost 2,000 communities across the United States that have policies like this," Burns said. "If it can work in the smaller communities, it can work in the bigger communities, too. Policies like this work. The less children see smoking, the less they associate it as something to do."
The World-Herald News Service contributed to this report.
Sign up for World-Herald news alerts
Be the first to know when news happens. Get the latest breaking headlines sent straight to your inbox.