As traffic fatalities in Sarpy County climb, law enforcement agencies across the county are joining forces to show they're serious about traffic safety.
Tuesday, five agencies ran a joint traffic enforcement operation along State Highway 370 in Sarpy County, using 14 officers and patrol vehicles from across the different jurisdictions to pull over speeding drivers.
The extra law enforcement created a visible presence for the new initiative's first public effort.
That's part of the point, said Chief Deputy Greg London of the Sarpy County Sheriff's Office. By working together, the agencies want to get drivers' attention to urge them to slow down, stop at red lights and pay more attention.
"It's not about writing tickets," London said. "It's about education."
Last month, the five agencies — police departments from Bellevue, Papillion and La Vista, the Sarpy County Sheriff's Office and the Nebraska State Patrol local troop — met to discuss their concerns about traffic safety around the county.
Since the start of 2018, London said, 28 people have died in crashes in Sarpy County: 18 so far this year after 10 deaths last year.
Out of that meeting, the agencies formed the Sarpy County Traffic Safety Task Force, to which each agency will contribute a few officers' time for a few special enforcement efforts each month, no matter the city boundary or jurisdiction.
If you run across future operations, it's possible a Bellevue officer might ticket you in La Vista, or a Papillion officer in the Gretna area.
The effort models one that suburban law enforcement agencies carried out two decades ago, when they even ran traffic enforcement in Omaha at times.
The agencies maximize their resources by working together. Without that, departments often must pay overtime to carry out such an effort on their own, or obtain outside grant funding.
"Let's go back to the future," La Vista Police Chief Bob Lausten said. "It worked before."
Each jurisdiction has its busy roads and trouble spots.
The Bellevue Police Department took the lead Tuesday as officers worked the state highway that crosses Sarpy County.
One future target is Platteview Road, which also crosses the county and has seen increased traffic and crashes. It was the road where four Gretna teens died in a crash in June.
La Vista has the two busiest intersections in the county at 72nd and Harrison Streets and 84th and Harrison.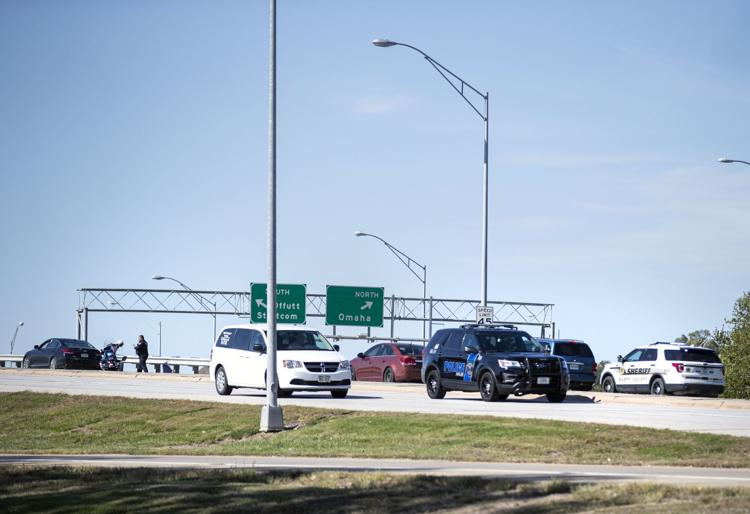 Papillion has commuting traffic that often speeds through its downtown on 84th Street, where 10-year-old Abby Whitford was hit and killed in August as she crossed the street.
Tuesday, one group of officers in the Highway 370 enforcement effort started near Fort Crook Road, while another was farther west. The officers stationed themselves up and down the highway through the afternoon and early evening.
One driver threw up his arms as he saw the officers staked out; he made it through without getting pulled over. At times, four officers lined Highway 370 near the Kennedy Freeway with lights flashing and drivers pulled to the side of the road.
In all, the officers expected to write about 60 tickets by the end of the day, Bellevue Police Sgt. Larry Lampman said.
Sign up for The World-Herald's afternoon updates
Receive a summary of the day's popular and trending stories from Omaha.com.
The task force has planned three more enforcement efforts in October and November, one in Papillion, one in La Vista and a third along Platteview Road, Lampman said.
London said that in the future, officers could focus on a different issue each time, perhaps school zones, pedestrian crosswalks, a street with a speeding problem or red-light violations.
Mark Segerstrom, highway safety administrator for the Nebraska Department of Transportation, participated in the meeting last month with the Sarpy law enforcement agencies. He called their cooperation a "big statement" and a first step in addressing traffic problems in the county.
Segerstrom said he's excited by the move to save lives, but he also realizes that the underlying causes are complicated.
"There's just no simple solution here."
Check out nearly 100 stunning photos of Nebraska
Check out some of the most beautiful images of Nebraska.