There's no changing the seasons — it's still winter.
If you were hoping that this weekend's warmth was a sign that winter had spent its fury last week, you're out of luck.
Cold weather returns this week, and the odds favor continued colder-than-normal weather across Nebraska and Iowa the rest of the month.
"It's probably not what you want to hear," said Max Vido, long-range meteorologist for AccuWeather Inc., The World-Herald's weather consultant. "We'll get spikes (of warmth) here and there, but we'll be dominated by cold air masses."
Sign up for World-Herald news alerts
Be the first to know when news happens. Get the latest breaking headlines sent straight to your inbox.
(Long-term forecasts are difficult to make, and Vido pegged his confidence level in his forecast at "moderate." Vido has good company, though. The U.S. Climate Prediction Center, the nation's long-term forecasting agency, also has concluded that the odds favor colder than normal weather in Nebraska and Iowa in February.)
Still, the arrival of February means the region has left the depths of winter behind, and with every passing day, it becomes more difficult for temperatures to drop as far as last week's low of minus 14, Vido said.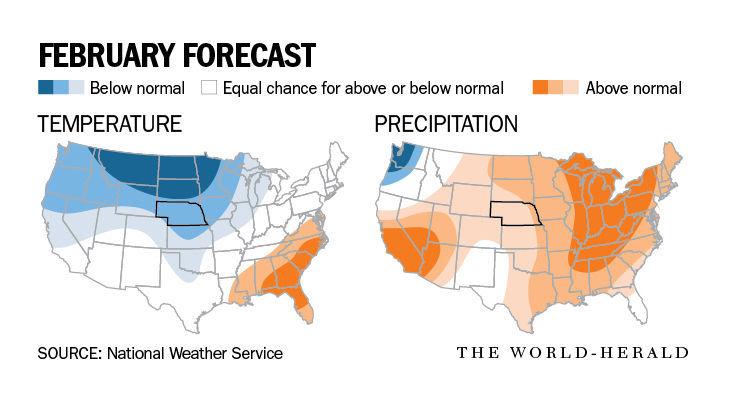 This week's forecast is for highs dipping into the teens and lows in the single digits to down near zero, according to the National Weather Service.
By comparison, the average high for this time of year in Omaha is 35 degrees and the average low is 15 degrees.
"There's certainly a chance of snow on Thursday, but how much we're going to get is certainly a question mark," said meteorologist Scott Dergan. "A long ways out there, things can change, but that would be our target."
The good news is that the conditions that generated last week's brutally cold weather are rare and unlikely to recur anytime soon, according to Vido and Bob Henson, a meteorologist with Weather Underground, a part of IBM.
Last week, a phenomenon known as a weakening polar vortex sent some of the coldest air on the planet southward into the U.S.
The polar vortex is expected to regroup and gain strength, and if that happens, it will hold that extremely cold air tight against the North Pole.
This week's cold is arriving thanks to a classic winter pattern, a downward bend in the jet stream, Henson said. The jet stream is a fast-moving ribbon of air that separates cold, northern air from warm, southern air.
"The upshot is that it will be cold, but not ridiculously cold," Henson said. "It's rare for winter to produce more than one outburst of cold air like we saw (last week)."
Even if the outlook for a colder-than-normal February holds true, this month should be much more tolerable than last month.
The average high at the end of January in Omaha is 35, but by the end of February it has improved to 43 degrees. Likewise, the average low in Omaha at the end of January is 15 degrees, according to the weather service, compared to 22 degrees at the end of February.
Federal scientists say the odds slightly favor wetter-than- normal weather in February in eastern Nebraska and Iowa, but Vido doesn't see it that way. He thinks the month might be drier than normal.
It wouldn't be unusual for late winter and early spring to be snowy. Due to seasonal changes in weather patterns, February and March typically produce the region's biggest snowstorms.
In 1944, Fremont had 44 inches of snow on the ground, the thickest blanket of snow recorded in the state.
On Feb. 11, 1965, Omaha recorded its most snow in a day, 18.3 inches.
Vido has some good news for farmers whose spring planting was held back last year by exceptionally cold weather.
Warmer weather is likely to arrive faster this spring, he said.
Statistically, it would be hard for the upcoming spring to be as cold as last year, climatologists and meteorologists say.
That's because April was the coldest on record for Iowa and second coldest for Nebraska, based on 124 years of records.
"I think it will be a nicer spring this year," Vido said.