Some flood victims have been breaking down when they see the rows of neatly organized food, cleaning supplies, clothing and household items awaiting them at the Bellevue Christian Center.
"They come in overwhelmed by what they have lost at home, and some of them begin to cry," said volunteer Sabrina Ayala. "Then they see all the volunteers and the support. They are amazed. I've heard 'Thank you' so many times this week."
Ayala and Lindsay Neddo were among the approximately 35 to 40 volunteers helping flood victims Sunday at the church auditorium. The donation center opened March 18 and is open 8:30 a.m. to 7 p.m. Monday through Friday and 8:30 a.m. to 1 p.m. on the weekend.
Ayala, who works as a counselor at Plattsmouth High School, was on spring break last week when she began to volunteer. Neddo, who works for the Omaha Public Schools, is a member of the church at 1400 Harvell Drive.
"I attend this church and heard what we were planning," Neddo said. "We all want to help out, however we can."
Chart: Where Nebraska floods did damage
The chart below shows each Nebraska county that has reported damage to the Nebraska Emergency Management Agency. In all, early estimates have the number at nearly $650 million in damages. Hover over bubbles to see damage amounts. Data updated at 6:30 p.m. March 21.
Volunteer Rikki Flott helped William Tyson of Bartlett, Iowa, as he moved through the neatly numbered aisles with a shopping cart full of cleaning supplies. His house is a total loss, and he will be moving into an apartment.
"I lost everything, but I've found just about everything here that I need to get started again," Tyson said. "This is unbelievable. I've never gone through anything like this before. I've never had to ask for help."
Tyson's daughter, Karri Stevens, collected items in another shopping cart. She also lived in Bartlett and will now be moving into an apartment.
"If we hadn't found out about this, we wouldn't be able to get back on our feet," Stevens said. "This is an amazing place with amazing people."
Photos: Nebraska flooding viewed from above
Walter Hooker, a senior associate pastor at Bellevue Christian Center, said the army of volunteers has been a godsend. The work they do, he said, leaves him speechless as he sees emotional connections made between volunteers and victims.
"It's not just our people helping here," Hooker said. "We are doing the organizing, but you see people from all over the city — north, east, south and west — showing up and going to work."
Donations come from all over, too, especially from other area churches. Two women from Utah drove to the church in a van packed with items.
People who are returning to their flooded homes are now looking for cleaning supplies, Hooker said. Surgical masks to prevent contamination from mold and boots are also among the most-requested items.
"If we don't have it, we can get it," Hooker said. "We use monetary donations to give people gift cards for stores. We have also given out $1,500 to $2,000 in vouchers for Anytime Laundry and Laundry World so they can get their clothes clean."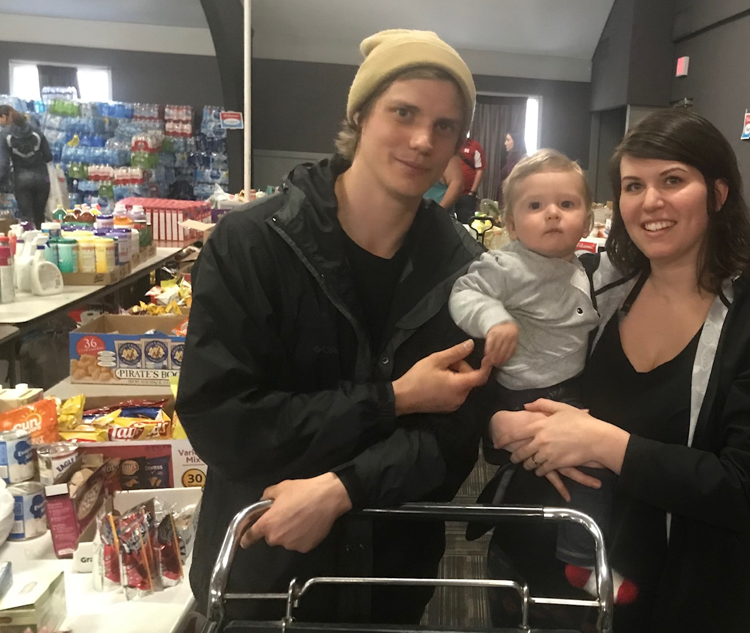 Beth Rockwell, her fiancé, Joe Doyen, and their son, Emerson, moved to Pacific Junction, Iowa, from Colorado in October. They were staying with Doyen's mother, but her house is a total loss.
"They told us that this time was much worse than (the flooding) in 2011," Rockwell said. "Everybody thought it was going to be a few feet of water, but it was so much worse."
The little family moved into a metro area apartment with Ben Doyen, who was helping Rockwell on Sunday while his brother went to work. Immediate needs include food, clothing and diapers.
"We lost a lot of clothing so coming here (to Bellevue) and finding all of this has been great," she said. "We didn't know (the flooding) would be this bad, or we would have taken much more with us."