Water levels rose to all-time highs Friday along portions of the Elkhorn and Platte Rivers in western Douglas County.
Nothing described the severity of the situation better than the fact that the office of the National Weather Service in Valley, which provided critical information on the evolving flood situation, was itself evacuating.
The weather service office in Hastings took over for the Valley office.
"We're backing them up," Shawn Rossi, a meteorologist in Hastings, said shortly before 11 a.m. "They're shutting down power and leaving."
The Platte peaked at 12.63 feet at the Leshara gauge, more than 7 inches above major flood status and more than 9 inches above the previous record, set in February 1996, according to the National Oceanic and Atmospheric Administration.
The Waterloo gauge of the Elkhorn read 24.11 feet at 4:15 p.m., well above major flood status and about 5 feet above the previous record set in March 1962. NOAA projections indicated that Elkhorn River levels could start to decrease Friday night. Platte levels near Valley were trending slightly downward Friday afternoon.
Friday proved to be an alarming day for some in eastern Nebraska.
Officials declared a flood emergency for western Douglas County and parts of Dodge and Saunders Counties after the Union Dike on the Platte River failed.
The National Weather Service issued an alert at 10:18 a.m. and called for people to evacuate the Valley area immediately, saying flash flooding was imminent. The weather service described the flood potential in parts of western Douglas County as "extremely dangerous and life-threatening."
Near Waterloo, farmer John Lamprecht stood on his property on the southeast corner of Highway 275 and Blondo Street. He trained binoculars on water that had overflowed from the Elkhorn River near his house.
By Friday evening, Lamprecht said 3 inches of water had snaked into his machine shed. "It's amazing to look outside and see that much water," he said. He and his wife expected their home and garage to remain above the water.
At Christian Church of Waterloo, Pastor Mike Bitter and his wife, Ruth, stood ready to help anyone.
They prepared to act as a shelter Friday or a collection point for food, clothing and other supplies. They planned to make chili and cook frozen pizzas.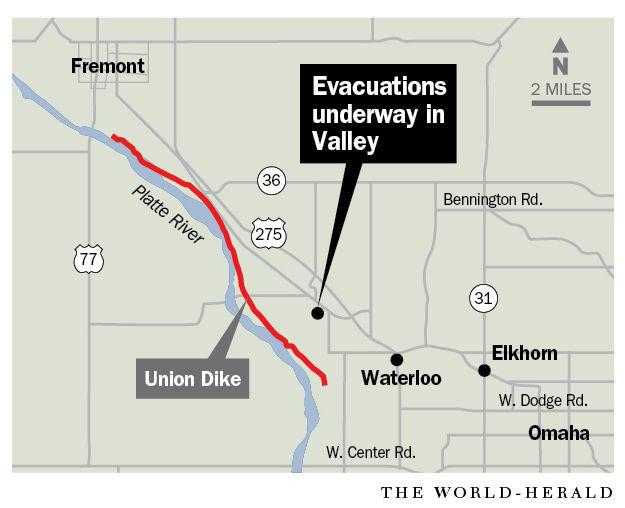 For days, emergency responders have been warning residents in Valley to evacuate, said Capt. Wayne Hudson with the Douglas County Sheriff's Office.
Hudson said rescue crews have lost airboats and put themselves at risk to help residents evacuate.
"We went through with bullhorns, P.A. systems, the whole nine yards, telling them to evacuate," he said. "They didn't heed our warning."
Crews Friday morning closed the West Dodge Expressway going west, just past the Elkhorn exit, 204th Street.
Road closures made it harder for officials to determine where problem spots were on levees and dikes, said John Winkler, the general manager for the Papio-Missouri River NRD.
"We can't get people out to survey without getting them caught there or where they can't get back," he said. "Right now, we're just in monitoring mode. There's nothing we can do to shore up any levees. The only thing we can do is help keep people notified and out of harm's way."
Between 7:30 a.m. and 10:30 a.m. Friday, Orchard Gardens assisted living center in Valley had evacuated 47 residents.
Rita Argintean sat in front of the Orchard Gardens door with all the belongings she could rustle together.
The 84-year-old had survived two prior floods in Valley but was not sticking around for the third.
"I hate 'em," she said. "It's horrible."
By 11 a.m., all 53 residents had been evacuated.
Kris Pryor, director of senior housing, said the facility had not flooded as of Friday morning. But Pryor said officials chose to evacuate because of the risk of losing power to the facility. She said she doesn't expect residents to return before Monday.
Argintean said she wasn't sure where she would land but said she probably would end up with one of her nieces.
Winkler, with the NRD, called the flooding "unprecedented." It's all the more remarkable, he said, considering it wasn't prompted by a 100-year storm or massive, days-long rains.
"I'm hoping this isn't a new norm," he said. "It was cold, snowy winter weather, and we had some spring rain."
If there is a bright spot, Winkler said dams, reservoirs and levees in the greater Omaha metro area were holding up.
"We're not expecting any issues outside the major river basins," he said. "Now we're just worried about the Elkhorn, Missouri and the Platte."
World-Herald staff writers Erin Duffy, Nancy Gaarder, Chris Peters, Erin Grace and Roseann Moring contributed to this report.
Photos: Major flooding hit Nebraska and Iowa towns in March 2019