Drivers, beware: The pothole season has started in full swing, so be on the lookout.
Even with temperatures staying below freezing, potholes are starting to crater streets across the Omaha area. Complaints to the City of Omaha are picking up.
Take 144th Street, south of Q Street to around Stonybrook Boulevard. It's one pothole after another.
"This has gone beyond pothole and beyond washboard to almost completely impassable," one driver reported on the city's complaint website.
Sign up for World-Herald news alerts
Be the first to know when news happens. Get the latest breaking headlines sent straight to your inbox.
Said another: "The entire north bound lane between Q and U St. is just destroyed with holes! Worst road in Millard."
The complaints got worse: "It is unsafe for vehicles. Needs attention ASAP."
And worse: "144th just south of Q st is extremely dangerous. I've never seen so many potholes so close together and so big."
And WORSE: "... there are so many potholes they are going to kill someone."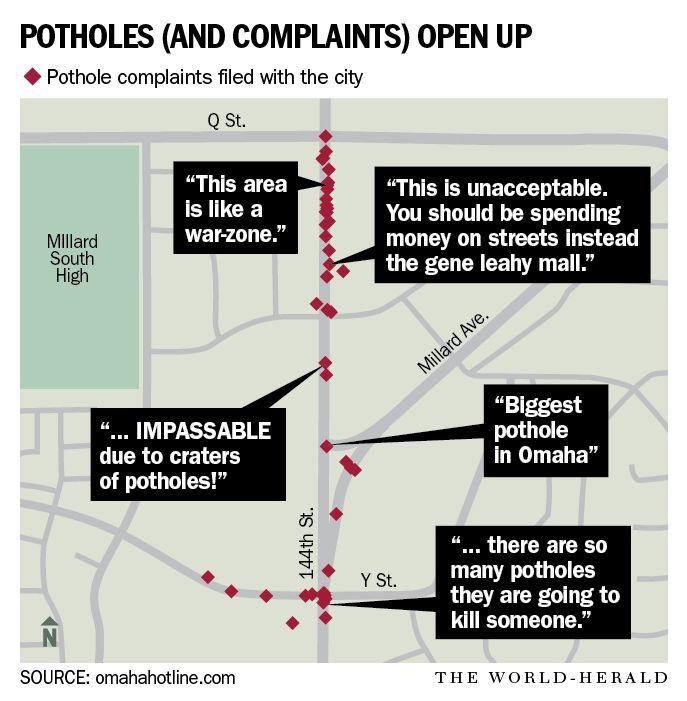 Austin Rowser, the City of Omaha's street maintenance engineer, said pothole complaints surged to 620 last week, and crews were looking to go out Tuesday to apply cold patch material to problem spots.
Monday, the city didn't dispatch crews out of concern for their safety, Rowser said, as wind chills hit extreme levels.
Although it is unusually cold for March, Rowser said street pavement temperatures are reaching 40 degrees, enough to start the freeze-thaw cycles that can break pavement.
"If we're not plowing snow, we're patching potholes," he said.
The intersection of 84th and L Streets had complaints, too.
"You could cook a turkey in this pothole," one person complained.
Someone else said their car hit a pothole and cracked a rim.
Another person reported, "The road is basically missing on northbound 84th at L St."
Asked about particular problem areas, Rowser said potholes are appearing all over the city. Crews were in the 144th Street area Tuesday, and Rowser said it is due for reconstruction later this year.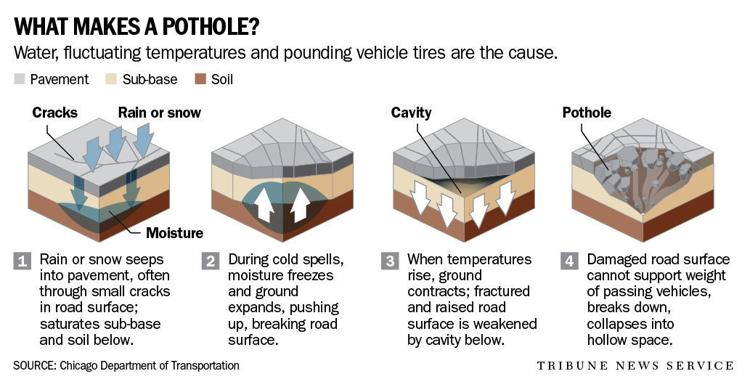 Tom Glover, president of the Stonybrook Homeowners Association, said he and his wife have noticed the potholes, too.
"It's getting difficult to dodge them," he said.
A few pieces of driving advice for dealing with potholes: Keep your tires properly inflated and your headlights working for night driving. Expand your driving distance from the car in front of you to get a better look for potholes ahead. Don't speed through a pothole, but don't brake over one, either.
Corey Swanson, district manager for Jensen Tire & Auto, said the potholes are starting to wreak havoc on cars. Smaller cars are particularly susceptible to damage, he said.
Jensen locations have seen pothole damage to cars get worse in the last week, with bent wheels, bent tie rods, tires blown out and damage to suspension systems and struts.
"It's a little bit of everything," Swanson said.
Photos: Our best shots of 2019 (so far)
Take a spin through the best of our staff photos from 2019. The gallery will be updated throughout our journey through the next year.