Weeks before Mayor Jean Stothert declared potholes a "public safety priority," Maurice Bailey was driving down Saddle Creek Road when his Ford Mustang hit a pothole.
He felt his car driving differently. After he pulled into a nearby parking lot, he could see two blown passenger-side tires.
The repairs — including new tires, wheel work, strut work and alignment — ended up costing nearly $1,200.
In January, Bailey filed a claim against the City of Omaha in hopes of getting reimbursed. But like hundreds of other drivers suffering pothole damage in Omaha, Bailey found it was a losing case.
The city rejected Bailey's claim — and more than 500 other pothole claims over the past five years. Not a single pothole damage claim has been paid out in recent years, public records provided to The World-Herald show.
In practical terms, the city takes the position: It's never liable for damage to your car from pothole-riddled city streets.
This month, drivers around Omaha have grown frustrated as a bad crop of potholes pop open and damage their cars.
State liability law seems to be on the city's side — protecting the city unless it failed to fix a pothole in an undefined "reasonable" amount of time after it received proper notice.
Even so, the city's move to put pothole reports online shows it is receiving hundreds of notices about problem potholes — specific potholes at locations identified on a map.
What's a reasonable time to fix a pothole? By going back in time on omahahotline.com — and back through a rough period of winter — The World-Herald last week found pothole reports dating to Valentine's Day still listed as "In Progress."
Jeffrey Bloom, an assistant city attorney who handles pothole claims, said the city considers claims by taking into account such issues as the weather, crew availability, how long comparable cities take to fill potholes and how long Omaha historically takes.
Beyond that, Bloom said, potholes can come up quickly, and often the city hasn't received any notice until after someone hits it.
We did some scouting for you. Here are some of the worst pothole locations, based on drivers' complaints to the City of Omaha's online hotline or as witnessed by others.
"You're looking at a situation you can't get to every pothole right away," Bloom said.
Jeanne Levering is one driver who's frustrated. She damaged her car on 144th Street in Millard before the city closed down the particularly rough patch because the damage was so extensive.
She had hoped to be reimbursed, but when a reporter told her that the city doesn't pay for damage from potholes, she replied, "Of course not."
After her SUV was damaged, her husband blew a tire on his car at a pothole near Skutt Catholic High School, Levering said.
"The city needs to step up," she said. "Wear and tear is normal — I get it. But seriously."
City Councilman Vinny Palermo, a former city public works employee who represents South Omaha, said he thought the city became liable if it didn't fix a pothole after a certain number of days. But Palermo said he wants to look at the situation.
"That doesn't cut it," he said. "People deserve better."
In addition to denying 499 claims from 2014 through 2018, the city has rejected another 10 claims in 2019. On top of that, 28 more claims from this year were pending.
The damage comes a few hundred to a few thousand dollars at a time — occasionally more than $3,000 a pop. In 2018, claims totaled about $70,000.
» A Fremont man was driving near 144th and Pacific when he "encountered" a pothole, blew a front tire and knocked his car's front end out of alignment. "The hole I struck was large enough to bury a dog in," he advised the city. Claim for $314.54: Rejected.
» A Papillion woman drove down 90th Street between Pacific Street and West Center Road and hit "a huge chuck hole I couldn't miss." She wrote that she lived on Social Security and didn't have cash to fix her car. Claim for $255.73: Rejected.
» "I had to buy a brand new tire," an Omaha woman wrote after hitting a pothole at 99th Street and Military Road. Claim for $115.20: Rejected.
The claims seem to fluctuate annually with the weather and the pothole crop, as few as 42 in 2017, as high as 168 in 2015.
Although the city has received only 38 claims so far for 2019, the pothole complaints are racking up.
The city's hotline received more than 1,600 pothole complaints in January and February. Then the city received 1,320 repair requests in the first week of March, Mayor Jean Stothert reported last Monday.
By Friday, Stothert said the city had nearly 750 work orders ready.
Last week was a rough week for repairing potholes with a run of cold, rainy weather. Without a hot asphalt plant available, the city used its winter cold patch, which often breaks apart.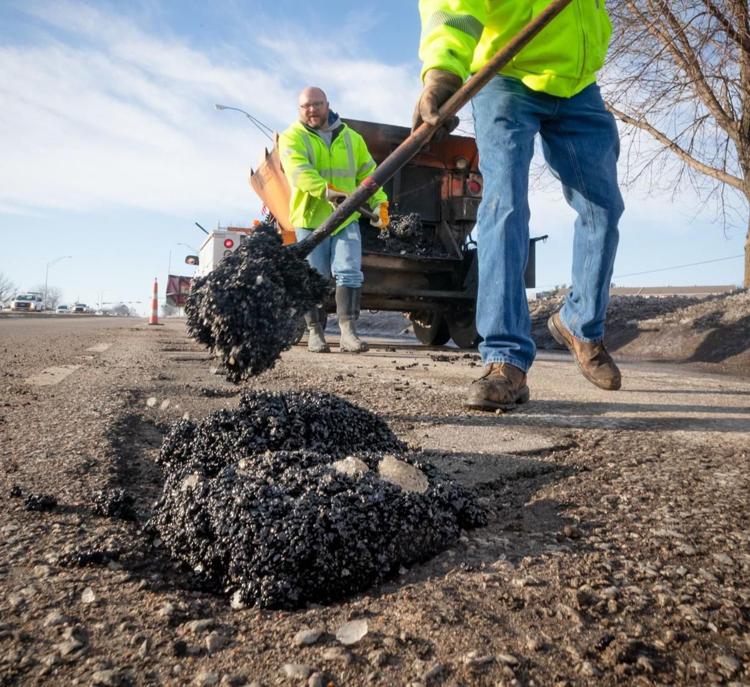 Stothert said city crews have been chasing their tails in extraordinary winter conditions to keep up with filling potholes, as the weather often washes out their work.
Monday, the city expects hot asphalt to be available, and three contractors will join the work after city crews have been depleted by a shortage of employees. In all, 34 crews will be on pothole duty starting Monday, Stothert said.
She said the city's response is better than it's ever been.
"Our responsibility is to fix the roads in a reasonable amount of time," Stothert said.
Councilman Ben Gray, who represents north Omaha, said this is one of the worst pothole season's he's seen. Every part of the city, he said, is experiencing a significant problem with potholes.
Asked what's a reasonable time to fill a pothole, Gray said he didn't know given the challenging set of circumstances this year.
"The staff is doing the best we can," he said, "and I don't know any other way to do it."
James Sherrets, an Omaha lawyer who has unsuccessfully filed a pothole damage claim against the city for his own car, said the city will take its position on potholes until it's forced to pay a claim.
The city's complaint website will stop the city from claiming ignorance about potholes, he said. After receiving those complaints, Sherrets said the city has a duty to fix a pothole.
"They're still liable once they've gotten notice of the condition," he said.
Despite the city's attempts to respond, it's still a mess.
Short of taking on City Hall, what can you do if a pothole damages your car?
Car insurance might be an option; State Farm Insurance markets its coverage by poking fun at potholes in a commercial about the "Clark Street Crater." According to the Insurance Information Institute, pothole damage is usually covered if you have collision coverage.
But the damage would have to result from a specific collision, not repeated wear from potholes, according to the institute.
Even then, you would have to pay your insurance deductible, which just might be higher than the damage, and perhaps then pay higher premiums.
Allison Mergens of Omaha said she felt super thankful for road hazard coverage on new tires she bought from Discount Tire.
Since about Feb. 13, Mergens said she damaged three tires on her Ford Fiesta from three different potholes around Omaha — one around Farnam Street and Happy Hollow Boulevard, the next on a turning ramp going from Millard Avenue to L Street, the third east of Benson around the Northwest Radial.
She figures she fixed all three for about $30.
For now, Mergens said she focuses less on other traffic and more on the road conditions.
"When I drive, all I do is look for potholes," she said.