'Twas one lucky day for the kiddos and their families lining Harney Street in downtown Omaha on Saturday.
Candy and small, Irish-themed trinkets went flying beneath a sunny, clear blue sky as the city's 141st annual St. Patrick's Day parade kicked off at 10 a.m. at 15th and Harney Streets.
Kilted members and bagpipe players of the Ancient Order of Hibernians Father Flanagan Division marched near the front. The Irish Catholic fraternal organization sponsored and organized the parade.
Linda Noland of Omaha stood in her bright orange jacket, green T-shirt, green pants, plaid shamrock scarf and green beads at the parade start. But she really set herself apart with her bright green lipstick and eye makeup.
"I dress up for every single holiday, every single occasion because it's fun," Noland said.
She would have missed the parade last weekend because she had to work, so she was glad that organizers moved it to this weekend because of the weather. Saturday's sunshine and warmer weather made the day a lot more fun.
Sign up for World-Herald news alerts
Be the first to know when news happens. Get the latest breaking headlines sent straight to your inbox.
Hibernian volunteer Michael McCarville said the good weather helped draw people downtown.
"People are just so happy to have the sun shining on them," McCarville said. "Boy, after the winter we had, I think everyone's just really excited."
Noland has watched more than a dozen St. Patrick's Day parades, she said, but of the thousands of folks lined along the street, some were seeing it for the first time.
Andie Mikuls and Lauren Klingemann decided to see what the Irish parade was about as the friends made their way to breakfast at the Early Bird restaurant on Saturday morning. Neither had been to the event before, but they decided to check it out this year at the suggestion of Mikuls' mom.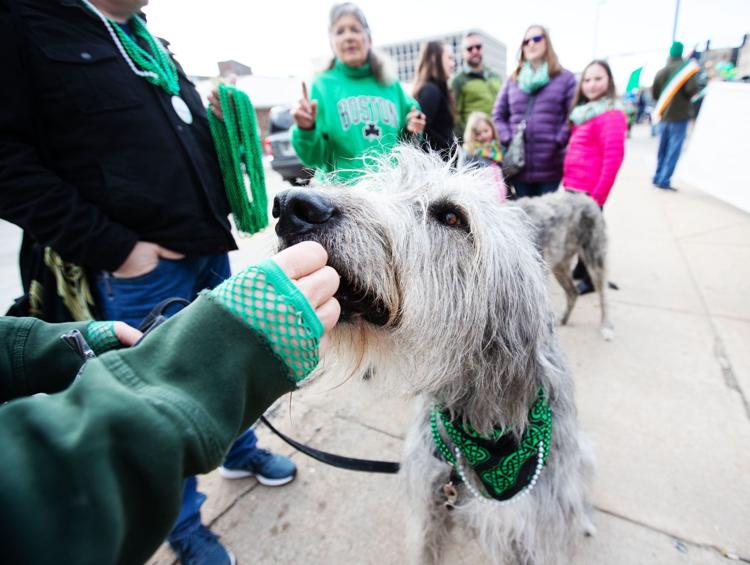 "It's a good family environment," Klingemann said.
Not to mention all the cute dogs.
Tomas Morales of Omaha stood a few feet behind the crowds with Franco, his German shepherd, who was sporting a green bandanna. Morales' three kids stood closer to the front, where candy-snatching was easier.
This was the first year in a long time that Morales, recently retired from the Air Force, made it to the parade. The rest of his family comes pretty regularly, he said.
With a morning temperature around 36 degrees, the bright sunshine and smiling faces were welcome sights after the long winter, but some were sobered at the thought of family and friends trapped in floodwaters throughout Nebraska.
Two of Noland's co-workers have been affected by the flooding. One is a student in Omaha who hasn't been able to make it home. Noland hasn't heard from the other, who lives in Tekamah, Nebraska.
"I just can't imagine," Noland said.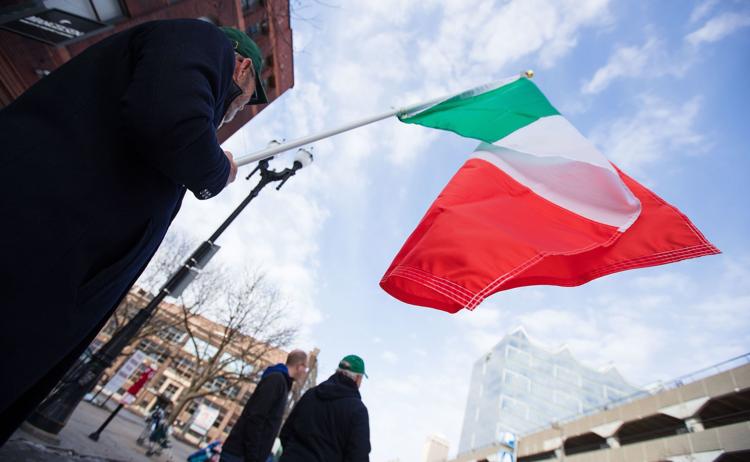 Omaha Firefighter Trevor Towey marched in the parade with at least 57 other firefighters, each carrying memorial flags with the names of all Omaha firefighters who have died in the line of duty.
"To us, it's a good show of solidarity," Towey said. "It's a good time for us to display that sacrifice and commitment to the citizens of Omaha."
Towey, a member of the local chapter of the International Association of Fire Fighters, has family in Columbus, Nebraska, and farther west who are being hit hard by the floodwaters. He said many members of the firefighters union are doing what they can to help those in need.
The firefighters' participation in the parade is meant to remind people to have a safe St. Patrick's Day, but also "that we're here for them," Towey said.