Omaha set a record Monday with a low of minus 7 degrees at 7 a.m., breaking the old record for this date of minus 2, set in 1965, the National Weather Service said.
The forecast for the rest of the week calls for more cold conditions with the potential for flurries the next couple of days, said Bryon Miller, a weather service meteorologist.
Temperatures are expected to top out in the low 20s all week, Miller said.
The Nebraska State Patrol closed eastbound Interstate 80 near Greenwood about 8 a.m. Monday for a one-vehicle crash that left one person dead. It reopened about 11:45 a.m.
Troopers said refreezing along I-80 was causing many problems between Omaha and Lincoln.
Motorists were being rerouted to U.S. Highway 6 and then back onto I-80 at mile marker 420. 
In central Iowa, officials reopened southbound Interstate 35 from the Minnesota border at noon. Northbound I-35 remained closed at Ames, but officials hope to reopen it Monday afternoon.
In Omaha, the Bob Kerrey Pedestrian Bridge was closed Monday. 
On the snow front, the 7.5 to 10 inches of new snow that fell around the metro area this weekend allowed Omaha to match its record for snowfall during the winter months of December through February. 
Officially, Omaha received 7.5 inches of snow over the weekend. Some neighborhoods, however, recorded as much as 10 inches.
With some neighborhood streets still difficult to travel Sunday night, the Omaha Public Schools and most other metro area districts announced that they would cancel classes on Monday.
About 18,000 of OPS's 53,000 students travel by bus, and the district wasn't confident that its kids could get to school in a timely, safe fashion, said OPS spokeswoman Monique Farmer.
Trash pickup was canceled Monday in Council Bluffs because of the accumulated snow. It will resume Tuesday in the Bluffs and will be a day behind for the rest of the week.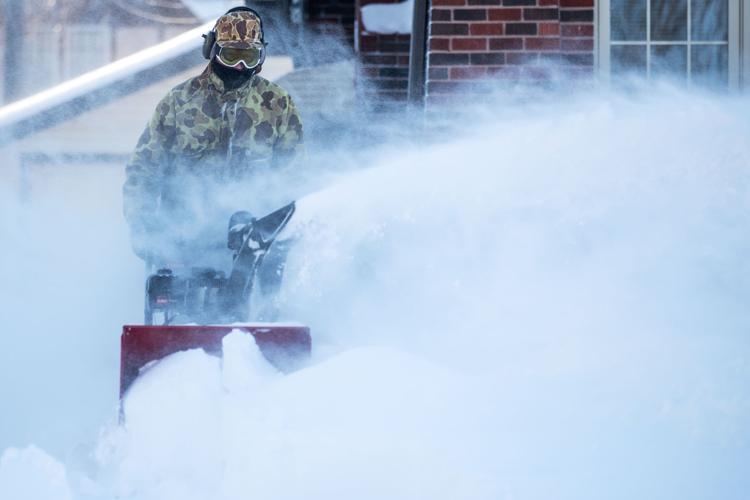 The city has said it will be Tuesday at the earliest before crews begin tackling those long rows of snow in the middle of major thoroughfares. City crews have been plowing snow to the middle to aid in clearing a driving lane. Affected streets include Dodge from downtown to Happy Hollow, other downtown streets and Maple Street in Benson.
The weekend storm was nastier than the area's other recent heavy snowfalls.
Randy Adkins, meteorologist with AccuWeather Inc., The World-Herald's weather consultant, said the storm was able to tap into some of the power in the jet stream. When that happens, a storm is able to ramp up with much greater ferocity. And while some storms don't strengthen until they cross the Rockies into the Plains, this one was strong as soon as it slammed into the California coast, he said. That's one reason forecasters were able to warn of blizzard conditions so early.
In addition to the blizzard conditions from Nebraska across Iowa and into Minnesota and Wisconsin, the storm spun out tornadoes and flooding rains in the Southeast.
The effects of Sunday's storm reverberated across the region. Blizzard conditions continued to prevail across much of Iowa on Sunday because of strong winds whipping up snow that had fallen earlier in the weekend.
The storm closed Interstates across the region. Parts of a 200-mile stretch of Interstate 80 were closed in Nebraska over the weekend because of numerous crashes, including a major pileup near York that involved about 30 vehicles, said Cody Thomas, spokesman for the Nebraska State Patrol.
Two firefighters from the Waco Volunteer Fire Department remained hospitalized Sunday after their ambulance was struck by a semitrailer truck in the pileup near York.
"They are stable and things are looking up," the Waco Volunteer Fire Department posted on its Facebook page. Four others in the ambulance were less seriously hurt.
While conditions improved noticeably on Sunday once the wind died down, the storm continued to have an effect, albeit in some odd ways:
» The inflated dome of a UNO recreation center collapsed Saturday night. A spokesman for the University of Nebraska at Omaha said officials didn't know if weather was a factor in the collapse of the Center Dome at 68th and Spring Streets. But he said it was possible. Crews will begin looking into options for repair Monday.
» The Nebraska State Patrol engaged in a rolling roadblock on Interstate 80 near Highway 50 in Sarpy County to help slow down traffic after several large potholes caused flat tires. The Nebraska Department of Transportation patched the potholes Sunday.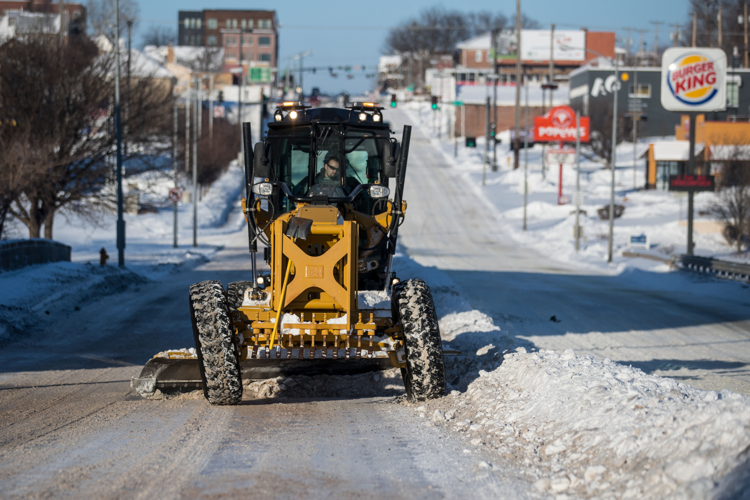 Photos: Blizzard hits eastern Nebraska
A potent winter system struck Nebraska on Saturday, Feb. 23, 2019. 
An extended cold spell is ahead, so the snow's not going anywhere soon. Flurries are possible midweek.
The good news, Adkins said, is that the next storm isn't expected to be as powerful as what occurred this past weekend.
"It does not appear to be anywhere as remotely bad," he said. "Not as much snow, nor winds as strong and as long-lasting."
The weekend snow was record-setting in at least a couple locations.
The 8 inches that fell in Lincoln set a daily record, surpassing the mark of 6.7 set in 1994.
And while Omaha received 7.5 inches, that was far from the Feb. 23 record of 13.7 in 1942.
But the day's snow did push Omaha to a record-tying amount for the December-February period, 44.3 inches, previously set in 2003-04. Omaha has other chances for snow before the month ends, but the chances of snow were at 20 percent or less, according to the weather service.
Omaha was just shy — .2 of an inch — of record snowfall for the month of February. That record is 25.4 inches, in February 1965.
Omaha's peak wind speed with Saturday's storm was 48 mph.
Snow totals, in inches, reported to the National Weather Service
Omaha (Eppley Airfield), 7.5
World-Herald staff writers Kevin Cole and Susan Szalewski contributed to this report.