After a routine patrol, an Omaha police helicopter made a hard landing Friday morning at the Blair Airport, prompting fire crews and police to respond.
The helicopter was landing just after 9:45 a.m. when it lost power 40 to 50 feet off the ground, said Omaha Deputy Police Chief Kerry Neumann. The helicopter came down hard and landed on its side, causing significant damage, he said.
The two officers on board, Matt Baughman and Brian Yaghoutfam, sustained "very minor injuries" and were taken to a hospital to get checked out, Neumann told reporters.
Yaghoutfam, a 12-year veteran of the department's air support unit, was the pilot Friday, and Baughman, a pilot who has been with the unit for 12½ years, was serving as the tactical flight officer on the flight, Neumann said.
Both have been with the Omaha Police Department for 19 years.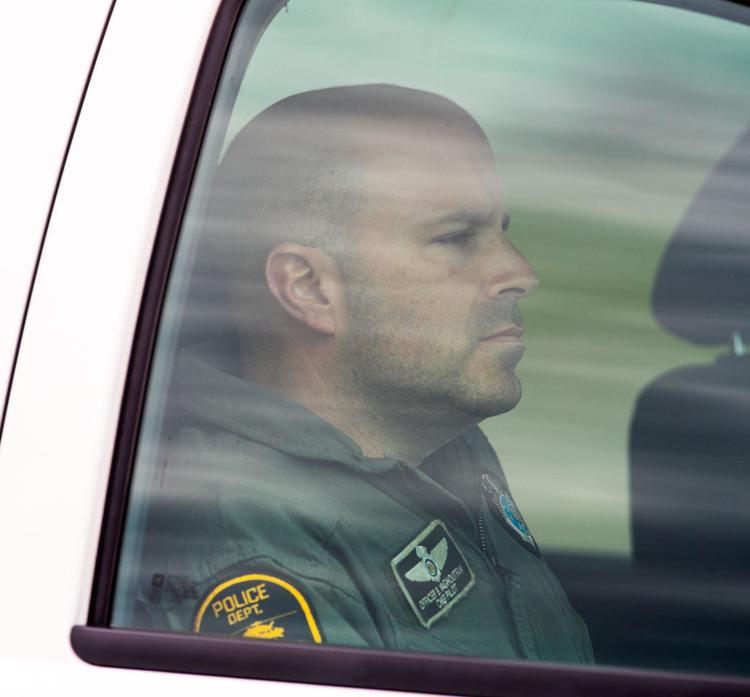 Not long after the crash, Yaghoutfam and Baughman, both wearing flight suits, could be seen standing with other people on the runway. About 10:55 a.m., Yaghoutfam drove off in an Omaha police vehicle with two Blair Police Department vehicles following.
The Blair Airport was closed while the crash was being investigated and because the downed helicopter remained on the runway, Neumann said. The airport reopened at 3 p.m.
It was a beautiful day, Neumann noted, and the weather didn't seem to have been a factor. The National Weather Service said winds were light at the time, about 3 mph, and skies were mostly clear, with some high clouds.
The Federal Aviation Administration and the National Transportation Safety Board will investigate the cause of the incident, Neumann said.
About noon, two Omaha police forensic investigators showed up and started placing yellow evidence markers on the runway and began looking in the nearby field. A flatbed trailer also drove in.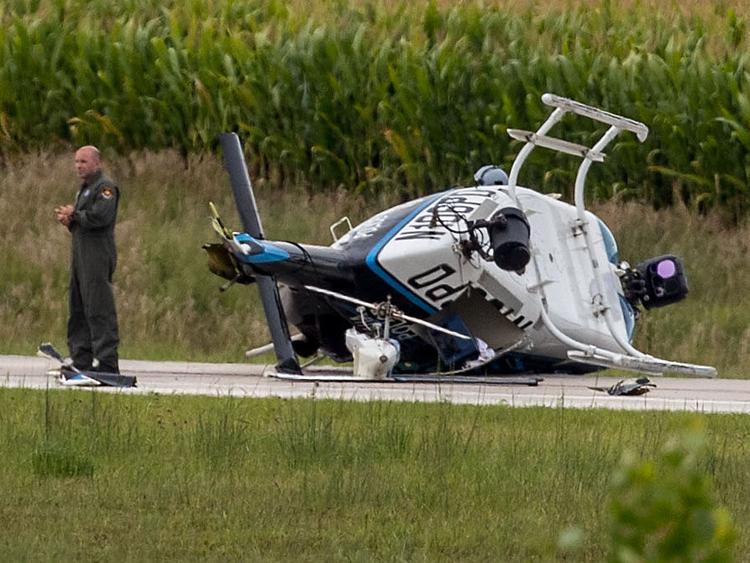 In April, the Omaha Police Department's air support unit lost one of its three helicopters when it lost engine power midflight and the pilots had to make an emergency landing in a field. The landing caused the aircraft's rotor blades to make contact with its tail, essentially totaling the helicopter, police said.
Neither of the pilots in that incident, Baughman and Dustin Hill, was injured.
With Friday's crash, the department is down to one helicopter, but that one is undergoing maintenance, Neumann said.
Omaha police have talked with the Nebraska State Patrol about providing backup, he said.
The helicopter, known as Able-1, is a Bell 206 B III model, according to the OPDABLE1 Twitter account. AVBuyer.com, an aircraft sales website, shows similar models in the United States, Europe and Australia selling for anywhere from $320,000 to $779,000.
A 2009 World-Herald article noted that Omaha had acquired two Bell 206 B III helicopters for about $2.7 million on a lease-purchase arrangement.
City officials have been exploring the possibility of acquiring military surplus helicopters and said they might be able to get one for about $2 million.
Officials also were considering acquiring a helicopter through a 10-year lease-purchase agreement at about $800,000 a year.
Police Chief Todd Schmaderer told the City Council on Aug. 6 that he wanted to have an operational plan in place before he came and asked them for $3.25 million, which would be the cost of a helicopter.
Finance director Steve Curtiss hinted that the department and council might need to consider the evolution of technology toward drones. But Schmaderer said drones aren't yet ready to help with police chases and other fast-moving operations.
The Omaha Police Department has six full-time pilots, plus a part-time one. It also has one mechanic, and was in the process of hiring another last year, according to World-Herald files.
Police said last month that officials hoped to add a third helicopter back to its fleet and noted that the Blair hangar will allow the unit to expand to four or five helicopters at some point.
Last November, the City Council approved an agreement to house the city's air support unit at that airport, ending a 22-year period at the North Omaha Airport.
World-Herald staff writers Erin Duffy and Aaron Sanderford contributed to this report.
Sign up for World-Herald news alerts
Be the first to know when news happens. Get the latest breaking headlines sent straight to your inbox.
Photos: Omaha-area K-9 units through the years