State law requires the Omaha Housing Authority to have a resident representative on its board, but that position has gone unfilled for eight months and counting, since the previous representative resigned in February.
The agency also has had no person from a racial minority on its board since late May. Nebraska law also requires the OHA board to have at least one such representative.
The seats are sitting unfilled as the agency plans major redevelopments, directly affecting more than 1,500 people who live in family public housing apartment complexes in north and South Omaha.
The OHA board is supposed to have seven members. It currently has only five, all of whom are white, including former interim OHA CEO Christine Johnson of Valley. Omaha Mayor Jean Stothert appointed Johnson in August to fill a vacancy on the board, ahead of appointing a resident representative or racial minority member.
State Sen. Justin Wayne of Omaha, who sponsored a 2017 bill that tweaked OHA board membership and appointment requirements in response to a federal audit of the agency, said Wednesday that he was shocked to learn from a reporter of the languishing vacancy in the resident representative's seat.
"This needs to be immediately addressed as federal funding could potentially be affected," Wayne said. "The fact that they still haven't appointed someone (to the resident vacancy) is a huge concern."
If it's not filled soon, Wayne said, the Legislature should consider new legislation to require that the resident representative be appointed within a certain time frame, possibly six months.
The mayor appoints OHA board members, with City Council approval. OHA and Mayor's Office officials said they are working to fill the vacancies.
"We are certainly aware of the obligations and we are actively working on them," OHA board Chair David Levy said.
Sign up for World-Herald news alerts
Be the first to know when news happens. Get the latest breaking headlines sent straight to your inbox.
The other members are Assistant Omaha City Attorney Jennifer Taylor; Todd Engle, owner of Kuehl Capital, which provides financial consulting services to sanitary and improvement districts; and Joel Dougherty, chief operating officer of OneWorld Community Health Centers Inc. The OHA board positions are unpaid.
Levy, a partner in the Baird Holm law firm, said that in addition to meeting the statutory requirements, having minority and resident representation on the board is important to OHA leaders.
"It absolutely is something we want," Levy said.
The Housing Authority, following a process set out by state law, solicited applications for the resident board slot from residents of its developments and people who receive federal rent subsidies through the agency. The Housing Authority then hand-delivered about 25 applications from residents to the Mayor's Office in June, according to information obtained by The World-Herald through a public records request.
The mayor is supposed to choose someone from that list to appoint.
It is unclear what has happened since then. According to public records, a mayoral staffer, Brandi Preston, emailed an OHA attorney in August with a question about the agency's top three choices. Preston, who is Stothert's community services manager, emailed the attorney, Brian Hansen, again on Oct. 1 and told him, "We're going through these applications."
Joanie Poore, CEO of the Housing Authority, said in an interview that the agency had contacted the Mayor's Office in August about the resident commissioner position after an official with the U.S. Department of Housing and Urban Development asked a question about the vacancy.
Levy said it was his understanding that the Mayor's Office has been vetting the resident applicants and could appoint someone soon.
Stothert's deputy chief of staff for communications, Carrie Murphy, said she had been told that some of the resident applicants were not qualified to hold the position.
She said only the mayor could answer further questions about the Mayor's Office's handling of the resident representative appointment. Murphy said Stothert, who was visiting Omaha's new sister city in France, could not be reached for comment until after she returns this week.
As for the minority position, Stothert said through Murphy, before the mayor left for France, that the Mayor's Office had "not received any applications for the vacant member (minority) position, or recommendations from current Board for that vacancy and the board has not expressed any concern about the search to her."
Levy confirmed that the housing authority had not suggested any racial minority candidates.
"The mayor gives us the ability to suggest potential applicants to the board," he said. "I and my colleagues have been working to identify somebody who is not only qualified, but willing and has the time to serve on the board. If it's somebody's fault, it's not the mayor's, it's mine."
As for the resident representative, Levy said the Housing Authority had done its part by notifying residents and forwarding their applications.
State law requires that the Housing Authority notify residents within 30 days of a vacancy occurring that it exists and that they can apply for it.
Steven Abraham resigned from the OHA board as the resident representative in February. He did so for a good reason: He improved his financial situation enough that he no longer qualified for a Section 8 rental subsidy, so he was no longer qualified to be on the board.
The Housing Authority didn't make the early March deadline for notifying residents, Poore said. The agency had to send notices to more than 6,000 people, and its computer system crashed for 10 days in February. The notices went out in mid-March, Poore said.
She and the board want to have a resident representative on the board, she said, but she added that residents do have a voice at the agency through resident associations and their presidents.
Reached by phone Wednesday, Jalei Hobson, one of the people on OHA's list of top resident representative applicants, said she was happy to hear she was on the list, although it surprised her because so much time had gone by since she applied.
Hobson is a University of Nebraska at Omaha senior in black studies and biology who works for the nonprofit Ollie Webb Center Inc. The phone call from a reporter interrupted her in her volunteer work, mentoring a youth in the TeamMates Mentoring program.
"They asked for forms to be turned in by April 1," Hobson said. "I haven't heard anything back from that. I assumed they must have picked someone else."
Kimara Snipe, a neighborhood leader whose backyard fence abuts OHA's Southside Terrace and who serves as an elected member of the Omaha school board, said Omaha boards historically have often lacked representatives from the people who are most affected by the agencies' actions.
Snipe, president of the Highland South-Indian Hill Neighborhood Association, works on neighborhood issues with Southside resident leaders. Her neighborhood is a prospective part of a redevelopment that would include Southside, home to about 1,300 people.
Snipe wasn't aware of the board vacancies. She questioned whether the mayor and OHA officials are making it a priority to fill them.
"To not have a resident member of the OHA board for this long makes me question the seriousness of their intent," Snipe said.
The longer the vacancies go unfilled, "even if there is no ill intent, you run the risk of sending the message that you're excluding people, saying that you don't want them to be involved. I'm not saying they're doing that, but they risk sending that message."
As for finding a person of color to serve on the board, Snipe, who is African American, said there are plenty of qualified people in the city. She offered her help in finding potential members.
"There's no reason the board can't find a minority in Omaha to be on that board," she said. "I have a pretty large network that's quite capable of providing them the talent they need. ... It would be responsible for our mayor to make sure that it (filling the vacancies) happens."
Abraham, the former resident representative, said the housing agency has shown a willingness to engage residents, including by seeking their input on redevelopment plans for Spencer Homes and Southside Terrace.
"They've beefed up their community relations," Abraham said.
But he added, "It's going to be very crucial that the residents stay involved in this process."
1932: Lingbergh baby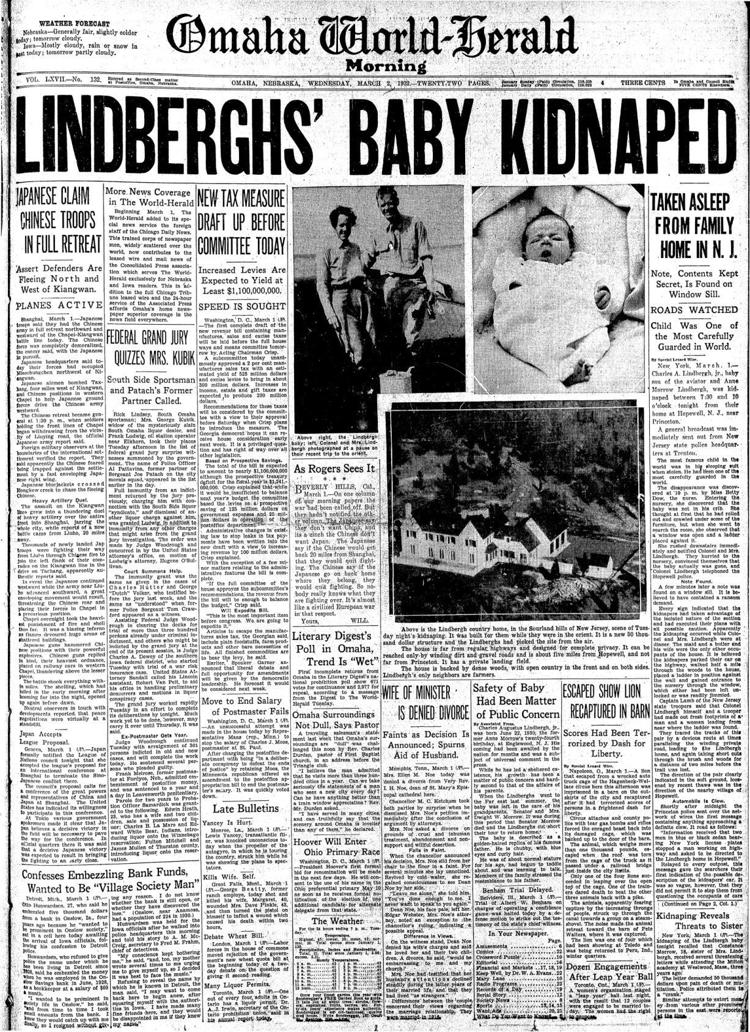 1932: Roosevelt elected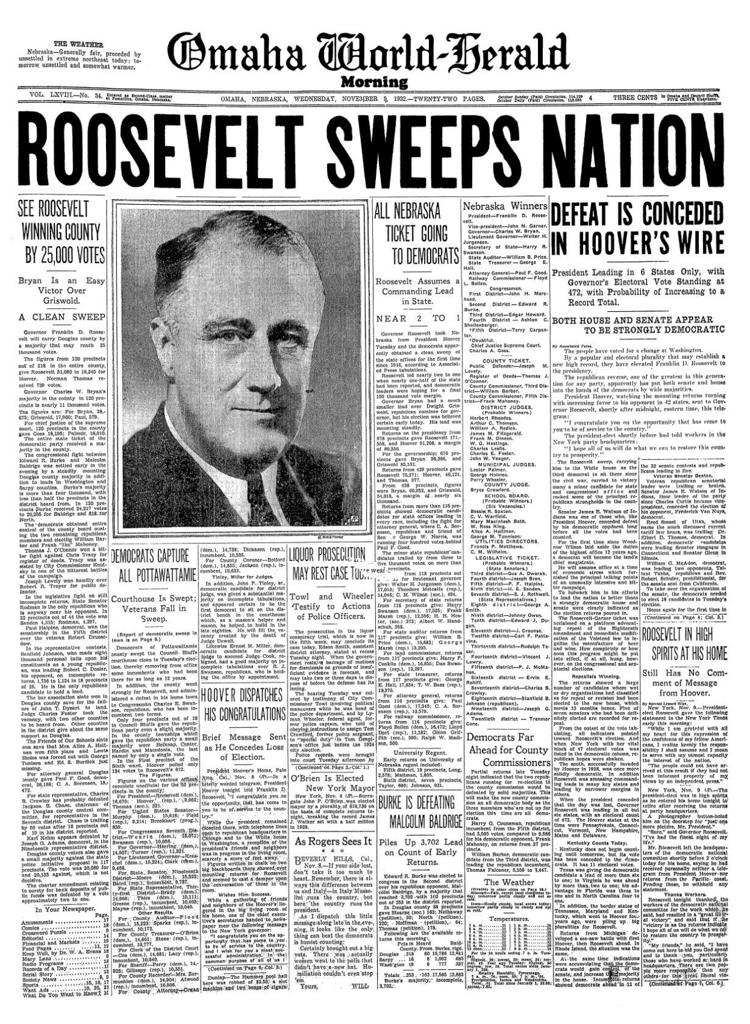 1937: Hindenburg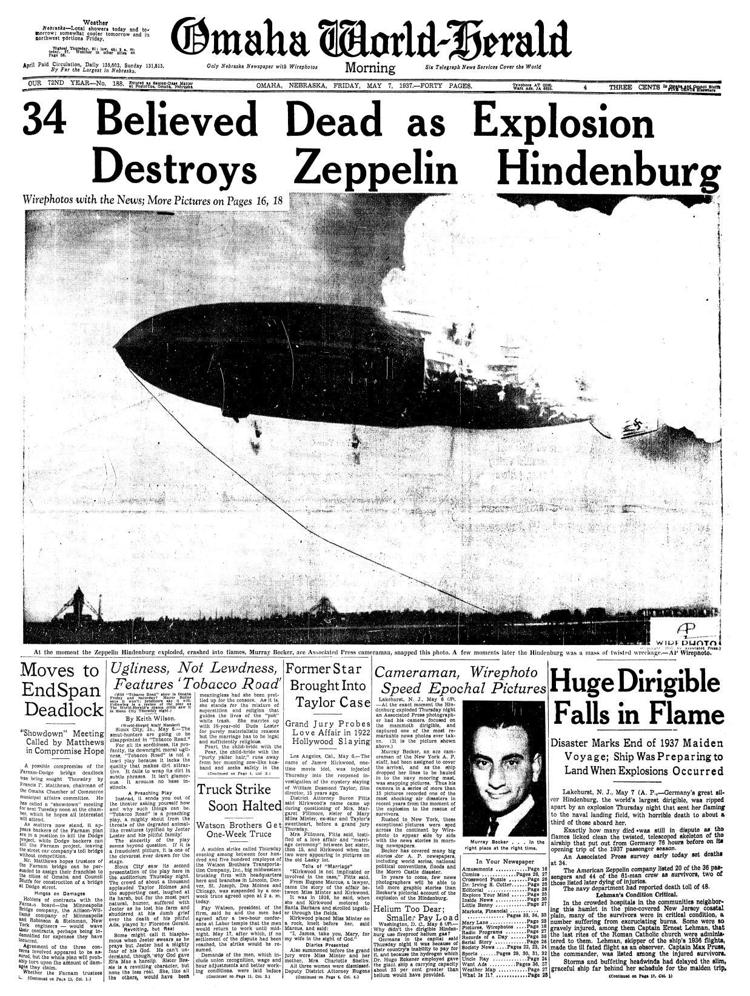 1941, evening edition: Pearl Harbor
1941: Pearl Harbor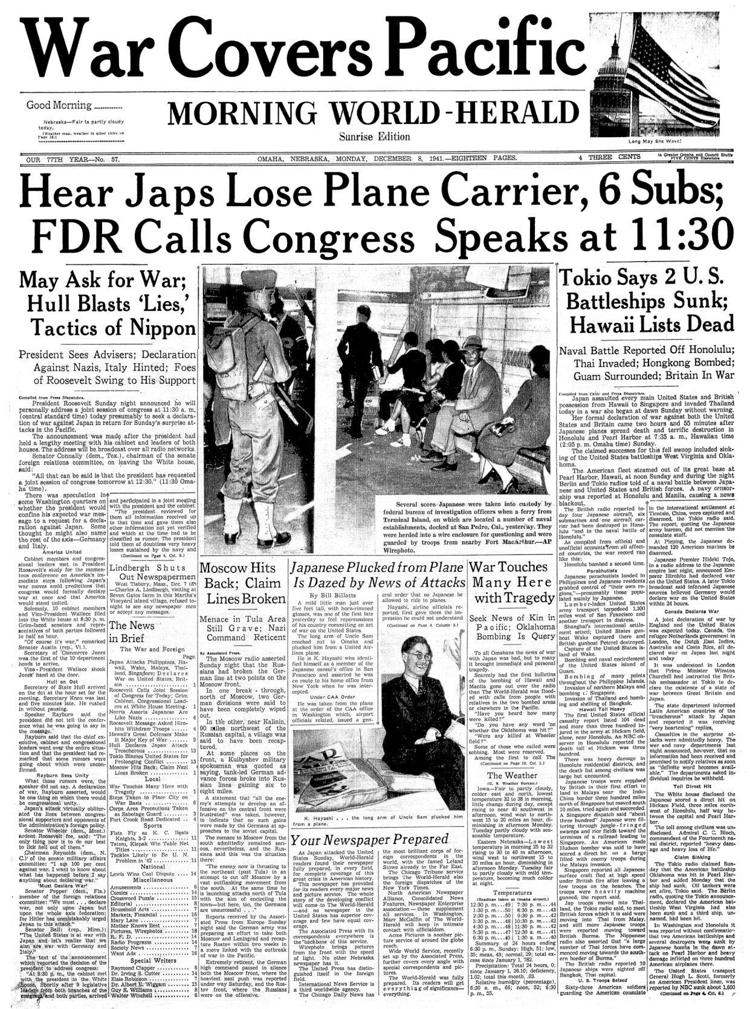 1945: End of WWII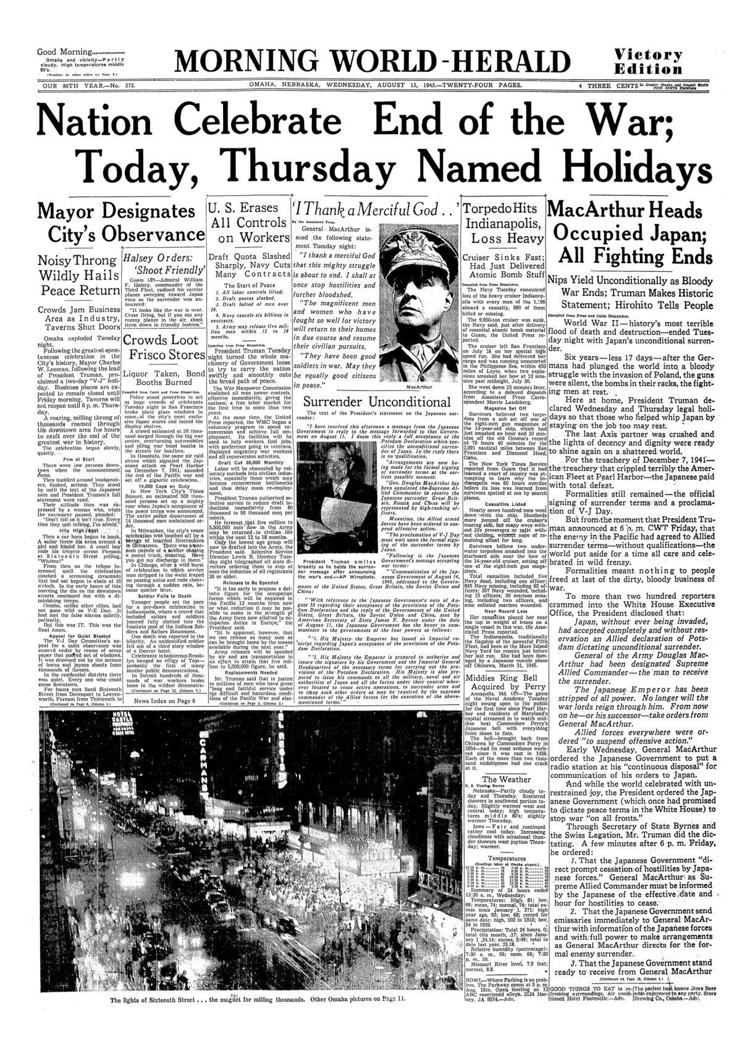 1952: Flooding
1963: Kennedy Assassination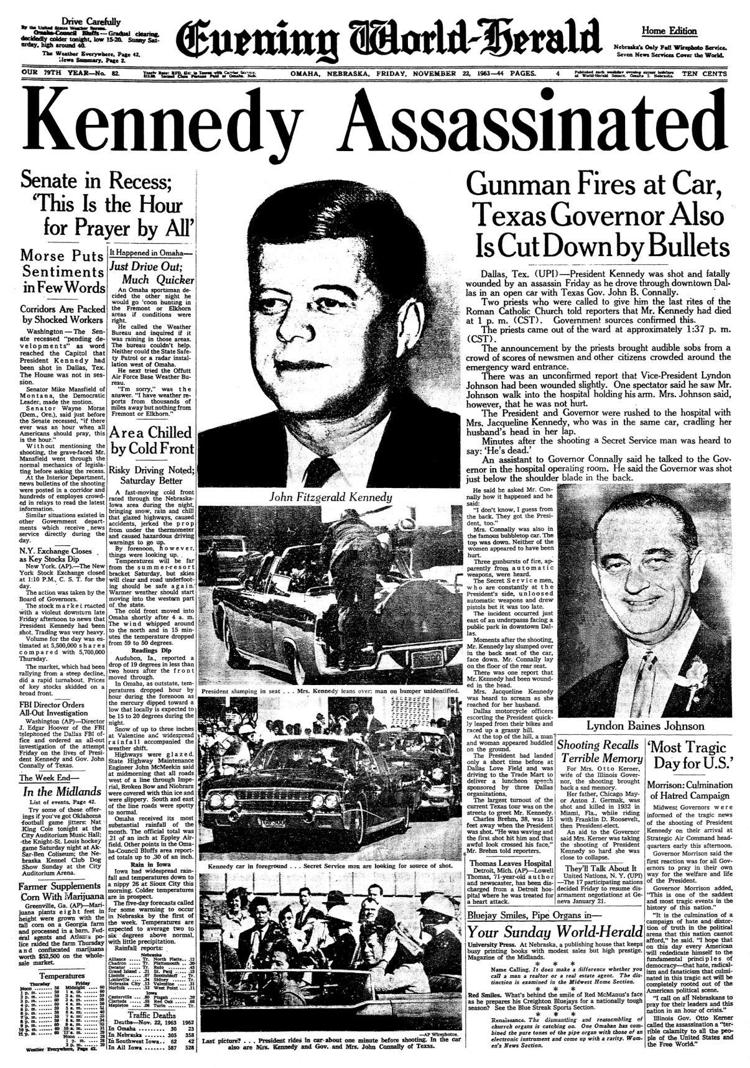 1968: MLK Funeral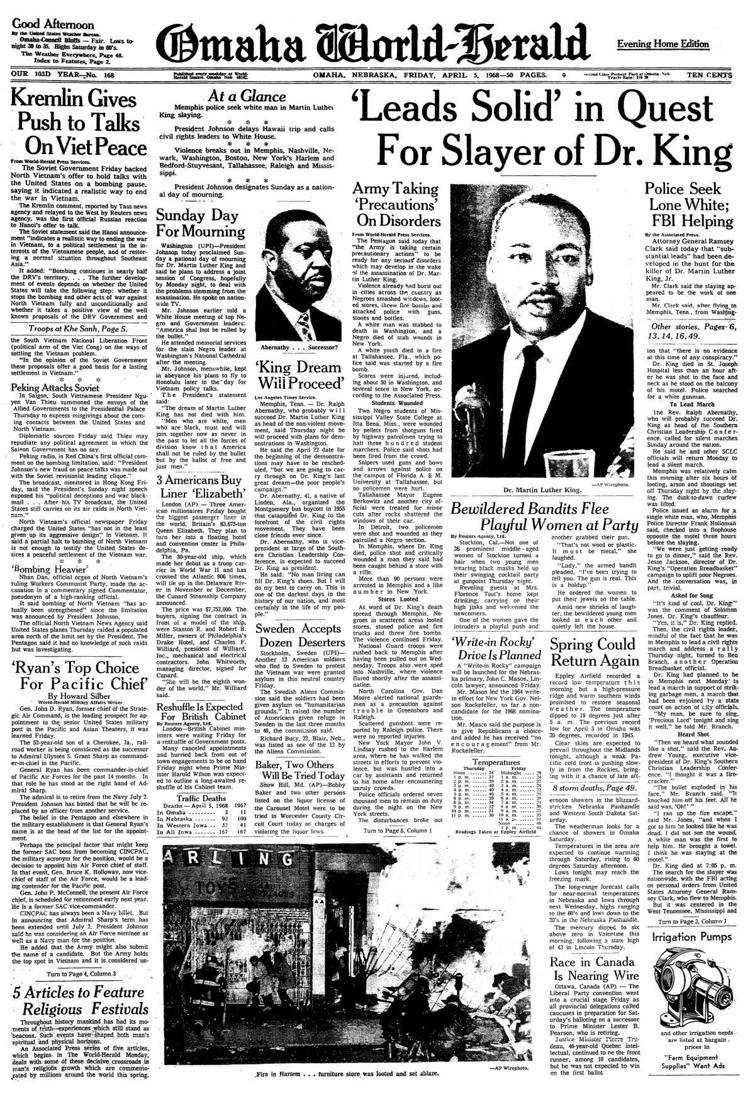 1969: Moon Landing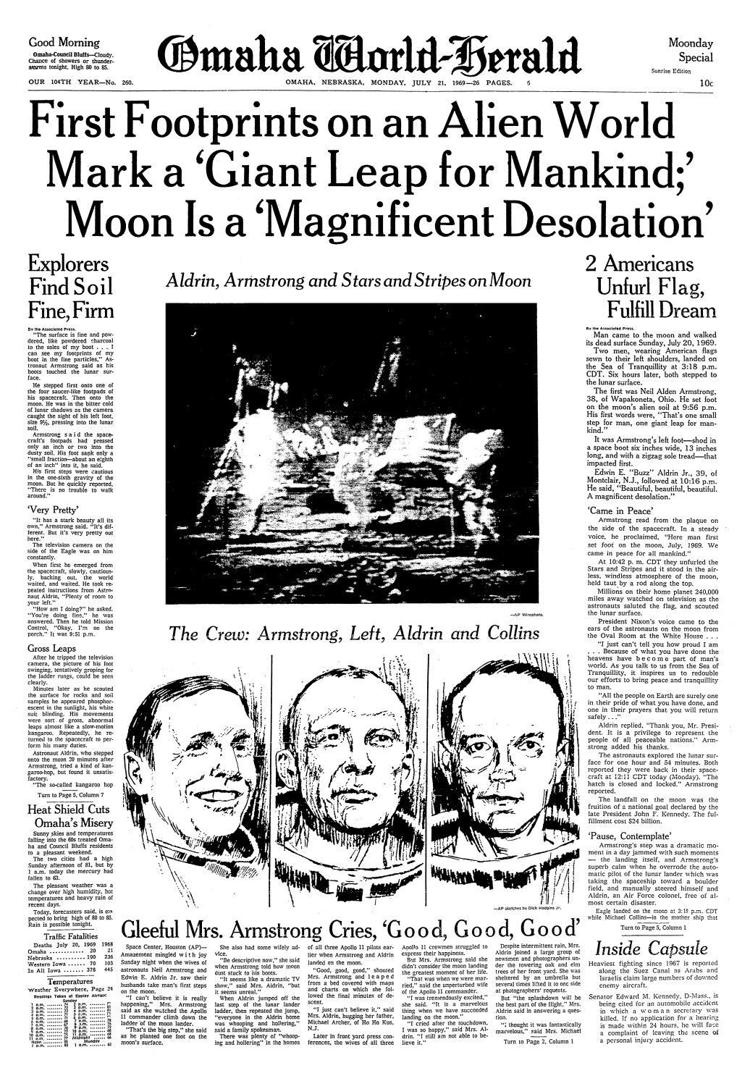 1971: Husker national championship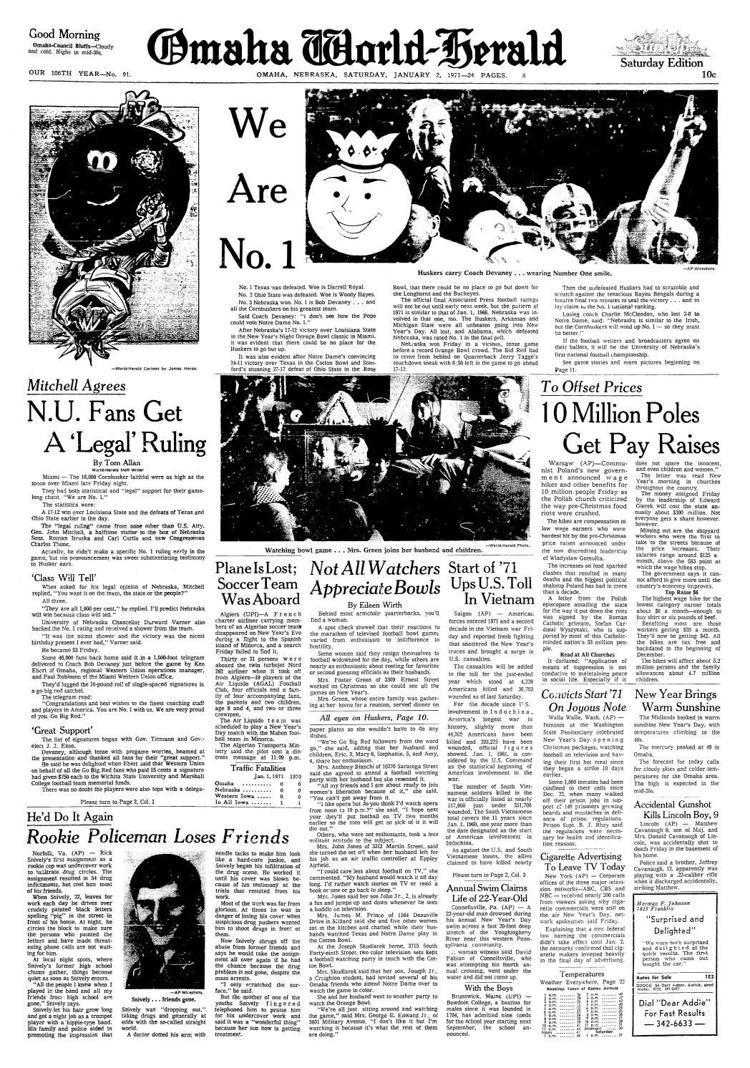 1972: Husker national championship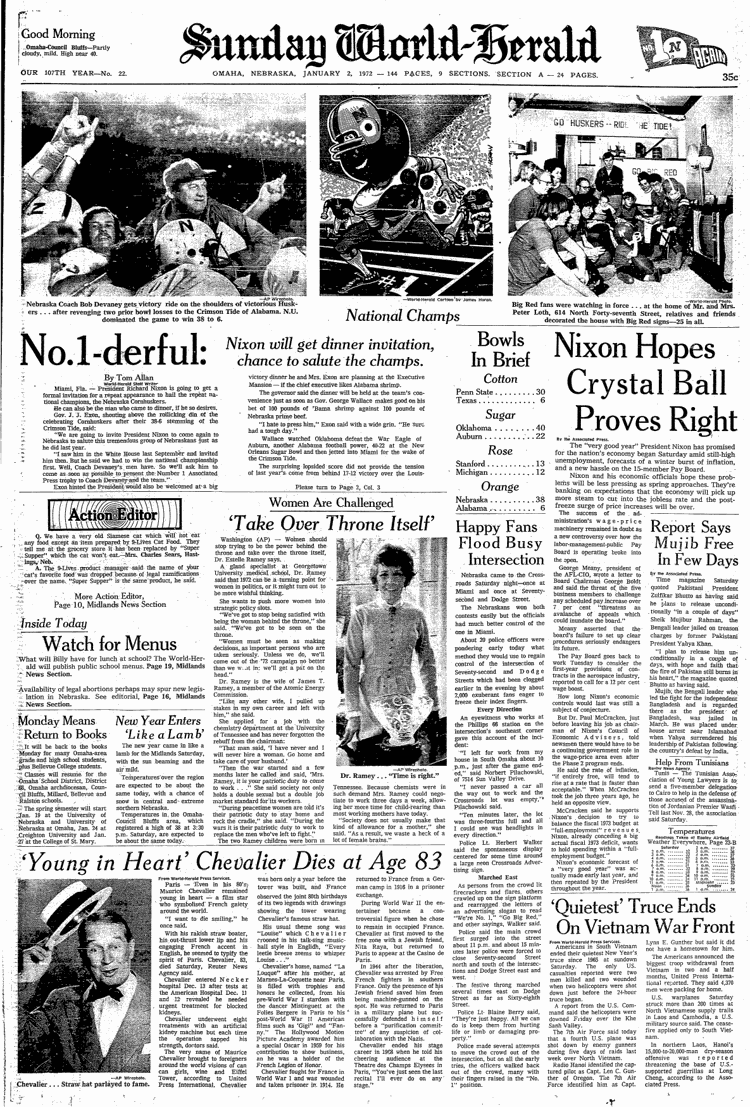 1974: Nixon resignation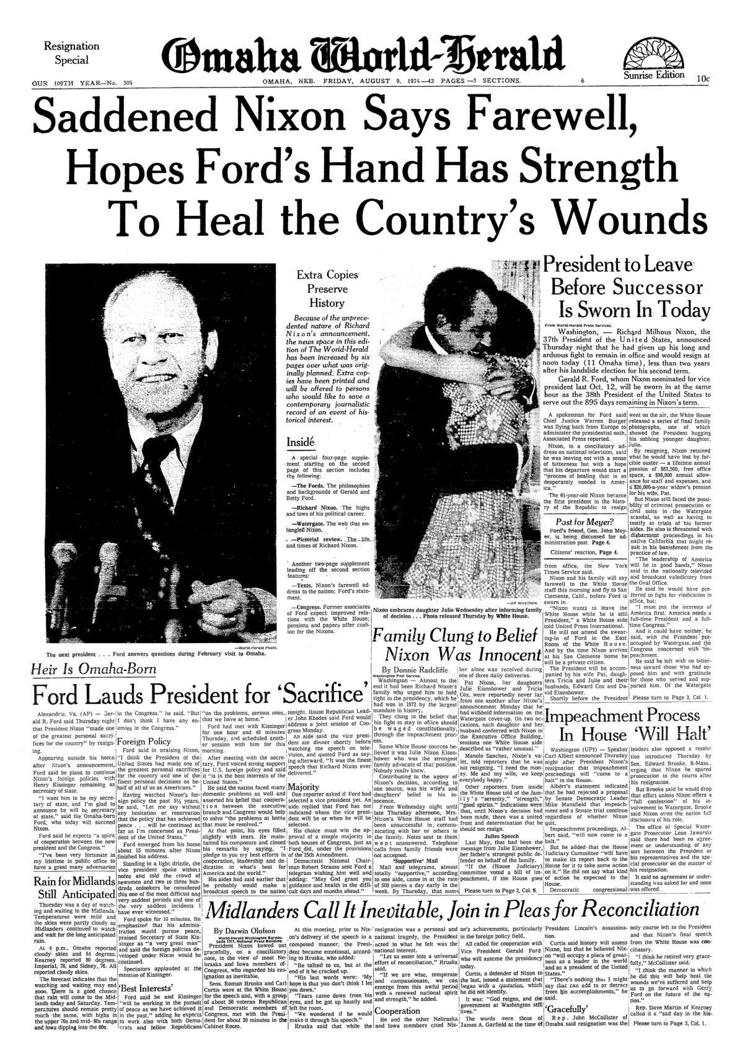 1975: Blizzard
1975: Tornado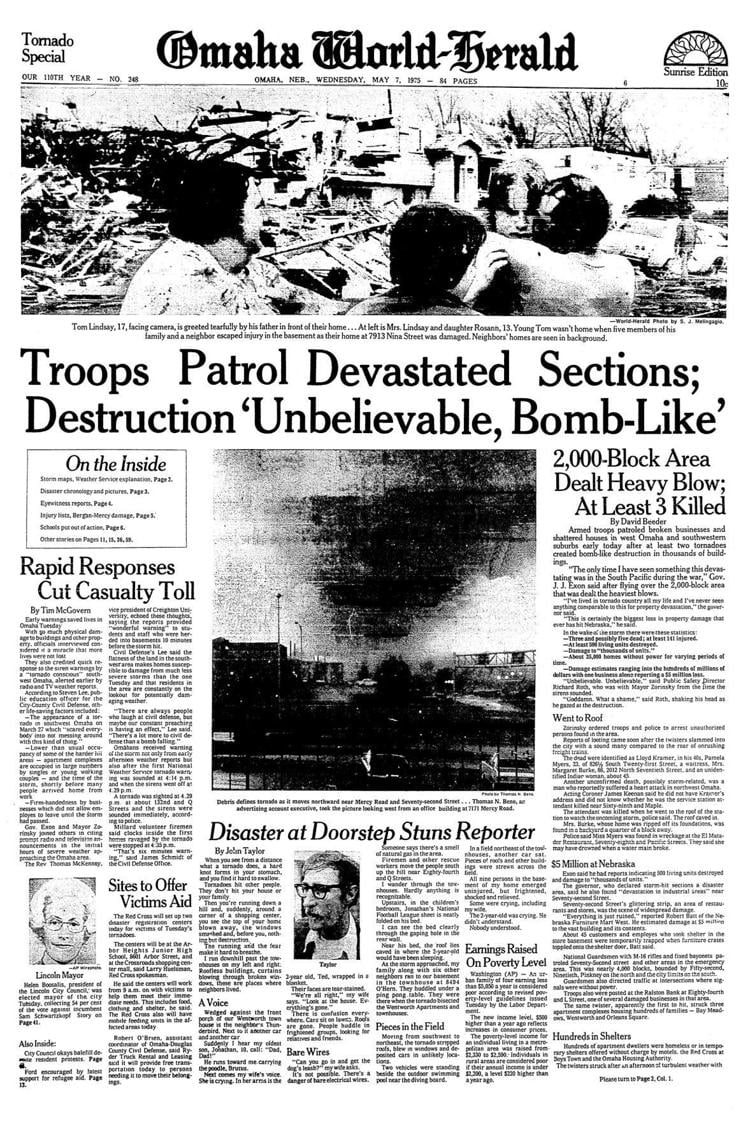 1981: Iran hostage release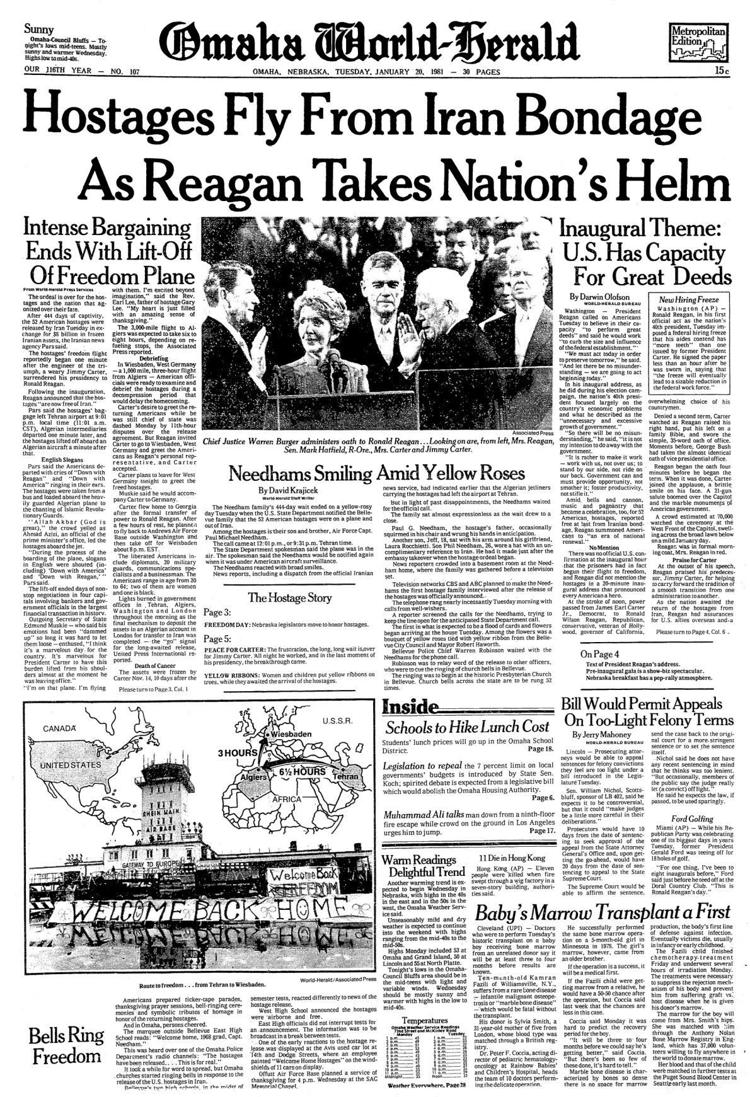 1981: Reagan assassination attempt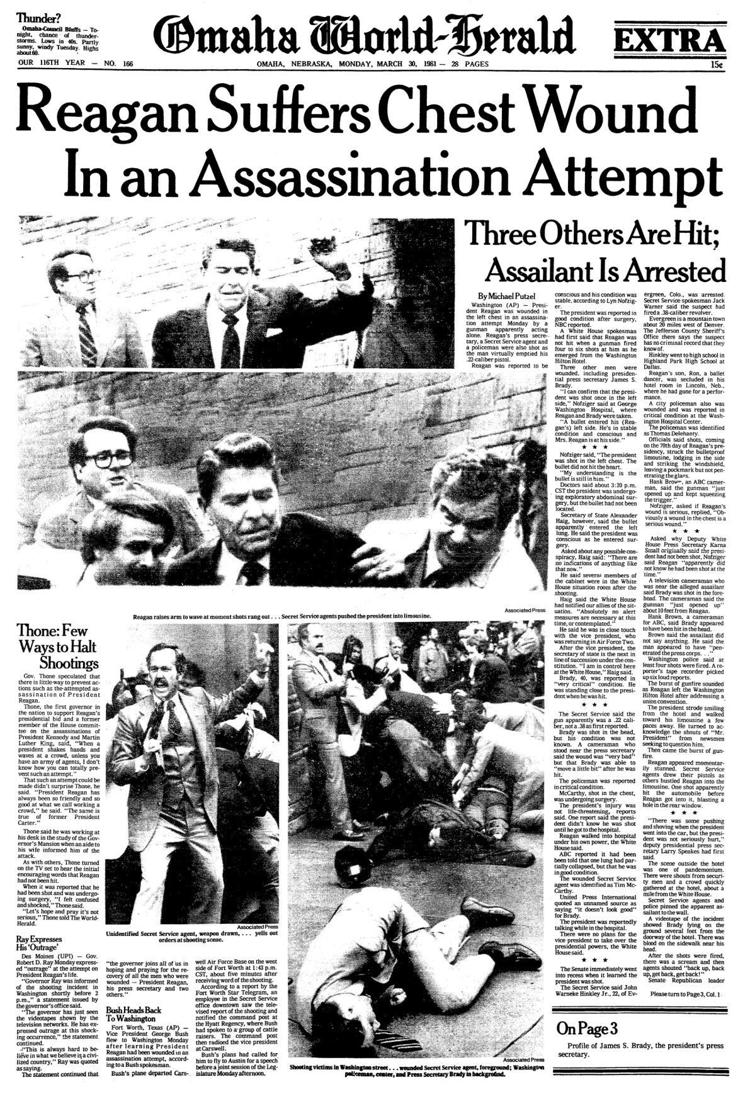 1986: Challenger explosion
1989: Berlin Wall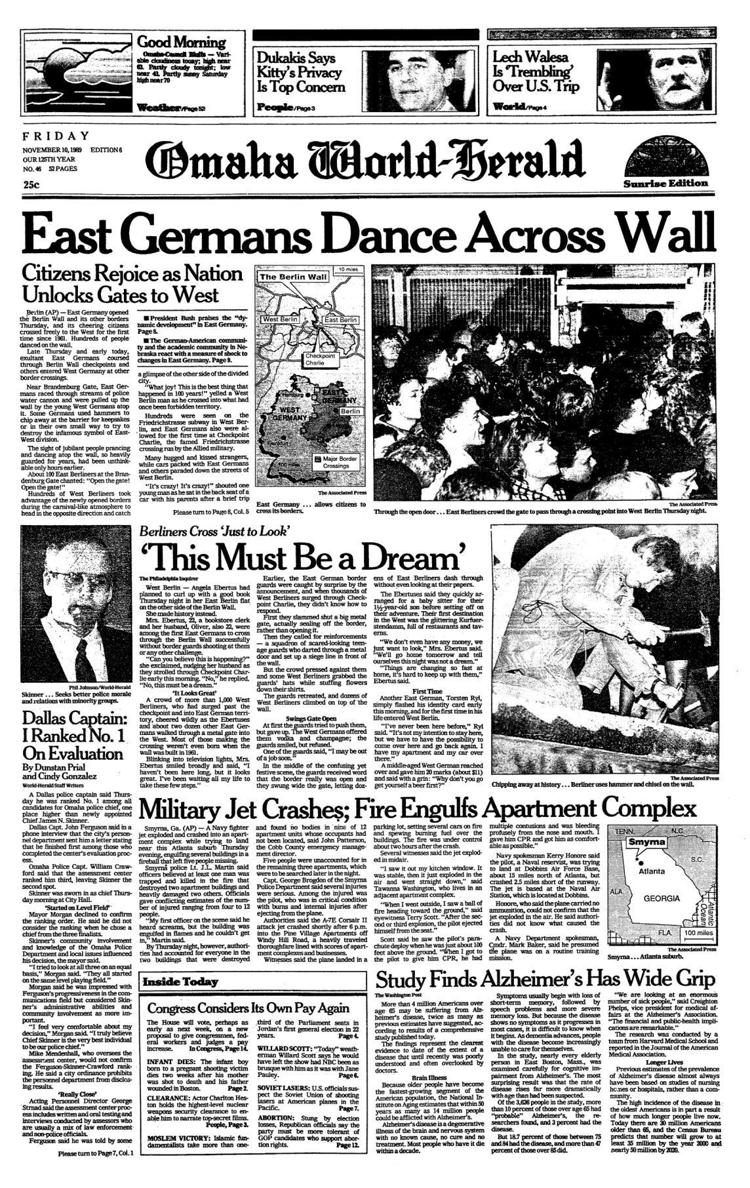 1995: Husker national championship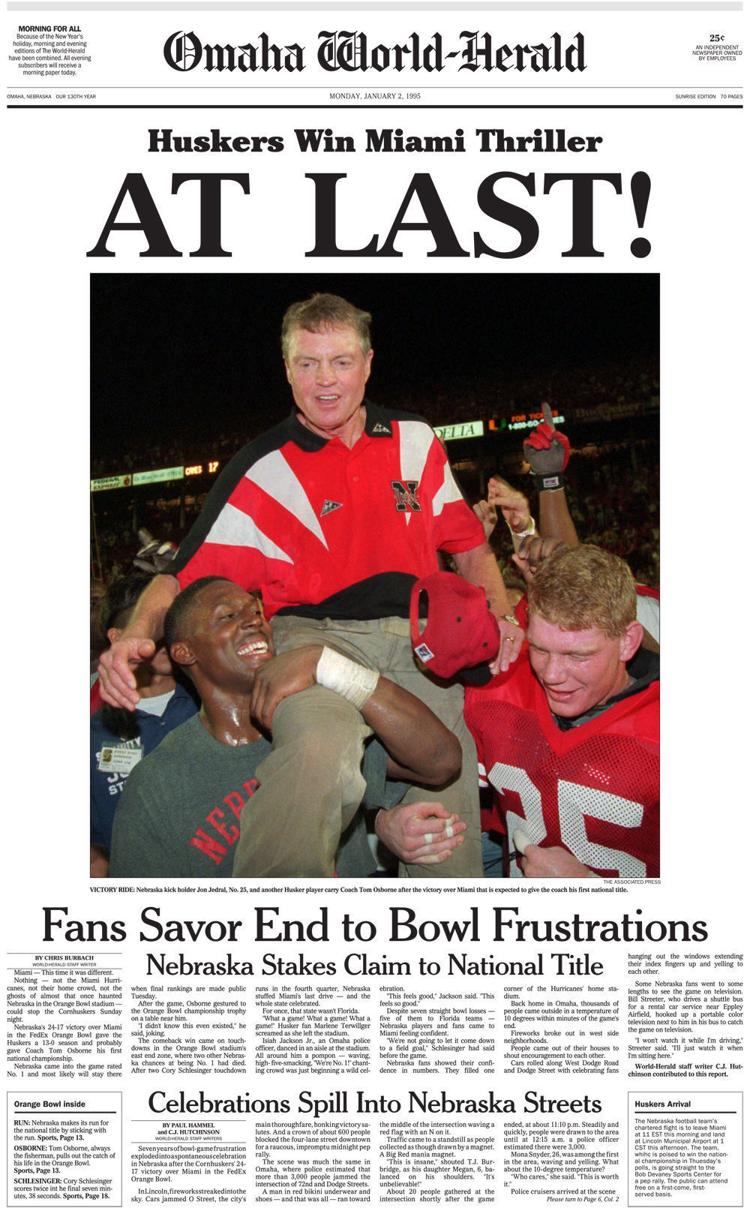 1996: Husker national championship
1998: Husker national championship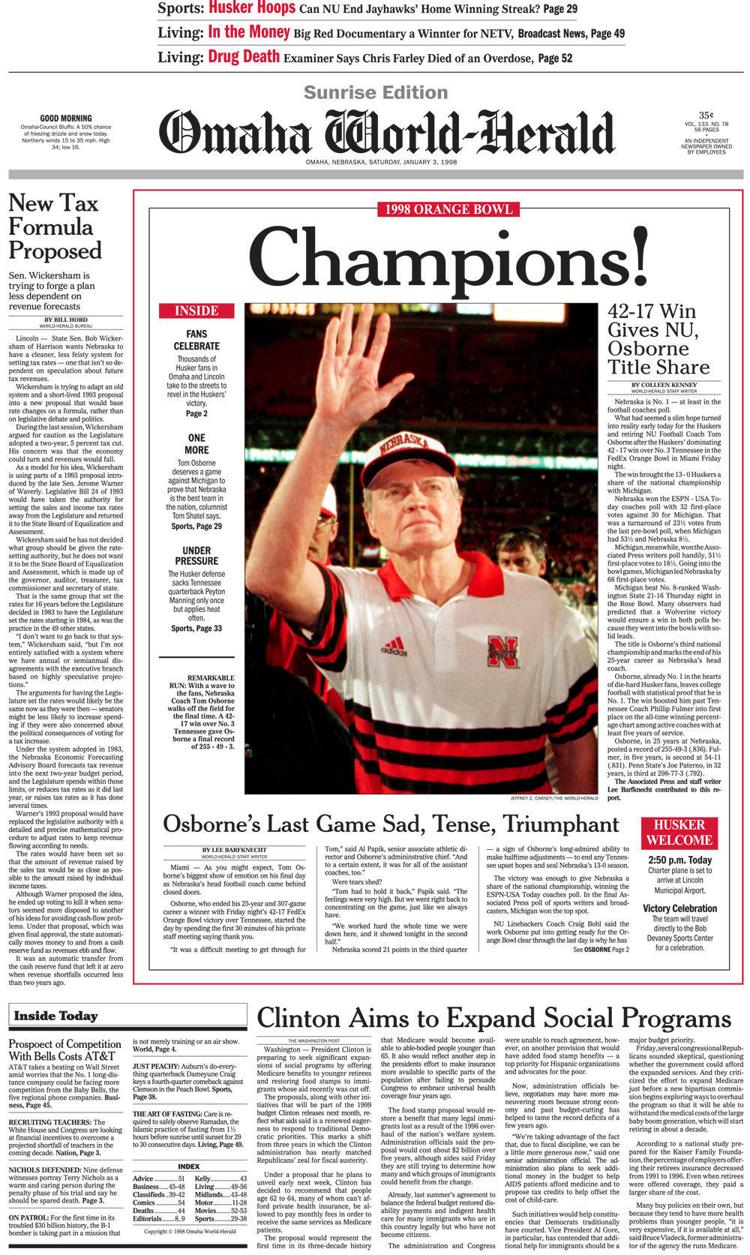 2001: 9/11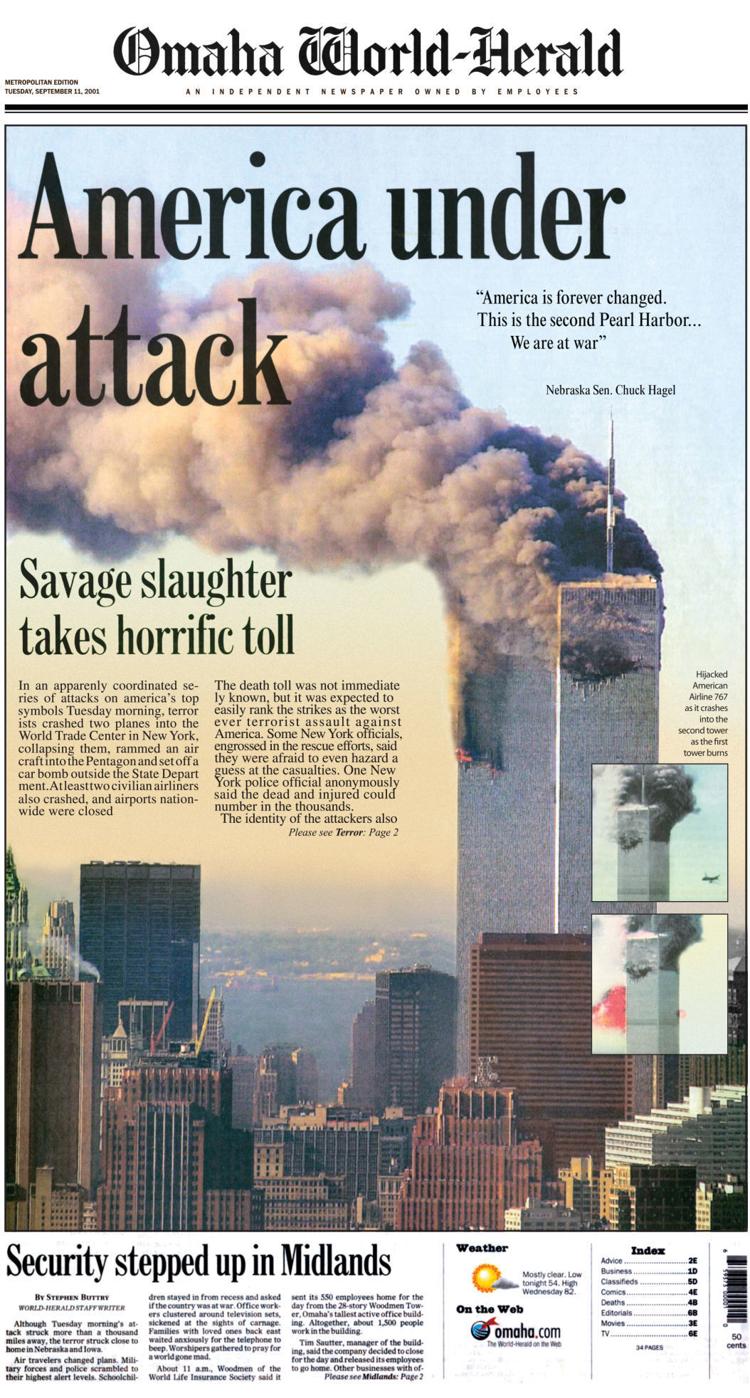 2008: Tornado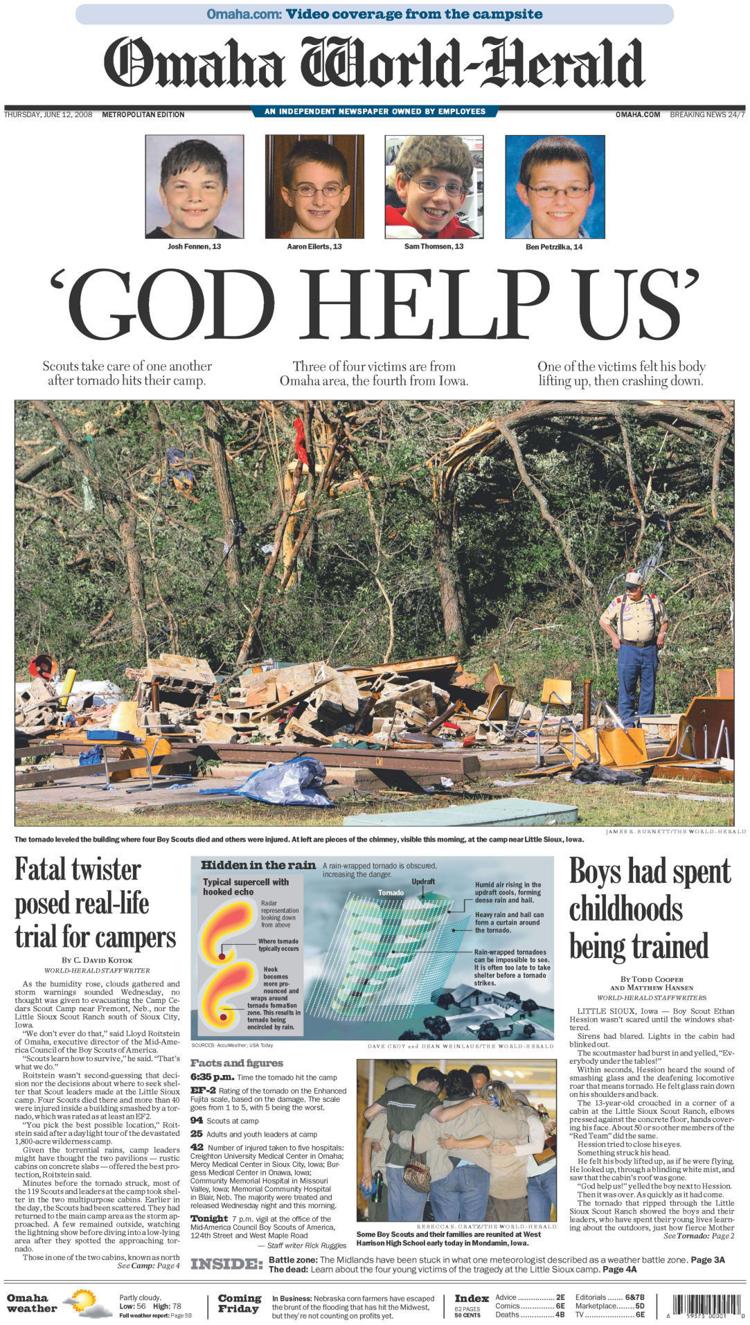 2008: Obama elected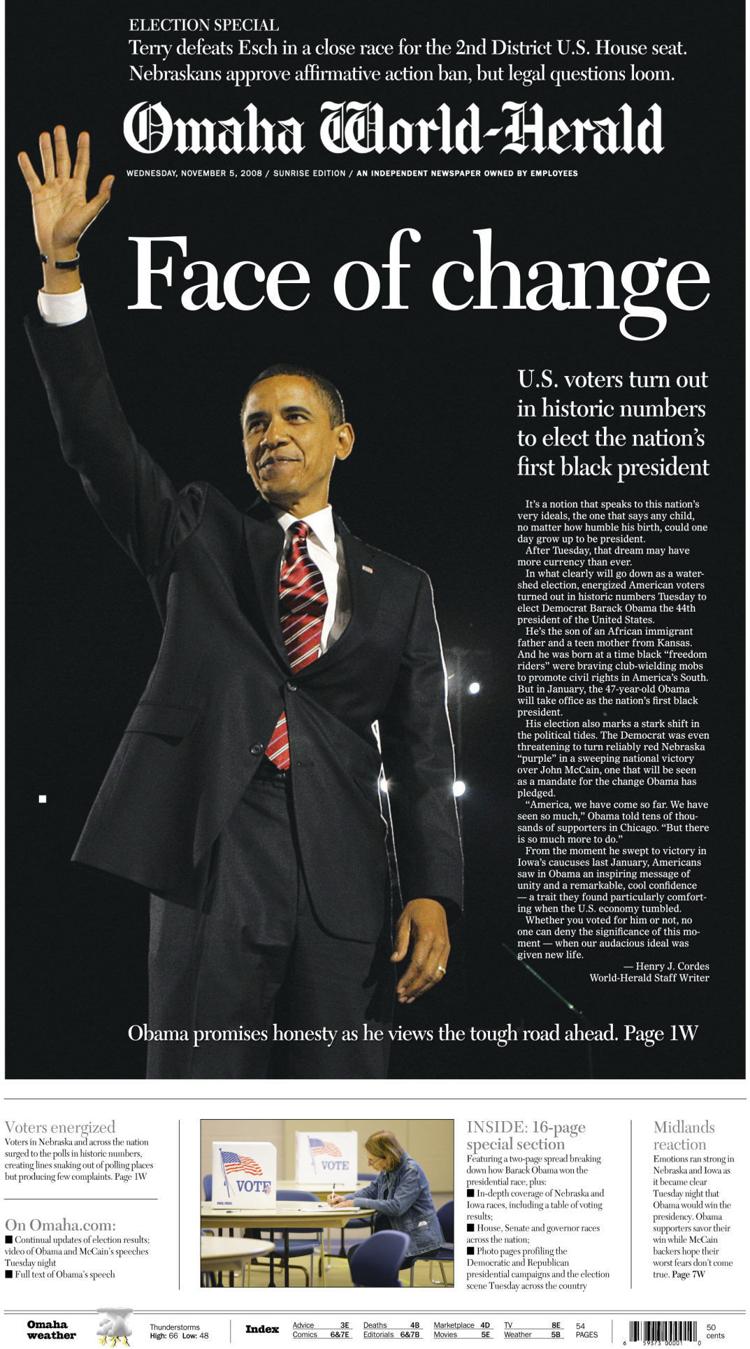 2016: Trump elected