For the Omaha refugee families removed from an apartment complex where city inspectors found gas leaks, vermin and other code violations, there were glimmers of progress Friday amid the uncertainty.
Social service agencies, city officials and philanthropists are pushing forward with an ambitious plan to get the residents of the Yale Park Apartments out of temporary shelters and into new apartments or hotel rooms by Wednesday or Thursday next week.
All 100 units in the Yale Park complex, at 34th Avenue and Lake Street, were evacuated and declared uninhabitable Thursday after city inspectors descended on the property and found unsafe and unsanitary conditions that added up to more than 1,000 code violations.
About 98 families — an estimated 500 people — were living there. All are refugees from Myanmar, formerly Burma.
Almost 200 refugees were forced to stay in temporary shelters at city community centers Thursday night. The rest found shelter with family and friends scattered across the city.
Heartland Family Service Vice President Joanie Poore said that as of Friday afternoon, about 50 families were in the process of applying for new apartments.
"We are finding quite a few open units and landlords willing to work with us," she said.
Social service agencies and city officials said they have to vet any new accommodations, too.
"We want to make sure that they are not going from one area with violations to another," Omaha Mayor Jean Stothert said. "We want to make sure we've spent a lot of time in getting these people placed in appropriate housing."
A few families are interested in starting the process of buying a home, too.
Poore said if families staying in shelters haven't found new housing by Wednesday or Thursday next week, Heartland Family Service will start placing them in hotel rooms or, so families can still cook, extended-stay hotels with kitchenettes. Donors have stepped up to cover some of the housing and hotel costs, she said.
"We're just not going to put people out on the streets," Poore said.
But life remained distressingly in flux Friday for many of the displaced residents.
The city let tenants return during the day to units that had bright-yellow "Danger-Closed" signs posted on the front door to collect clothes, children's toys and other belongings that they hauled out in trash bags or storage totes. They loaded mattresses into cars and picked peppers from gardens planted in front yards.
"Today, I feel like we became a refugee again," said resident Myint Sein, 22. "I just feel very sad for all the people and me and my family. Where do we have to go right now? Where do we have to live?"
Sein, who lived in an apartment with his seven family members and works at a Tyson meat plant, said they stayed Thursday night with a cousin who lives nearby. But the family knows that's only a temporary solution.
"If they find something for us, a house, maybe we can go live (there)," he said. "If we had money, we'd live somewhere else."
Several residents interviewed by The World-Herald said they lived at the complex for several years, some since arriving in America from refugee camps in Thailand and Malaysia.
Sein arrived when he was 16 or 17 years old, not speaking a word of English. He's applied for American citizenship, he said, but now there's a new wrinkle — the address he put on his application might not be his address anymore.
Friday afternoon, city officials said every Yale Park unit had been inspected and more than 1,000 violations counted. The most serious violations involve electrical problems, natural gas and carbon monoxide leaks or fire hazards.
That's on top of the mold, mice, cockroach and bedbug infestations.
The city called Thursday's intervention a "humanitarian effort." The property's landlord and owner, Kay Anderson, characterized it as "a serious overreaction."
The city plans to meet with and officially serve Anderson with the list of violations early next week. For the most serious ones, Anderson will have 30 days to make repairs, then the city and other entities will go back in and inspect the buildings. For minor violations, like peeling paint or ripped siding, Anderson will have 60 to 90 days to make improvements.
An entire building — not individual units — would have to be brought up to code before residents could potentially move back in.
"It's not going to be one and two families moving back in, willy-nilly," Stothert said. "It's going to be the whole building before they would allow that."
Each violation can carry a penalty of $500 or six months in jail. Assistant City Attorney Will Acosta-Trejo didn't rule out the possibility of criminal charges but said the city will work with Anderson — if he's willing to put in the time and the money to fix up his property.
"Certainly, if he's in jail, he's not going to be able to make the repairs," he said.
Earlier Friday, Anderson was confident that he could meet the city's deadlines.
"That'd be my goal, to have it all done in 30 days," he said. "I think, 80, 90 percent of these units could be fixed in two hours apiece."
Planning Director Dave Fanslau said the last time the property was cited for a code violation was in 2015 for some external problems related to siding and gutters. But no inspectors went inside any of the buildings.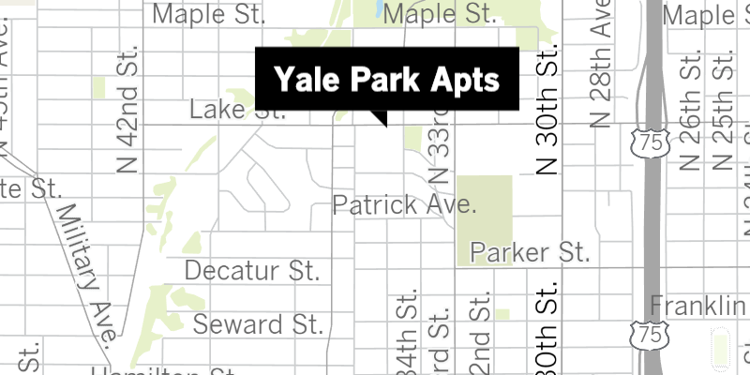 Meanwhile, Omaha Public Schools leaders are trying to maintain a sense of normalcy for the estimated 175 OPS students who lived in the apartments.
Kids were bused from the community centers back to the apartment grounds Friday morning so they could take their normal bus route to school. Those busing arrangements will continue into next week, according to OPS spokeswoman Monique Farmer.
Farmer said the city worked with Boys Town to transport students from the two temporary shelters, at the Adams Park and Columbus Park Community Centers.
OPS staffers, including bilingual liaisons, helped kids onto their bus and walked a few to Howard Kennedy and Franklin Elementary Schools, Farmer said.
Lisa Utterback, the district's executive director of the Office of Community, Schools and Family Engagement, handed out blankets and a pullover from her car to kids who arrived ill-prepared for the chilly morning. Staffers said they had slept little since the city's surprise inspection and evacuation.
Farmer said that despite the sudden upheaval, most kids seemed to make it to school Friday. The majority of the Yale Park kids attend either Kennedy or Lewis and Clark Middle School.
"The absences did not seem out of the normal for today," she said in an email. "Kennedy said all of their students were there."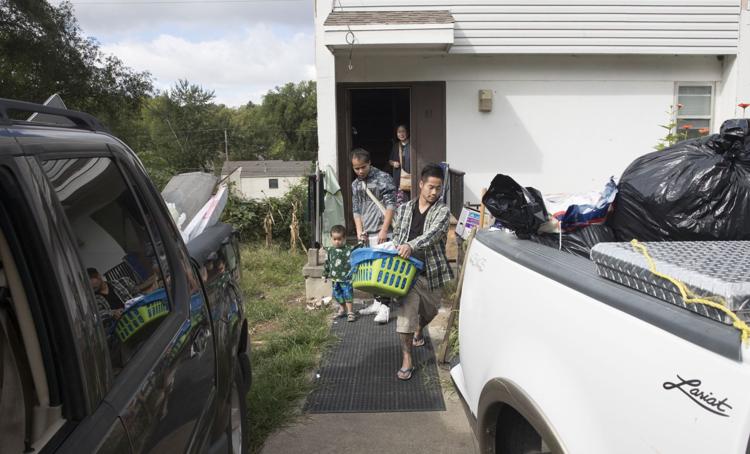 On Friday, Anderson, the property's owner and landlord, continued to defend the state of the property and said some problems stemmed from residents' lack of cleanliness. He said the city and an advocacy group that helped refugees file housing code complaints with the city had revictimized his tenants.
Some residents hugged Anderson as he roamed around the complex.
"Look at the lives they've disrupted," he said.
Hannah Wyble of Restoring Dignity, a volunteer group that helps the refugee community, has said Anderson exploited his tenants, many of whom were afraid to speak out about the deteriorating conditions in their apartments.
Photos: Yale Park Apartments inspection
City of Omaha housing inspectors descended Sept. 20 on a north Omaha apartment complex to inspect units and potentially remove and relocate up to 500 refugees from Myanmar.