The steel bones of Omaha's new VA clinic are climbing skyward, four stories high above the mud and drifted snow.
About 50 workers are climbing over the structure, erecting beams, pouring concrete, hurrying to put up walls — or at least broad sheets of plastic — against the brutal winter weather. Construction began in May, and the project is now 27 percent complete. Those managing the project say it should surge forward once spring arrives and as many as 250 workers are on the site.
"We're just about done with the steel," said Ryan Sawall of McCarthy Building Companies Inc., the project director of the new Omaha VA Ambulatory Care Center. "It's encouraging to know we're on track, despite what Mother Nature's thrown at us."
Area veterans have waited eons for something to replace the aged Omaha VA Hospital, built in the late 1940s on Woolworth Avenue at 42nd Street atop one of the city's tallest hills.
Could it really be happening, after all these years?
Despite a $56 million push from Nebraska's congressional delegation in 2011, the Department of Veterans Affairs construction bureaucracy couldn't get a $560 million replacement hospital past square one. The VA became bogged down building a hospital complex in suburban Denver that ballooned to $1 billion over budget before the Army Corps of Engineers-Omaha District stepped in to finish it.
With the Omaha VA project stalled, Heritage Services — the nonprofit that partnered with Omaha's business elite to build the Holland Center, TD Ameritrade Park and the CHI Health Center, along with almost a score of other projects — jumped in to help.
In 2016, the congressional delegation finagled a change to federal law called the "CHIP IN for Vets Act" that let the VA join a groundbreaking public-private partnership with Heritage Services by allowing private contributions to VA projects.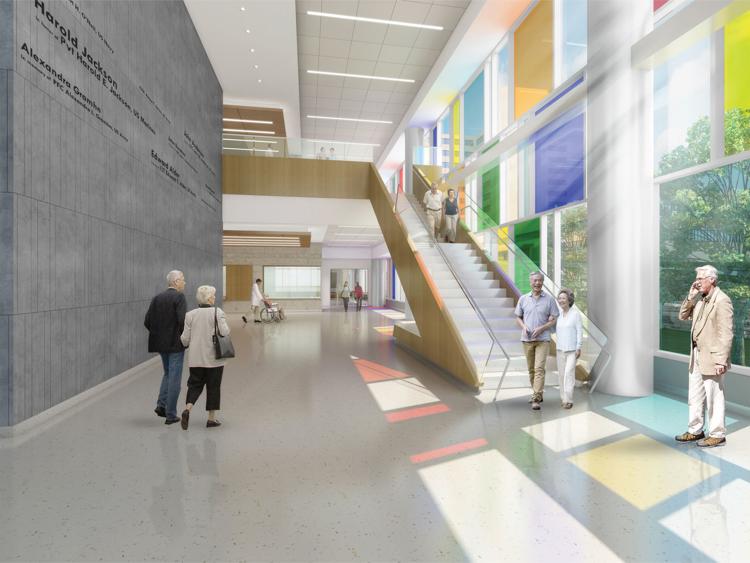 Heritage rustled up $30 million in donations — not enough for a whole new hospital. But together with the VA's share, it will be enough to build 157,000 square feet of modern exam rooms, outpatient surgery suites, a specialty medicine unit and a clinic designed especially for female veterans.
Chad Beeson, director of construction for Heritage Services, said contractors expect to finish construction by June 2020. After that, the VA Nebraska-Western Iowa Health Care System will move in furniture and equipment. The clinic is expected to open for use about Aug. 1, 2020.
"It is beautiful. It'll be a phenomenal space," said Sue Morris, president of Heritage Services. "It's a tremendous gift to our veterans."
The new facility is being built on an old parking lot just northeast of the existing hospital. The old building will stay, and will continue to be used for inpatient hospital stays — which are much rarer than when the hospital opened in 1950 — as well as for administrative offices and some medical services.
The builders had to look for and map out utility lines underneath the site before construction started, and bring in enough fill to raise the building 13 feet. The second floor of the ambulatory care center will be on the same level as the main floor of the hospital.
A hallway about 300 feet long will connect the two buildings. The hallway will be lined with art and a wall of stained glass designed to resemble the colored ribbon bars of medals earned on a military uniform.
"(Veterans) can enter and come through kind of a grand concourse," said Jeffry Monzu, a senior project manager at Leo A. Daly, the architecture and design firm leading the project. "That will make it more of an experience."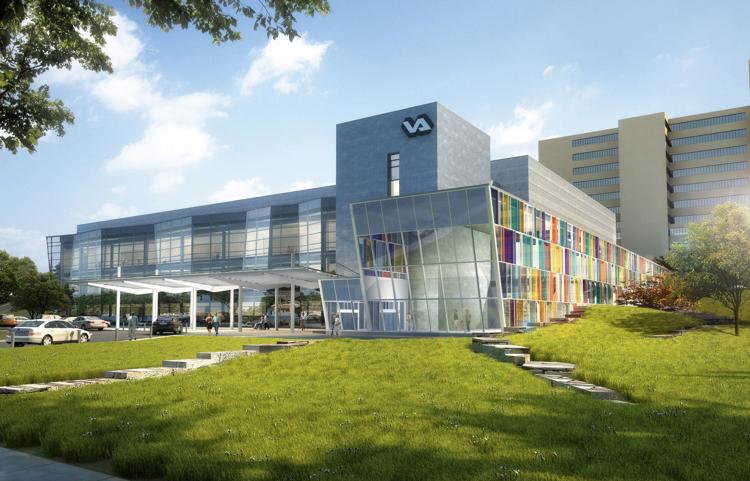 The separate women's clinic is a new feature, designed to meet the needs of the rising number of female service members in the past 40 years.
"They have their own waiting area and their own service area," Monzu said.
He said other specialty clinics will also be better organized in the new care center, instead of being scattered across multiple floors as in the current hospital.
Morris said sailing has been smooth on the VA project so far, and Heritage is confident that will continue.
"We're on time, we're on schedule, we're on budget," she said.