How people feel about Omaha's electric scooters is a matter of perspective.
Riders say the scooters are hip, fun and convenient for short trips. But many pedestrians and drivers have a different view.
The city is gathering data and public input as part of its six-month pilot program with scooters. When the trial run ends in mid-November, city officials will decide whether to ban the rental scooters or allow their continued use in Omaha, with regulations.
The city has been working with smartphone app-based scooter companies Lime and Spin to gather data on the number of local rides, where the scooters are being ridden and where the scooters are left, or parked.
The results so far show scooter use clustered in four areas that are part of the pilot program — downtown, Midtown Crossing, Aksarben Village and Benson.
City maps also show riders going onto neighborhood streets and into other areas where riders were prohibited, including the Bob Kerrey Pedestrian Bridge.
Some on the City Council have questioned whether the companies are doing enough to keep people from riding where scooters are prohibited.
Omaha residents are sounding off to city leaders, including Mayor Jean Stothert, who approved the pilot program that started in May.
Sign up for The World-Herald's afternoon updates
Receive a summary of the day's popular and trending stories from Omaha.com.
Most people who have contacted the Mayor's Hotline by email or phone say they want the scooters more heavily regulated or gone, city records show.
Many people who emailed the city, including downtown resident Melanie Hecker, don't like encountering the scooters on sidewalks, where they are prohibited.
Others, including John Wright, don't like driving near the scooters on the streets, where they are allowed, just like a bicycle.
Some, including pediatrician Dr. Tina Scott-Mordhorst, expressed worry about rider injuries. She said her 25-year-old son broke his arm on a scooter in Omaha.
Several people, including Benson's Cheri Harris and Sherri Harding, said poorly parked scooters limit sidewalk access for disabled people and the elderly.
Scooter critics are butting heads with a committed core of enthusiasts, most of whom are riding scooters for trips of less than a mile.
One of those is Marianna Foral, who wrote the mayor that she uses the scooters for trips that are "a little too far to walk or if I'm short on time."
"I recently hosted some friends from Kansas City who are considering relocating to Omaha," Foral wrote. "They loved the benefit of the scooters (in Omaha) and were impressed that our city has this to offer."
Some of the riders are the young professionals that civic leaders say Omaha needs to attract and retain to stay vibrant.
John Fahrer, owner of Scriptown Brewing Co. in the Blackstone District, said he enjoys having the scooters around, as do many of his customers.
Some riders don't park the scooters correctly and leave them near the entrances to businesses or blocking access to crosswalks. That can be a nuisance near a business, he said. But things have gotten better as the pilot goes on.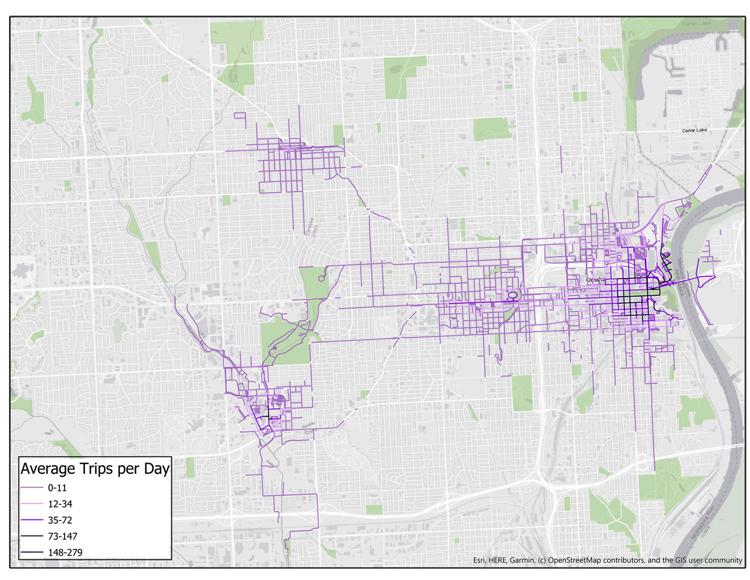 In fact, he said, he's ridden the scooters himself, including for a quick trip to the bank, giving the drive-through teller a story to tell.
"I see people abiding by the rules," Fahrer said.
City Council President Chris Jerram said this week that he's receiving fewer complaints and comments about the scooter pilot program than when it first began.
Jerram, who represents south-central Omaha, including parts of downtown and the Blackstone District, said he'll wait until the pilot program ends to weigh in.
Ben Gray, whose north Omaha district stretches to the riverfront and parts of downtown, said he has heard no complaints lately about scooters.
Councilman Pete Festersen, whose north-central Omaha district includes Benson, said he's heard from people who love and hate the scooters.
He said he wants to learn more about how effectively the scooter companies can enforce limits on where the scooters can be ridden before the council makes its decision.
Jen Bauer, president of the Aksarben-Elmwood Park Neighborhood Association, said she wants more clarity about what can be done to restrict the scooters' use.
Residents of her south- central Omaha neighborhood enjoy walking in the area, she said, but some are nervous about getting hit by a scooter.
"They're not supposed to be on the sidewalk, but they're on the sidewalk," she said. "We thought there were boundaries, and there are no boundaries."
The scooter companies serving Omaha, Lime and Spin, have said they are working with the city to encourage riders to follow the rules.
Both have told the city that they are continuing to work on programs to better enforce geographic restrictions on where the scooters can go and improve users' riding and parking choices.
About 20 people were injured for every 100,000 scooter rides in Austin, Texas, a Centers for Disease Control and Prevention study found.
The numbers in Omaha, where the program is newer, are slightly higher, based on early estimates.
Local hospitals report about 65 injuries related to scooters. Omaha riders have taken more than 148,000 trips through Aug. 20, according to data provided to the city.
Lime spokesman Alex Youn said it's clear that people in Omaha are enjoying the scooters.
Stothert said in a statement that the city is using the pilot program "to evaluate the pros and cons before we consider a city ordinance that would allow scooters beyond the test period."
"We will review all the feedback from citizens, data that measures the use of scooters, injury reports and the number of citations issued by Omaha police," Stothert said. "Public safety must always be the first consideration."
Photos: Our best shots of 2019 (so far)
Take a spin through the best of our staff photos from 2019. The gallery will be updated throughout our journey through the next year.