The scene at La Vista's newest park — children giggling at ducks, parents pushing strollers on trails — will now be part of everyday life for the city's residents.
Civic Center Park's official opening Tuesday was the result of more than a decade of dreaming, scheming and hard work, La Vista's leaders say — and there's more to be done.
The park, near 84th Street and Park View Boulevard at the old La Vista Falls Golf Course site, is one piece of a major redevelopment project along La Vista's main thoroughfare expected to modernize 84th while bringing restaurants and bars, shops and offices, an indoor/outdoor music venue and — if Mayor Doug Kindig's vision comes to fruition — visitors from elsewhere in the metro area.
"When people cross Harrison Street heading south (on 84th), we want them to know they're in La Vista," Kindig said Tuesday to a crowd of city officials and residents who gathered near a 4-acre lake.
The park features two lakes, a trail system and a fountain that lights up at night and can be synchronized with music for holiday shows. Kindig said more amenities will eventually be added, offering examples such as docks that jut into the water, educational components for children and dedicated spaces for people to sit, relax and enjoy the serenity of nature.
"You can have dreams and you can have visions, but when you can see it in real life, it does bring some joy," Kindig said of watching people enjoying Civic Center Park for the first time.
Walking to the park was easy for couple Jesse Swanson and Desirae Anson and children Coy and Jett Swanson; the family lives in a home directly behind the park. Coy had a good time watching a group of geese and ducks that had gathered near the water.
"We've definitely been excited for this for a while," Desirae said.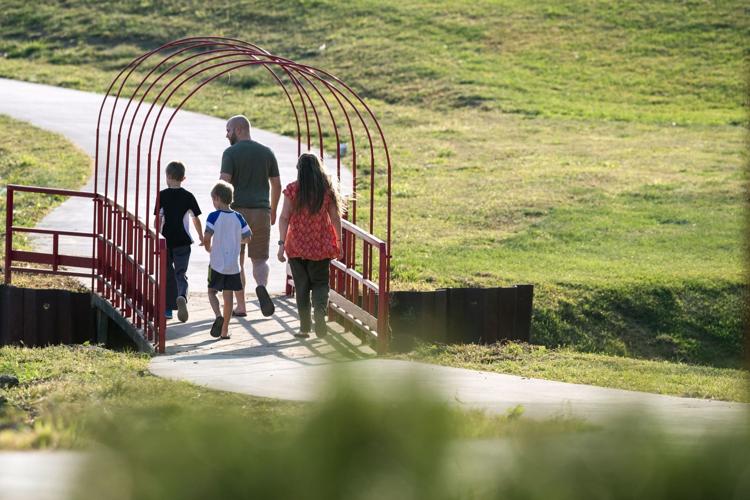 La Vista's leaders have been excited for a while, too. Kindig was on the City Council in the early 2000s when Walmart, which used to occupy the lot just south of the park, announced it was leaving. In 2009, the city hired a consultant to create a long-term vision for the area, and a decade later, that vision is starting to take shape.
Another part of the overhaul is a streetscape plan that will add an underpass to 84th Street, linking trails on the east side to the west side that will connect to the park. The streetscape plan will implement wider sidewalks, archways and more lighting.
The entire project likely won't be complete for a few years. City leaders have preached patience as the redevelopment rolls along.
La Vista residents like Jacob Larimore and his children Ivy, 7, and Alarick, 6, are enjoying the changes as they come.
"It's been dead for so long over there," Larimore said of the land where City Centre is being built. With all the exciting changes coming, he said, La Vista should be able to attract young families.
"What do you think?" he asked his children, examining the fountain as it shot water into the air. "Beautiful."
Omaha's most popular parks
What better way to enjoy the outdoors than spending time at a park? Pack up your family or friends and head to one of these 20 local spots, among the most popular in the city, according to the Omaha Parks Department.