On a sunny Wednesday afternoon in November, people filled a shiny streetcar as it hummed through downtown Kansas City, Missouri.
Most of the 38 blue plastic seats were occupied. Several dozen more people stood. They held onto stainless steel poles, or to loops dangling from bars connected to the ceiling. Office workers talked about their lunch plans. Field-tripping high school students chattered.
Retirees Ona Ashley and her real-bearded Santa Claus husband, Roy Poe, took it all in as they stood in the middle of the crowd. They had driven in from the suburbs to try Kansas City's new RideKC streetcar. They smiled through their glide through a revived downtown.
"It's wonderful," Ashley said.
"We would have loved to have this when we worked downtown," Poe said.
"It feels," Ashley said, "like we are progressing."
Cities across the nation are similarly trying to go back to the future with a streetcar.
The K.C. streetcar began running May 6, 2016. It joined about 20 other U.S. cities that have launched streetcar lines since Portland, Oregon, began the recent trend in 2001. Streetcars are under construction in four more cities, including Oklahoma City, Milwaukee and St. Louis in the Midwest.
More than 20 other cities are planning or considering streetcars. Omaha is among them.
The proposals are controversial, nationally as well as locally. Some of the new streetcars have struggled with ridership, service and finances, notably in Cincinnati.
In Omaha, the streetcar is far from a done deal. No formal plan has been proposed to the City Council or the public. A consultant is working on a federally subsidized engineering and cost study for the City of Omaha and Metro transit agency.
A report is expected by the end of December. It's expected to update and provide more detail to a previous cost estimate of $156 million to build a downtown-midtown streetcar line, and $7.5 million a year to operate it. Omaha Mayor Jean Stothert has said the city's next steps will depend on that report.
A lot of people are opposed to the idea of a streetcar in Omaha. They see it as too expensive, frivolous and diverting money from more pressing needs.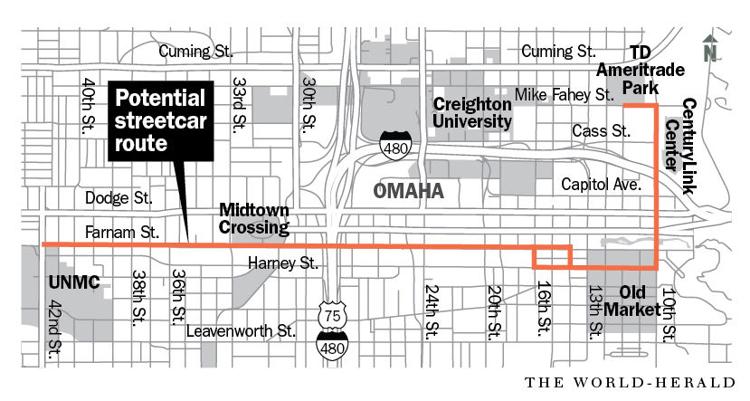 Meanwhile, a nonprofit group of proponents, Modern Streetcar Advocates, has launched an effort to build public support for an Omaha streetcar line. The group and other proponents point to Kansas City as an example of what a modern streetcar is and what it could do for economic development and transportation in Omaha.
They note higher-than-expected ridership, rapid growth in real estate development and increased sales tax receipts in Kansas City's downtown streetcar district.
"The reason that we point to all those things is because Kansas City is so close to Omaha, and people are familiar with Kansas City," said Jay Lund, an Omaha real estate developer and Modern Streetcar Advocates leader. "If it can work there, it would seem logical that it can work in Omaha."
Though Kansas City is, of course, bigger than Omaha, its downtown streetcar district shares some similarities with the route being studied for Omaha.
Both have arenas, performing arts centers, convention centers and hotels. Both have historic downtown areas redeveloped as entertainment, shopping and residential districts, and old neighborhoods brought back to life by urban-minded entrepreneurs, artists and real estate developers seeking to serve millennials' sensibilities with apartments and unique restaurants and bars.
Both have central downtown business districts with corporate headquarters and office towers. Both have downtowns on the rebound with the help of large amounts of public and corporate spending, and a growing desire of people for urban neighborhood living.
There are also differences. Kansas City is more than twice as big as Omaha and its streetcar district has more attractions.
That said, Omaha's would-be streetcar district has some things that Kansas City's does not, most notably a major medical institution, the University of Nebraska Medical Center. And Omaha city planners studying the streetcar point out that Omaha's potential streetcar corridor has more open areas for redevelopment.
The Kansas City streetcar, which was designed by the Omaha-based architecture and engineering firm HDR, is widely regarded as a success so far, although the acclaim is not universal and an expansion plan is embroiled in controversy.
Kansas City voters approved the streetcar in 2012 and construction began in 2014. It cost $102 million. Of that, $20 million came from the federal government.
It costs about $5 million a year to operate the streetcar. Most of that money is raised by fees and taxes within a special district where the streetcar runs. Those are a 1-cent sales tax and special assessments on property. The assessments include 40 cents for each $100 of assessed value on certain real property that is exempt from property tax, such as churches, schools and nonprofits.
A financing plan has not been proposed for an Omaha streetcar, but it's unlikely to include assessments on nonprofits' property. Proponents have said much of the funding would come from inside the district from revenue generated by development inspired by the streetcar.
Kansas City's streetcar hasn't won over all of its critics.
In fact, opponents are suing to challenge a vote to create another transportation development district to extend the streetcar to Country Club Plaza. Kansas City attorney Sherry DeJanes is leading the lawsuit.
She is not a fan of the streetcar.
"It makes a mess of traffic," she said. "It has created havoc with the bus lines. The costs were not fully disclosed. It has caused uneven distribution of city resources. ... Pouring this much money into this kind of project siphons money away from other projects."
DeJanes noted that very few developments in the downtown streetcar district have occurred without tax-increment financing, tax abatement or both. She said those subsidies, not the streetcar, are attracting developers.
"We are not opposed to transit," DeJanes said. "But this is not transit. Our transportation needs are from the east section of Kansas City to the center on out to the suburbs where our employment centers are."
K.C. streetcar proponents say it's designed to be part of a larger transportation system involving buses and more streetcar lines.
People are using the streetcar. It averaged more than 5,800 riders a day through its first 17 months, the Kansas City Streetcar Authority says. That's more than twice the expected daily average of 2,700. The Streetcar Authority says it surpassed 3 million passenger trips this fall.
The streetcar, which is free, runs from 6 a.m. to midnight Mondays through Thursdays, and until 2 a.m. on Fridays and Saturdays.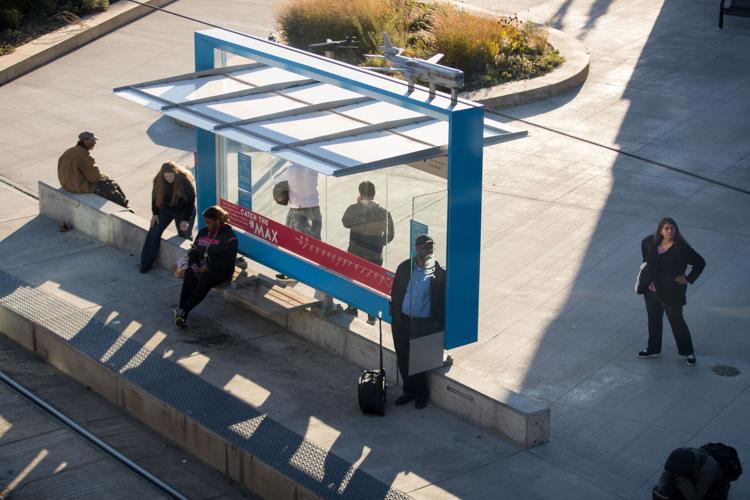 At most stops, it stops only if riders want off or are waiting to get on. The stops are designed for accessibility and ease. They have level boarding, which is helpful to people in wheelchairs or with bikes. Electronic message boards say when the next streetcar will arrive.
On multiple rides on a Wednesday and Thursday in early November, the streetcar was never empty. It was briefly full, during the lunch hour.
Some of the passengers, like Ashley and Poe, appeared to be riding it for the experience.
Others, such as Kansas City resident Kellie Beal and her 3-year-old baby-sitting charge, Perrie Mankameyer, were using it to travel between destinations. They went to Science City, the science museum at Union Station. Then they rode just under 2 miles to Beignet, a Creole restaurant in River Market, for a snack.
"We love coming down here and riding the streetcar," Beal said, waiting at the sleek, glass-walled Union Station streetcar stop. "It used to be more difficult to get from one place to the next. Now it's a lot easier."
Late in the afternoon, Jeremy Price waited for the streetcar after his shift as a server at Harvey's at Union Station restaurant. He said he takes the streetcar at least twice a day, every day.
Price doesn't drive. He takes the bus from home, walks a block to Main Street, and catches the streetcar the rest of the way.
One comes by every 12 to 16 minutes, as advertised, he said.
"It's really convenient," Price said. "People who work all throughout this area ride the streetcar back and forth. You see a lot of the same faces."
Proponents say the streetcar has been good for downtown business. The Greater Kansas City Chamber of Commerce says more than $2 billion in real estate development has been completed or begun in the downtown streetcar district since voters approved the streetcar in 2012. It doesn't say explicitly that the streetcar caused that development, but it says that it contributed to it by making the area more attractive to real estate developers and businesses.
For example, the 25-story One Light luxury apartment tower was already in the works in the Power & Light District when the streetcar came along.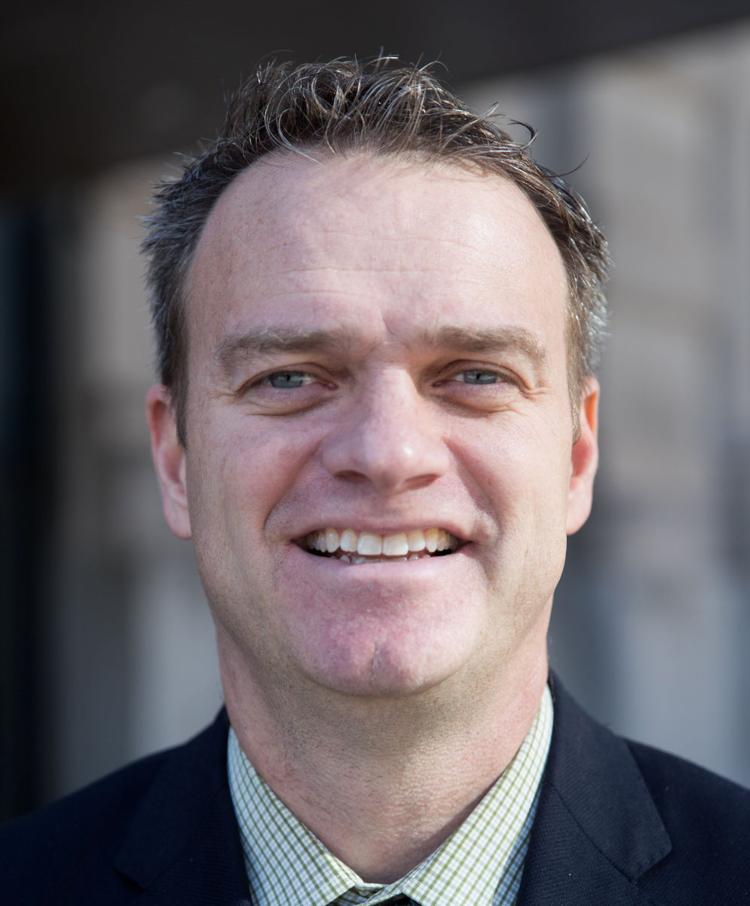 The building filled up so fast that the developers moved up plans to build a second apartment tower, said Jason Waldron, streetcar manager for the City of Kansas City. The 24-story Two Light is nearing completion across the street from the Sprint Center, and a block from the streetcar line. The developer, Cordish Cos., plans two more towers.
Another developer is about to complete a renovation of the 30-story Commerce Tower, a mostly vacant office building at Ninth and Main Streets on the streetcar line. It will house apartments, Park University, businesses and an indoor dog park. Michael Knight, vice president of the Commerce Tower Group LLC, has said that the streetcar was a major reason it took on the project.
In a survey last year, 80 percent of small businesses in the streetcar district that responded said the streetcar had led to increased revenue and foot traffic.
Keith Novorr, the third-generation owner of Michael's Fine Clothes for Men, fought the streetcar when it was proposed. For one thing, he didn't like that he couldn't vote on it even though it goes right past the front door of his 112-year-old business.
Under the state law used to create the transportation development district, only residents of the area had a vote. Property owners such as Novorr who live elsewhere can't vote, but they do have to pay the special assessments and additional sales tax created by the district. Nebraska doesn't have a similar law.
But now, Novorr is a fan, although the two years of construction were tough.
"When it's all said and done, it's been very positive," Novorr said.
The streetcar has increased his foot traffic and his business, he said. Novorr credits the streetcar with helping to bring downtown an influx of young people who appreciate his old-school focus on customer service.
"The average age of my customers has dropped by 10 to 20 years," Novorr said.
The streetcar runs on rails in a lane that it shares with other traffic. It's powered by an electrical line above the streetcars.
The 2.2-mile route, mostly on Main Street, runs from the renovated Union Station and Crown Center shopping mall through the central business district and its tall towers to the renovated historic brick buildings of the River Market neighborhood, home to shops, apartments, restaurants and a huge farmers market.
Along the way, streetcars traverse the redeveloped Power & Light District and the rediscovered Crossroads Arts District.
Connecting those places was a major goal for the streetcar and is a big part of its success, said Waldron, who grew up in South Omaha and graduated from Gross High School. He worked for HDR as it designed the KC streetcar, then went to work for the City of Kansas City under Mayor Sly James.
"We've got Crown Center and Union Station here, separated by a railyard to Crossroads Arts District, separated by an Interstate to our downtown district, separated by another Interstate to kind of our riverfront." Waldron said. "Well, what the streetcar's really done is it's really connected these neighborhoods and almost made it feel like one."
Sierra Porter and a group of fellow young accountants independently backed that view while waiting for the streetcar to take them back to their downtown office from a lunch outing to River Market.
"It's nice, because there are separate areas that it connects," Porter said. "We wouldn't be able to walk here from our office."
She and her friends said they liked the idea of the streetcar from the start. But they use it more than they expected to.
Porter discovered that the streetcar can make it a lot easier to go to concerts at the Sprint Center. She parked in the Crossroads Arts District, rode the streetcar and walked a couple of blocks to the arena to see Ed Sheeran. She estimated that saved her an hour of time sitting in a car in a parking garage and traffic snarls.
Michael Frisch, an associate professor of urban planning at the University of Missouri-Kansas City, views the streetcar as more about economic development than transportation. He said the downtown streetcar deserves some, but not all, of the credit for Kansas City's downtown resurgence.
"It's not just the streetcar," Frisch said. "The streetcar reinforces those past decades of development decisions made by both the public sector of Kansas City and by private entities. ... It (the streetcar) is successful because we've already spent so much on projects downtown, even going back to the 1990s."
Those include saving and renovating Union Station, building the Kauffman Center for the Performing Arts and the Sprint Center, and lots of tax-increment financing and tax abatement.
"Kansas City has spent an awful lot of money and effort at redeveloping downtown," Frisch said. "The streetcar, by being a fixed-route transportation form, reinforces those decisions and signals to the private sector that the commitment is there."
Photos: Omaha's streetcar system through the years