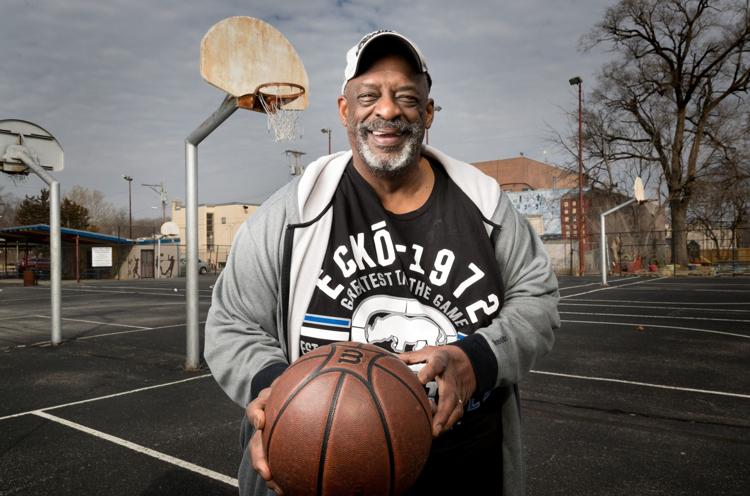 In March 1968, one of the best high school athletes a lot of Nebraskans have never heard of was preparing to lead his Tech High team to the state basketball tournament at Omaha's Civic Auditorium, just down the street from his home in north Omaha.
Ernie Britt, a strong 6-foot-1 center/forward with moves, hops and a jump shot, had hit two free throws in overtime to beat No. 2 Creighton Prep and its 6-foot-6 future Husker, Mike Peterson, in its district final. That qualified the No. 3 Omaha Technical High School Trojans for the state tournament.
Britt and his Tech teammates, including future Heisman Trophy winner Johnny Rodgers, were expected to challenge top-ranked Omaha Central for the 1968 title. The stage was set for a showdown in downtown Omaha.
Then George Wallace came to town. The turmoil roiling the nation hit home. A speech by Wallace, governor of Alabama and candidate for president, touched off rioting in north Omaha. Buildings were burned and burglarized on North 24th Street, two blocks from Britt's home. An off-duty Omaha police officer shot and killed a black teenager accused of burglarizing a pawn shop.
Two days after Wallace spoke, city and school officials decided to move the state tournament to Lincoln. Two days after that, Tech's trek toward the title game ended in the semifinals in a scene strangely befitting the times: with Nebraska football coach Bob Devaney escorting Tech's ejected and dejected star player off the University of Nebraska Coliseum court, past police in riot helmets, to the locker room and into history.
Lincoln Northeast upset Tech that day, but it wasn't a fluke. Northeast was on a roll. They went on to beat Central for its fifth state championship.
Tech's ill-fated moment is a side note in a book, "The Rhythm Boys of Omaha Central," about Central's 1968 team. The way the book tells it, the white referee from western Nebraska flew over the scorer's desk and into the second row when Britt shoved him. That's an exaggeration, Britt said. Two other guys who were there agreed: Rodgers and Maury Damkroger, a Lincoln Northeast player who went on to help Rodgers and Devaney win the 1971 national football championship for Nebraska.
Britt, now 68, admits he shoved the referee in frustration after fouling out, after he had spent much of the game on the bench because of foul trouble. He said in 1968 that he shouldn't have done it. He repeated that sentiment 50 years later when we sat down with him to talk about the rest of the story. But he says it didn't happen the way the book described it.
"He didn't fly nowhere, man," Britt said. "He even said himself it was nothing serious."
We sat down with Britt in a cafe at 24th and Lake Streets in north Omaha. The cafe houses the Nebraska Black Sports Hall of Fame, which Britt co-founded. It's in the neighborhood where Britt grew up and still lives.
Britt was reluctant to talk about the 1968 state tournament.
"Some people are going to think I'm still bitter about the past," he said. "It does me no good to be bitter about the past. The past is the past."
But the past is also history. America, which has yet to resolve the racial issues that rocked the nation in 1968, is looking back 50 years later. What the Omaha Technical High School and other 1968 state tournament teams experienced is a part of that. The events are little remembered by most Nebraskans. But it was a big deal in the lives of the participants, Nebraska kids at the intersection of history and high school hoops.
"We had wood shop, metal, mechanical drawing, culinary arts," Britt said. "I mean when you graduated from Tech, if you would have applied yourself the way you should have, you would have been able to get a job upon graduating from Tech, in the trades."
As for athletes, Tech had produced some great ones. Just look at the 1967-68 school year, when Britt was a senior.
That winter, former Tech basketball player Bob Boozer was scoring over 20 points a game for the Chicago Bulls in the NBA. Boozer had played on the 1960 gold medal-winning U.S. Olympic team.
That fall, another former Tech High basketball player had won the World Series MVP award — for the second time. St. Louis Cardinals pitcher Bob Gibson, who had played college basketball at Creighton University, won three games in the 1967 World Series. Meanwhile, Ron Boone, who played on Tech's 1963 state championship basketball team, was on his way to play in the American Basketball Association.
"The greatest athletes were from Tech," Britt said.
That's not to mention a guy from north Omaha who went to Central High: All-Pro running back and kick returner Gale Sayers of the Chicago Bears. In 1967, Sayers led the NFL in all-purpose yards.
So there was a high bar for the guys at Tech High.
The 1967-68 Trojans measured up. Britt, a high school All-American end in football, averaged 21 points a game in basketball his senior year. The University of Nebraska had its eye on both him and Rodgers, then a junior, as football players. They and fellow starters James Bonner, Johnny Ray and Gerald Turner, with help from Billy Reed and others, built a record of 19-3 going into the state tournament.
They beat a talented and taller nemesis, Creighton Prep, in the district final. World-Herald sportswriter Conde Sargent described how Bonner "three times leaped over the rim to tap in a mate's missed shot." Even though Prep star Mike Peterson had missed much of the game with foul trouble, Prep took a lead in overtime. Then Britt took over. He stole a pass and drove for a lay-up to tie the game. He made the winning free throws after being fouled with two seconds left.
Prep's coach paid Britt a post-game visit.
"Tom Brosnihan, real good guy, came in our locker room and shook my hand," Britt said. "I'll never forget that. That meant a lot to me."
Tech didn't expect to win the state championship, though.
"Central was better than us," Britt said. "Because, Dwaine."
Center Dwaine Dillard led Central High's famed "Rhythm Boys." As the state tournament approached, Sargent wrote that he expected Central and Tech to advance through the semis, leading to "an all-Omaha final Saturday night at City Auditorium."
That was not to be. The unrest sparked by Wallace's March 4 appearance continued for three days, including in some schools in north Omaha. Hundreds of students skipped school or walked out on Tuesday. There were a few fights. About 50 windows were broken out at Horace Mann Junior High. A Molotov cocktail exploded in a North High School hallway.
Omaha Mayor A.V. Sorensen and school officials convened on March 6 and decided to move the tournament to Lincoln. They were worried there would be trouble with games at the auditorium.
"Let's face it, there's no way they could have had the tournament here," Britt said. "There was too much unrest. Ain't no tellin' what would've happened. And the auditorium being so close, it wasn't like they would have been playing the games at UNO or ... Aksarben or somewhere. I mean the riots were going down, let's say, a half a mile from the Civic Auditorium."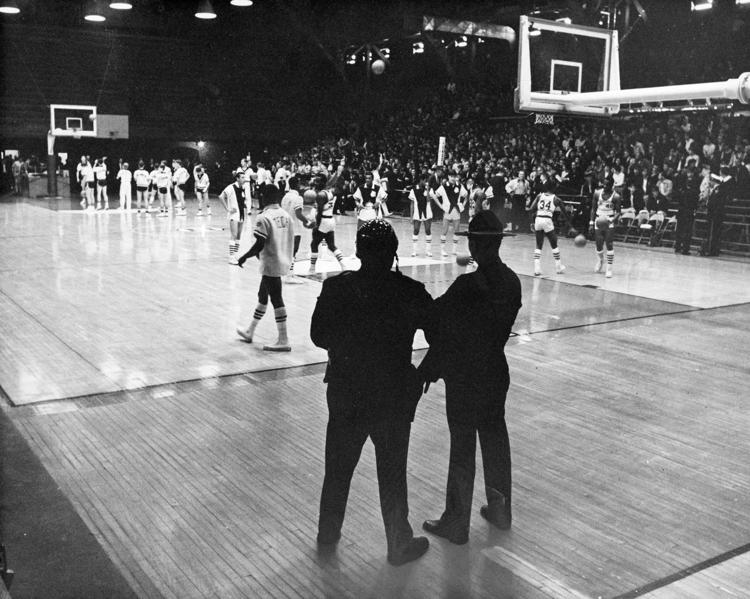 Britt said he was upset about what was happening in the streets, especially the police shootings. But he stayed away from the riots.
"My mom and dad, they didn't want us to get involved in that stuff," he said. "I was into playing ball. ... I didn't fool with it."
The Omaha Public Schools decided not to provide buses to take Tech and Central students to Lincoln for the tournament's first day, March 7. Not only had they lost the home court advantage of the Civic, they also wouldn't have many fans in Lincoln.
The Omaha unrest cast a shadow in Lincoln. As many as 32 Lincoln police officers were on duty at some games, The World-Herald reported at the time. They carried riot batons and Mace. They wore the department's new riot helmets. Officers with police dogs were stationed outside tourney sites. The Nebraska State Patrol planned to have 100 men "on a 30-minute alert to move in and help Lincoln police, if needed," The World-Herald reported.
"It was tense," Lincoln Northeast's Maury Damkroger recalled. He would go on to athletic glory in Nebraska football — you can see him and Rodgers in 1971 Game of the Century highlights — but in 1968 he just was a sophomore.
Britt said he didn't care where they played. But he also said this: "Omaha schools had a hard time going down to Lincoln and winning. ... I wanted to win but there was no way we was going to win down in Lincoln."
Asked why, Britt said, "Racism." There was a perception that black players from Omaha had an uphill battle going against white players and white referees in Lincoln.
That idea might have come in part from the controversial 1962 state championship game. Lincoln Northeast defeated Tech 68-64, with a controversial finish that saw three technicals called on Trojan coach Neal Mosser and the ejection of Tech player Joe Williams. Tech protested the outcome and got a hearing, after which the Nebraska School Activities Association upheld Northeast's title.
In 1968, Tech defeated Columbus in the first round, 80-73. The Trojans got stellar performances from "the spectacular little Trojan zipper Johnny Ray," and Britt, "the Mr. Everything for Tech," World-Herald sportswriter Don Lee wrote. Lincoln Northeast beat Hastings to advance to the semifinals.
Northeast met Tech at 9:30 a.m. on March 8 in the Coliseum on the University of Nebraska campus.
Damkroger remembers that legendary Northeast coach Ed Johnson required the players to get up at 5 a.m. and eat breakfast. Yes, Damkroger actually got up that early. Doing exactly what coach Johnson said to do was a big reason why Northeast had started clicking in mid-season and was peaking in March.
"We really started playing well," Damkroger said. "Lyle Hiatt and Bill Slaughter really got hot in the tournament."
The guys from Lincoln were aware of the turmoil in Omaha and around the country, of course. But it seemed far away.
"We knew it was going on, but we didn't know the extent of it," Damkroger said. "Those things didn't happen in Lincoln."
It was strange to see police in riot helmets around the court. Damkroger remembers the officers had ropes to help hold back the crowd, if necessary. That created an air of tension around the court.
Those things didn't scare Damkroger. But watching the Tech players warm up worried him.
"I remember in warmups looking down the court," he said. "It was illegal to stuff back then. But they were just jumping up and dropping it in the basket. I thought we might be in a little trouble."
But Northeast clicked from the opening tip. They made 14 of their first 17 shots, according to The World-Herald game story.
"It was one of the best games we played all year," Damkroger said. "We were hot. We were making our shots, and we scored 80-some points."
Northeast built up a 45-33 halftime lead. Much of that happened with Britt on the bench. He got into foul trouble early. He had to go to the bench. Britt thought they were bad calls, intended to hurt Tech's chances of winning.
Rodgers saw it that way too.
"We took it as being targeted at our best player," Rodgers said. "Ernie was a big man. He was fast. He could shoot the jump shot. He could do a lot. Ernie had to play all game for us to win our games."
Tech players "really felt we got the short end of the stick," Rodgers said. They lost the home court advantage because of the riots, and then they lost their star player to what they considered questionable foul calls.
That said, Rodgers quickly added, "But we would never say that was a reason why we lost the game. We lost the game because the other team was better than us that day."
Damkroger said he didn't remember the foul calls being questionable, and didn't think the referees targeted Britt.
"Maybe he remembers it differently," Damkroger said.
But he added, "If the other team is making 14 of 17 shots, you can't blame the refs."
Britt got into deeper foul trouble after halftime, although he still managed to score 19 points in the game. He fouled out with 2:49 left in the fourth quarter and Tech down by 13. Britt shoved the referee who called the foul, the late Harland Sutton of Chappell, Nebraska.
Britt said he was nowhere near the player he was accused of fouling. He couldn't describe the moment in detail. There was speculation among Tech fans that the ref may have called the wrong player's number.
Britt can't really remember what he was thinking at the moment.
"I was mad," he said. "I was upset. Shouldn't have ever pushed him, though. I should have just let it go."
Britt's teammates and Tech's first-year coach, Fred Longacre, rushed to restrain him. The NU football coach hustled down from the crowd.
"Bob Devaney came down there and talked to me, trying to cool me out, because I was recruited by Devaney," Britt said.
The Husker coach told Britt, "Ernie, you know you can't be acting like that. You can't do that."
Referees called a technical foul. Some fans threw things on the floor, but the game resumed. Northeast went on to win 85-64.
Rodgers said he and his old high school friends don't talk about that game much.
"We talk about our wins," Rodgers said. "We had a lot of them. We seldom talk about our losses."
Back in high school, they just wanted to play ball. Looking back they see more of the bigger picture of the historic events that intruded on their sports careers.
Britt, whose life included some "poor choices," said time in prison as a younger man gave him time to reflect on how he could help improve things in the black community and have a positive impact later in life. He believes some things are better now for black people in America, but he said there is still much work to be done.
"I encourage our young black men to be more of the role models for our community and try to prevent our youth form losing their way," Britt said.
Rodgers thinks "things are tougher now."
"Back then, I can't remember anybody sending food home on Friday because you might not have food on the weekend, like they do now," Rodgers said. "Right now, we've got about 2.5 million (black men) incarcerated in America. Back then, it was around 250,000."
He doesn't think young people know what people of his generation went through. What he would like them to learn from the experience is this: "You have to persevere and work through it. Your destiny is not a chance. It's a choice. You work through whatever it is to get where you choose to go."