House Speaker Nancy Pelosi got a warm reception from a crowd of Nebraska Democrats on Saturday — especially when she talked about a photo of her standing up to President Donald Trump.
And she left them with a promise to fight on issues important to Democrats, including lowering prescription drug prices, expanding gun background checks and taking action on climate change.
She spoke at the Nebraska Democratic Party's annual fundraiser, the Morrison Exon Dinner, at the downtown Omaha Hilton.
Pelosi, a Democrat from California, is a key figure in the impeachment inquiry against Trump, a position that's made her a hero to many Democrats — and the opposite to Republicans.
Sign up for World-Herald news alerts
Be the first to know when news happens. Get the latest breaking headlines sent straight to your inbox.
Nebraska Democrats are gearing up for 2020. They're hoping to unseat second-term Republican Don Bacon in the Omaha-area 2nd Congressional District and possibly deliver an Electoral College vote for the Democratic presidential nominee.
And their goal is to have enough seats in the officially nonpartisan Legislature for a veto-proof majority, which could be important in the upcoming redistricting process.
But Nebraska Republicans hold the advantage in the form of every state and federal office, as well as a comfortable lead in voter registration.
Earlier this month, Trump tweeted a photo of Pelosi, the only woman at the table during a White House meeting, standing up and pointing at him before walking out. He captioned it "Nervous Nancy's unhinged meltdown!" Pelosi made the photo her Twitter background.
The photo has become a symbol of sorts among Democrats of Pelosi's power and ability to push back against Trump.
"Why they put that photo out, I don't know," she said Saturday. "But thank you very much."
She said Trump "got upset" when she asked what his plan was to protect Americans from the Islamic State after the U.S. pulled its help from the Kurds, its allies in Syria against IS.
"And he got more upset when I said, 'What bothers me is that all roads lead to Putin,' " she said, saying Trump's foreign policy decisions benefit Russian President Vladimir Putin.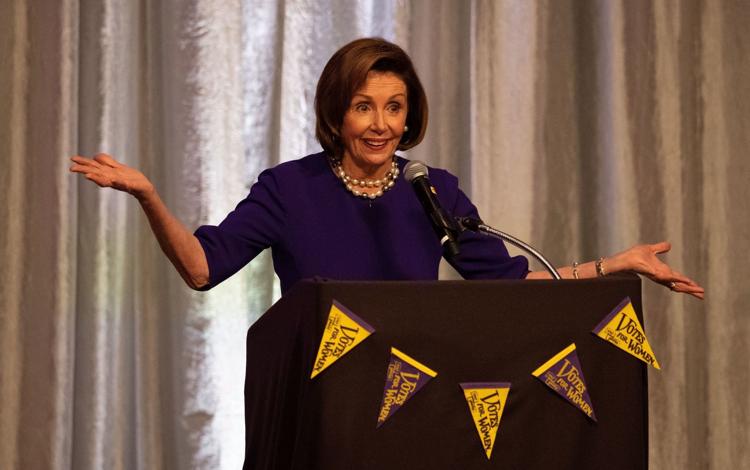 Nebraska's all-Republican congressional delegation has been highly critical of Pelosi and especially the impeachment inquiry.
Sen. Ben Sasse and Reps. Don Bacon and Jeff Fortenberry held a press conference with the Nebraska Farm Bureau earlier Saturday to point out that Pelosi has thus far not scheduled a vote on the proposed trade agreement with Mexico and Canada.
"While the House is so focused and fixated on impeachment, we're not getting America's business done," Bacon said.
Sasse said the Senate is ready to vote on the trade deal.
"Nancy Pelosi, the most powerful Democrat in America, is the one person standing in the way," he said.
In response to Pelosi's Saturday remarks, a Trump spokeswoman said the speaker "is more interested in power than she is in doing her job. Nebraskans know that Nancy Pelosi is just another coastal elite committed to obstructing President Trump at every turn."
Pelosi said this month that House leaders are making progress on negotiations on labor and environmental standards and a few other sticking points.
At the Democratic fundraiser, Pelosi did not mention the trade agreement, though she did briefly criticize Trump's trade policies. On the topic of the impeachment inquiry, she said she takes her responsibilities seriously.
The House impeachment inquiry is focusing on Trump's phone call with his Ukrainian counterpart in which he asked the other country to investigate the son of Democratic presidential candidate Joe Biden.
"What is at stake in this discussion isn't about whether you like somebody or not, or whether you agree with somebody or not. That's for the election," Pelosi said. "It's about the Constitution."