The inspiration scurried into Maranda Allbritten's backyard one day.
Allbritten, an artist, watched as a groundhog passed through her yard on its way to the Gifford Park Community Garden. She thought the plump, furry rodent might make a nice addition to her Gifford Park-themed T-shirts.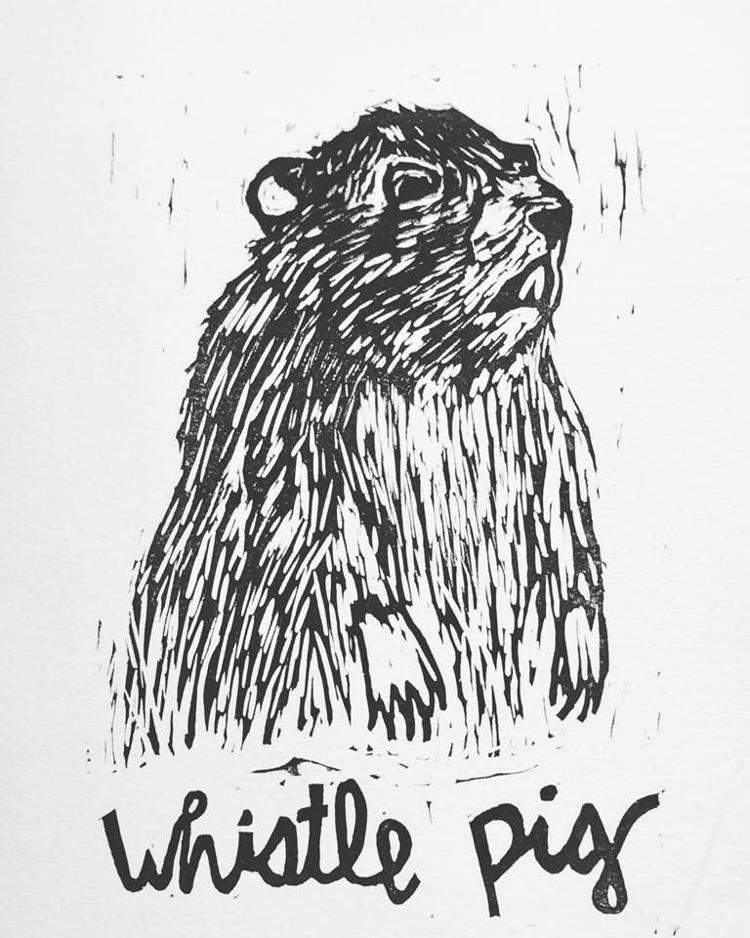 She drew the rodent, a slightly aghast expression on its face, and made it into a stamp to use for T-shirt printing. Underneath, she wrote "whistle pig," which is another name for a groundhog. The name refers to the whistling sound the animal makes when frightened.
Allbritten took the whistle pig stamp to the neighborhood market in the summer of 2016 and printed up T-shirts there.
"It was hot," she said. "It was just one of those fun things that caught on."
The Legend of Whistle Pig was born.
"Whistle Pig" — and probably his or her family and friends — can be seen throughout the neighborhood, said Chris Foster, who lives in the neighborhood.
"Of course we pretend it's the same one," Allbritten said. "Making his rounds."
The "Legend that is Whistle Pig" was featured in the neighborhood association's May 2017 newsletter.
"This brave creature that cohabitates in our neighborhood is often seen at the Community Garden compost pile," the newsletter said.
"Other times, Whistle Pig is seen 'whistling' across one of the busiest streets in the Gifford Park Neighborhood, California Street. He sure knows how to hustle."
When planning began for the new Omaha Public Schools elementary school now under construction at 32nd and Burt Streets, Allbritten recalled, Foster said it would be funny if the whistle pig ended up as the school's mascot.
Last week, Kimberly Jones, the principal of the future Gifford Park Elementary School, presented the proposed school name, mascot and colors to the school board for approval.
The groundhog mascot, Jones explained, aligns with the groundhog in the neighborhood and "The Legend of Whistle Pig." The board approved.
"I love it. I think it's so weird," Allbritten said of the mascot. "And the groundhog is such a strange little elusive creature."
Neighborhood residents have wanted their own elementary school since Yates Elementary at 32nd and Davenport Streets closed in 1999. For years, they waged a campaign to get the school.
"We didn't give up," Foster said. "We just felt like it was the right thing to do."
OPS included $17 million in its 2014 bond issue for the elementary school. Gifford Park Elementary is set to open this August. It will have two versions of the groundhog mascot: a friendly looking one for younger kids and a fierce-looking one for those in the upper grades.