Some pothole-dodging Omaha drivers want the city to put riverfront redevelopment on the back burner and focus first on road repairs.
Stothert acknowledges the frustration many feel, calling this winter and spring one of the worst for potholes she has seen. But a city of Omaha's size needs to be able to do basic services and big projects at the same time, she said.
"It's not an either-or choice," Stothert said. "It's both."
Of those funds, the city plans to issue about $50 million in bonds over three years. Private donors will fund the rest, giving about $250 million. And they want to help Omaha attract and retain talent, not plug potholes.
Donors have not historically raised funds for city services like street repairs, said Ken Stinson, a former Kiewit executive who is part of the team raising money to renovate Gene Leahy Mall and Heartland of America Park.
The project is aimed at revitalizing downtown Omaha and improving the area's connection to the Missouri River.
"I would not try to do it," he said, of raising private dollars for road repairs. "I cannot speak for the many sources of philanthropy in our community, but I would suspect if you did a survey of them, you would not find a significant amount of support."
That means the streets versus riverfront argument is primarily about the city's contribution, the $50 million in bonds to be issued for the project and the $3 million a year for ongoing maintenance. But the type of bonds that the city is using for the riverfront project can't be used to resurface streets.
Sign up for World-Herald news alerts
Be the first to know when news happens. Get the latest breaking headlines sent straight to your inbox.
Even still, some frustrated Omaha drivers would rather the city focus only on roads.
Kerry Hanson, who lives in southwest Omaha, wrote a letter to the Public Pulse in mid-March asking why the city is putting money into the riverfront when its own surveys say the city needs nearly $1 billion to rebuild Omaha's roads to current standards.
"I love the river, always wanted that connection with downtown and the river," Hanson said in an interview last week. "I think it's just the wrong time for it right now. Our roads are probably the worst we've ever seen."
Christie M. Lynch Ringo expressed a similar sentiment in her reply to a World-Herald story on Facebook. She wrote that the city should prioritize rebuilding roads and bridges, especially after Nebraska's recent flooding.
Stothert wants Omaha residents to know that the city, its crews and its contractors are working hard to fix the roads. It will take awhile to catch up, she said, but eventually people will see progress.
The city has ramped up its annual budget for road resurfacing, from less than $4 million in 2006 to more than $12 million this year. It has 69 street resurfacing projects planned for this summer, with more likely.
Several consultants the city has hired over the years to study its roads have said it needs to spend $20 million to $25 million a year on resurfacing. Stothert said there is little public appetite for raising taxes for roads.
"My goal for the future is to have the dollars to really go out there and put our roads on a maintenance schedule," she said.
Even if the city had $1 billion to spend on road resurfacing, the necessary repairs and rebuilding work would take five to 10 years, Stothert said.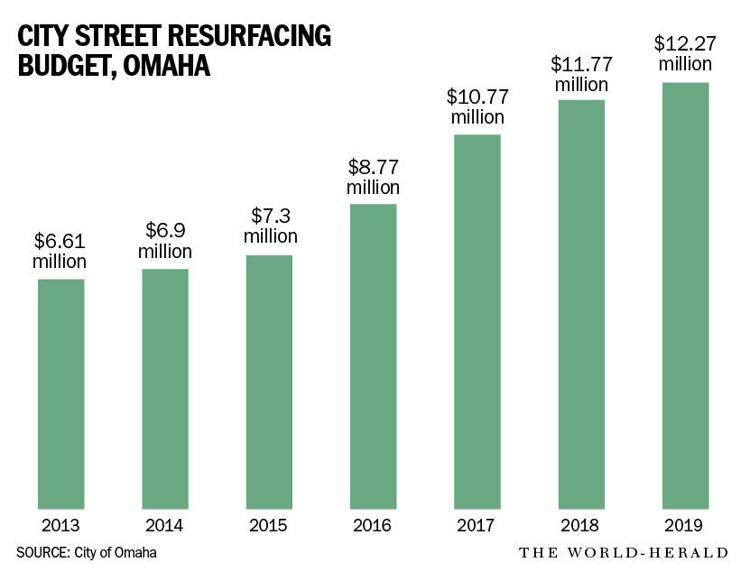 Several people with a background in city governance agree with Stothert that a city of Omaha's size can prioritize more than one thing at a time, even if most agreed the city's roads need some TLC.
Any similarly sized city would jump at the chance to improve its public amenities if offered the same riverfront deal Omaha received, said Paul Landow, a University of Nebraska at Omaha political science professor.
Landow is a former chief of staff for Mayor Mike Fahey, a Democrat who used a similar public-private partnership to build TD Ameritrade Park.
He and others said Stothert, a Republican, shouldn't choose between roads and the riverfront if Omaha wants to avoid stagnation.
Cities of Omaha's size have to compete to recruit young workers and to hold onto the talented people who live in the city and might move, Landow said. Part of that competition involves making public spaces more engaging.
Donors don't fix roads or sewers, he said. They pony up for flashy projects that change a city's face. Besides TD Ameritrade Park, similar public-private partnerships powered efforts to build CHI Health Center, and they're helping to build Omaha-area veterans a new VA health clinic.
"You can have street problems all day, every day, forever," Landow said. "You can't allow that to stop you from progressing as a modern, big-time city."
South Omaha City Council member Vinny Palermo, a Democrat who has called for beefing up Public Works funding, said Stothert and the council made the right choice to invest in the urban core with the riverfront redevelopment.
He wants to boost funding for road repairs and get more vehicles off the city's roads by investing in transportation alternatives, including light rail, rapid bus service, bicycle lanes and trails. The city is studying its future transportation needs. 
Palermo has also argued the city needs to invest more in its Public Works Department, hiring more employees and relying less on contractors. And the city needs to examine how far out it should annex and expand, he said. The city should only annex what it can afford to maintain, he said.
"If we don't do something on the roads, I think it's going to have a negative effect on people wanting to come to Omaha," Palermo said. "What fails to get mentioned is if we weren't so reliant on vehicles, we wouldn't be so behind."
Still, some members of the public are questioning the city's priorities: How much of a difference could the city make in the quality of city roads if it punted or delayed the riverfront project and scraped together $50 million in one-time money for roads and another $3 million a year for 10 years?
Landow laughed at the question and said very few people would see a difference from a handful of projects getting resurfaced sooner. The city's Public Works Department wouldn't speculate about the hypothetical. Neither would the Finance Department.
Former Mayor Jim Suttle, a Democrat who served as the city's Public Works director before being elected to the City Council, said people probably wouldn't notice much of a difference. The city needs much more money for road resurfacing than the amount it's investing in the riverfront, he noted.
It might even need a new revenue stream, he said.
The former mayor said Stothert is right that Omaha must invest more in resurfacing roads while also aggressively courting the future.
"We need to invest in our city with the riverfront and ... come together on a long-term strategy on our street system," Suttle said. "By focusing on the status quo, you actually go backwards."
Photos: Omaha's Gene Leahy Mall through the years